Crackdown 2 Review
Crackdown 2 is upon us, this time coming from developer Ruffian Games
A little over three years ago, Realtime Worlds, the former developers of the Grand Theft Auto and Lemmings series, brought gamers Crackdown on the Xbox 360. At the time, the game was not widely anticipated on its own merits. Despite this, it was bought up in droves for one reason and one reason alone: a Halo 3 multiplayer beta key was included with every copy. Luckily for Xbox users everywhere, the game actually turned out to be quite good. It was an addictive bit of arcade-style action mixed with Grand Theft Auto open-world goodness. It's now the summer of 2010 and Crackdown 2 is upon us, this time coming from developer Ruffian Games.
Graphically, Crackdown 2 retains the comic book, semi-cell-shaded style of the original while only bumping up the graphical quality a notch or two. The menu system has seen a much needed makeover and actually looks like a finished product unlike the original. With a slight graphical upgrade and an easier to use interface, the visuals work well enough but are simultaneously disappointing considering the three year gap between the first and second games. Simply put, the game should look better than it does.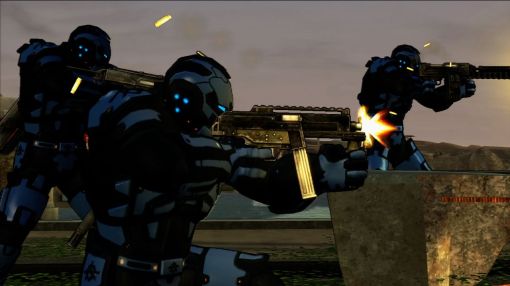 Shedding the singleplayer structure of the original game in which the player took down three different ladders of gang members until finally taking on the mighty Wang in his architecturally confusing tower, Crackdown 2 establishes an extremely repetitive two-mission structure that simply repeats itself over and over. Although it may have been smart decision to lose some of the rather bland story aspects of the original, losing the interesting mission structure of the first is truly a detriment to the series.
Players now have the choice of either taking out the next C
ell stronghold, similar to the gang battles of the first game only without a boss character, or securing several Absorption Units before taking on a Freak (a.k.a. zombie) stronghold. Both of these mission types are fundamentally the same gameplay experience, you must fight and survive while waves after waves of enemies enter the fray. This structure gets boring quickly and will have many players spending their time exploring and collecting orbs while dreading the mission ahead.
Besides the unfortunate change in mission structure, much of the gameplay has been retained from the original and in some cases, even improved. The leveling structure of the first, fueled through orb collection, is here in much the same way only occasionally with improved unlockable abilities once you've maxed out one character aspect. Despite being the same city from the first game, this time around countless more enemies are located on the street causing you to turn your gaze towards the alleys of Pacific City rather than trying to figure out how to travel from rooftop to rooftop.
Comments
blog comments powered by Disqus