AEW: Fight Forever Review
A disappointing first effort
Even more so than the actual sport, WWE has more or less held a monopoly on the wrestling game genre for the last 20 years. There have been challengers (TNA Impact!) and niche releases (Fire Pro Wrestling), but the WWE 2K series has dominated the marketplace. However, as in real life, a new contender has risen to challenge for the throne. Since officially bursting on the scene in 2018, All Elite Wrestling has captivated fans thanks to its excellent in-ring action and roster of legends and newcomers alike. With video game fanatic Kenny Omega as EVP, it was only a matter of time the company tested the waters in the medium. AEW: Fight Forever may be a new release, but it has roots in the distant past.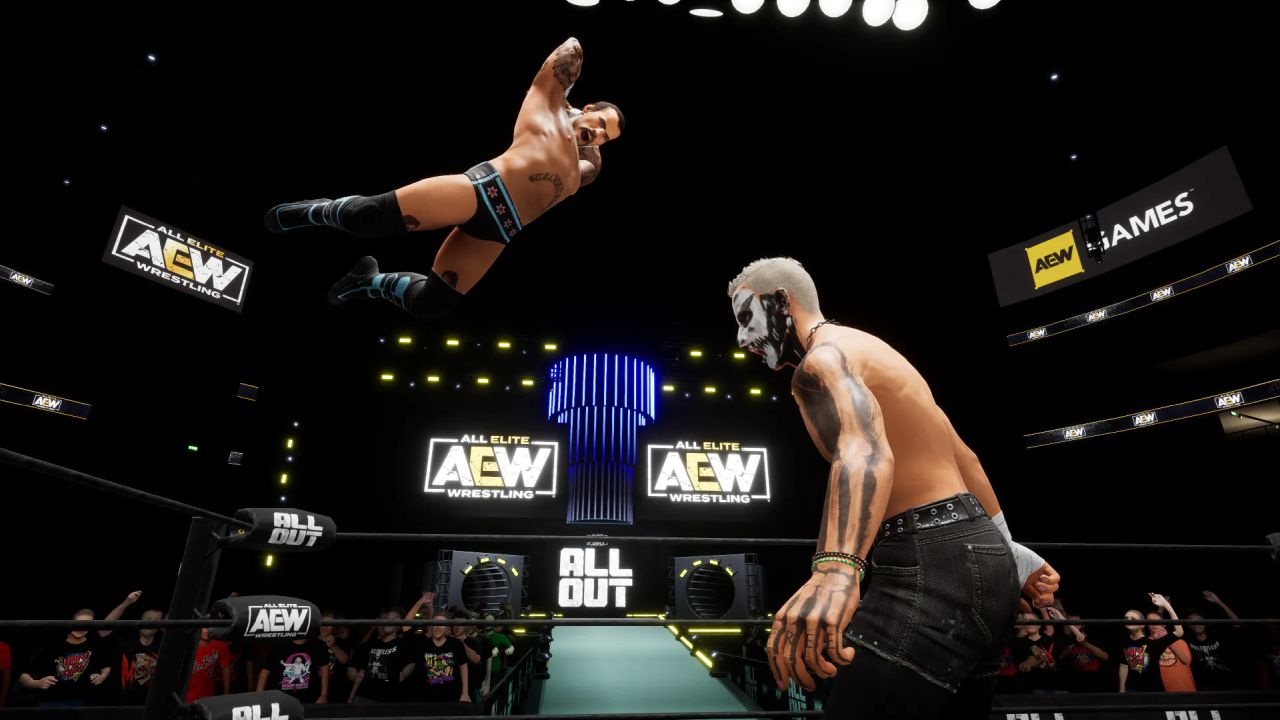 Having previously cut their teeth on the WWE 2K series, Yuke's was called into action to lead development on Fight Forever. Rather than try to ape the mechanics of their previous work, though, the title looked to invoke the classics of the genre, specifically WWF No Mercy. To do so, the director of that title, as well as the cult classic Def Jam Vendetta, Hideyuki Iwashita, stepped in to help with development. The goal was to create a game that could appeal to nostalgic fans, but not feel so dated that it felt stuck in the past. It's a fine line to walk for sure, and perhaps serves as an explanation for why development seemed to drag on as long as it did.
For those not familiar with Iwashita's work, the mechanics of Fight Forever are on the more arcade side of things. There are designated buttons for punch, kick and grapple, and the strength of each one is determined by how long you hold the button down. A tap generates a light version of these attacks, while holding it down will get you a strong version. Moving the analog stick in a certain direction in conjunction with each attack will give you different moves. The shoulder buttons are used to reverse grapples and block strikes, and there are also designated buttons to run, leave the ring and climb the ropes. More specialized attacks, such as springboards, dives to the outside of the ring and aerial reversals, are also available, but can only be used if the wrestler you pick has that perk equipped.
Although I grew up with the classics, it's been a bit since I've gone and revisited them. Playing Fight Forever brought back memories of those fond days, but not in a way that makes the game feel dated. The striking and grappling seem simplistic but have a solid amount of depth once you learn them. With multiple variations on each, it's easy to mix between your entire arsenal of maneuvers. One advantage it has over the recent WWE games is that it also isn't overloaded with mini games. Things such as pinning your opponent or scaling a ladder boil down to simple button presses. It goes to show that just because something requires more effort, doesn't mean it's more enjoyable.
AEW Fight Forever features a roster of 52 combatants, with five of those characters being unlockable. For the most part, the roster has a lot of the grapplers you would want the title to feature. Promotion originals like Kenny Omega, The Young Bucks, Britt Baker and Nyla Rose are complimented by others who arrived later (Bryan Danielson, Malakai Black) and tributes to dearly departed legends (Brodie Lee and Owen Hart). However, there are also some noticeable omissions from the line-up. The likes of Jamie Hayter, Toni Storm, The Acclaimed and Evil Uno have certainly been around long enough to have been included. I'm positive that DLC will fill in the gaps, but considering the wide gap between this and the roster of WWE 2K23, it would have been nice for more tenured wrestlers to have been featured from the start.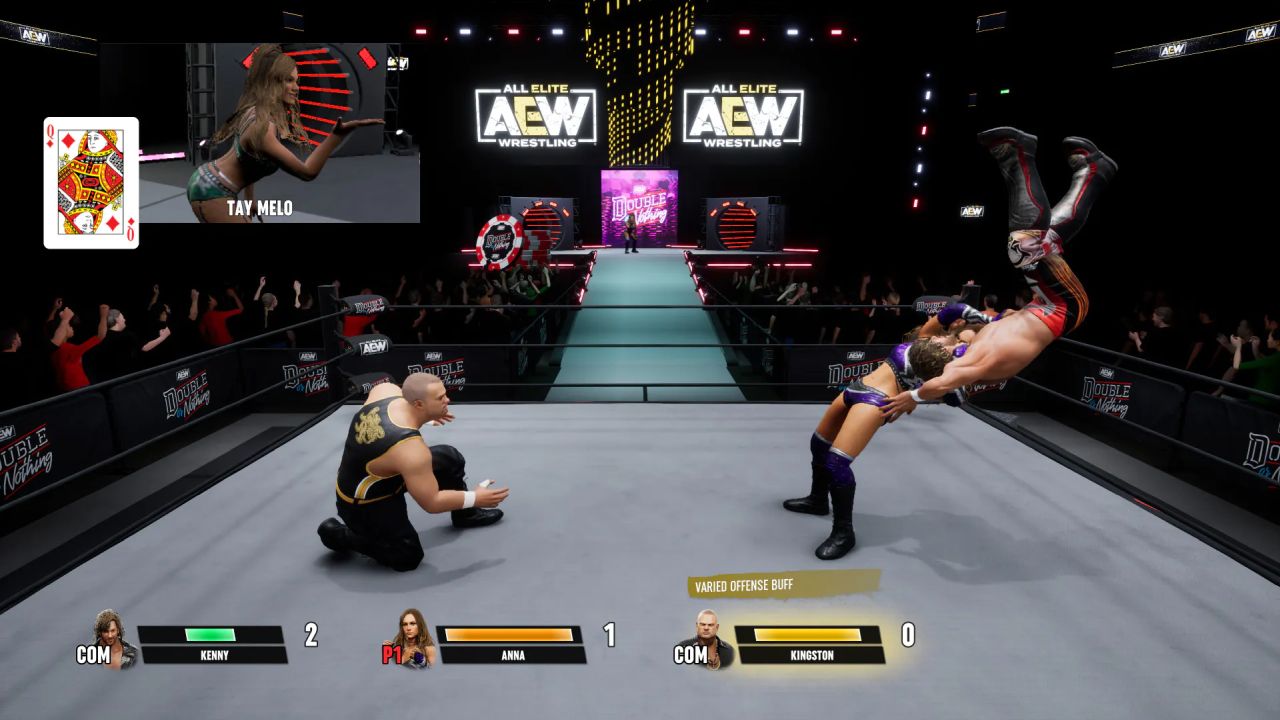 The match types available in the game also pale in comparison to its closest competitor. Alongside the traditional types (1v1, Tag, Triple Threat, and Fatal Four-Way), there's also Casino Battle Royale, Ladder, Lights Out and Exploding Barbed Wire Death Match. Everything mostly works, with the Barbed Wire match being an unexpected highlight. In real-life, the match was kind of a bust due to skimpy effects. In the game, though, it's a bloody and chaotic mess that is legitimately very fun to play. You have barbed wire everywhere, explosions that can be triggered and a short timer that leads to everyone getting caught in the blast. The Lights Out match is a nice inclusion as well, even if it's something that works better in real-life than in-game. It's essentially a glorified hardcore match, but as one of the established matches of AEW, it needed to be featured in some regard.
The only real let-down in this bunch is the Casino Battle Royale. The gimmick is that groups of four fighters, represented by card suits, enter the match at once. Battle royales are already chaotic enough with one entry at a time, and four coming at a time only adds to that. However, the engine of the game can only support four wrestlers in the ring at once, which negates this stipulation. It functions as just a traditional battle royale then. As for the missing modes, the two big omissions are Trios Tag Matches and the Blood and Guts cage match. Both are well established in the promotion, and not having them is a definite disappointment.
In addition to the wrestling, there are also a handful of minigames included. Some of them can be selected from the menu, while others pop up during the story mode. All of them are silly and over-the-top though. Penta Says has you trying to replicate the movements of fan favorite Penta El Zero Miedo, while AEW Pop Quiz tests your knowledge of all things All Elite. These are certainly cute additions, but I'm not going to say they markedly improve the overall package. They are decent diversions, but nothing more.
The main single-player option is the Road to Elite story mode. Playable with any character on the roster, or with a created superstar, the story takes you through a fictionalized version of the first year of All Elite Wrestling. The story is chopped up into four distinct story blocks, each culminating at one of the major events of the promotion. Each week sends you to a new city, and you have a set of activities to do before your scheduled match. You can hit the gym to boost your stats, go out to dinner and get re-energized, or take part in an activity - autograph signings, interviews, or sightseeing adventures. There are multiple stories to uncover, and the path through Road to Elite will vary based on dialogue choices and match results. It can be completed in about three hours, so it's something that won't take too much effort to replay.
Often throwing kayfabe right out the window, Road to Elite is mostly enjoyable. It's quite humorous at times, and the different story blocks you can run through offer good story variety. What other mode is going to let you snap a tacky tourist photo with Christian Cage? However, the logic behind the stories doesn't always flow together properly. For example, during my campaign run with a created superstar, I won the tag-team titles with Nick Jackson. Following the victory, I promptly turned on him, and knocked him out. Typically, this would lead to a feud between the two of us, perhaps with the fate of the tag titles on the line. Instead, the game completely ignored all of this, and forgot that I was even a champion. In doing so, it makes it seem like everything you accomplish in the story is meaningless.
Speaking of created wrestlers, Fight Forever does have some customization options. Players can create new wrestlers and arenas. There are a handful of parts ready from the get-go, but additional pieces can be purchased using in-game currency earned by playing the game. The options afforded are fine enough, but lack in comparison to other sports games. For wrestlers specifically, there aren't a ton of different attire options currently available. If they can augment this through content updates, that would be great, though. There are moves and entrances that directly correspond to other wrestlers in and outside of AEW, and it would be great to be able to design a character to match.
All the match types can be played with your friends locally or online, and there are ranked and casual settings. Outside of some light lag before the bell rang, everything ran smoothly for me. The bigger issue, though, is that it has been tough finding someone to play online with. I'm not sure if it's due to the lack of cross-play, or each match having their own search pool, but I struggled to find people online with the Xbox Series X. I'd like to think that the audience is there for the game, and that this could just be chalked up to internal server issues, but it's frustrating for sure.
Rather than shoot for realism, Yuke's opted to go the cartoon route for the visuals of Fight Forever. The character models have a quasi-action figure look to them. Odd decision, but one that fits with the fast-paced wrestling engine. All the action is animated fluidly as well. Both basic strikes and complicated slams look good in motion. As much as the style tries to mask it, though, this is still one notably ugly game. The character models almost all suffer from unpleasant facial animations or inconsistent body types. If the battle was between making sure things looked good or if they animated well, then I'm glad the developer went with the latter. But man, are some of the wrestlers in this game are horrifying to look at.
The presentation of the game as a whole feels pretty cheap. The biggest issue for me is the significantly trimmed down entrances. Each entrance is only a few seconds long, and outside of triggering some special effects, they are shockingly bland. Entrances are a major pillar of the pageantry of the sport and cutting them down to almost nothing was a bad decision. For better or worse, there's essentially no commentary during matches as well. You get wrestler introductions at the start of a match, and then quick sound bite at the end. There's no play-by-play or color commentary during the matches themselves. It's weird not having it included, but considering the current state of commentator Jim Ross, perhaps it was for the best.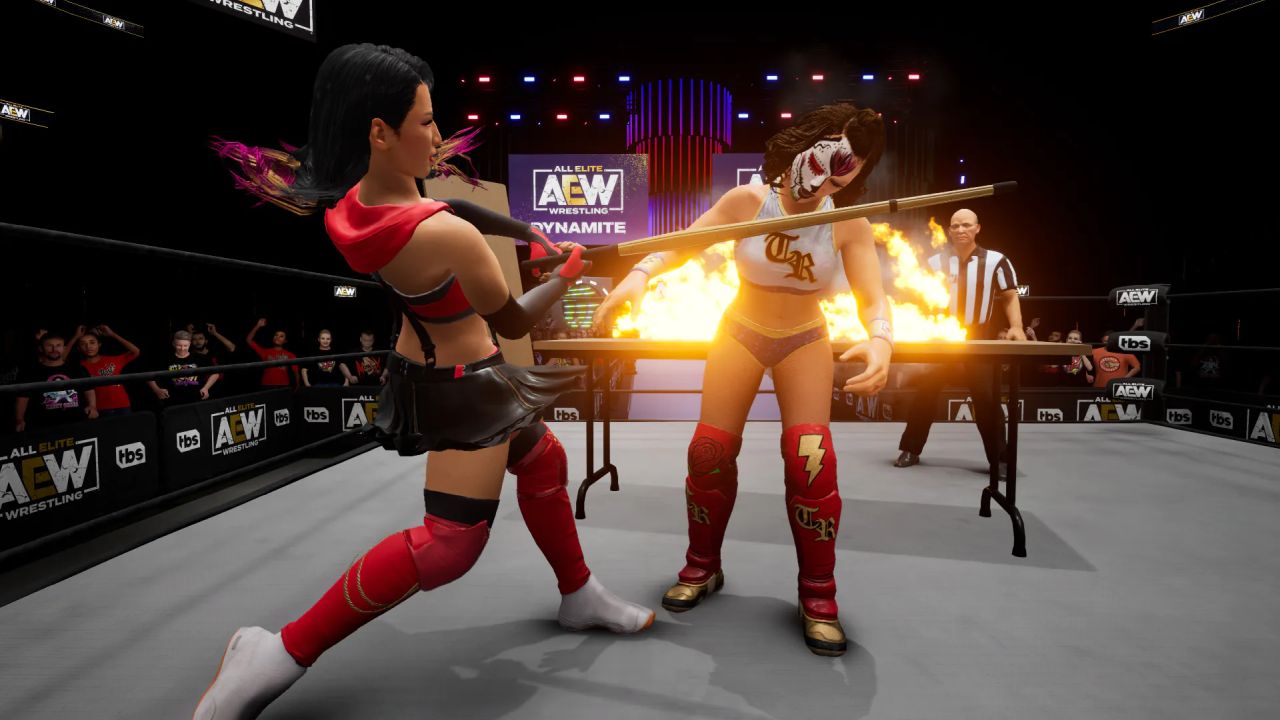 If All Elite Wrestling burst onto the scene in real-life with a bang, then AEW: Fight Forever has arrived with more of a thud. It's not all doom, as I think Yuke's has delivered a good, updated take on a classic wrestling engine. It harkens back to the games of old but doesn't feel dated. It even delivers a solid if unspectacular career mode. However, it's the rest of the package that ultimately disappoints. The presentation is lacking, the visuals are dreadful and there are glaring omissions on both the wrestler roster and match type selection. To put it more bluntly, this feels like a game that's not entirely complete. As we've seen with the WWE 2K series, it's certainly possible this gets better as updates are released. But as of now, this is really only for the diehard fans of the promotion.
Our ratings for
AEW Fight Forever
on Xbox Series X out of 100 (
Ratings FAQ
)
Comments