Road 96: Mile 0 Review
An unexpected spinoff with conflicting results
Developers DigixArt have established themselves to be a fairly creative bunch. Their titles often feature a strong focus on distinctive art styles, as well as storytelling. Their most recent title Road 96 was an adventure game with a distinctive structure, as players assumed the role of various teenagers fleeing to the border of a country on the brink of political turmoil. The game had some issues, but still was considered one of the more unique experiences of 2021. The game certainly didn't seem like it would warrant a sequel, much less a spinoff, but clearly DigixArt thought otherwise. Road 96: Mile 0 is an experiment that serves as a prequel, and introduces some major gameplay alterations. Unfortunately, it's a twist that doesn't work out.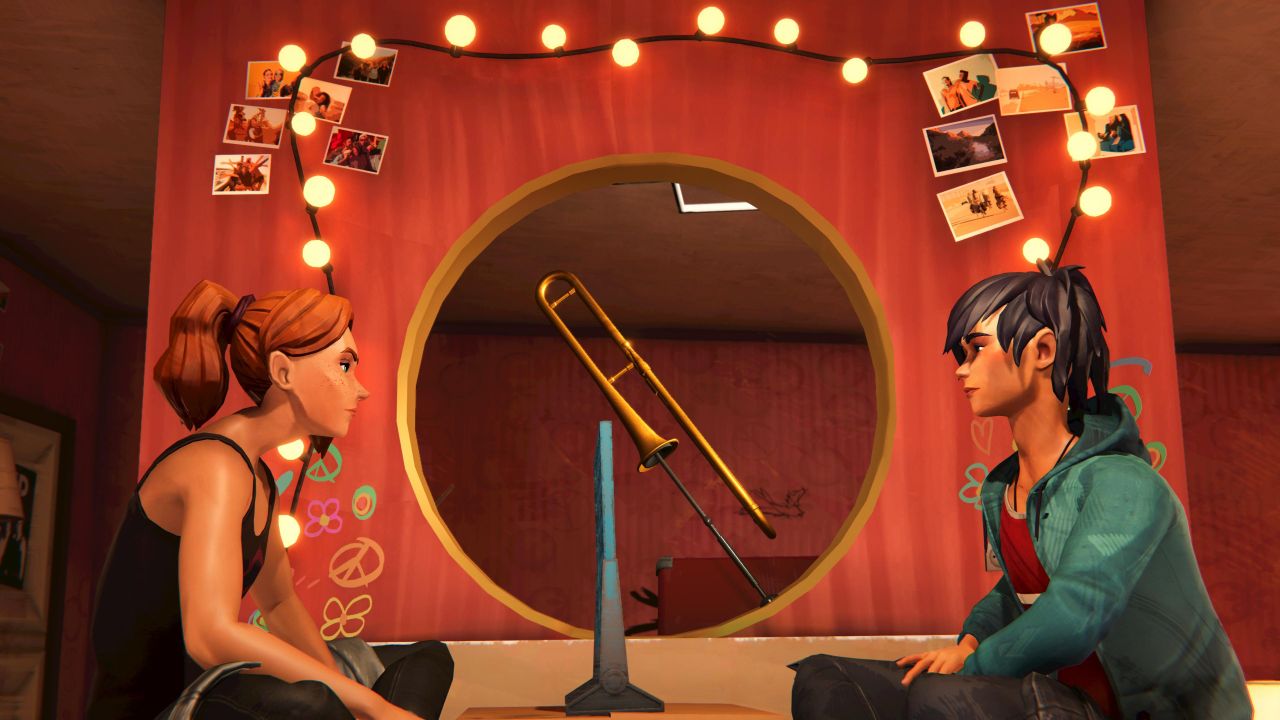 Mile 0 follows the story of Zoe and Kaito, two teenagers who are trying to find their way in the divisive and politically-charged nation of Petria. Road 96 players will already know Zoe, who played a key role in that game, and in this prequel we get to know more about her life and motivations. She comes from the rich side of town, but is rebellious against her wealth. Kaito is a young man who is from a poorer area; he's also from another DigixArt game Lost in Harmony. The pair are good friends, but have conflicting views on their life and where the country is headed. Over the course of the adventure, players will alternate between controlling the two protagonists and have to navigate a few different tough situations where choices have an impact.
While Road 96 was at times overbearing and clumsy with its constant politically charged conversations and themes, Mile 0 really fumbles with its story and dialogue. There is a lack of nuance in much of the dialogue, and often-jarring shifts in tone never quite work. Too many events try to get squeezed into the relatively brief 3 hour runtime, and even some of those feel outlandish. Some of the choices are absurdly obvious in their cartoon-like depiction of evil, oppressive dictators. The narrative leaves much to be desired, and Mile 0 leads the series into the wrong direction.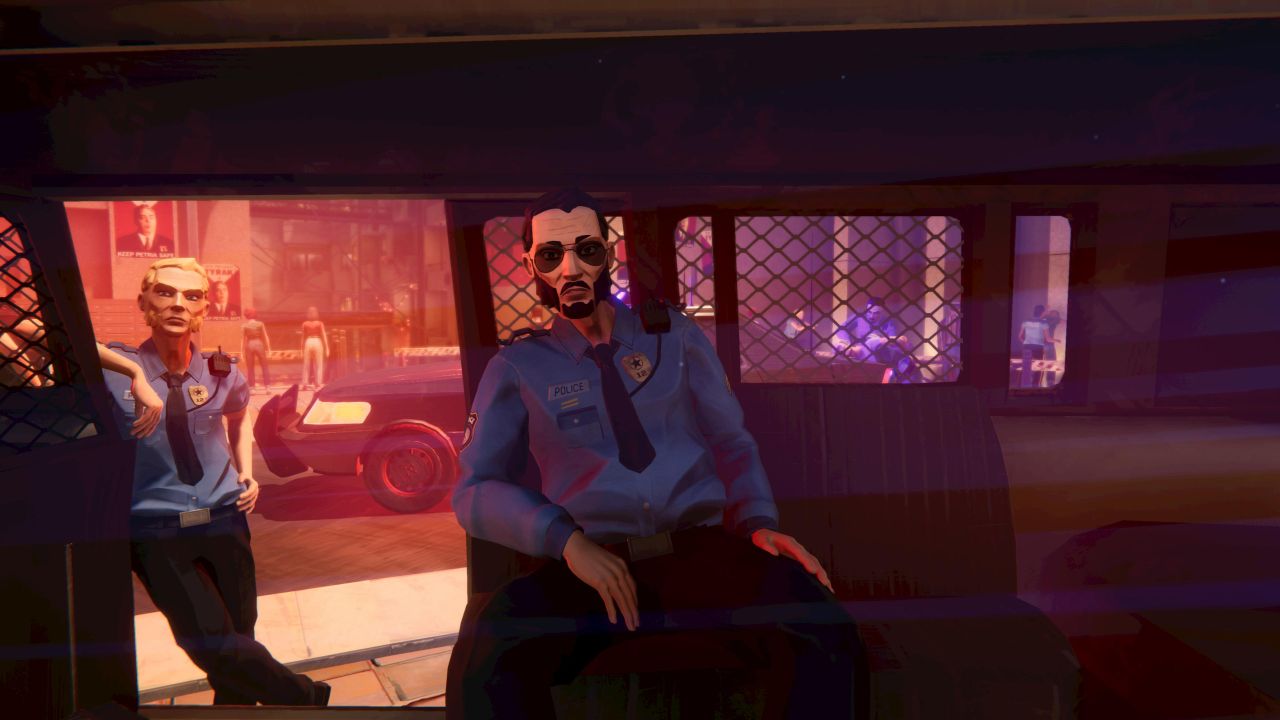 The title is split up into two distinct gameplay types. First is the typical first-person adventure, which is pretty much the same experience as Road 96. Players will explore a few small and decently detailed environments, where you can interact with a few items, chat up characters and make dialogue as well as action choices. Both protagonists have a meter that you affect over the course of the game, that aligns them to either stability or rebellion. This affects a few things as well as the finale, which plays out fairly predictably for a game with two protagonists, in terms of mechanics and narrative.
Returning fans will perhaps enjoy seeing many characters from Road 96 return, for brief cameos. You can also explore the environments to grab collectibles, or play minigames. Another minor new addition is the ability to choose in which order you progress through the game – there are often choices as to which location you want to visit first.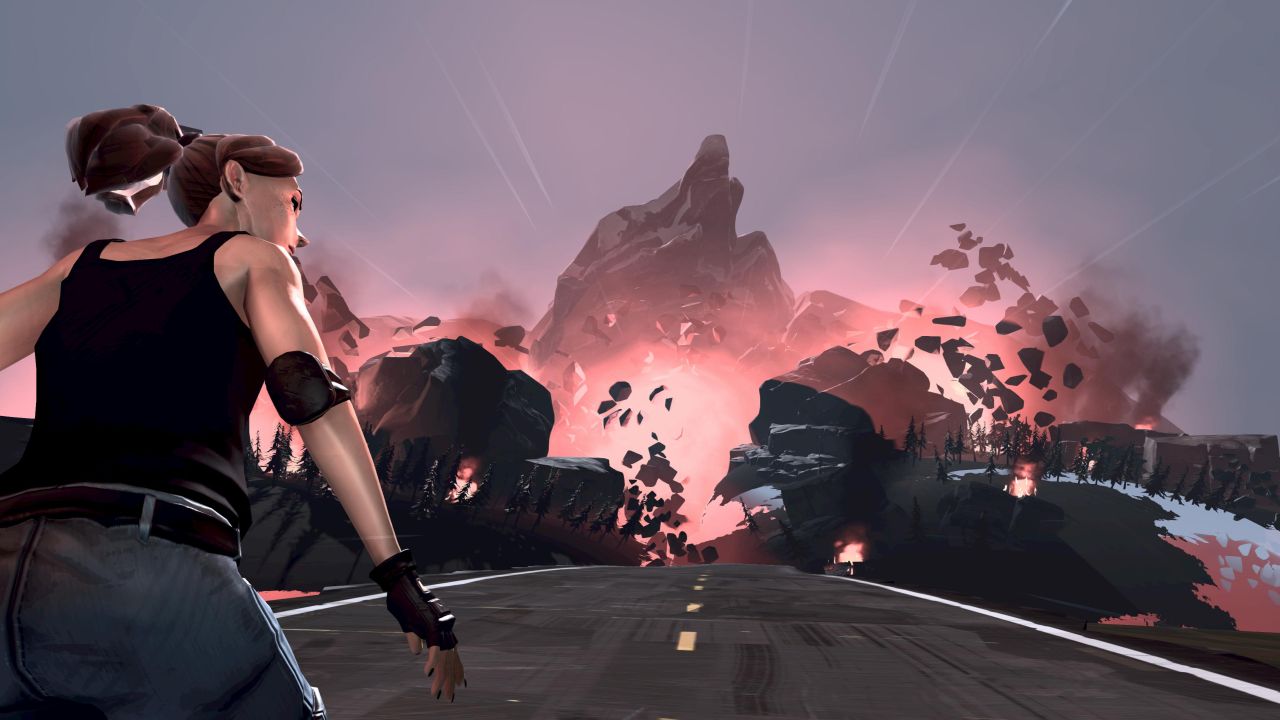 The second gameplay type consists of the so-called psychedelic rides. During these sections, players control the characters as they speed down a track, collecting cubes that add to your overall score. You'll have to dodge left and right, duck, and jump to avoid obstacles. It's fairly common design, but where Mile 0 tries to differentiate itself is by having these tracks have all sorts of over the top settings and twists in the road. These trippy sections will have you skating up skyscrapers, across neon-lit roads, and falling down into the abyss. The camera also constantly moves around and shifts perspective to give an even more cinematic look at the outlandish surroundings of these sections.
You are scored based on how well you perform (avoid obstacles/deaths) and how many objects you collect, but it's purely cosmetic and serves as trying to add replay value to the game, as you also perhaps want to make different choices in the adventure sections. You can discover shortcuts in the tracks, and so on. While the gameplay is rather straightforward, these sections are still fairly fun and their surreal visuals can be memorable. Music is also a strong component of these sections, as each race has its own soundtrack, and most of them are quite good as well. These sections are certainly jarring and are not at all what you'd expect in an adventure game, so they can be skipped entirely if you wish – though that would leave you with the more disappointing overall experience.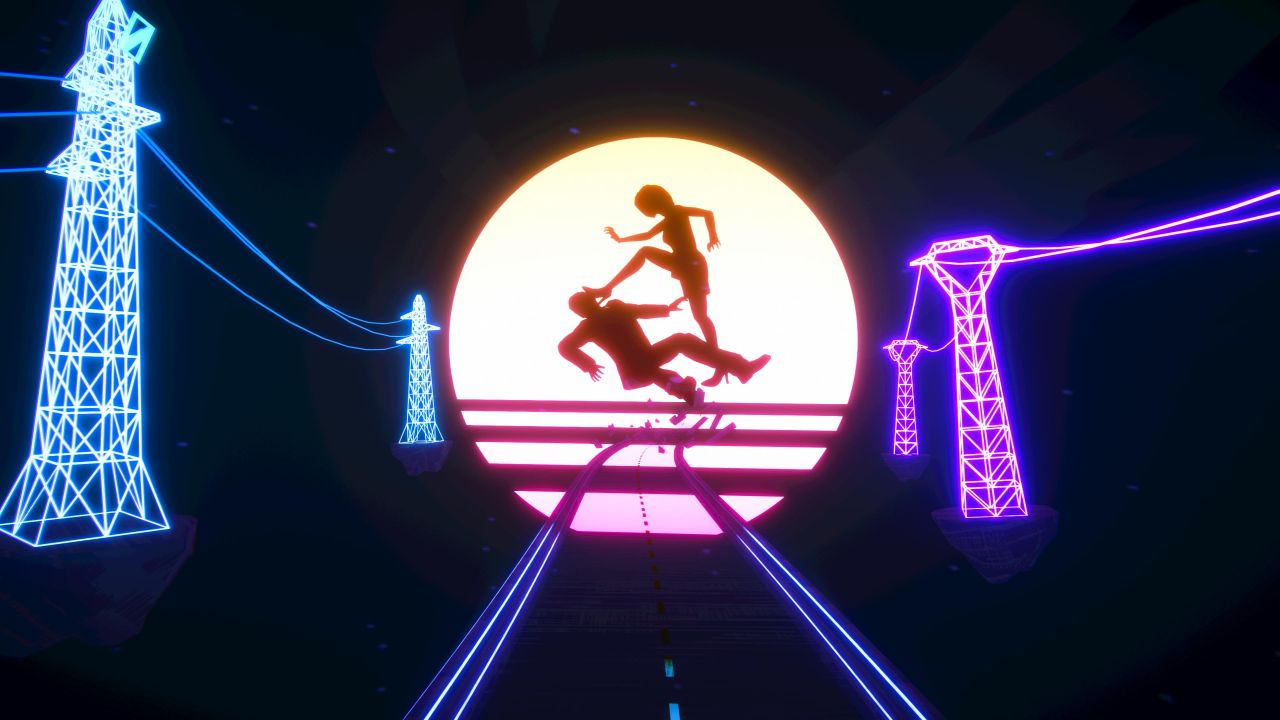 Returning Road 96 players will be quite familiar with the visual art style of Mile 0, which remains largely unchanged. It still looks decent, and is certainly helped by the variety introduced during the skating sections. Voice acting is decent across the board, however there is a strange choice of making the character that you play as not voice their lines. So while playing as Zoe and asking questions, you just make the UI selections and don't hear the dialogue, while the other characters respond with voiced lines. Given that both protagonists are fully voiced otherwise, it's strange to make them mute when players control them.
Road 96: Mile 0 is an interesting concoction, but the end result is underwhelming. The traditional first-person adventure sections lack interesting settings and interactions, while the story and dialogue are disappointing and occasionally jarring in their shifts in tone. Equally as jarring for some players will be the new QTE and skating sections, though at least you should enjoy their crazy visuals and nice music. Given the game's low $13 asking price, returning players of Road 96 should be able to get some enjoyment out of seeing familiar faces, but it's tough to see Mile 0 finding any new fans.
Our ratings for
Road 96: Mile 0
on PC out of 100 (
Ratings FAQ
)
Comments