Hot Pursuit Preview - E3 2010
E3 2010: We get to see, and play, the newest Need for Speed title
The opening announcement of EA's press conference the day before E3 was for Need for Speed: Hot Pursuit. Having moved the development of the franchise from Black Box to Criterion, makers of latest Burnout Paradise, sparked much interest from the fans. Burnout Paradise was a fun title, and with Hot Pursuit, the developer aims to reboot the classic franchise, starting with a familiar title. The original Hot Pursuit was one of the major cornerstones of Need for Speed, and the new version looks to repeat that success. During E3, we had a chance to view a private presentation of the game, as well as give it a spin on the show floor.
Criterion games have stated that their goal is to reinvent the game for a connected generation. The aim is for anyone to pick up the controller and have fun within 10 seconds – a bold expectation, but also an intriguing one. The live demo being shown ran on PS3, as the development team commented on the game. Hot Pursuit will include many community features so that players always feel connected, even when not playing together online. There is the NFS Feed, a tool similar to the Facebook activity wall, where players can see the newest and best scores from their friends and rivals, as well as other general messages.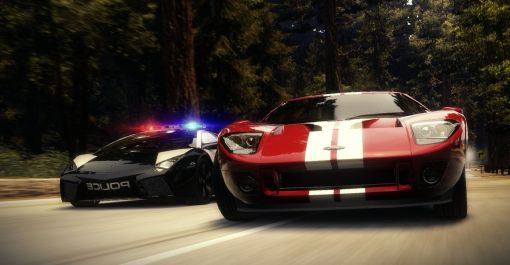 Another integral part of the game is the Autolog system. All of your gameplay will be recorded, then automatically published on the Feed and compared to all your friends. Everyone will instantly know that you hold the best score or fastest time on a track in single player, and will be able to easily jump right into their own game and try to beat your time. Autolog Recommends is a tool that will dynamically make gameplay suggestions each time you play or one of your friends accomplishes something. You can play in any event type, single or multiplayer – the Autolog will track everything and automatically create challenges for your friends, and more. Because it is all done automatically, it is like playing multiplayer – without actually requiring everyone to be online at the same time.
For the first time in the game, players will be able to take part in a full career mode as both racers and cops, online and off. The careers are separate, so you can make progress in one without being dependent on your progress in the other. There is an XP system that lets players unlock various new tracks and cars, and it is based on bounty collected in the game. Continuing on the social trend, the game allows players to use the official website and add friends from other platforms, so Xbox and PC players can compare scores with PS3 players via the website – there is no cross platform play or NFS feed, however. Online play features up to 8 players, with any combination of racers and cops allowed.
Comments