Game of the Year Awards 2022
We look back at the last year and present our 14th annual awards!

---
---
Best PC Exclusive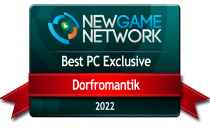 Dorfromantik
"Light puzzle games are a dime a dozen, but Dorfromantik is one of the good ones. It's a game that you'd expect to also find on mobile platforms, and yet its surprising PC-exclusive nature means there are no controls issues and the performance is excellent. The central hook of building out the landscape using connected tiles is excellently executed and offers plenty of replay value, with the added bonus of multiple modes to really dig into the mechanic." - Alex V
Runners-up: Card Shark, Winter Ember, Neon White
Best PlayStation Console Exclusive

God of War Ragnarok
"The great core combat is now diverse from the start of the game, and there are more enemies, realms, and puzzles. You're certainly getting your money's worth if you enjoy the core gameplay loop. As a first party PlayStation exclusive, the game performs well and sounds great on the PS5. If you enjoyed the previous entry and want more, the sequel delivers." - Alex V
Runners-up: Horizon Forbidden West, Gran Turismo 7, Stray
Best Xbox Console Exclusive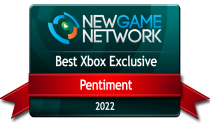 Pentiment
"Pentiment is mature in a way few games are. It exudes passion for the time period and subject matter, treating every character and issue with respect and reverence. If you want an adventure game that responds to your choices and trusts you to discover its narrative on your own terms, Pentiment is a must play." - Kaan Serin
Runners-up: Grounded, Vampire Survivors, As Dusk Falls
Best Switch Console Exclusive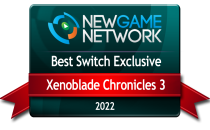 Xenoblade Chronicles 3
"It makes its case for being the best entry in the series to date due to its improvements in both gameplay and cast design. It's amazing to see what the studio was able to do with the lesser tech afforded to them on the Nintendo Switch, but it's hard not to want to see this in all its glory. Even with all that said, though, this is in contention for best RPG currently available on the console." - Eric Hall
Runners-up: Pokemon Legends: Arceus, Kirby and the Forgotten Land, Splatoon 3
Best New IP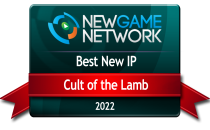 Cult of the Lamb
"Whilst none of the mechanics in Cult of the Lamb are particularly unique on their own, what makes Cult of the Lamb so special is the amalgamation of all of these into the same game without any of them feeling out of place or any less fun than the next. Every gameplay style is well considered and plays a vital part in the overall construct of the game." - Joe Cabrera
Best Original Gameplay Design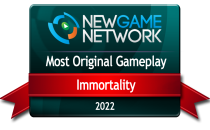 Immortality
"Players can pause the video at any frame, and then use an Image Mode that allows you to click on almost any object. The item list that you can click on is exhaustive - of course you start off clicking on the main actors, which can teleport you around to the tens of different clips they may appear in. But you can also click on anything from windows, lamps, apples, clothing, scripts, roses, and tons of other props and objects." - Alex V
Runners-up: Cult of the Lamb, Mount & Blade II: Bannerlord, Card Shark
Best Singleplayer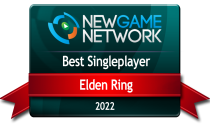 Elden Ring
"Where Elden Ring begins to shine and diverge from its predecessors is the switch to an open world design. And despite this large change in scope, the developers have done an incredibly good job of adapting the signature gameplay to the new setting. There are large open areas that often contain a scattering of decaying ruins, collapsed buildings, and imposing cliffs – each likely holding secrets, new strangers to meet, and items to find." - Alex V
Runners-up: Stray, A Plague Tale: Requiem, Xenoblade Chronicles 3
Best Multiplayer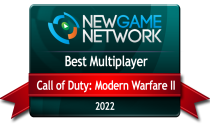 Call of Duty: Modern Warfare II
"The multiplayer action is similar to Modern Warfare from 2019, which is a strong base to work off. It is still a relatively fast 6v6 shooter, as players can be aggressive in spurts when there are explosive distractions. Multiplayer offers great fun after dozens of hours, in either the regular or large modes, to remain the most dependable part of the franchise." - Ben Thomas
Runners-up: Overwatch 2, Splatoon 3, Grounded
Best Gameplay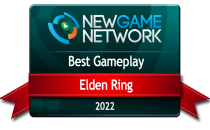 Elden Ring
"There are so many times when you come across something totally unexpected and strange, that makes you stop and think "What in the hell is that?... Am I supposed to fight it?" or "What is up/down there? Can I get there somehow... should I?" The sense of discovery and the master class of level design that Elden Ring has is simply unmatched." - Alex V
Runners-up: Vampire Survivors, Cult of the Lamb, Horizon Forbidden West
Read on to find out which title won our 2022 Game of the Year!
Comments