Game of the Year Awards 2022
We look back at the last year and present our 14th annual awards!

---
---
Best Shooter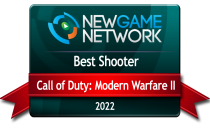 Call of Duty: Modern Warfare II
"Like in previous games, the core gameplay remains solid. Shooting is still smooth and enjoyable. Kills are satisfying and deaths are quick. The recharging field upgrade options have been expanded, with a lot more gadgets, including an inflatable decoy, smoke screen, suppression mine, and mini-radar. Players can vault walls and slide or dive, but with shooting delays to minimize their effectiveness in combat. Movement is a touch slower than recent years, but is rewarding and carefully tuned." - Ben Thomas
Runners-up: Overwatch 2, Splatoon 3, Prodeus
Best Action Game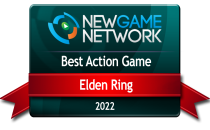 Elden Ring
"For the most part, this third-person action game remains focused on melee combat, though there are still opportunities to be a magic caster, a ranged weapon specialist, and everything in between. The punishing and yet addicting basics of the "souls-like" gameplay loop continue to live on in Elden Ring. The new elements - such as AI summons and adding a horse - expand the variety in combat, but it remains highly challenging." - Alex V
Runners-up: Grounded, Cult of the Lamb, God of War Ragnarok
Best Racing Game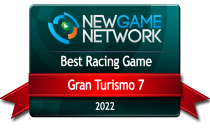 Gran Turismo 7
"Gran Turismo 7 makes its PS5 debut with an unrelenting rigidity. It's a game that continues to offer some fantastic simulation racing on the track, a sizable collection of detailed cars, and an enjoyable variety of challenges across License Tests and more whacky alternatives. If you've been craving a triple-A racing simulation that values its clean driving above all else, GT 7 continues to deliver." - Alex V
Runners-up: Need for Speed Unbound, GRID Legends, WRC Generations
Best Strategy Game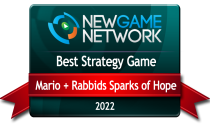 Mario + Rabbids Sparks of Hope
"The sequel does what any good sequel should do, which is successfully build upon the framework of what worked in the prior entry. The XCOM-lite gameplay was satisfying in the first title, but the copious changes here significantly improve upon it. Smart changes such as full power over team line-up and free movement add a lot to the combat engine." - Eric Hall
Runners-up: Marvel's Midnight Suns, Two Point Campus, Triangle Strategy
Best Adventure Game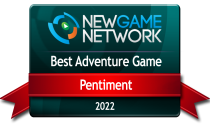 Pentiment
"Its decades-spanning story takes us through several eras and groups of characters, and delves into the various changes that society witnesses. Its subject matter is always thoughtful and layered, opening you up to perspectives outside your own. And, most notably, Pentiment always returns to the story's heart. What do these upheavals in society mean for the ordinary people of Tassing?" - Kaan Serin
Runners-up: A Plague Tale: Requiem, Stray, SIGNALIS
Best RPG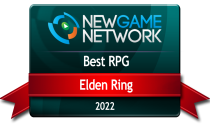 Elden Ring
"Players first select a starting class, though for the most part that simply helps define what kind of weapons and playstyle you prefer, by pre-allocating your character stats. It doesn't lock you into anything, and you can switch things around as you level up. From small daggers to swords that you have to carry over your shoulder, the ability to have a shield or dual-wield katanas, or perhaps an off-hand magic wand, there is plenty of variety." - Alex V
Runners-up: Xenoblade Chronicles 3, Pokemon Legends: Arceus, Pentiment
Best Sports Game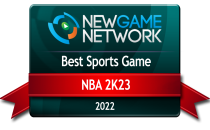 NBA 2K23
"NBA 2K23 continues to push the franchise to another level of quality. The on-court gameplay has been refined once again, and has struck a fine balance between being realistic, but also fun to play. The cutting down on ball-handler moves due to the adrenaline meter goes a long way to making the game feel closer to the sport, while tweaks on the defensive side of the ball make for a more realistic experience." - Eric Hall
Runners-up: MLB The Show 22, Mario Strikers: Battle League, FIFA 23
Best Platformer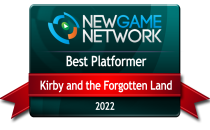 Kirby and the Forgotten Land
"Even with the move to 3D, the formula for Kirby hasn't been altered too much. The Pink Puff can suck up enemies they come across to either spit them back out or steal their powers. Kirby and the Forgotten Land is a solid 3D platformer that nails what it was trying to do. It manages to incorporate the unique skill set of its titular character into an adventure that doesn't overstay its welcome." - Eric Hall
Runners-up: Stray, Tinykin, OlliOlli World
Best Puzzle Game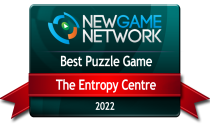 The Entropy Centre
"Portal started something special 15 years ago and The Entropy Centre continues its legacy in its own way. It is a good puzzle game that borrows a few ideas and executes them well. The core element of rewinding objects through time has a decent learning curve and suitably harder challenges near the end. And the lively AI companion, ASTRA, helps to make saving the world a bit less lonely." - Ben Thomas
Runners-up: Dorfromantik, Return to Monkey Island, Immortality
Best Fighting Game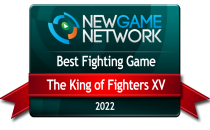 The King of Fighters XV
"The King of Fighters XV continues the series' reputation as a game for fans of the fighting genre. It doesn't include the plethora of features its peers do but makes up for it with delivering on almost all the essentials. The combat engine still takes significant time to fully learn, but the learning curve is not as steep as it used to be." - Eric Hall
Runners-up: Sifu, TMNT: Shredder's Revenge, Midnight Fight Express
Best Arcade / Music / Mixed Genre Game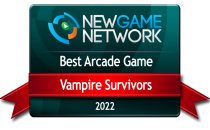 Vampire Survivors
Mow down thousands of night creatures and survive until dawn! Vampire Survivors is a gothic horror casual game with rogue-lite elements, where your choices can allow you to quickly snowball against the hundreds of monsters that get thrown at you.
Runners-up: Metal: Hellsinger, TMNT: Shredder's Revenge, Marvel's Midnight Suns
There are more 2022 awards to see next!
Comments