Game of the Year Awards 2022
We look back at the last year and present our 14th annual awards!

---
---
Best Story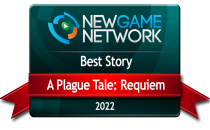 A Plague Tale: Requiem
"There are plot points about Hugo's responsibility in wielding his cataclysmic power and Amicia's duty in showing him the right way forward. The game asks some tough questions, which is respectable. How much is one life worth? How much can you sacrifice for those you love? Requiem restrains itself against any cartoony plot points, and it's instead replaced with a lot more lore, world-building, and mythical prophecies. It builds out a decent mystery. However, it's still the journey of Amicia and Hugo that shines the brightest." - Kaan Serin
Runners-up: Pentiment, God of War Ragnarok, Immortality
Best Art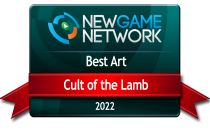 Cult of the Lamb
"The hand-drawn, 2D cut paper animations coupled with the dark yet vibrant and oversaturated colours walk the line between alluring and creepy. The character designs are impeccably executed, ranging from goofy cublings right up to hideous monstrosities yet all the while maintaining a level of endearing cuteness that feels on par with games like Animal Crossing or Ni No Kuni." - Joe Cabrera
Runners-up: Pentiment, Elden Ring, A Plague Tale: Requiem
Best Technical Visuals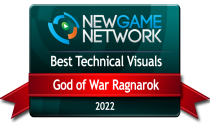 God of War Ragnarok
"As any first-party exclusive, it goes without saying that God of War Ragnarök performs and looks great. There are a few expected different visual fidelity/framerate options on the PS5 version of the game, and a high level of polish overall. The textures look sharp and some of the background vistas are really great looking. The animations are very smooth as well, and the cutscenes are captured effectively." - Alex V
Runners-up: A Plague Tale: Requiem, Gran Turismo 7, The Callisto Protocol
Best Music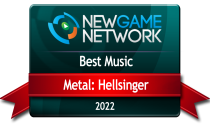 Metal: Hellsinger
"The soundtrack here is a no holds barred headbanger, with heavy riffs, double kicks, and plenty of screaming and growling lyrics. The songs were composed by Two Feathers and involve performances by legendary singers from the genre, such as Serj Tankian (System of a Down), Matt Heafy (Trivium), Alissa White-Gluz (Arch Enemy), Randy Blythe (Lamb of God), and more. It's very kick-ass, and definitely an excellent tribute to the genre." - Alex V
Runners-up: Elden Ring, Tunic, A Plague Tale: Requiem
Best Atmosphere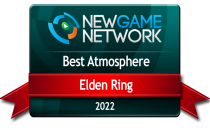 Elden Ring
"And what an immersive world it is. From the creative weapon and armor designs, to otherworldly and hideous enemies, across the dark dungeons and overbearing castles, the land is filled with a sense of dread and wonder. The addition of time of day and weather changes, along with a haunting ambient soundtrack that kicks up during boss battles, make for an incredible sense of atmosphere." - Alex V
Runners-up: A Plague Tale: Requiem, Stray, GhostWire: Tokyo
Best Voice Acting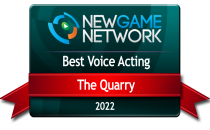 The Quarry
"It's also a story that remains engaging and interesting for its entire duration, not just because it's a solid teen survival thriller, but also thanks to a very strong cast and dialogue. Yes, it's all highly cliché at times and the characters play to their stereotypes, but it's a group that is extremely believable and relatable in their own ways, and the strongest cast that Supermassive have ever put together." - Alex V
Runners-up: A Plague Tale: Requiem, Horizon Forbidden West, Immortality
Most Memorable Character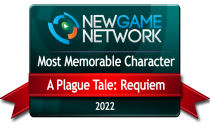 Amicia (A Plague Tale: Requiem)
"It's still the journey of Amicia and Hugo that shines the brightest. Despite a massive adventure full of toppling cities, high-seas sailing, and an eruption of pests, Requiem is at its strongest when it's scaled back. Stumbling upon a hidden swing and watching the pair play with it, finding a bird's feather to cheer Hugo up, and exploring a tropical island hand in hand - these are the moments that I couldn't get enough of. These were the moments that felt most human, that made the game feel alive." - Kaan Serin
Runners-up: Cat (Stray), Marissa Marcel (Immortality), Kenny (High on Life)
The 2022 Awards continue on the next page!
Comments