Pentiment Review
A deep and multifaceted narrative adventure
How much do you know about 16th Century Bavaria? Not much, I'm guessing. Until I played Pentiment, neither did I. But my lack of knowledge on medieval manuscripts and historical peasant revolts didn't hinder my enjoyment of Obsidian's latest release. I'd wager a guess that most players could relate more to Pentiment than they think. Despite being set hundreds of years in the past and having relatively niche genre appeal, the game's strength lies in its modernity, in how it expertly draws parallels between us and cultures of the past. It's a tricky balancing act that Pentiment nails, and I have no reservations about recommending this game to fans of narrative-adventure titles.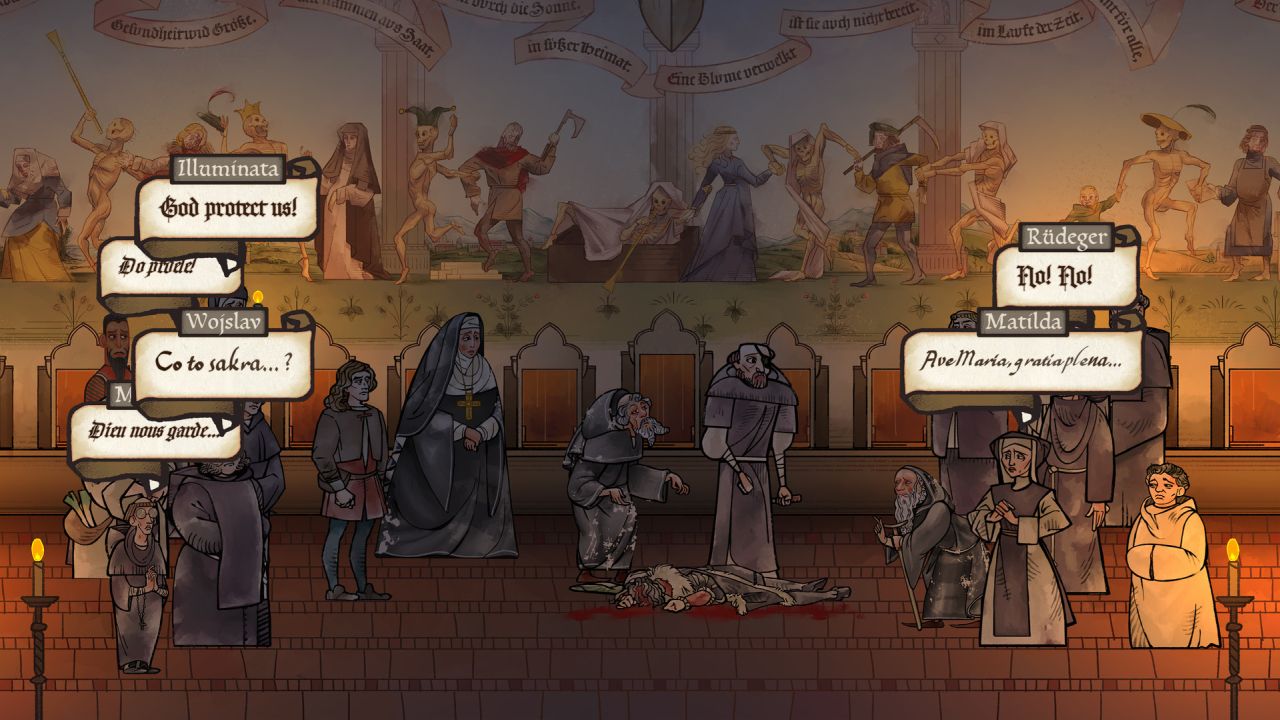 For some context, Pentiment starts with Andreas Maler, a nobleman artist who takes residence in a small town called Tassing. He spends his days working at the Abbey, preserving books, and his nights talking to the various residents of the town: the peasants, the villagers, the nuns and fathers. 16th Century village life seems idyllic, almost romantic, until a murder puts the town in disarray, leaving it to Andreas to solve the crime and save his friend from an unjust conviction. You'll run around town, chasing loose threads, convincing key characters to help, and solving puzzles before the trial starts. While the game begins as a murder mystery, multiple conflicts unfold over the course of ~30 years.
Players will move Andreas through the town on a 2D plane. The character can only move on set paths, which is initially jarring, since it doesn't give you free reign to walk up to anything you can see. Instead, you can interact with a number of objects and characters waiting on the sides of these predetermined paths. It can take some time to get used to the movement, but once you're acquainted with the map and layout, it's not really a hindrance.
You'll have a limited amount of time in the day to explore the town, and have conversations with NPCs through text boxes. There's the Abbot, who has an uneasy relationship with the townsfolk and can be very volatile with Andreas. Or Claus, who handles the town's printing press, giving you insight into the early days of print and easily accessible literature. There's even a mysterious nun who has isolated herself into the church's cell, in an effort to receive more vivid visions from God. The entire cast is varied and have their own distinct problems and backstories, so long as you make an effort to speak to them all. They also have a very distinct role in the town's infrastructure, like a family of farmers, or the family who run the bakery. This is gives all the characters a different relationship to the struggles of the town, which evolve and change over the decades.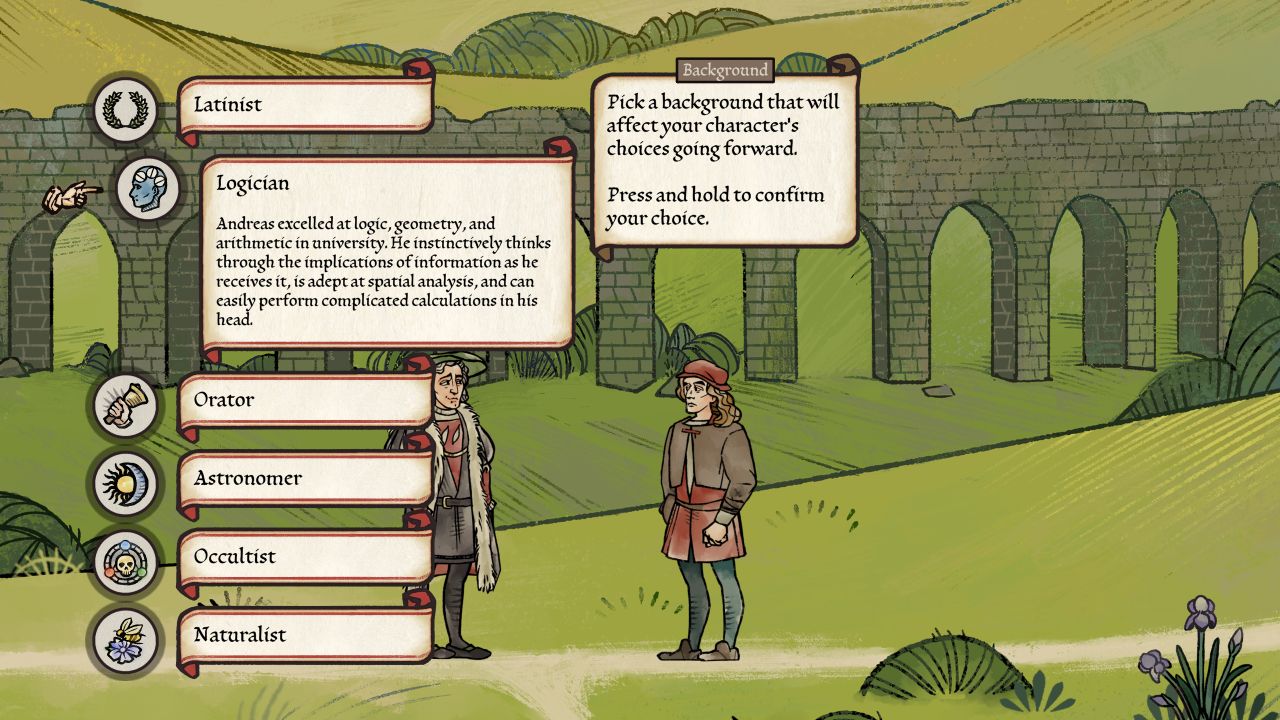 The game's open-ended nature was a joy to take in. There's absolutely no way you'll be able to chase every clue and have every conversation in one playthrough, but that's the fun of consequence-based games like this. There are real choices and consequences here. If a character doesn't like how Andreas spoke to them, they'll refuse to help him. If you fail to talk to certain characters, your investigation will miss entire revelations. Obsidian's best RPGs shined when they made you feel like a tangible part of the world, and Pentiment follows in their footsteps.
Obviously, choices have no real power if they're not grounded in an ethical dilemma. The murder investigation, for example, never gives Andreas hard evidence of a killer, meaning you'll need to condemn a character that may or may not be innocent. This brings up all kinds of ethical questions. Do you accuse the suspect who you have the most evidence on? Do you blame a character who has personally offended Andreas the most? Or do you condemn a character based on other arbitrary metrics? You might choose the widow ostracized by society and who's had her house taken by the Abbey - since she seemingly has the least to live for. But where's the justice in that? Many of Pentiment's most significant choices have layers of ethical and moral questions attached to them. It makes this 2D affair feel decidedly three-dimensional and real.
My only real problem with the consequences in the game is the system used to convince people. Based on your dialogue options and decisions, a bar will fill up when it comes to convincing characters to help you. However, it's poorly explained in-game, and it's unclear if there's a layer of randomness to the system. Sometimes I would fail these relationship checks, despite never having a negative interaction with someone. I found this system more frustrating than interesting, and I would've preferred a more lenient approach.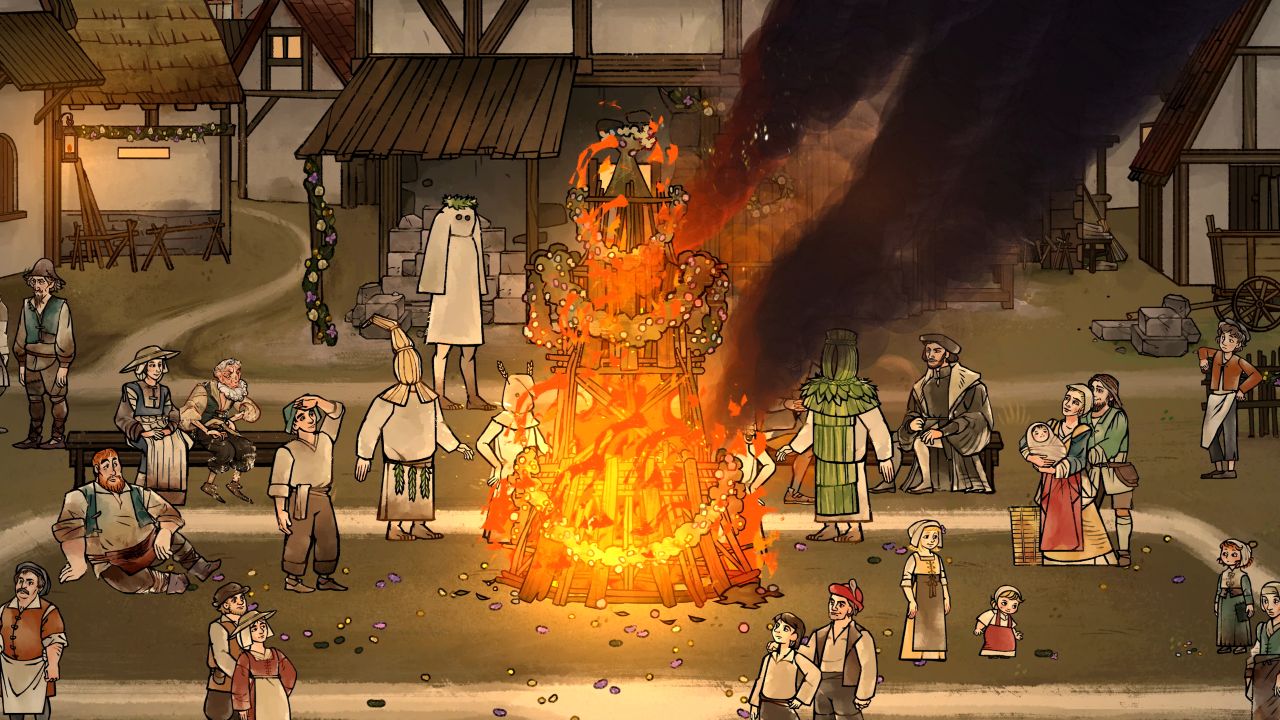 Speaking of role-playing mechanics, Pentiment is full of them. Sure, this isn't a classic RPG with stats, loot builds, and party compositions. But Obsidian carries over several RPG elements, just as they did in Grounded. You'll choose a series of backstories and areas of expertise for your character that can affect their future dialogue options. Some of these are superfluous, like the option to be a prior party animal who enjoys life's vices. Even if these backstories don't open up new routes in the story, they still add to Andreas' personality and let you shape him in small ways. Others have more tangible effects, like Andreas' background in certain countries will mean he can translate texts or have conversations in different languages.
When you're not making choices and speaking to people, you'll usually be solving a few puzzles or completing some mini-games. The puzzles aren't very mechanically involved, but one of the early game puzzles has you deciphering a code based on astrological signs. This sounds really complicated, yes, but the layout of the contraption makes it a much more streamlined experience. It's also just fun to do detective work while solving an actual investigation. The mini-games are much less involved and are mostly just quick-time-events. They're not interesting or unique, but they're spread thin enough that they feel like a breather from constant chatter.
Pentiment's greatest strength is connecting its conflicts to modern life, not in a way that feels forced or even intentional, but in ways that feel organic to the story. A section of Pentiment deals with the peasant revolts, touching on themes of worker's rights, class disparity, and the capitalistic systems that oppress most people. At other times, Pentiment tackles the subject of women's rights: how the church regulates their lives and how society treats them when they can't fit into the institutions of marriage or religion. The preservation of art, the limitation of knowledge, the role of sex, etc. Pentiment grapples with a variety of thoughtful subjects and contributes little nuggets of wisdom throughout the entire adventure.
We still grapple with these problems in different ways, perhaps proving the saying: the more things change, the more they stay the same. Tassing's way of life, in some ways, was drastically different; they ate differently, spoke differently, and had various formalities. But their life-long struggles might be more familiar than you expect, making Pentiment a surprisingly relatable experience.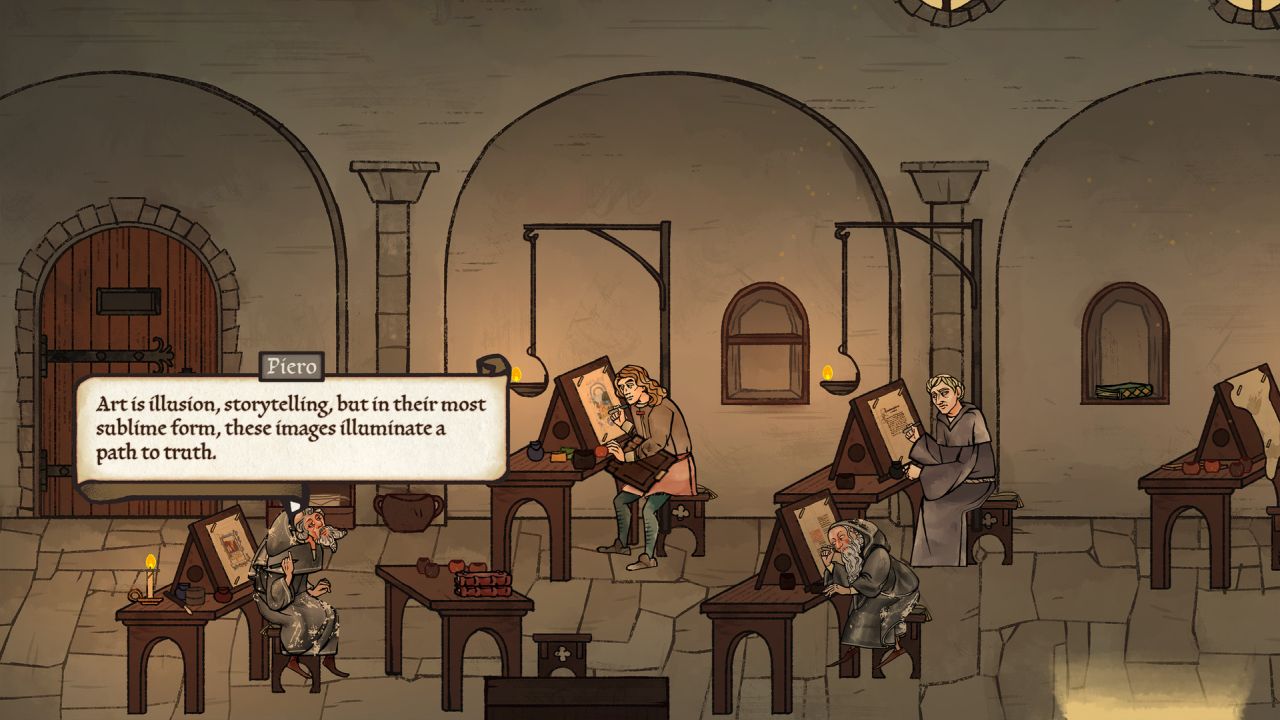 Pentiment is full of these severe subject matters, and it deals with them all in incredibly nuanced, organic ways. A peasant will never stand up and declare: "I deserve more rights!" Pentiment frames these issues around believable scenarios. You'll meet characters who are personally affected by the Abbot's tax increase, for example, and these personal problems will unravel if you take the time to dig deeper. Most conversations will likely involve multiple characters, all with differing viewpoints. This can turn seemingly simple issues into more complex, hard-to-solve ways.
I haven't discussed Pentiment's presentation yet, but I suspect this might be what turns many people off. I enjoyed the game's old-school hand-drawn aesthetic. Character animations are expressive, there are tons of small details in the world, and the game can pull off surprisingly big spectacle scenes. The art style also fits wonderfully into its historical setting. I'm sure some players will dismiss the game at first glance, though that would be a mistake.
Overall, Pentiment is a shockingly deep narrative adventure on multiple levels. Not only is it way longer than I expected - my first playthrough took roughly 20 hours - but it's expansive in other ways too. Its decades-spanning story takes us through several eras and groups of characters, and delves into the various changes that society witnesses. Its subject matter is always thoughtful and layered, opening you up to perspectives outside your own. And, most notably, Pentiment always returns to the story's heart. What do these upheavals in society mean for the ordinary people of Tassing? Pentiment has real emotion in its center, and I'm excited to discover new avenues in a second playthrough.
Our ratings for
Pentiment
on Xbox Series X out of 100 (
Ratings FAQ
)
Comments