Mafia 2 Preview - E310
E3 2010: We shoot our way through a warehouse and cause some open world havoc
After having a look at Mafia 2 at PAX East, many members of our humble website were very intrigued. The game seems to have been coming along very nicely, and the momentum began to take shape as the release date nears. Having an opportunity to check out Mafia 2 once again is not something I could pass on. Much to our delight, the demo that I got to see and play at E3 was different from the one at PAX, and it showcased some great progress made since.
Provided with a comfy chair, a quiet room and a set of great headphones, this was a totally uncontrolled experience. After watching the introduction cinematic, PS3 controller in hand, I found myself in the character's at home, a setting similar to the safe houses in GTA4. Here I could walk around the rooms, change my clothing, and pick up the phone for my next mission. The task at hand was said to be a hit on a guy that has wronged a mafia family you work for. I then went to the garage, where a number of cars were available for me to take for a spin. After making my selection, I entered the open world of the game.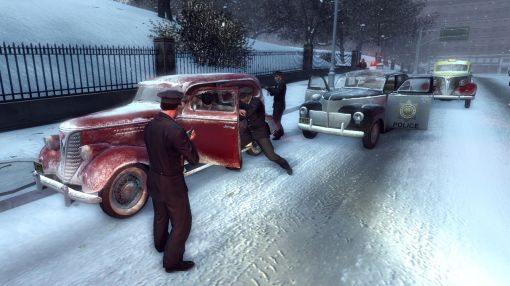 The setting will be immediately familiar to those who played the original game. It is the 1950's gangster America, with all its style. The visuals were a bit underwhelming, but this is a work in progress after all. In the upper corner of the screen I found a timer, which restricted my freedom to 10 minutes before I would be forced to start my mission. Being a model citizen, I pulled out of my driveway and set course to explore the land. Opening the map, I discovered that the piece of the city I could explore was vastly limited, about a fifth of the final map size. Overall, the city did look a bit smaller than something like Liberty City from GTA4, but size doesn't matter, as long as there are things to do and places to discover around every corner. After driving around for a bit, my timer began to ran out, so I immediately ran over a few pedestrians (totally by accident of course) and started a wild foot chase with the police. I never did manage to evade my high wanted level after shooting a few folks, as the demo mission started.
The mission was based around killing a mobster who runs an alcoholic distillery or storage warehouse of some kind. After ambushing him outside the warehouse, my partners and I followed the guy inside. In the warehouse, boxes full of alcohol lined the floor. Enemies scattered around the area and took cover behind pillars and boxes, occasionally appearing to take a few shots in my direction. At this point, I realize that the controls are reversed, with R1 being reload and R2 being fire. This caused me to die a number of times in the warehouse as I adjusted to this layout.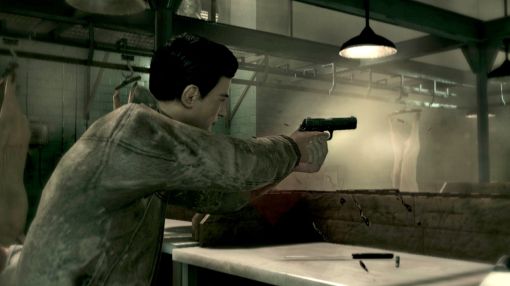 The cover system in the game is sticky, meaning a button press is required to enter and leave cover. This game mechanic also feels a bit uncomfortable at first, but it is nontheless essential for survival – I have noticed that the player can't take very much damage. While your health does regenerate over time, it felt that some armor could have been really beneficial for this mission. As I made my way upstairs, I also had a few melee encounters. Kicking and punching an enemy is simple, and often results in takedowns, but the sequence does leave the player exposed to gunfire.
After a confrontation at the top warehouse floor, a friend of mine was shot, so it was up to me and the remaining mobster to get him out of there. Inconveniently, there was also an explosion which set the whole place on fire. While my partner helped carry our shot friend, I made my way back to the entrance again, picking off any remaining enemies as they failed to escape the flames. Having made it outside, we hopped into our car for a very short driving sequence. Upon arriving at the bridge, barricaded by police, the demo ended.
As one might expect, Mafia 2 will bring the modern day sandbox gameplay formula to the prestige gangster era of American 50s. I realize that GTA has been mentioned a lot in this article, but that's because it makes for a good comparison to Mafia 2, and readers should take it as a compliment for this upcoming title. The game still has much potential to discover, and as the August release date draws near, the anticipation and excitement from the fans and newcomers alike should only get bigger. Mafia 2 arrives late this summer on PC, Xbox 360 and PS3.
Comments