Lego Star Wars: The Skywalker Saga Review
In a Galaxy Full, Full of Lego
I'm going to be honest and preface this review by saying that I'm not the biggest fan of Star Wars. I like the franchise, don't get me wrong, but I've not seen every core film and my Star Wars knowledge isn't as sizable as most. I am however a big fan of the Lego games, with the original Star Wars entries some of the most enjoyable and memorable gaming experiences of my early childhood.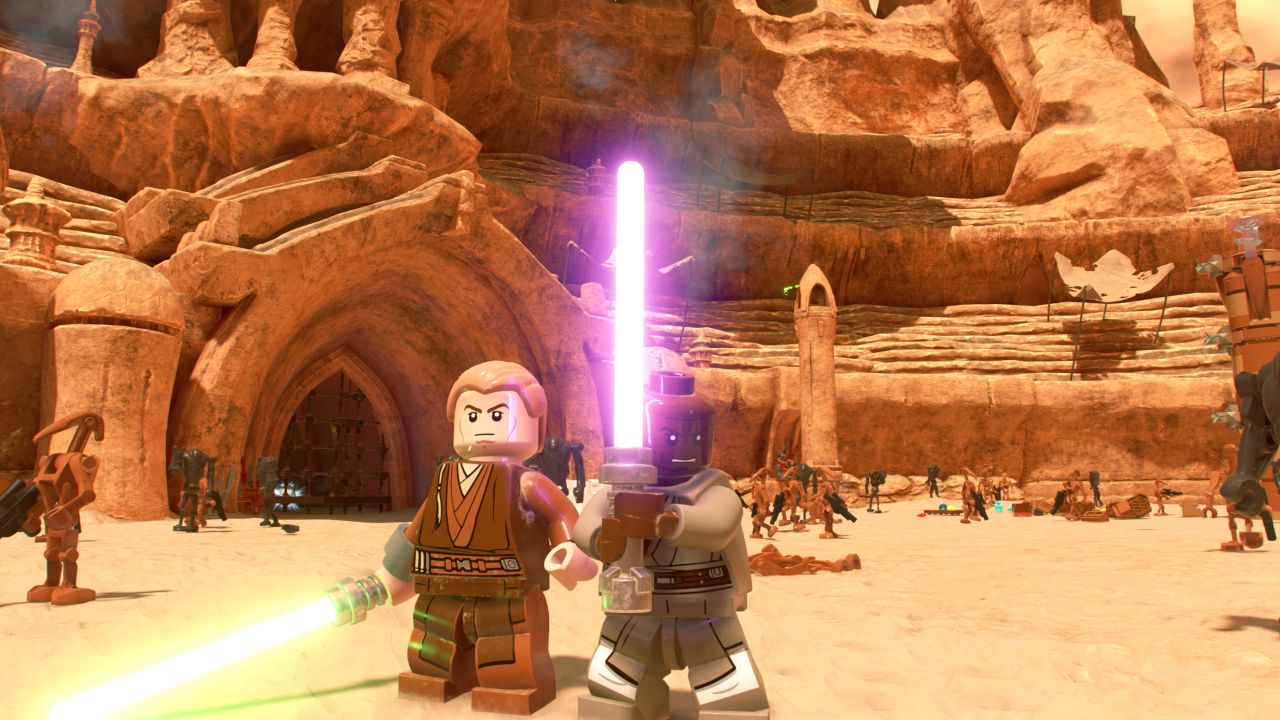 As the title suggests, this Lego Star Wars adventure encompasses the entire Skywalker Saga, with all nine episodes packed in, making for an overwhelmingly large amount of content to cover. The first episode of each trilogy is unlocked from the get go, leaving you free to approach them in whichever order you see fit. After a short deliberation, I decided to opt for chronological order over release order.
With each episode only taking roughly two hours to complete the core content, the presentation of their narratives are expectedly not as fleshed out as the films. Despite the abridged approach to storytelling, they do a fine enough job at presenting the core elements of each adventure, all in the while sprinkling in the comedic moments one would expect to see in a Lego Star Wars game. Those who have seen the films before will easily fill in the gaps in these condensed retellings, but those new to Star Wars may be a little lost at times.
Aiding further in the presentation of these nine Star Wars stories is the franchises' iconic soundtrack, and a quality voice cast consisting of some actors who have returned to reprise their roles, such as Anthony Daniels as C-3P0 and Billy Dee Williams as Lando Calrissian. Voice actors from animated Star Wars projects such as Star Wars: The Clone Wars are also present for some characters. As to be expected, not every character is voiced by their original or animated counterparts, but the fact that some are will surely be welcoming and familiar to series fans.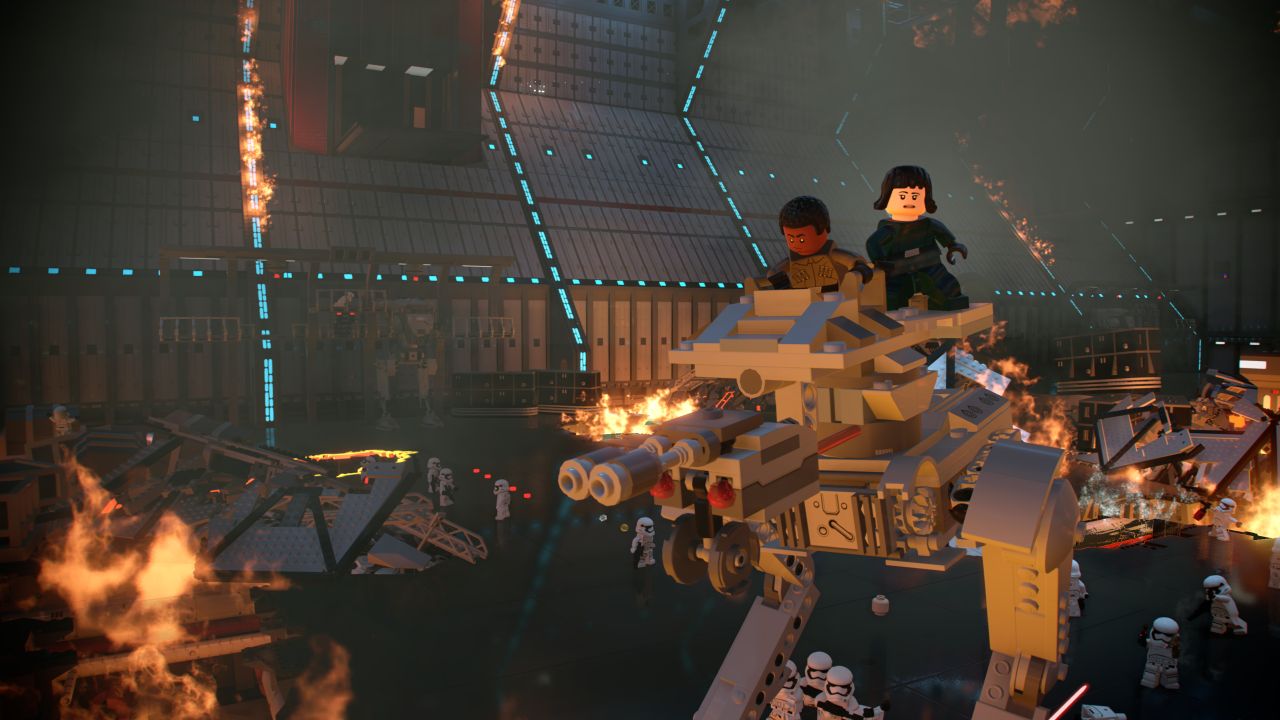 There's only so much graphical fidelity you can expect to squeeze out of a world made of Lego bricks, yet The Skywalker Saga manages to be a marked improvement in Lego game visuals, showing how far we've come when compared to the original Lego Star Wars titles. From the desert wasteland of Tatooine to the murky marshland of Dagobah, each location in the galaxy is gorgeous and brimming with detail, and the expressive and well animated character models are much the same.
It's important to know when diving into this Saga that it's not just a snazzy high-definition remaster of the prior Lego Star Wars games, but in fact a reimagining featuring new gameplay and missions. Instead of utilising the fixed camera style of the earlier games, The Skywalker Saga opts for the over the shoulder third-person camera commonly used in many modern games. Each episode consists of five story missions, which can be tackled either on your lonesome or with a buddy via local co-op. In typical Lego game fashion, gameplay is easy to handle and is welcoming to players of any skill level. Combat is still largely a simple hack and slash where button mashing is a valid approach almost always, but there's also a bit more to it this time around with the addition of combos. Chaining different button presses together can lead to impressive combat scenarios in which you make your way through various foes in a single string of attacks. It makes both basic melee and Lightsaber combat more involved and rewarding, which is a noticeable improvement over the more primitive combat in prior renditions.
The new perspective also makes using blasters far more entertaining, with the game functioning as a Lego third person shooter with a cover system to boot. Characters are separated into ten different classes, each with their own unique abilities. Jedi for example are equipped with Lightsabers and Force powers, while Astromech and Protocol Droids are able to hack specific terminals to grant access to otherwise inaccessible areas. My favourite class would have to be the Scavenger, which can craft items on the fly such as a glider and a net launcher that can be used to climb up surfaces.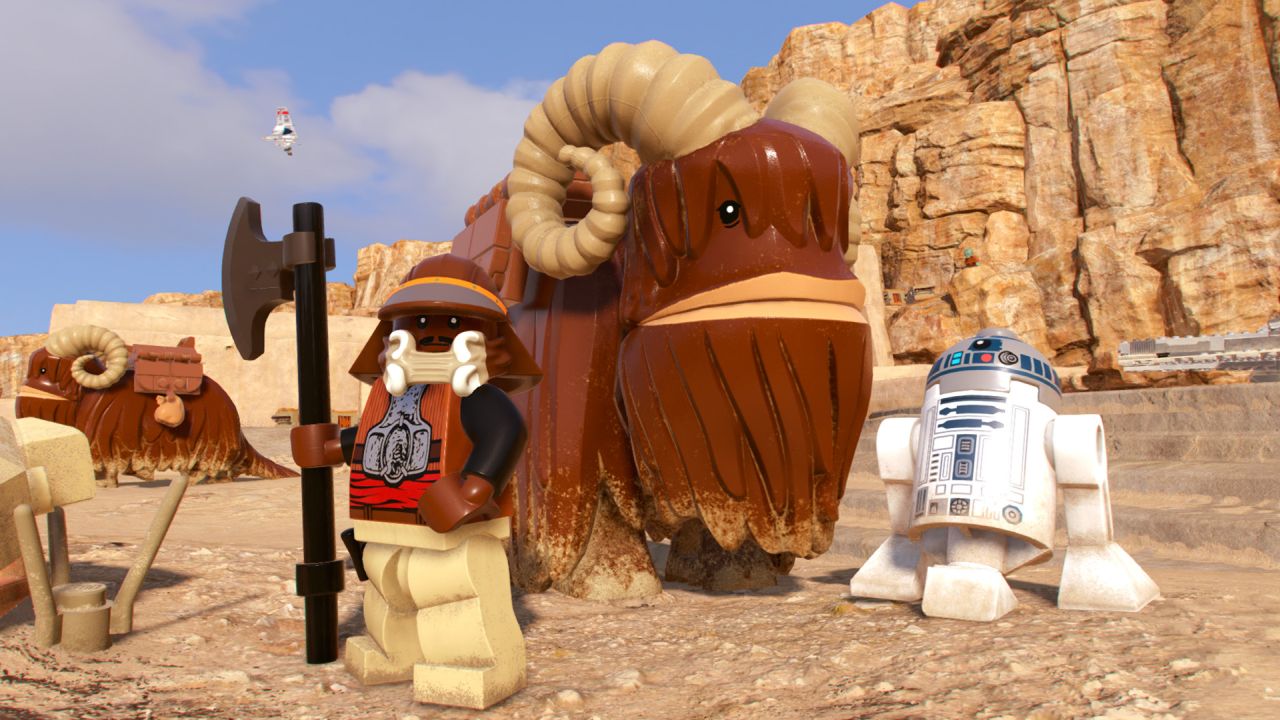 Story missions will restrict your playable characters to those canonically present in the films, however things are a bit different when played in Free Play mode. Free Play mode allows you to explore the open world segments you encounter in-between story missions, as well as story missions themselves, with the added freedom to use any character you wish, an ability that is essential if you aim to find every collectible in the galaxy.
Good luck doing that anytime soon though, as the galaxy is packed to the brim with a vast array of different collectibles. Studs obviously return and serve as the primary currency, and can be acquired by exploring, building, and simply bashing any breakable Lego structure in your path. Kyber Bricks are the fancy new collectible brick on the block, sporting a blue glow. These bricks can be earned in a multitude of different ways, such as finding them in the environment or collecting enough studs in a level to achieve True Jedi status. They are largely used in combination with studs to unlock core upgrades and class specific abilities, such as a faster climbing speed or a more effective shield to cover your ship in ship combat missions.
Despite not being a huge fan of aerial combat, I found the various space battles to be some of my favourite moments of the game. Like the rest of the mechanics, they're simple to control and provide plenty of fun moments. They don't offer much of a challenge given Lego games are easy and approachable by design, but this can largely be forgiven because of how much fun they are.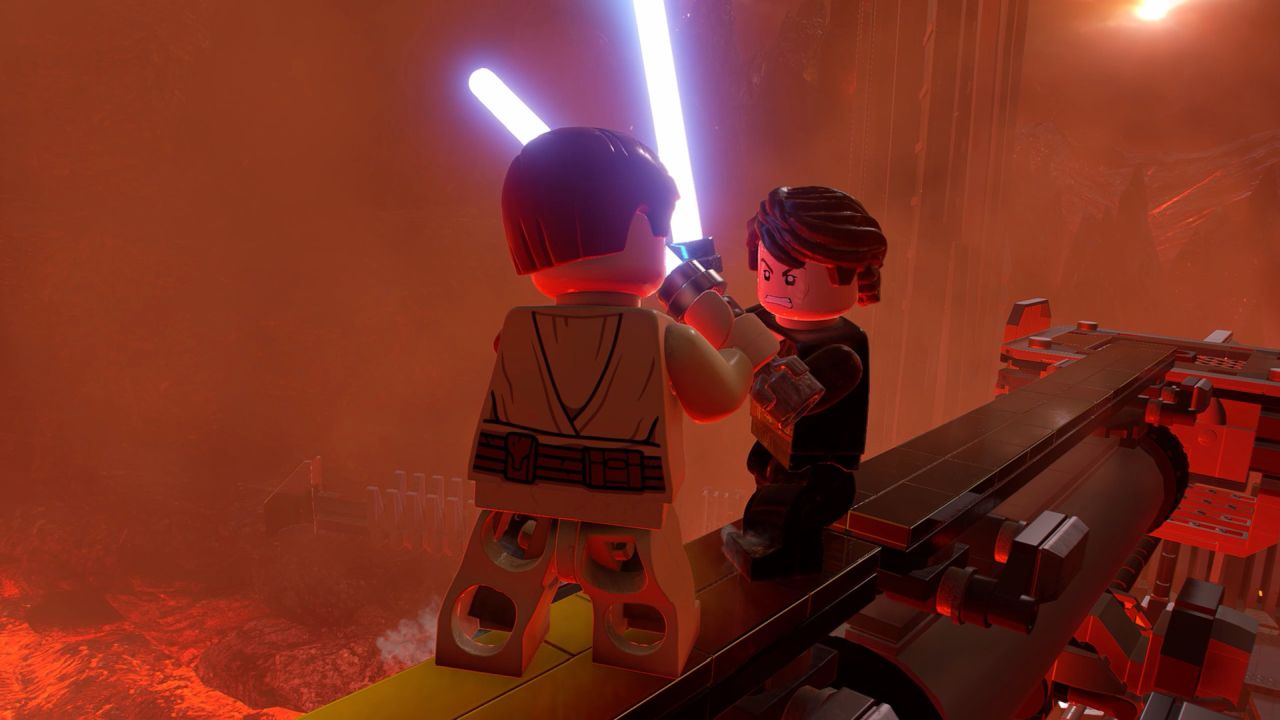 Although my journey throughout the galaxy was a largely enjoyable one, I did have a few issues. Firstly, I found the lack of online multiplayer to be particularly disappointing. It isn't the end of the world and I had plenty of fun playing alongside my girlfriend, but it would've been nice to have the option to play with friends online. There are also some moments when playing co-op where player 2 is essentially useless, such as a boss fight where I as Rey fought Kylo Ren while my girlfriend awkwardly hobbled around as BB-8 with no real role to play.
The title performed admirably throughout the roughly 25 hours it took me to make my way through the mainline experience and a few hours of Free Roam, maintaining a relatively consistent 60 frames per second at 4K on my PC. Visual niceties aside, the lack of ray tracing is a confusing decision, especially when last year's PC port of Lego Builder's Journey highlighted just how pretty a ray traced Lego experience can be.
Overall, Lego Star Wars: The Skywalker Saga is an enjoyable adventure bursting at the seams with a galaxy worth of content. Its abridged approach to storytelling and simplistic gameplay may be a negative for some, but those keen on an easily digestible game to play with a friend or alone will find plenty to like here. With thousands of collectibles to find, and hundreds of characters to play, Lego Star Wars: The Skywalker Saga is the most complete experience in the series, and its new additions such as more intuitive combat and camera perspective make it arguably the best to play as a result.
Our ratings for
Lego Star Wars: The Skywalker Saga
on PC out of 100 (
Ratings FAQ
)
Comments