Twelve Minutes Review
An unremarkable time loop mystery that misses the mark
It likely won't be remembered as such, but 2021 has been the year of the time loop in video games. From Returnal to Deathloop, various games have decided to force their protagonists and players to partake in a time loop, with the end goal to break free from said loop. Although not as well known as the aforementioned pair, Twelve Minutes is yet another game with a time loop premise, placing you in a cramped one bedroom apartment and forcing you to solve a mystery by experiencing the happenings of a 12 minute period over and over again.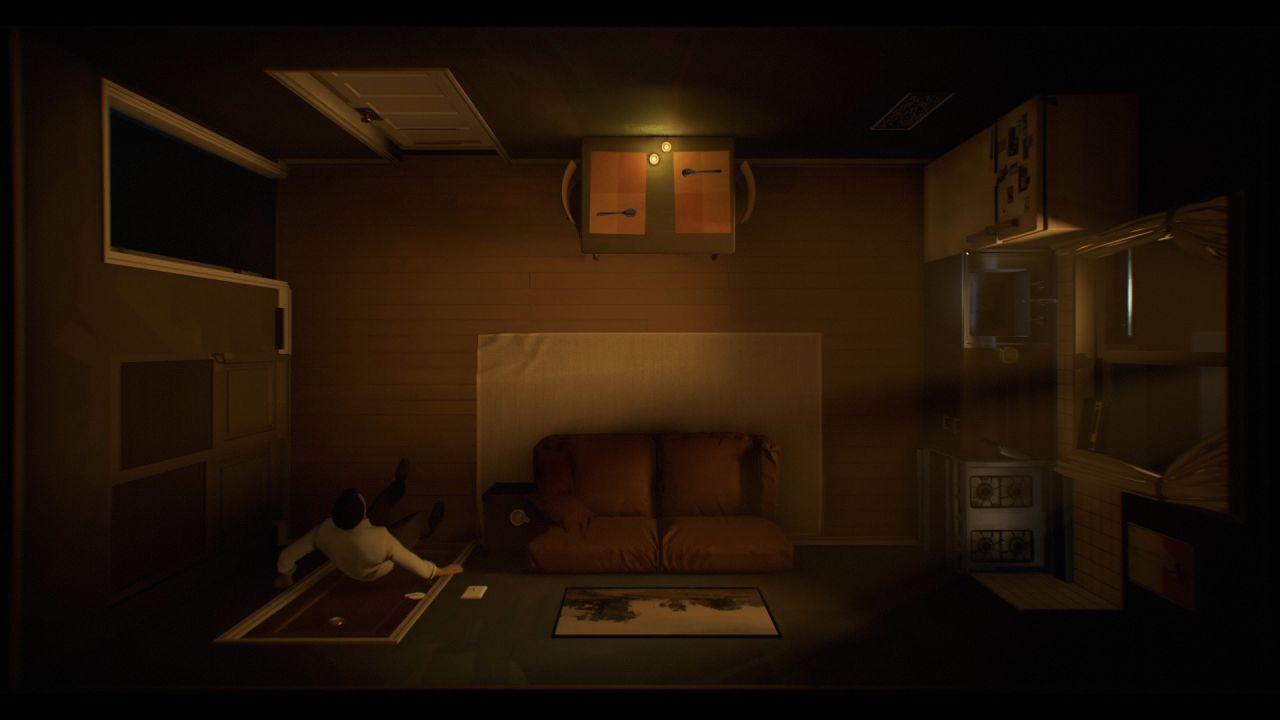 The story of Twelve Minutes quickly introduces its unnamed playable protagonist (voiced by James McAvoy), as he arrives home in the evening. He's lovingly greeted by his wife (voiced by Daisy Ridley), who has planned a special evening for them both, complete with dessert and a very exciting announcement. Whilst chowing down on dessert the wife reveals that she's pregnant, presenting her husband with a gift containing baby clothes.
Everything is wholesome and swell, but the pleasant evening is quickly derailed by an unexpected knock at the door. A strange man (voiced by Willem Dafoe) saying he is with the police barges in, accusing your wife of murdering her father eight years prior and demanding to know the location of her father's watch, and before you can do so much as get a word in, you're strangled to death and awake at the beginning of the evening. Your task is to utilise your ability to relive this scenario to discover the truth that lies behind the events that transpired, while also finding out how to save yourself and your wife from the current situation at hand.
The narrative does a great job initially at providing plenty of intrigue, successfully drawing you in with the revelation that your wife may be a murderer, and keeping you engaged as you try to find the clues throughout the apartment that lead to the truth. There is fun to be had in unraveling the mystery of Twelve Minutes, but the narrative's insistence to use cheap twists to shock its audience erodes almost all the credibility it could've had. It's bizarre and unnecessary, serving only to stun the player, and ultimately saw my respect for the game dwindle as a result. In the end, Twelve Minutes' plot doesn't get close to landing the knockout punch.
Thankfully, the voice work provided by the Hollywood voice cast of James McAvoy, Daisy Ridley and Willem Dafoe is well executed. Dafoe by far is the most impactful with his role as the cop, with a brilliant performance that succeeds in making the character even more unsettling. In terms of the husband and wife, McAvoy and Ridley do a solid job also. Having two British actors perform American characters is an odd choice, but they still present well. Given that the bird's-eye-view perspective robs you of the ability to see the faces of the characters for the most part, the voice acting is particularly crucial when it comes to providing character to the cast. Music in Twelve Minutes is also well composed, providing a strong sense of atmosphere, with the erratic track when dealing with the cop being my personal favorite.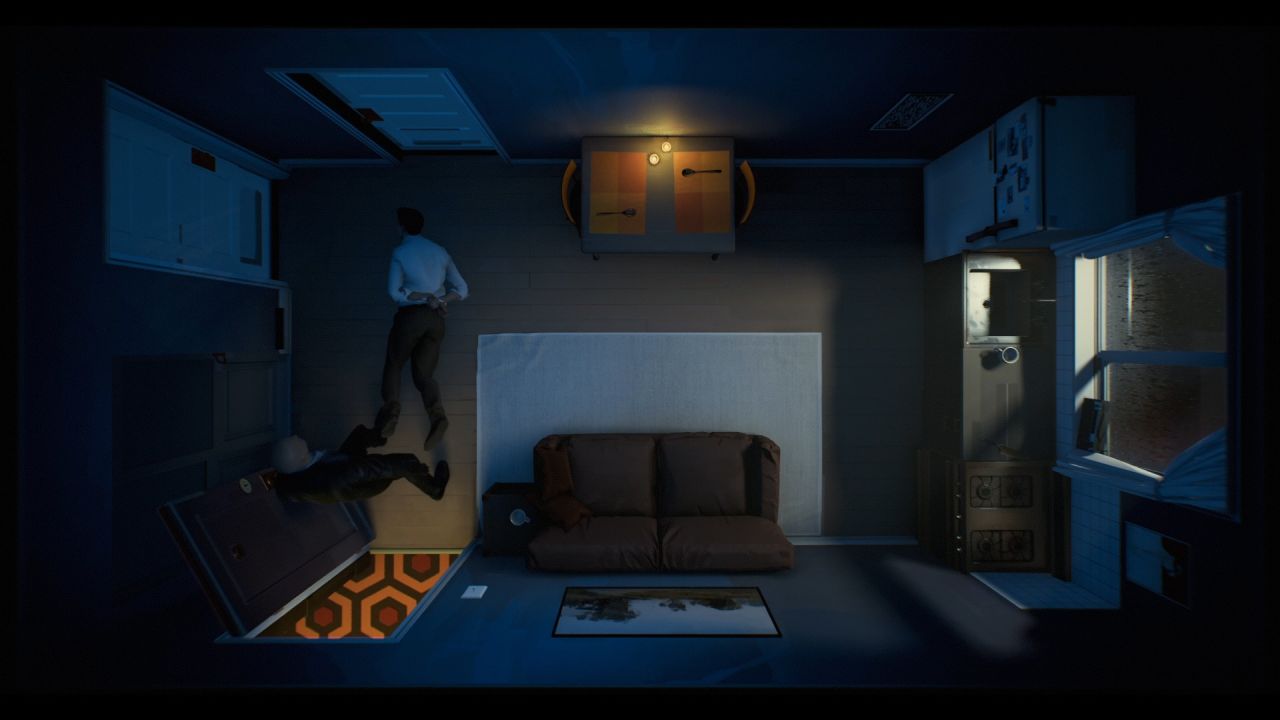 In gameplay, Twelve Minutes is essentially a point and click adventure game. Your task is to make the most of the time you have before the cop arrives at your apartment, manipulating objects in the environment in order to learn more information that you can then use in the next loop. While completing puzzles using items strewn around the house is crucial, dialogue is also supremely important. Making sure to exhaust all dialogue options with your wife and the cop (when you figure out how to talk to him) is also needed to progress the story, with new discoveries often serving as handy information in subsequent loops. For example, convincing your wife that you're in a time loop is needed to progress the dialogue and plot, so you need to make use of information and unrevealed secrets from prior loops to convince her. Convincing her includes guessing exactly when thunder will strike, as well as revealing that you know the contents of her pregnancy gift before it's opened. To do these things, you must have gathered the information from previous loops, otherwise how else would you have known that her gift was baby clothes? Clever puzzles like these are a perfect example of showing what Twelve Minutes is trying to achieve with its time loop gameplay approach.
Twelve Minutes gameplay is also about experimentation, with the real-time loop giving you roughly ten minutes to explore and mess about to your heart's content. Because of the bird's-eye view perspective, everything interactable within the room of the apartment you're in is present on screen. Items that can be picked up will be added into your inventory, which can be accessed by moving the cursor to the top of the screen. Dragging icons from your inventory onto characters will see the husband attempt to use it, such as stabbing with a knife or restraining with cable ties. Combining items in the inventory is also possible, such as combining sleeping pills to a glass of water. It's an easy to manage inventory system that thankfully controls well, unlike some other aspects of the game.
The fact that Twelve Minutes is limited almost entirely to the confines of a small one-bedroom apartment also makes the experience a bit less stressful, as the item needed to complete the current puzzle is guaranteed to be present within the confines of either the living room, bathroom, bedroom or closet. In saying that though, there will be moments that leave you stumped, and some puzzles can be adventure game-y in their level of obtuseness. Experimentation leads to discovery however, and working with the environment to find what clicks and pushes the adventure forward is where most of the satisfaction arises, just expect a bit of frustration from time to time.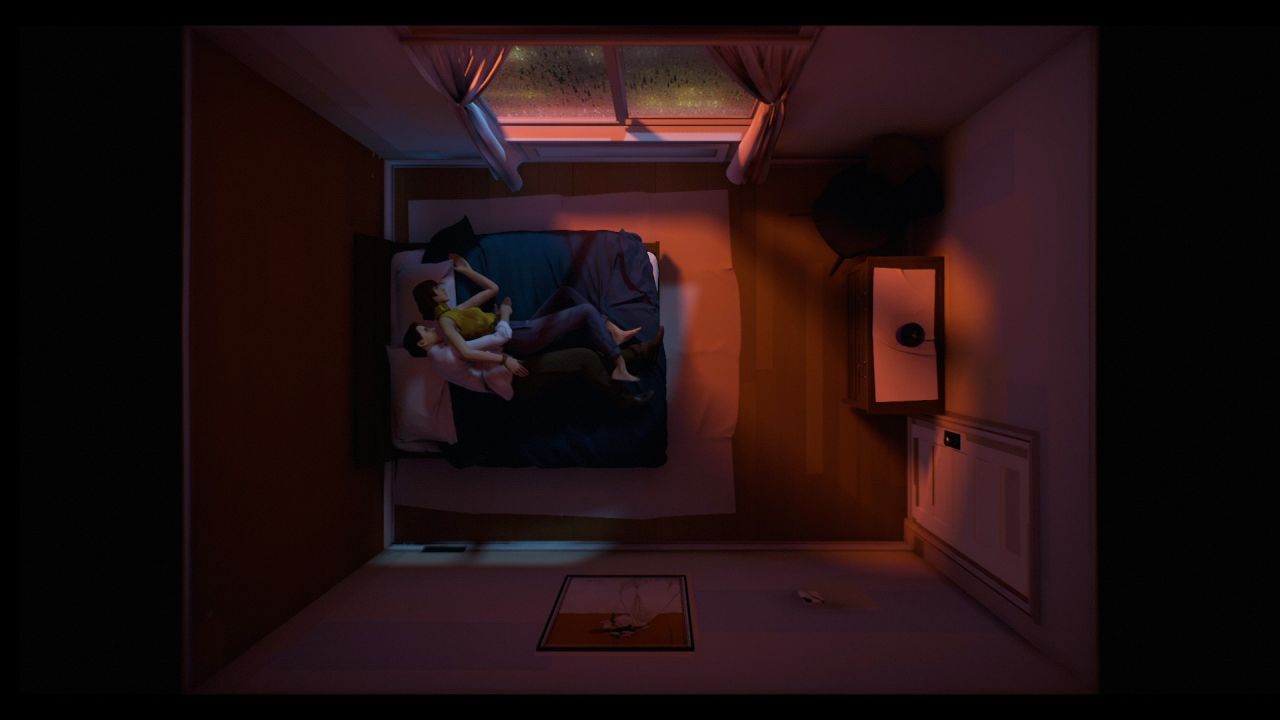 Frustration in Twelve Minutes will likely also arise from the lacklustre controls. Even though the point and click genre was designed more for computer mice than controllers, I have never played a point and click game with gamepad controls as finicky as the ones present in Twelve Minutes. On countless occasions I'd find myself fighting with the cursor trying to select the right thing in the environment, and more often than not it would result in a crucial error that would see me scrap what could've easily been a successful loop. Keyboard controls are thankfully much more reliable, however you'll likely still occasionally slip up and interact with an item that you were intending to avoid. The gameplay is a case of fun amongst frustration, and while the fun that comes from discovering and solving some of the puzzles feels gratifying, the often obtuse nature of their solutions alongside the finicky controls leads to an experience that is dragged down somewhat as a result.
Twelve Minutes is an interesting point and click adventure game that starts strong, but is ultimately let down by its poorly executed twist and convoluted narrative. Gameplay can also be a frustrating affair if you haven't caught onto what is needed to progress, an issue that is made worse by lacklustre console controls that lead to various moments where the mistake soils the run. Twelve Minutes ultimately gets its concept right, but its execution wrong.
Our ratings for
Twelve Minutes
on PC out of 100 (
Ratings FAQ
)
Comments