eFootball PES 2021 Season Update Review
Something to pass the time
A console transition year is always challenging, but it certainly hits annual releases harder than others. With the COVID-19 situation certainly not helping, sports games face the task of releasing two products within a short period of time this Fall, as the next-gen consoles are due to debut in November. Konami has made the interesting and difficult choice to have PES 2021 Season Update as its annual soccer release. Rather than try to offer a brand new game and also launch on next-gen, the developers opted to release a cheaper upgrade of last year's game, and have promised a new experience for next year. This approach doesn't provide much value to existing fans eager to experience something new or next-gen, but it does offer an opportunity for curious newcomers to try the franchise at a cheaper price point.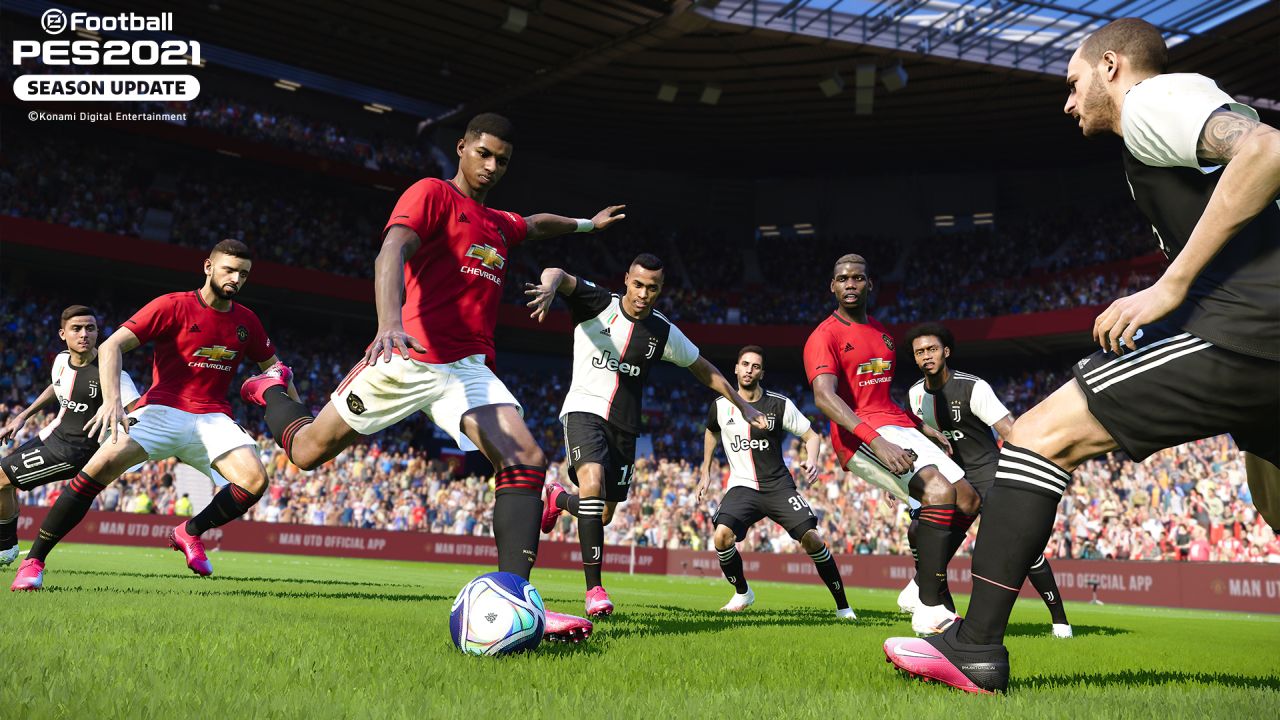 PES 2021 Season Update is priced at around half the usual cost of a full release. It contains the same experience as PES 2020, including all gameplay modes and most of the content. We won't go into extreme detail about the experience, since you are getting much the same experience as last year. To that end, fans who own last year's game can upgrade to 2021 for an even more reduced price. However, given that the experience is so nearly identical, it still feels a bit expensive to pay for what is literally a roster update.
Given that the updated roster is the main value proposition for PES 2021, it makes for an extra tricky discussion. Fans of this soccer simulation franchise will be very familiar with the fact that the series actually lacks a lot of club and league licensing compared to its competition; although all the players are usually there. No review of PES is complete without discussing these issues, and 2021 is no different. With a day one patch, you do get a lot of the summer transfers that have occurred this year, however many are still missing and underway – and those won't arrive until October, according to the developers. Major leagues like German Bundesliga are still absent, Spain's La Liga only has the Barcelona license, and most of the English Premier League is unlicensed. Last year's UEFA EURO 2020 mode is still here, though not updated at all to reflect that the tournament has in fact been postponed. To boot, players from 2020 will notice new changes to 2021 – AS Roma is now exclusively here, joining Juventus. However, you lose AC Milan and FC Internazionale Milano as agreements with those teams has expired. The option remains to import fan-made license information to make the game more authentic.
PES 2021 does contain all of the same game modes and experiences as its predecessor. There's the Master League, where you pick a team to guide to glory. It remains an engaging experience, but it's disappointing that the developers didn't make any minor tweaks at all over the course of last year and into this Season Update. The interface can be awkward to navigate, some of the player transfer negotiations are unrealistic, and you can't tweak your transfer and salary budgets. In Become a Legend, you can control an individual player through their career; no changes made here either, for a few years now. A couple of new real life managers appear in the game now, namely Giggs and Lampard.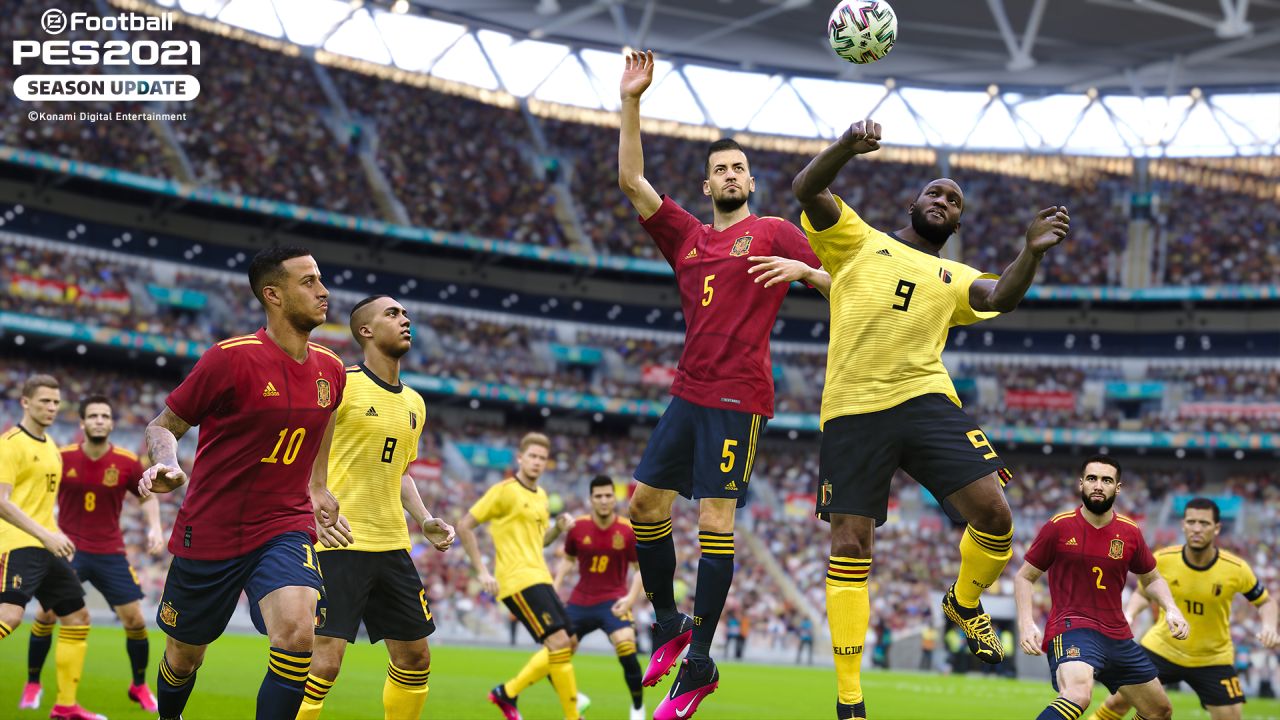 On the pitch, PES 2021 plays like last year's game, though it seemingly didn't benefit from a lot of patches or tweaks over the course of the year. The game still sticks to its own brand of soccer simulation, unwavering in its design philosophy, problems and all. Players can still feel too slow to respond and lack urgency; particularly on defense, there's not much you can do when your AI teammates refuse to intercept easy passes or close down attackers. In attack you can score some very satisfying goals, though most come from either great shots, or due to easily abusing the defending AI. Free kicks seem to be guaranteed goals, even with the best goalkeepers in the world. The referees are quite well balanced and keep the games fair, though they are very happy to red card players who commit fouls in the penalty area.
In online modes, myClub returns with no changes as well, though the team building mode feels different this year. While in the past it took a while to build up a decent squad, the 2021 edition is keen on getting you many big name players right off the bat, rending your starting amateur squad useless within a couple of hours of play. There's no sense of growth this year – and it's confirmed when you try to play online. The vast majority of online clubs are top-end squads full of superstars; searching for an opponent with a sub-5 star team always took over 20 minutes, if it found an opponent at all. Everyone seems obsessed with simply re-creating Juventus or Barcelona, which is simply dull to play against.
Playing online is probably the other major reason for fans to upgrade to 2021, however this area also needs to be addressed. PES has always enjoyed a vastly bigger player pool outside of North America, and it seems even more pertinent in the opening week of the new game. Finding opponents for online versus or co-op takes a while, and again, everyone only plays Juventus and Barcelona, a problem not seen in FIFA. It takes a while to find games because the vast majority of players seem to be from Central and South America, and all multiplayer custom lobbies are 90% in those languages. So, if you're an English speaking player in North America, PES 2021 online community remains very limited in options.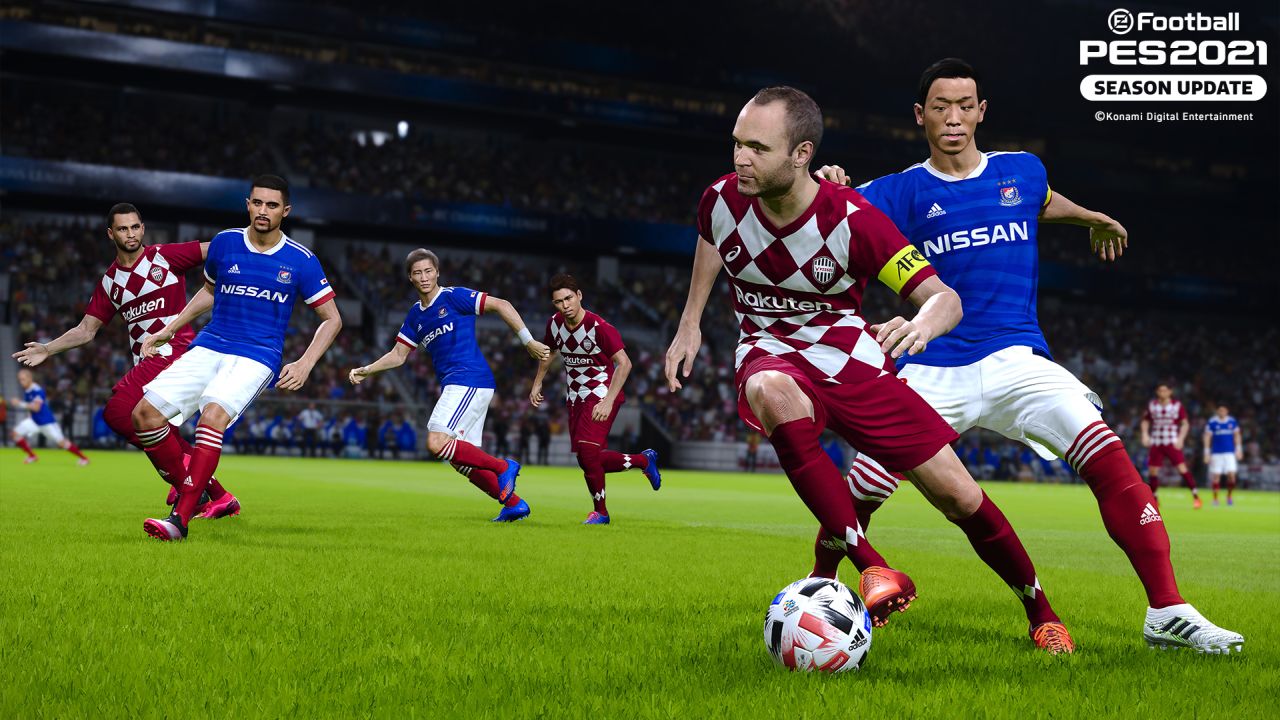 As it is the same game as last year, no presentation touch ups have been made. Perhaps there are some new player likenesses, but they are not very noticeable. The game's realistic-looking approach is beginning to look a bit dated, with some players looking very freakish, as their faces and shadows are not quite right. The rain and snow effects just don't look good. You do at least get a brand new music soundtrack, with some good songs that can get stuck in your head. The menus look identical to last year in style and structure. The tired audio commentary remains highly repetitive.
PES 2021 is an underwhelming way to conclude a generation for the series. While this sort of roster update approach has been used for FIFA plenty of times, for old-gen releases (and charging full price for them, too), it is different for PES given that it essentially doesn't have a new game at all this year. Yes, the COVID-19 pandemic certainly takes some blame, but it's also perhaps a bit reminiscent of how this entire gen went for the franchise. It had some ups and downs, and found some solid ground, but never really built up beyond that. PES 2021 Season Update isn't a culmination of everything that the franchise has managed to accomplish over the past seven or so years, it's more of a resignation, and a promise that next year will be different, as the chase to compete with EA's FIFA will begin anew, on fresh console hardware. If you're a PES 2020 owner who doesn't play online, it's probably best to stick with that game and get some fan-made patches. Newcomers to the franchise may appreciate a lower-priced entry point to see what PES is all about.
Our ratings for
Pro Evolution Soccer 2021
on PlayStation 4 out of 100 (
Ratings FAQ
)
Comments