PGA Tour 2K21 Review
Maybe not a Birdie, but definitely not a Bogey
Although I consider myself pretty well versed in sports games, professional golf is definitely a bit of a blind spot. I've spent hours with Mario Golf and Everybody's Golf, but the former Tiger Woods PGA Tour series was never something that interested me. To be fair, the sport itself does not really interest me, despite the nagging of my friends to get involved. However, with the current pandemic upending the entire world of sports, my view has changed slightly. Not enough to get out on a real course, but definitely enough to step into the world of PGA Tour 2K21.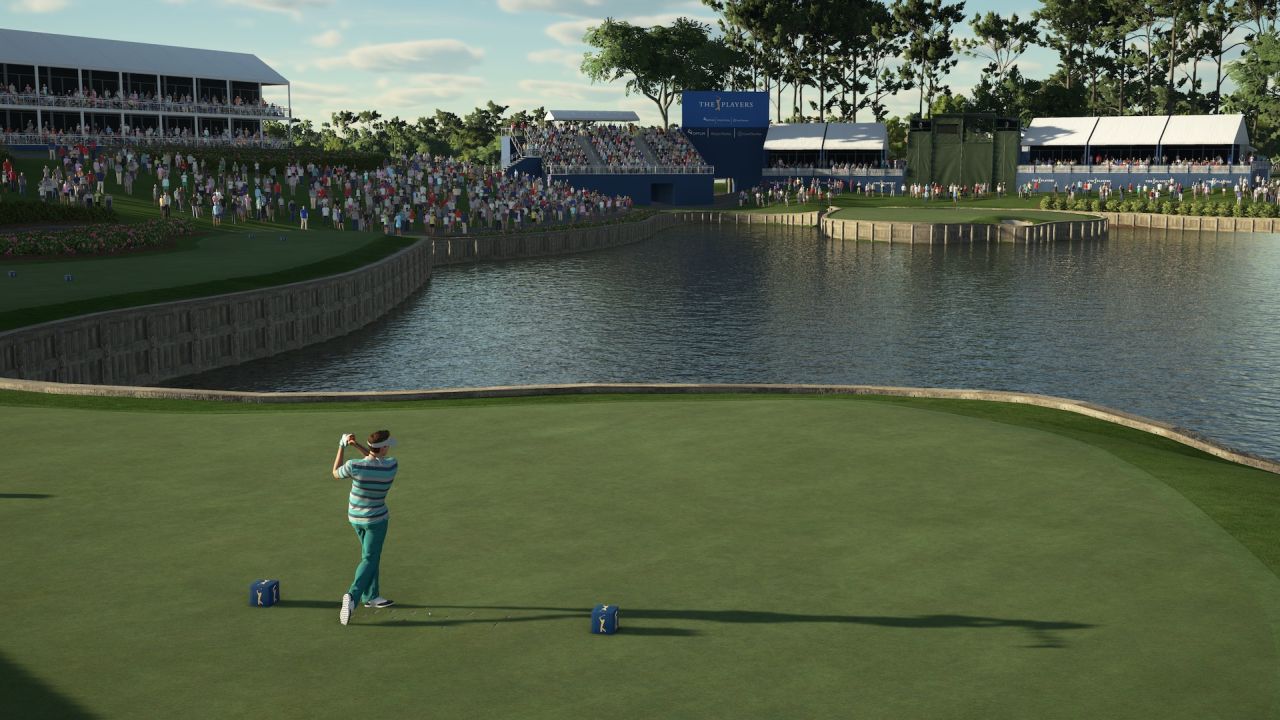 Formerly known as The Golf Club, PGA Tour 2K21 takes the mechanics that HB Studios crafted over the years and combines them with the powerful 2K Sports branding. With a hole in the marketplace since EA Sports left town, the timing was perfect for this higher-budgeted effort. From my understanding, the addition of more real-life courses and professional players is the biggest change, as the underlying mechanics haven't changed that much from the former series.
As someone new to the franchise, I was thankful that the title throws you right into a training tutorial upon booting it up. Not only is it good for understanding the mechanics of the game, but it is also helpful in learning the ins-and-outs of the sport itself. From figuring out which club works best for your position on the course, to what shot type is ideal for getting closest to the hole, I learned more from the tutorial than I ever did previously. Kudos to HB Studios for creating such a robust and helpful tutorial mode.
Even if you are a fan of the sport, though, I imagine the tutorial will be necessary to getting used to the swing system. PGA Tour 2K21 sports an engine that makes sense for the sport, with one analog stick controlling where you are aiming, and the other controlling the swing itself. To begin your swing, you will first jerk the stick back, and once you feel you have the correct amount of power necessary; you will swing it forward to complete the shot. It sounds simple enough, but there are several aspects that need to be kept in mind for each shot. Adjusting for power is always important, as is taking notice of the wind on the course. However, the two biggest parts to focus on are how fast you move the stick forward, and how straight you keep it.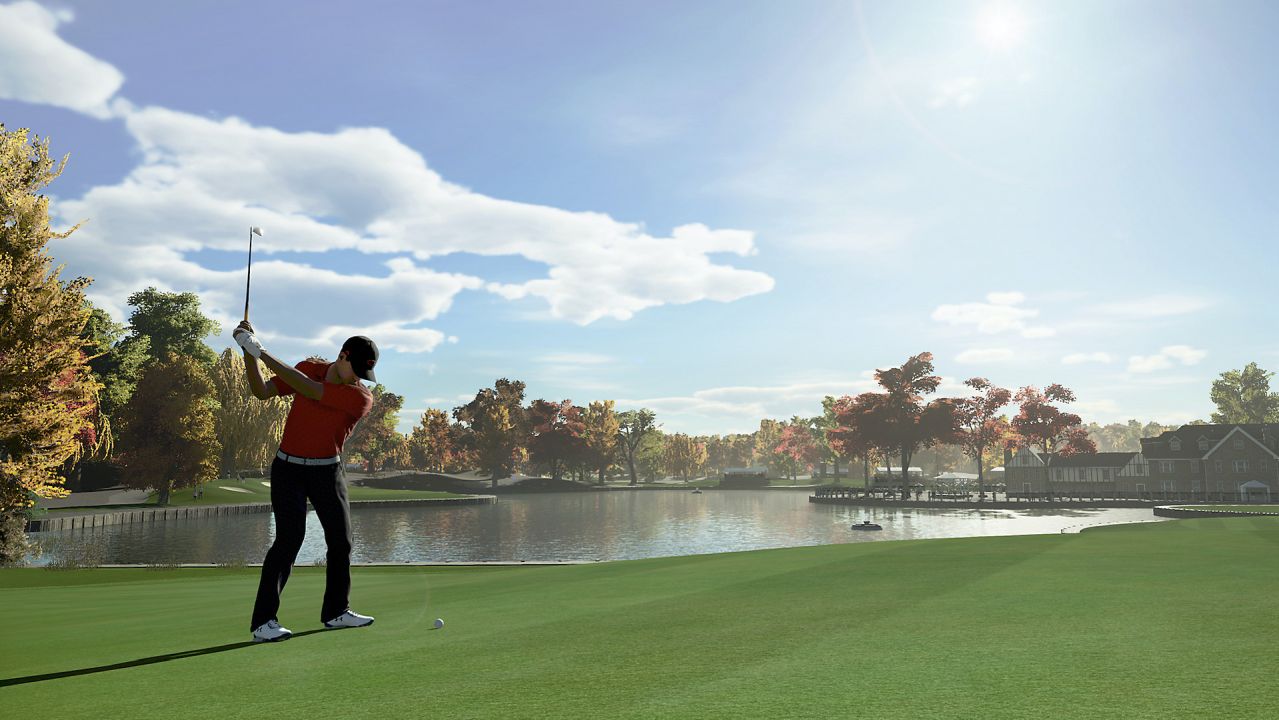 With as many meters to watch as there are, it can feel overwhelming at times. Again, the tutorial does a fantastic job of prepping you for action, but it still takes some time to get used to. If you are like me, you will be hooking and slicing a solid portion of your first shots. The more time you spend with the title, though, the more you'll be able to recognize what constitutes a good shot. Even purchasing new clubs will not necessarily help you get better faster. Clubs all have their different traits, and you could trade in a club with better control for one with further distance, but the margin of error then shrinks exponentially. Like with actual professionals, it takes practice to be perfect.
While it may not be as beefy as older sports franchises, PGA Tour 2K21 does offer a solid batch of modes. The PGA Tour career mode takes you from the amateur circuit to competing for the prestigious FedEx Cup. You can hop online with friends and compete in match types such as Stroke Play or Skins. The online action can even be taken an additional step forward with Online Societies that let you craft your own clubhouse rules. Finally, there's a course creator for you to design the course of your dreams. The title may not be jam packed with content, but it will keep fans more than busy throughout the season.
The PGA Tour career is where I have spent most of my time with the game. As mentioned, it takes you through the beginning stages of your career and into your professional days. There are no silly storylines to deal with or intrusive cutscenes. Just straight up golf that suits the laid-back nature of the sport. As you make progress on the circuit, you will engage in some small rivalries with the few pros included in the game. There is very little to this system besides just surface-level comparisons, though, so don't expect to develop a years-long feud with someone.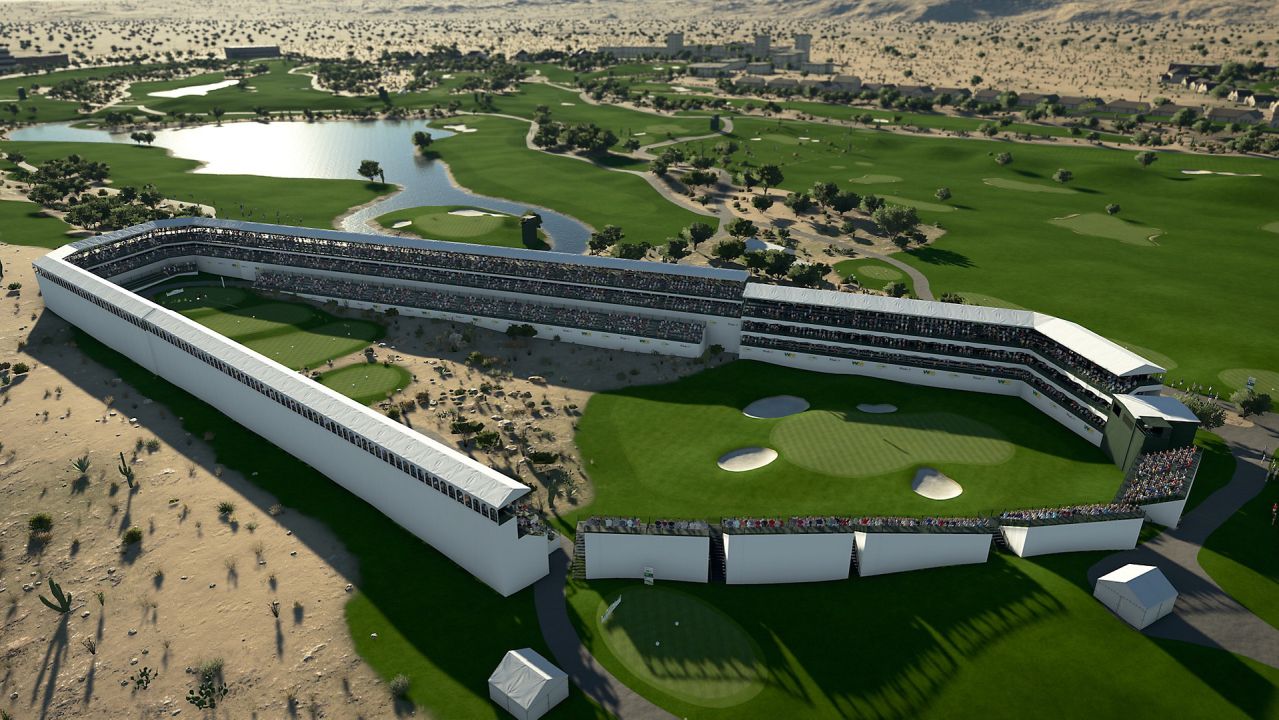 What you will get out of beating a rival, though, are experience points and currency. XP doesn't affect your golfer's personal stats as much as it unlocks new options for you. New clothes tend to be the most consistent reward for leveling up, but other clubs will get unlocked over time as well. Or you could just choose to purchase them with the cash you get from completing hole specific challenges or winning events. There are also sponsors that will reward you with brand specific gear if you complete certain challenges. Due to how the gameplay is set-up, you don't technically need to get involved with any of this, but it is a way for you make a load-out that suits your style of play.
Having suffered through some of the anemic sports game stories of recent years, I'm almost thankful that PGA Tour 2K21 is as quaint as it is. It's easy enough to get started, and enjoyable enough to kill some hours with. The one thing I do think it lacks is the pageantry that's associated with the big professional events. Trophy presentations seem like a big deal in real-life, so the lack of a cutscene at the end of a tourney is puzzling. That extra bit of pizzazz would have added a much-appreciated touch to the career mode.
Going online with PGA Tour 2K21 has been enjoyable as well. The variety of match types afforded to you allow for things to be shaken up on a match to match basis. If you are playing with a friend, it's great to be able move from Skins to Match Play if need be. There are even options in place to speed a match up if you only have a little bit of time to play. Online Societies is one aspect of the online portion that I'm looking forward to exploring as time goes on. There is already an official one set-up, but it will be even better to build one with my friends.
The course creator is also another facet of the title I'm eager to spend more time with. I've created a fairly basic course, but the tools are available to make something much better. It's a system that provides plenty of options for wannabe landscapers, and one that doesn't even need a Master's degree to understand. I imagine that the online database will populate with some real good courses soon enough, so even if you personally don't want to do the building, you can at least take advantage of the feature.
Despite the budget upgrade that came with the acquisition, PGA Tour 2K21 is lackluster on the aesthetic front. The golf courses look fine enough, but it's hard to depict the gorgeous vistas of a real-life course with the same majesty in a videogame. And considering there are only 12 professionals included in the game, character designs are weak as well. Luke Elvy and Rich Breem are a solid commentary duo, but after a few rounds, the same canned lines pop up again and again.
PGA Tour 2K21 had a tough needle to thread, but it feels like HB Studios was able to pull it off. Its intuitive swing system will let novices learn the ins-and-outs of the sport, but still has enough depth to challenge the pros. It feels like a system that has been perfected by a studio that clearly loves the sport. With the main aspect being as great as it is, this makes all the various modes included with it enjoyable to play. It may lack the more spectacular presentation of the other major sports franchises, but I'll take strong, consistent gameplay over that any day of the week.
Our ratings for
PGA Tour 2K21
on PlayStation 4 out of 100 (
Ratings FAQ
)
Comments
blog comments powered by Disqus