Immortals Fenyx Rising Hands-on Preview
A colorful mythological action adventure
What's in a name? Oftentimes at E3, games get announced without a name at all, as companies are hesitant to lock-in the original IPs with a title. In the case of Gods & Monsters, Ubisoft went ahead and gave it a name since it was their closing game at the E3 2019 showcase. It was said to be a new action adventure set in a mythological world, and planned for launch in February 2020. However following some poor outings form other franchises, Ubisoft decided to delay this, and many of its other games, into the future. During this delay, the developers had a chance to further expand on their design, and felt that a new name was also needed. The new title is Immortals Fenyx Rising, an admittedly fairly generic and forgettable tag compared to the original. But a name is just that - so we dispelled any doubt, and dove into a two hour hands-on session with the title.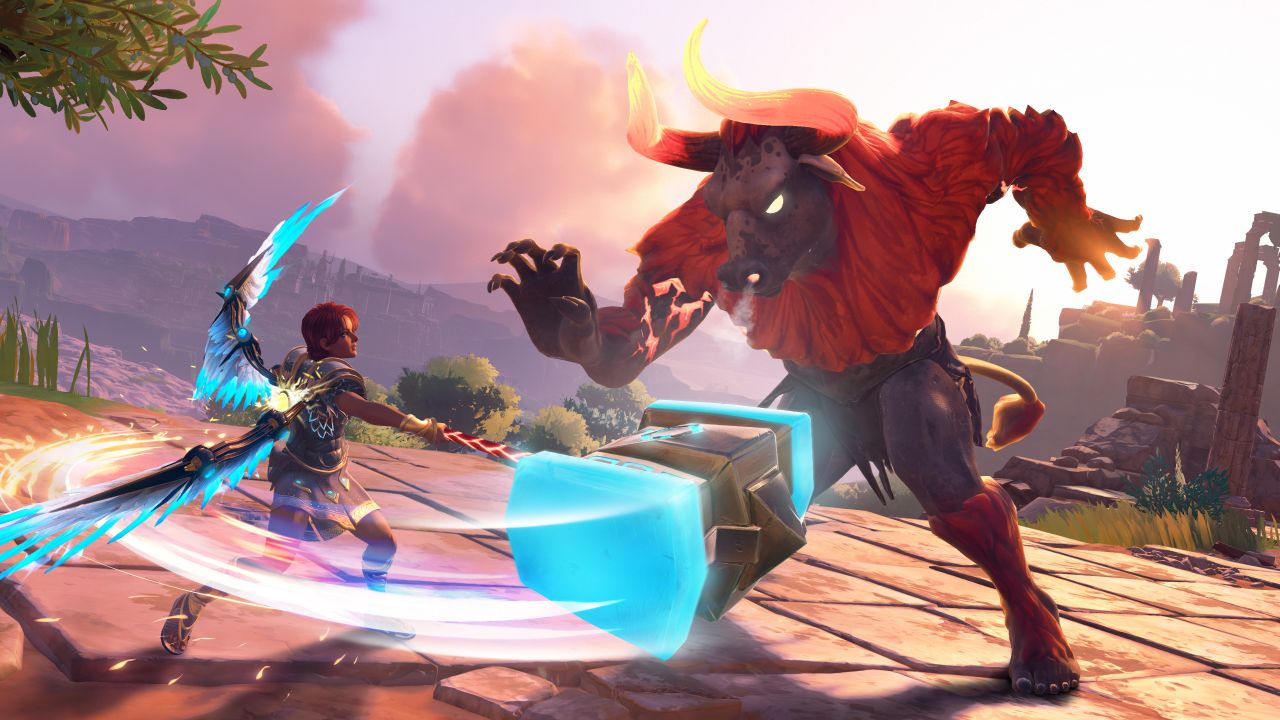 Before getting into the gameplay, we had a chance to learn more about the game and its setting. The action will take place in a world based on Greek mythology, where a titan named Typhon has broken free of his chains and broke the barrier between the human world and the underworld. This caused all sorts of creatures to spill out into the Golden Isle, where the game takes place. Players will assume the role of the titular Fenyx, a winged demigod who sets out to put an end to the monsters roaming the land, and hope to restore the rule of the gods.
Immortals Fenyx Rising is a third person action RPG, and as Fenyx, players will explore the isle and its seven different regions, all based on the gods. For our demo, we explored the Forgelands, an area for the god of blacksmiths Hephaestus. This region featured a few industrial looking forges, orange grasslands, and plenty of cliffs and hills. We began our demo on top of the Hephaestus statue, and used a Far Sight ability (i.e. binoculars) to look over the region, and identify a few points of interest to mark on the world map. Our first goal was to complete a story-based quest of helping Hephaestus restart his forges. We jumped off the statue, and used a glide ability to soar down to the ground. Up ahead we encountered our first mystical foe, a sort of medusa looking creature.
The combat in the game felt fairly responsive, and was focused on hacking and slashing, while also dodging incoming attacks, which slows down time. Fenyx wielded a spear, a sword, and a bow, and using these weapons provided different styles of combat. Lock-on function was useful in keeping the camera stable as we jumped around and put the hits in, and a parry ability let us deflect all but the red-indicator types of attacks. Players can use potions in battle - for health and stamina restore, as well as boosting attack or defence. The combat isn't very heavy on effects, so it's possible to keep track of what is happening and look for enemy attack signs. The above-mentioned three weapons are all that we were able to see in the demo - we picked up a few other ones, but they were still all spears/swords/bows.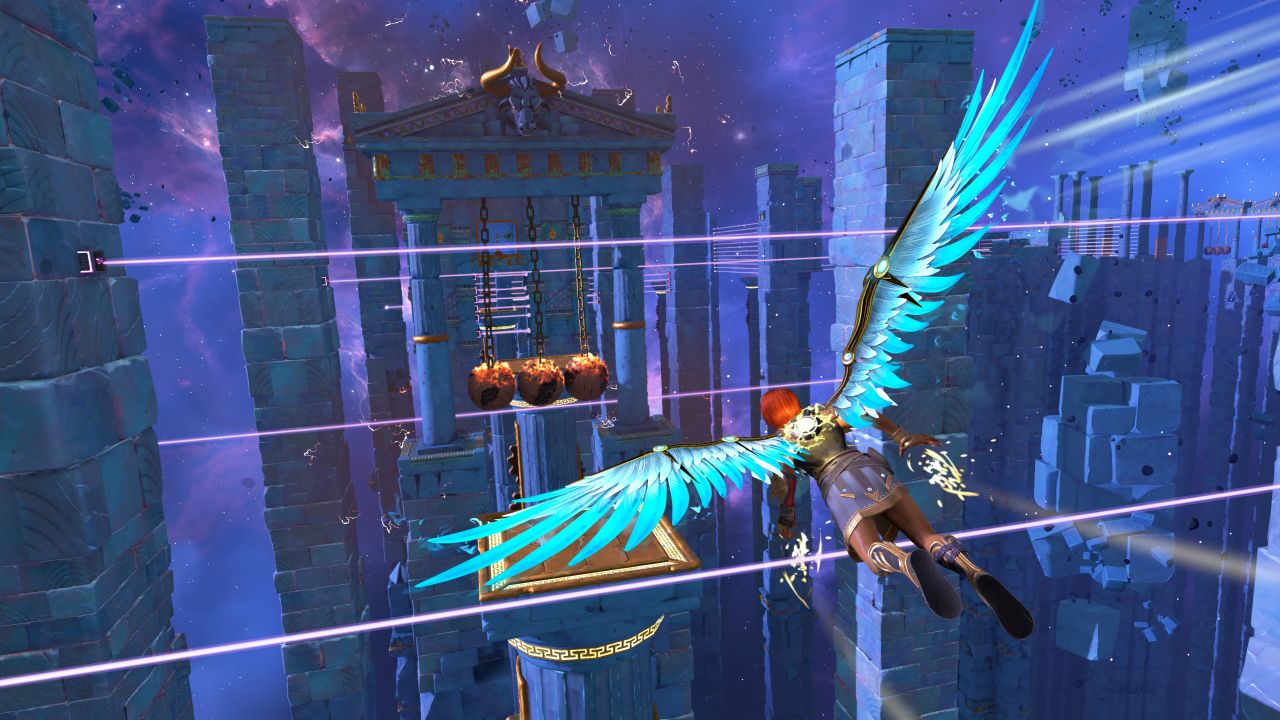 A lot of your success depends on the gear you're wearing, and here the game shows a few similarities to the Assassin's Creed franchise. Fenyx has a helmet and body armor slots, as well as the three weapons. Each armor piece provides some base damage/defence, specific bonuses, and also various perks, such as increased damage when at full health. Using resources collected from the game world, you can further upgrade the equipment to unlock a second perk, such as refilling health after a perfect dodge. There's also a flexible visual customization system - you can equip one armor set or weapon, but swap its look to anything in your inventory. Players will be able to unlock new skills and combat abilities in the full game, but in our demo we were locked in to a select few - such as a large hammer attack. The controls used a trigger as a modifier to bring up those special moves, very much like in AC.
Having fought and made our way to a large forge-like installation in the center of the map, we then solved a few light puzzles in order to get the forge fires started. Fenyx has an ability to pick up certain objects at a distance and drop/throw them, very much in the style of The Legend of Zelda: Breath of the Wild. This ability was needed a few times to get the coal in the right place, and then we used an ability that lets you guide arrows to fly through a fire and into the coal. Enemies spawned at each step of the way, and they included flying creatures and melee creatures like three-headed dogs, as well as some mechanized robots. In the final section, we faced off against a boss, but this mech was simply a larger version of enemies we faced previously, with just one or two new attacks. Defeating this boss had completed the story quest, and for the rest of the demo we were free to explore the region.
The game offered up a few targeted side quests, but first we headed out to simply wander around the area. There were treasure chests guarded by enemy groups, additional boss fights, and vents with air bursts. Exploration is said to be one of the core aspects of the gameplay, and being able to glide and boost on those air vents is one of the ways to quickly traverse the terrain. The region did feature a ton of elevation changes, and while Fenyx can seemingly climb almost any surface, using the airways felt more satisfying, and efficient. You also get a mount, which can be tamed in the wild, similarly to Breath of the Wild.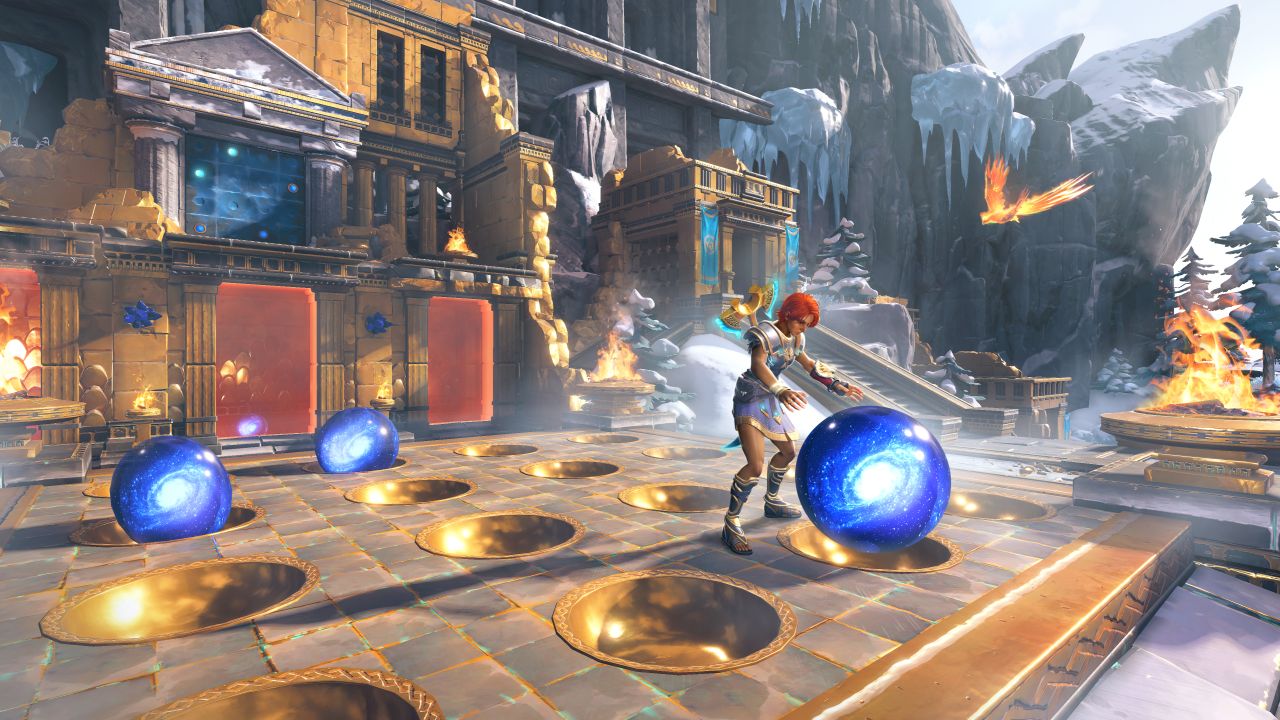 There were a few environmental timed challenges as well that we stumbled across. One challenge had us guide an arrow through a series of tight loops, another needed us to fly through some lasers to reach the other side of a canyon. It was fun to attempt and complete these small events while exploring. For more focused puzzle areas, the game transports players to dedicated Vault levels in the underworld, where you jump between platforms, push levers, and solve physics challenges. Again, fairly similar to Zelda's recent outing.
Immortals Fenyx Rising has a rather pleasing visual art style. The soft lighting effects and stylized designs of the characters made the game feel quite accessible - despite its occasionally challenging combat. There was a day and night cycle, deep canyons and higher mountains, and a few different types of foes. The audio design was suitably similar to the visual style, along with some amusing voiceover from a narrator and Zeus - though we're told things will be a bit different in the final release.
Despite switching to a rather generic new name, Immortals Fenyx Rising looks like a fairly promising action adventure after our 2 hour hands-on session. It's using some tried and true formulas - bits of Assassin's Creed, bits of Zelda - to create its own experience set in a world of Greek mythology. The pleasant art style should help the game stand out from this sometimes overcrowded genre, and fans can look forward to the full adventure when it launches this December on PC, current gen, and next-gen consoles.
Comments