NBA 2K20 Review
Solid gameplay obscured by cash-draining modes
This might be the best MyCareer story ever told in an NBA 2K game. It may not sound like much of an accomplishment, because the stories in MyCareer have been, at best, forgettable and sometimes downright terrible. But this year's game is actually interesting and while still occasionally flawed, it actually has something to say - and says it coherently. While MyCareer stands out, the rest of NBA 2K20 feels like same old - perhaps that's okay, since the game is still quite strong. In fact, aside from some gripes about the MyGM mode, the biggest issue with this year's edition is still how it feels like a pay-to-play game despite charging full price to get in the door - requiring tons of time to grind up levels or extra cash to get quality content, and sometimes both.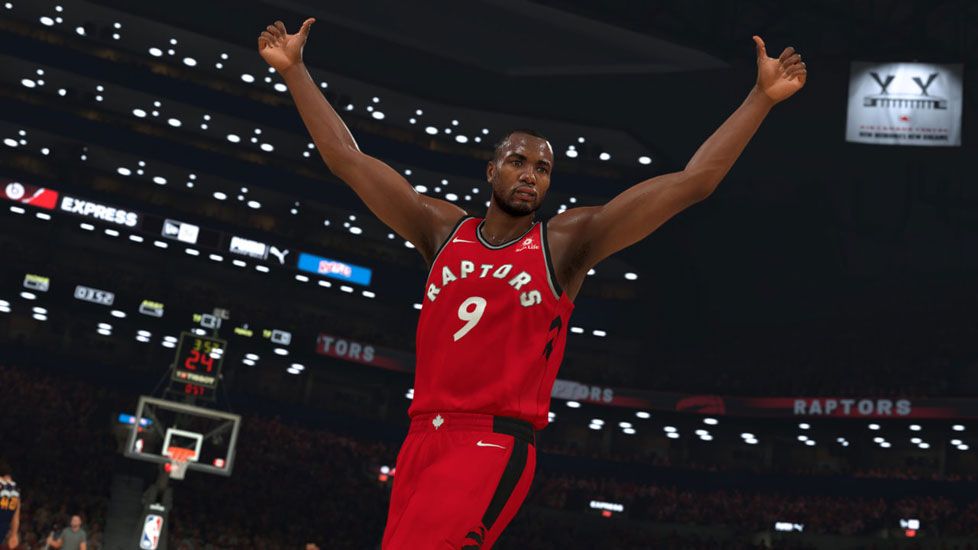 The MyCareer story follows the journey of Che, a college student who stays in school for all four years, despite his draft stock falling, because he wants to help his team win a conference championship. In his senior year, his team finally wins the title and gets themselves to the 2K-brand college basketball tournament (which resembles March Madness in just about every way possible.) However, during the final game, Che's teammate is injured on a cheap-shot foul and the school revokes the teammate's scholarship. Disgusted by the acts of his school and his coach, Che sits out the tournament and his team loses in the first round. Labeled a "troublemaker", Che's draft stock plummets even further and he finds himself on a long road to earn his place in the NBA.
The writing is okay, but it's sold by the actors. Idris Elba plays the coach, Rosario Dawson is Che's school counselor, and Thomas Middleditch plays the agent trying to help Che land a rookie deal. All of these actors have a history of elevating middling material and they all do so again here. It makes the scenes fun to watch and that, in turn, makes you root for Che. But what helps the most is seeing a sports game approach the idea of athletes being more than just the sport they play. As an executive producer, it's hard to say how much influence LeBron James had on the story, but the subject matter of a player transcending their sport to become a cultural or political figure is a central theme.
Much like last year, after you finish the story it reverts back to a rather standard MyCareer mode where you play games, receive virtual currency, then upgrade your player. However, this year I found myself riding the bench of the Timberwolves despite being one of the best players on the team. The AI here is kind of baffling and annoying. Luckily, you're able to just insert yourself into games from the simulation menu, so I was able to ensure I saw a fair amount of minutes, though I wish it was more natural.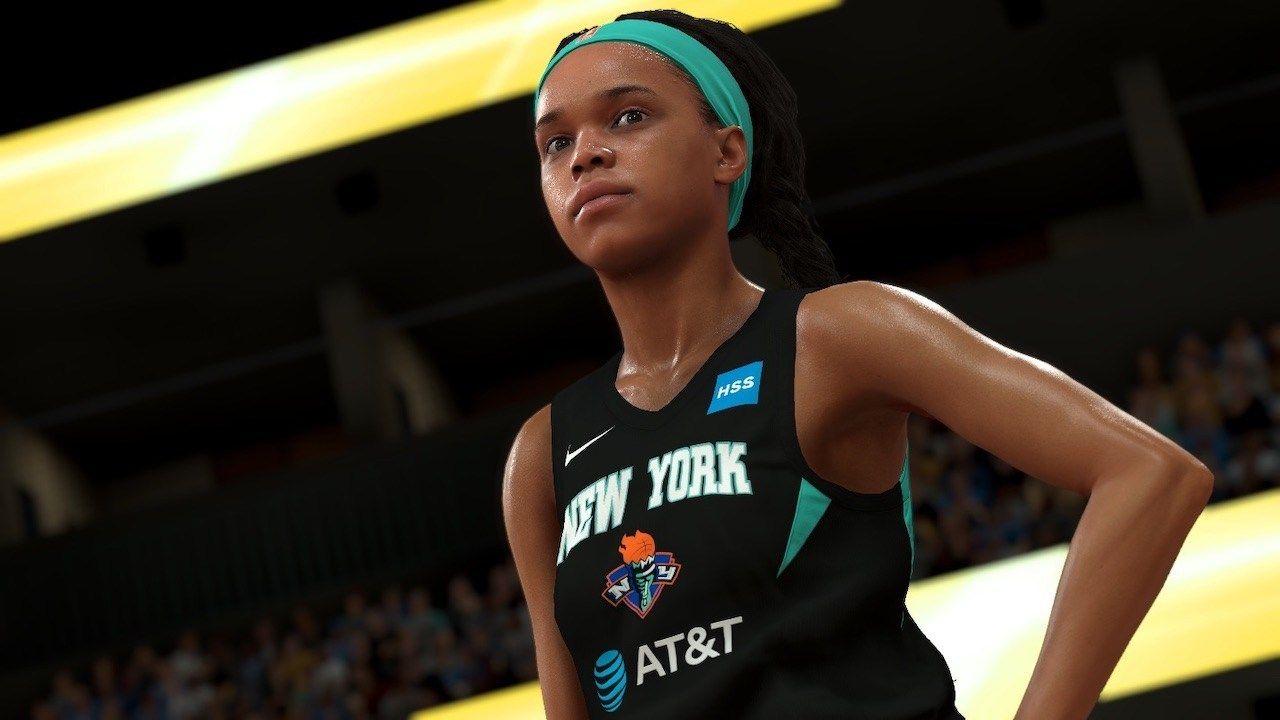 The virtual currency has always been a problem in NBA 2K, especially in MyCareer mode, where the game is begging for you to open up your wallet to make your player a little better or a little more stylish. It feels about as bad as it's always been, just in different ways. When you begin MyCareer mode you build an archetype for your player, which caps certain skills and shows where you should be focusing your spending. This helped, so I didn't feel the need to spend money to upgrade my player in unnecessary ways, but once I finished the story, I was bombarded by all the different shoes to buy, fancy clothes to wear, and tattoos to show off. It's mostly cosmetic, so I guess it can get a pass here.
MyGM mode is basically unchanged and it feels like something Visual Concepts has largely forgotten about. The game introduces an Assistant GM who manages your time by suggesting actions for you to do. You have limited actions to best help your team, so there's a big of time-management angle, but I didn't feel like it was that different from prior iterations of the mode. Mostly the mode is untouched, which is a shame because it's starting to feel dated. The voice-less conversations and "stories" felt interesting when they were first introduced a couple of years ago, but now they just get in the way of actually playing the games and managing the team. If you're considering NBA 2K20 for MyGM, I'd suggest just going back and playing last year's game.
There are also a few custom league modes to play, but they are forgettable. I'd like to mess around with a totally custom league one of these years, but the team creation process is so involved I never have the time. I wish when you selected logo colors it automatically updated the color palettes for the arena, floors, jerseys, and everything else instead of making you do those things manually. This is the one place you can play the WNBA, which is annoying because while the addition of the women's league is welcomed, it's quite limited. It would be nice to have the ability to play WNBA in myGM mode or even get crazy mixing players and teams, but there are no options for that.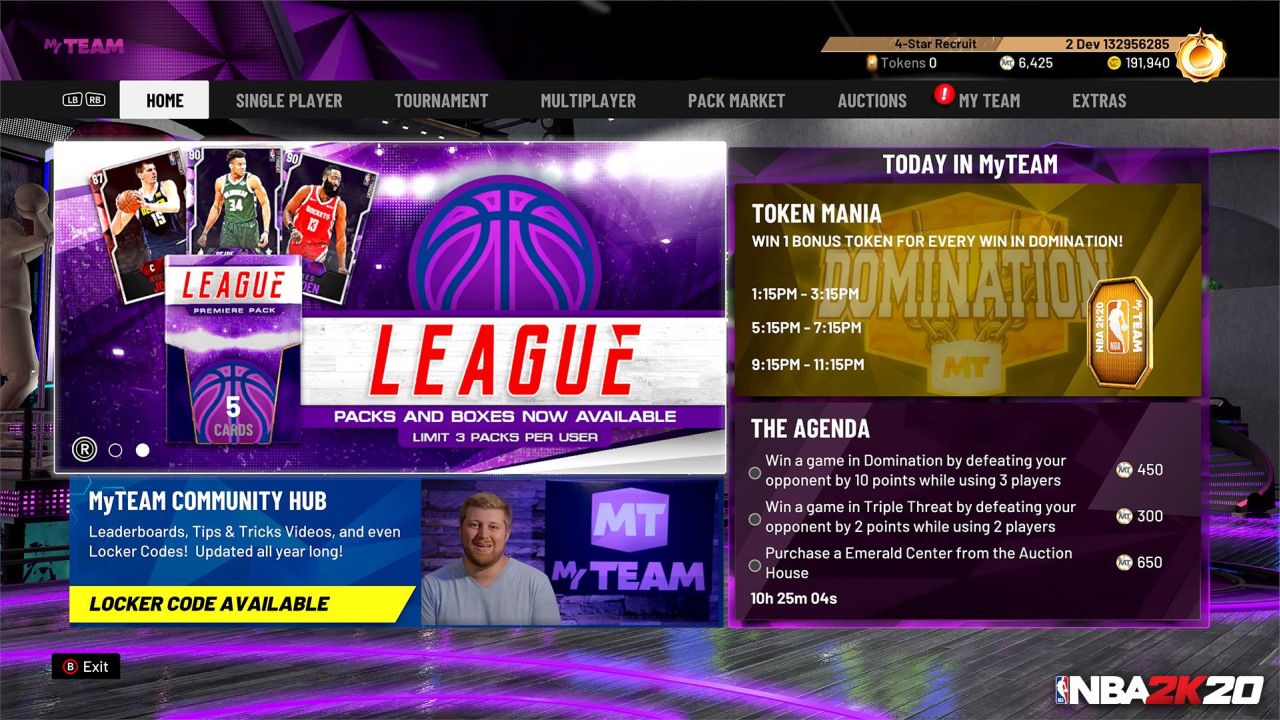 Seemingly the most development effort in NBA 2K20 went into MyTeam, which is the card-collecting team-building mode that's so popular in sports games today. NBA 2K has always felt like it's a little bit better than other games because NBA teams are so small and the players so recognizable you always feel like you're progressing, but after a few hours that feeling falls away and it goes back to being the same grind as elsewhere. As someone who is on the record as not loving these Ultimate Team modes, this one is perhaps the least annoying - that's the best compliment I can give.
The changes in MyTeam are generally in place to prevent players from cheesing the game. Position locks force you to play players at their traditional spot so that you can't put Tim Duncan at point guard so he can dunk on little guys all game. Giving the teams an overall rating makes sure that you're going to be playing appropriately matched opponents. But there isn't really anything to help with the endless push to spend more money in this mode. If there's a place where the virtual currency loves to rear its head, it's MyTeam. With a reworked auction house, NBA 2K is practically demanding players to spend real-world money to beef up their teams and avoid grinding out games to slightly improve their squad. It's been gross for a while and Visual Concepts/2K have shown very little interest in changing this up.
To be fair, myTEAM is designed to be a long string of content with constant events and ways to always be playing, but if you plan to be competitive, you're going to be paying more than what it says on the box. The real price for NBA2K is no longer just $60 at launch; to really enjoy the content and stay competitive within reasonable time, you're going to want the $100 version and be ready to spend another $20 on top of that. And while I liked NBA 2K20 a lot, asking $120 of anyone is a lot.
NBA 2k20 always has and continues to look good. I don't think there was a huge jump between this year and last year's game, but it still delivers the most life-like version of basketball you've ever seen in video games. The signature moves are a nice touch, which makes players stand out even more than before. NBA 2K probably has the best presentation of any sports game and they still deliver.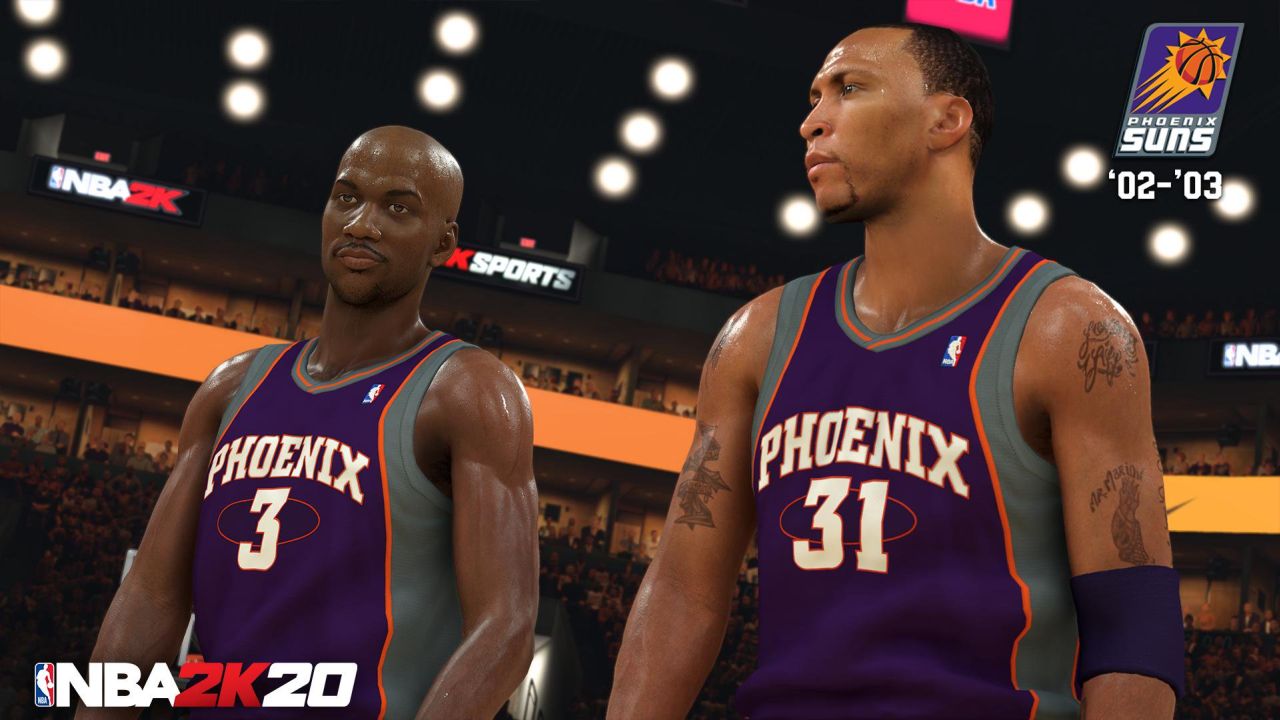 The game also continues to play well. A little basketball IQ can help as you need to know when to call for a screen, how to move the ball around to get an open shot, or how to space the floor, but the AI is pretty helpful here and even when you don't have the ball, holding the top-left trigger will show you where to move to set yourself up for success. The controls aren't perfectly crisp, but running the floor and exposing the defense has never felt so good. While there are a lot of flaws in its game modes, NBA 2K20 is fun to play - and that matters a lot.
The online play is also exceptional. I think back to 2K13/14 when the servers had all sorts of issues and there were players that looked haunting due to certain bugs, and it feels like a thing of the past. Multiplayer is solid and I rarely ran into issues with bugs or connectivity. It takes a while to load into games out of cutscenes, but even that feels a little nitpicky. NBA2K20 is an impressive game, tech-wise.
I keep coming back to the price tag associated with NBA2K, how $60 gets you the game, but how much struggle and grind is required of the player. How there's an understanding that you'll either have to put a ton of time or a ton of extra money to really get full enjoyment out of it. There's no doubt that NBA 2K20 plays well, that they've added some nice content in places, but if you already own 2K19 or 2K18, is it really worth shelling out so much money to get a game that's only marginally better than before? I don't think so. But if you're looking to jump into the series and ready to take the time, or make the financial commitment, that NBA2K requires, it's as good a year as any to do so.
Our ratings for
NBA 2K20
on PlayStation 4 out of 100 (
Ratings FAQ
)
Comments