Battlefield: Bad Company 2 Review (PC)
This shooter brings a stronger singleplayer campaign than before, but truly shines in its multiplayer. Simply put, it's one of the best.
While the EA DICE's 2008 shooter Battlefield: Bad Company was met with generally favorable reviews, it left many fans of the Battlefield series a bit underwhelmed after having hoped they were going to be getting the full Battlefield experience, not to mention a jarring lack of a PC version release. Well, EA DICE is back with Battlefield: Bad Company 2, on PC as well this time, and Battlefield fans may now rejoice. The full Battlefield experience has arrived.
The first title's campaign put players in the middle of a ragtag group of expendable troops on the hunt for mercenary gold. The game's unique focus on humor and interesting storyline made the whole experience feel more like Raiders of the Lost Ark than Saving Private Ryan, which, in my opinion, was quite refreshing, especially in a genre bursting at the seams with serious, gritty, and begging-to-be-cool games.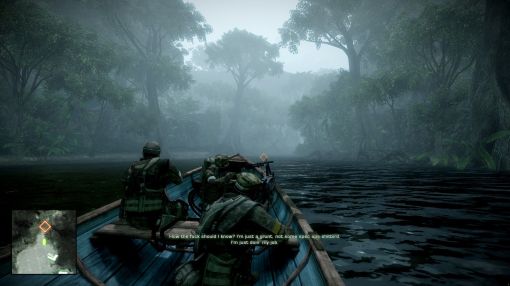 Thankfully, much is the same in Bad Company 2. The singleplayer campaign sends players on a romp across the globe looking to hunt down a mysterious ultimate weapon that has its origins in World War II Japan. The atmosphere jumps quite deftly between a foreboding episode of Lost and something out of the Uncharted series. These interesting turns in the plot as well as the loveable characters will keep you playing long after the tedium of dying repeatedly and shooting just a few dozen more Russians with rocket launchers sinks in.
This is not a perfect singleplayer campaign by any means. In fact, it's more fitting of a rental than it is a full retail purchase which is unfortunate but still something for DICE to be proud of considering its only their second stab at the whole story thing (as you'll recall most of the former Battlefield titles lacked a true singleplayer campaign). Luckily though, the multiplayer has been revamped, upgraded, and given the full Battlefield treatment this time around, making a purchase seem like one of the best entertainment deals in decades.
Comments
blog comments powered by Disqus