Borderlands 3 Preview - E3 2019
We get a taste of the action from the upcoming new shooter
It's been a long time coming. Borderlands was a breakout hit for Gearbox Software, and its sequel even more so. It almost single handedly started the new shooting and looting RPG genre combination, that many other franchises have adopted or tried to imitate since. After years of DLC, the fans have been patiently waiting for a full new chapter in this series, and their wish is finally about to be granted. With Borderlands 3 heading to stores this Fall, we had a chance to play through a demo level at E3 2019.
Before going hands-on, the developers took some time to introduce us to the new title. In Borderlands 3, players will be facing off against a cult-like organization called the Children of the Vault. These crazed anarchists are competition to you, the Vault Hunters, in trying to unlock as many vaults as they can and steal the goods for themselves. During this quest, players will journey to Eden 6, a place that's much different from Pandora. It features swamps, jungles, volcanoes, and even dinosaurs. But that's just one such planet - players will use their new hub aboard the spaceship Sanctuary III to travel all across this new galaxy. We'll meet new and old characters, like Tina who's now grown up as the game takes players years after BL 2.
But while the story will string the adventures and levels together, it's the action that the developers hope will keep players coming back. To that end, the team has worked diligently to address some of the series' most pressing fan requests. The social aspect has always been core to the franchise, and while you can play on your own, there are elements that help you feel connected. For example, vending machines will feature guns that people on your friends list have sold in their own games. There will be dynamic hunt missions that organically pop up when a friend is facing a tough challenge. And for those who enjoy playing together, local split screen will be supported - no easy feat, according to the developers, who point to the fact that few other modern games have that option.
When you do play together and someone steals your loot, you can apologize and directly send it to them via new mail system. You'll also want to express yourself, and Borderlands 3 promises extensive head customization, with plenty of skin options, and a more dynamic and animated style of heroes. Clothes will feature 3 different color sets, all customizable, so you'll no longer need to farm for the same piece of gear, looking for a color that you want. Similarly, weapon skills will be global, letting you apply them on any weapon. For extras, there will be weapon trinkets, and of course emotes.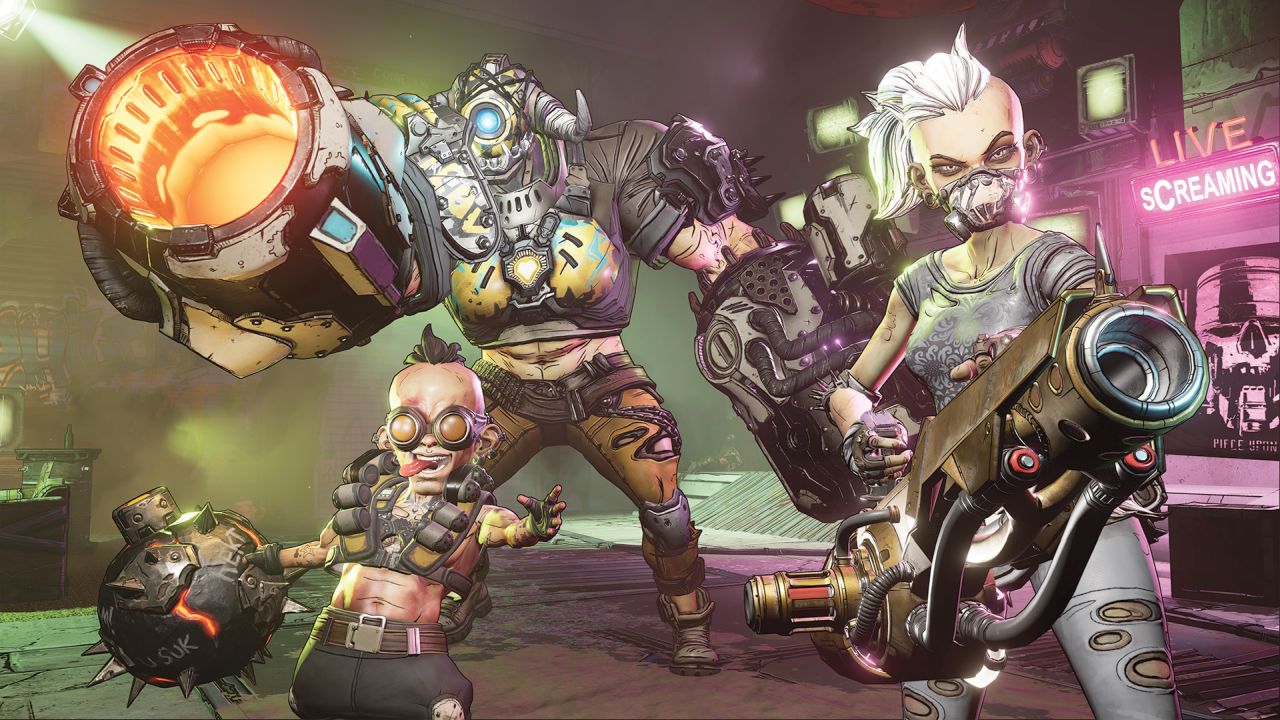 The developers also went over the details of characters that were spotlighted over the course of E3, namely Moze, a Gunner class hero, alongside Amara and Zane. Her ultimate ability is to summon a mech robot to jump into, perhaps similarly to D.Va from Overwatch. With the game's new approach to skill trees, players can customize this mech in a variety of ways. The hero has three separate skill trees to put points into, each focusing on certain gameplay aspects. For example, the Shield of Retribution skill tree lets you use a Bear Fist melee attachment, and unlock some various powerups for it. The Bottomless Mags skill tree has a Minigun as its main weapon, and various abilities related to that. Lastly, Demolition Woman lets you equip a grenade launcher, with varying types of ammo. You're not stuck with these weapons, either - you can equip any combination of them, and their perks, as you desire. Double miniguns, a mix - it's up to the players.
With the introduction section over, we got to play through a level in the game. Because she was being highlighted, we chose Moze as our character, and outfitted her with a minigun and grenade launcher combo. Of course, before we got to use that ability, we had to blast through a few regular enemies on the outskirts of a base with our usual weaponry. With a funky looking assault rifle and a shotgun, Moze blasted through the foes, and the controls felt excellent. The feedback from the weapons, the action, it all felt weighty, and highly entertaining; the demo seemed incredibly polished. As the foes became numerous drawing closer to the base, we activated the ultimate ability and blasted them all away with the tank's weapons. You must be ready to remain agile when the super ability ends, but it's oh so fun to overpower the screeching maniacs.
Having made it to the building, we ventured through a few different rooms, with large music speakers spread throughout. What this was leading up to was an excellent and fun boss fight against Mouthpiece. This large and wild rocker trapped us in room with him, and the walls and floor were lined with speakers. As we pumped magazine after magazine into him (this is an RPG, after all), different sections of the speakers would glow, and, shortly after, blast us across the room if we were near them. This added a wildly fun dynamic to the fight, always keeping us engaged and moving, focusing not only on the boss but also the environment. When we did fall, the Second Wind mechanic let us eliminate one of the smaller enemies that were also pouring into the room, and continue the fight. It was a hard fought but very engaging encounter, and finally overpowering the boss felt satisfying. That's where the demo concluded.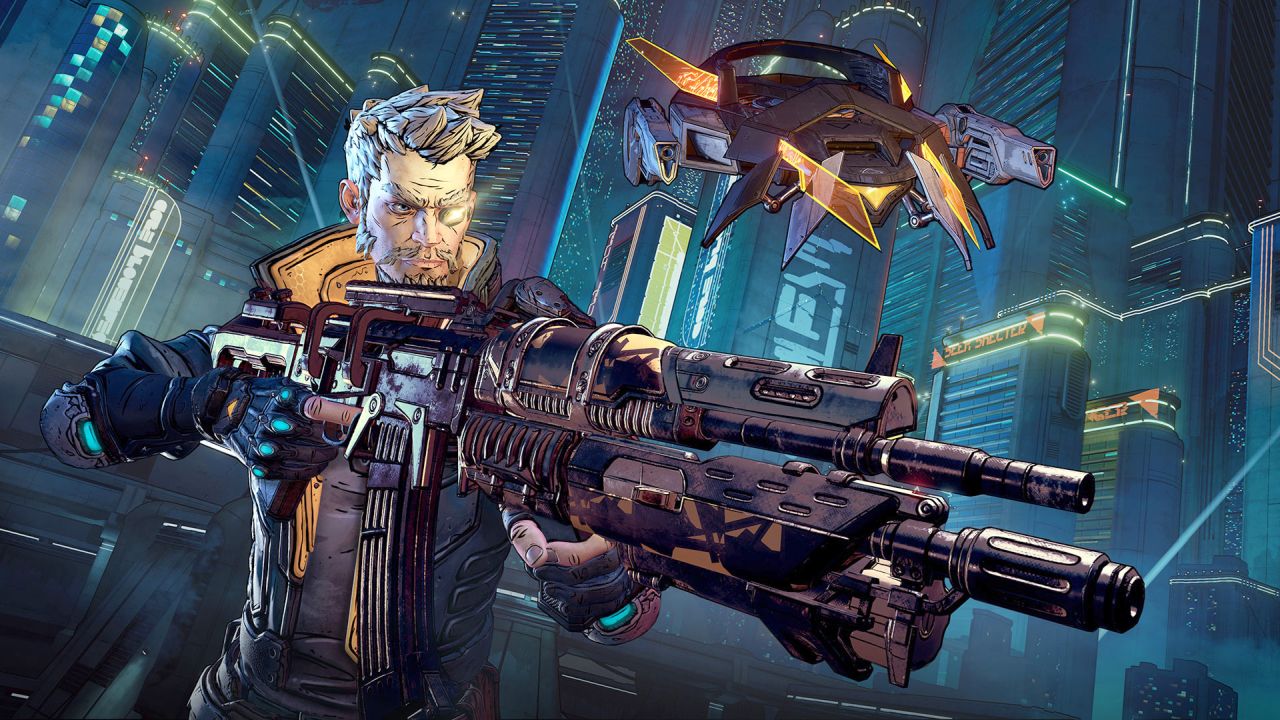 While there are still many who are skeptical whether or not Borderlands 3 will be able to re-capture the magic of the series, given how many years and similar games we've had since, based on what we've played at E3, there's plenty of reasons to be hopeful. The controls felt great, the changes being made seem promising, and above all it was a fun and well designed level. If the rest of the game can be held to such a standard, fans should be very excited indeed. Borderlands 3 is planned for launch this September on Xbox One, PS4, and PC (exclusively via Epic Store).
Comments