Roller Champions Preview - E3 2019
We try out an early demo of the new free to play sports title
In an age where free to play games are a dime a dozen, it can be very difficult to stand out, even if you do have a good idea and a good product. Fortnite rose to absolute dominance in recent years, thanks to its polished gameplay and perhaps more importantly, it's free to play model. Before that, it was simple yet addictive games like Rocket League that dominated the field, so to speak. But there hasn't really been much competition in this particular space, as most major studios are looking to challenge the battle royale genre rather than the sporting-based titles. But not Ubisoft - the publisher chose to shine a spotlight on its new title Roller Champions during its E3 2019 press conference, in hopes of giving a game such as this some much needed exposure. Created at Ubisoft Montreal, this free to play title is hoping to grab your attention with its unique gameplay.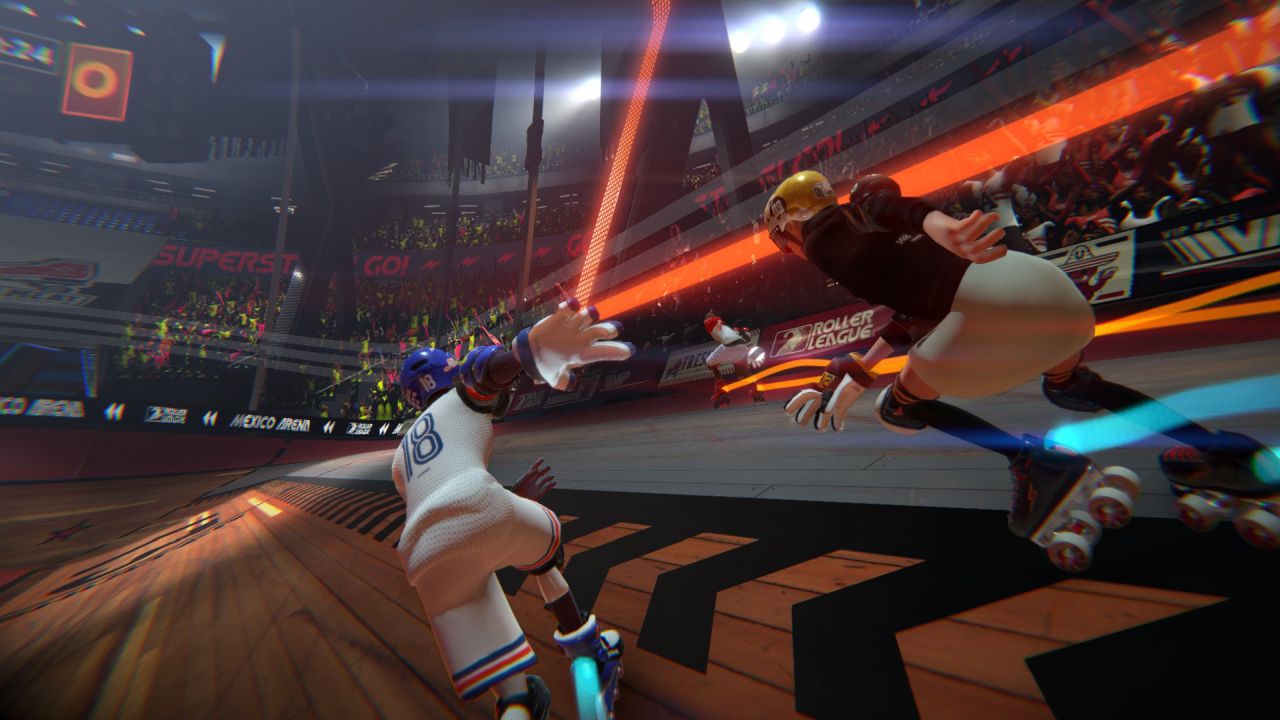 Roller Champions has a simple premise. In an oval arena, it's a 3 vs 3 matchup between two teams. Oh, and you're on rollerblades, with the game's visual style trying to echo both the retro skating and the modern derby. The controls are simple, as you steer with the stick and hold the trigger to skate. In order to go faster, you can go up the sloping sides of the arena, and crouch with good timing in order to gain speed - like you are skiing.
At the start of the match and after every score, a ball is randomly dropped into the arena, and from there each team races to throw it into the single opening on a side wall. However, the goal only becomes available after you've taken the ball around the area for at least one lap. It doesn't have to be the same person - you can pass it to teammates, skate in any direction, but the ball must eventually lap once to be able to score. If you drop the ball and the opposition grabs it, the progress towards a lap is lost.
The winner is the first team to score 5 points, with each goal worth one point. But there is a further twist - you can choose to keep lapping the arena with the ball, obviously risking losing it and having to start over next time. But the reward is getting 3 points if you score after 2 laps, and 5 points if you score after 3 laps. So, a skilled and evasive team can actually win the match with just one score. They do need to work together though - to pass, the receiving player must first call for the ball, so you cannot simply spam the action and expect your teammates to catch it.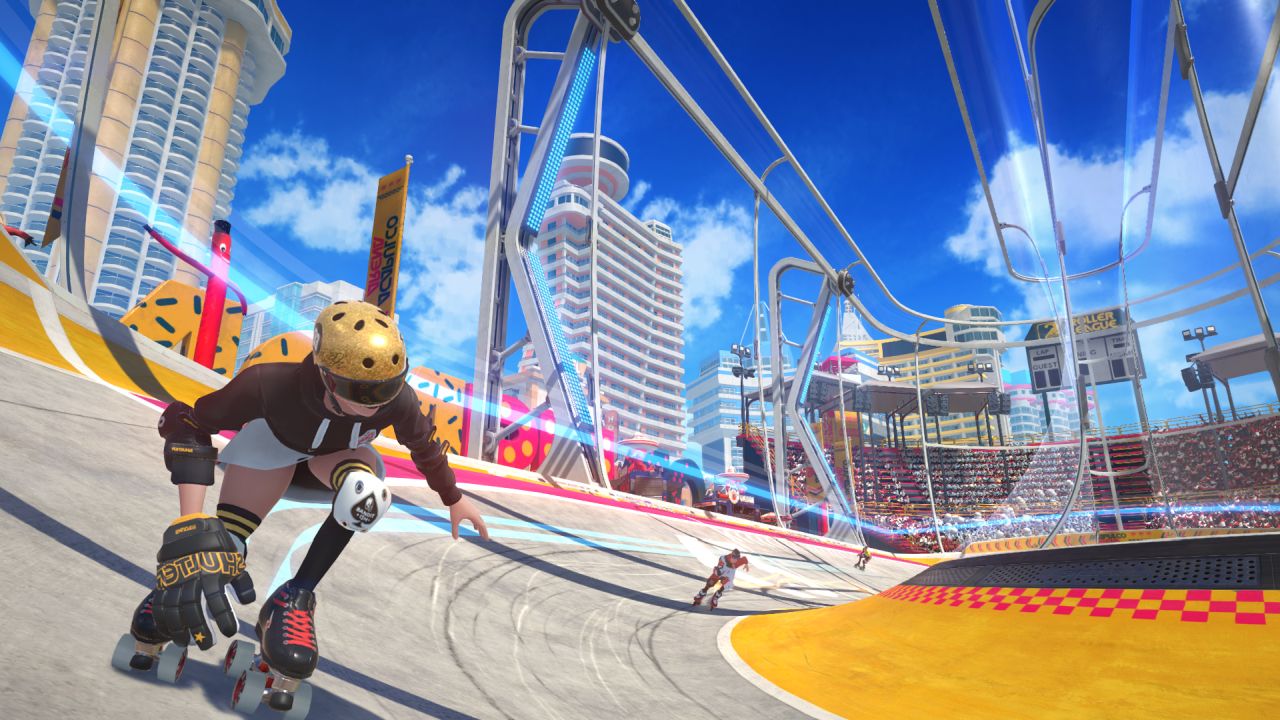 To stop the opposition, players can only use the single tackle function. It can certainly be tricky to lineup a good hit, but tackling works on any player, not just those with the ball, thus creating a very viable tactic on protecting the ball carrier from incoming opposition players. During our time with the game though, the tackle did seem rather overpowered. One opposition player can take out an entire team if they are clustered together, with a single hit, so this needs some fine tuning.
With the rules explained and a few practice laps, we were ready for a real completion. We were playing together, and against, a team of loud and very excited influencer-types, who are perhaps the target for the developers in order to build an audience for Roller Champions. Our team clearly came to win - in the first match, we lapped the ball three times and ended up winning 5-0 with a single goal. In our second game, things got more competitive, with lots of back and forth changes of possession, as players got to grips with the controls, tackling, and most importantly passing. We still prevailed, with a 5-3 score across three goals.
Our final round went down to the wire. It was an intensely contested game, with both teams coming extremely close to scoring, missing at critical points, dropping the ball, evading tackles, and experiencing general mayhem. This was obviously the sort of experience Ubisoft is hoping to showcase, as it got both teams pretty riled up. With the score tied 1-1, we went into double overtime. Without a winner, the clock eventually ran out, and the match declared a draw.
Roller Champions has its work cut out, trying to enter a very crowded space with an original idea and a sporting rules that not everyone will be immediately familiar with. But the competition is solid, the rule book seems sound, and with a few tweaks and more play-testing, this can certainly become a worthwhile pastime with a few friends. Having a big publisher like Ubisoft pushing the game certainly helps as well, and may just be what Roller Champions needs to grab a spot in the sun. The game will be free to play, and is planned for launch on PC.
Comments