Luigi's Mansion 3 Preview - E3 2019
We have a peek at the new entry in the spooky series
Nintendo are known for making fun and accessible games, and while Mario typically gets the spotlight, franchises like Luigi's Mansion should also be lauded for their efforts. The spooky series has been going since 2001, and now that we're well into the Nintendo Switch lifespan, the publisher has decided it was time to bring back this haunting adventure. We had a chance to go hands-on with a brief demo of the game at E3 2019.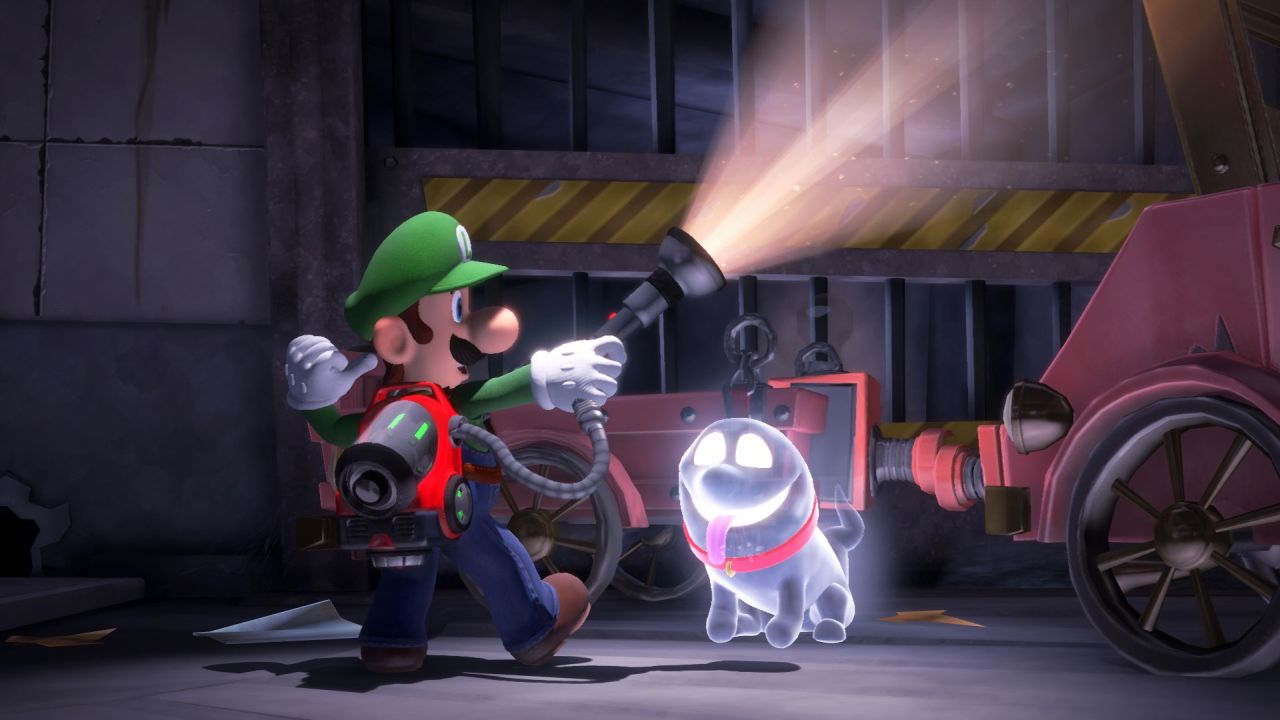 Luigi's Mansion 3 looks to bring back the charm and the G-rated scares of the original game, while adding new mechanics. The premise is that Luigi once again finds himself at a haunted hotel, and the ghosts have stolen all the buttons in the elevator. He needs to explore this new location, floor by floor, and retrieve the buttons. Our demo took Luigi through a few of the rooms, which were fairly small and contained just a few ghosts. The camera remains in place, and the game uses a 2.5D plane, same as the previous games in the series, or LittleBigPlanet. Players will have to clear the room of the poltergeists before they can move on.
The first room presented us with just one opponent, so that we had a chance to come to grips with the controls. You must first charge up and use the Strobulb ability in order to stun the ghost, and then use the suction from your backpack vacuum to capture the ghost. This all works fairly well, but with one problem – to charge up and hold the Strobulb shot (bound to A), you need to let go of the right stick, which means you're no longer able to direct your shot. Your only option is to awkwardly ensure Luigi is positioned facing the right way before you start charging, or have him walk around a bit (with the left stick) in hopes he will face the right way. It's a bewildering design choice that the Nintendo folks we were chatting with could only address as, "this is how it's always worked in the series".
Once a ghost is stunned and you begin to capture it, you can also press A to slam it around and speed up the process, as well as scatter other ghosts if they are around. In the next room, we faced a couple of ghosts with shields. To get by those, we used another new ability, the suction shot, which spits out a suction cup that Luigi can then suck in and whip away, leaving the ghost exposed. This ability works better because at least you don't have to charge it up, though it still requires you to use Y and remove the thumb off the aiming stick. We then moved on to another room where four ghosts were hanging out, and where the blow and burst abilities came in handy, in order to push them all away and control the battle.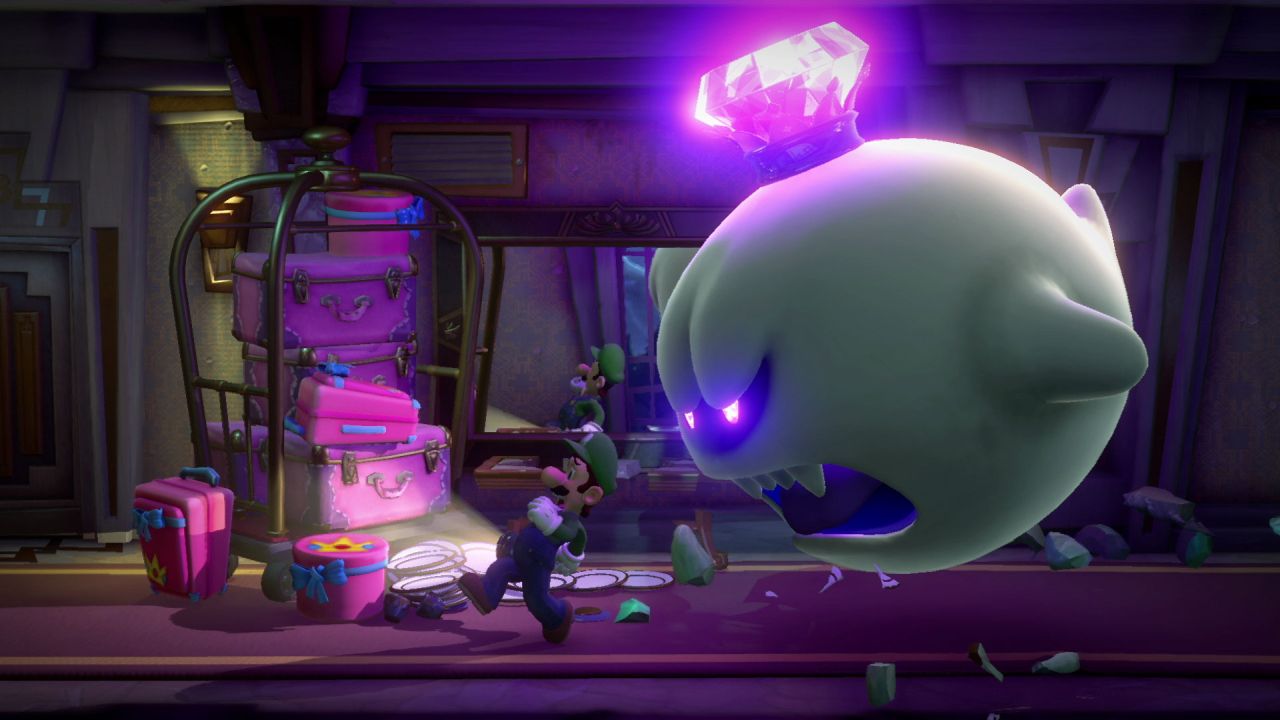 Following these action sections, we got to explore the rooms a bit. The developers say that fans who take their time will be rewarded with secrets, wall sections that can be shifted to reveal new paths, and so on. We peered through one opening and saw a ladder and another room – how to get there will be part of the exploration challenge. We also used the suction shot to clear some debris, which revealed a treasure chest with a collectible purple sword – there are a few to find in each level.
In the next set of rooms, we were faced with spikes. But fret not, players can now deploy Gooigi, a new character that can pass through dangerous areas such as this (though he did already appear in Luigi's Mansion on 3DS). He can perform all the same actions as Luigi, and players can freely swap between the two characters to solve puzzles. For example, we had to use Gooigi to suction up and hold the elevator, while Luigi got on, and rode it down. Then, you simply recall him to your backpack, and he can be spawned again at the new location. It's easy to see the sorts of two-player puzzles that the developers will use with this new mechanic. He will also be the second player's character in multiplayer mode. Another item in your arsenal is a Dark-light, which is used to reveal hidden items in the environment.
After solving a few puzzles and battling more ghosts, we arrived at the boss battle. We were put in a medieval battle arena, as a ghost put on a suit of armor. The ghost then rode around the arena perimeter on his horse, while an arrow or two would fly across the battlefield. He'd eventually start to charge up an attack, and that was Luigi's time to blast him with a Strobulb. Again, because of the small opportunity window, the controls became a nuisance as we had to first position Luigi, and then charge up and fire. When we succeeded, the knight ghost was stunned, so we used a suction shot to grab him and slam him around. In typical Nintendo fashion, we had to repeat this process three times, with the arena becoming increasingly filled with hostile arrows at each stage. With the boss defeated, our time with the demo concluded.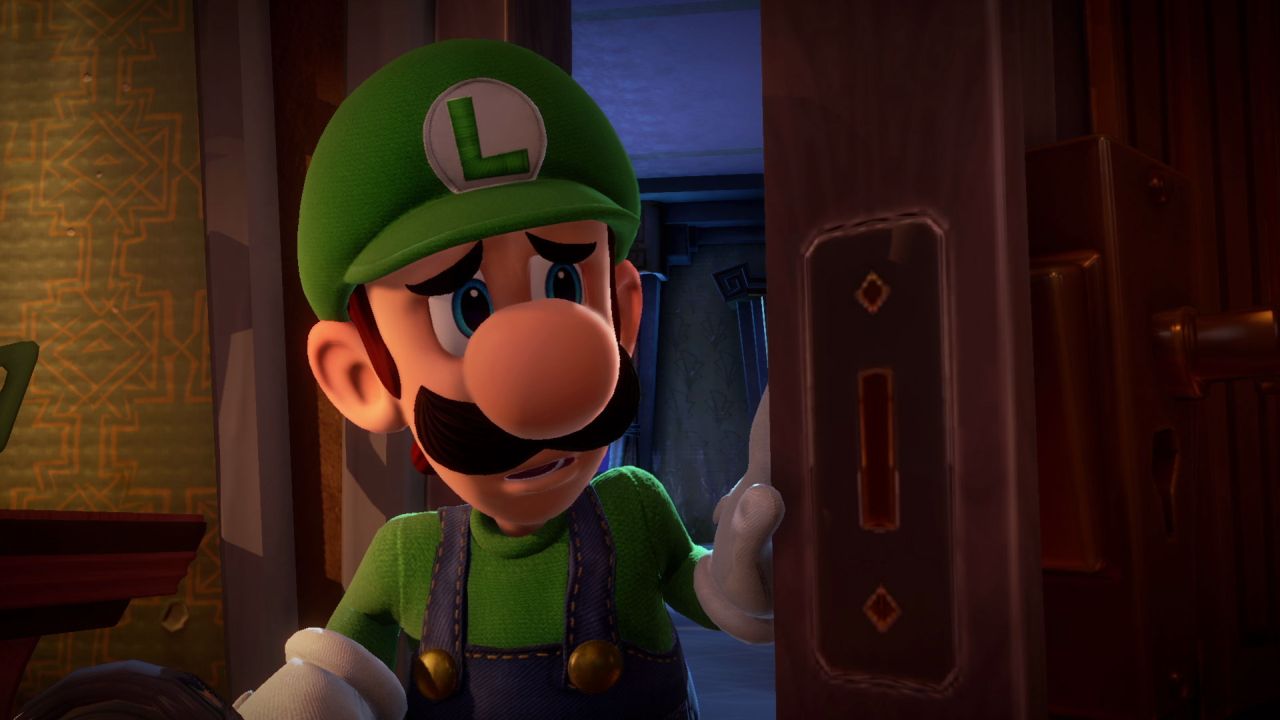 Luigi's Mansion 3 is a fairly typical Nintendo first-party game. The key mechanics of exploration, battles with ghosts, boss encounters, and a spooky setting all seem to be very polished and charming. If you've played any of the previous games in the series, you can safely bet on what to expect in this latest chapter. The design has been slightly tweaked and a few new elements added, and it is all looking and running great on the Switch. Luigi's Mansion 3 doesn't yet have a specific release date, but it is expected in 2019.
Comments
blog comments powered by Disqus