Golf Peaks Review
More Birdie than Bogey
Despite my love of sports, I've never been much of a golf fan. Mini-golf? Sure, I can enjoy that. Actual professional golf, though? I'd much rather watch or play any other sport than endure that. That same attitude extends to the world of gaming as well. Mario Golf and Everybody's Golf are decent enough, but still not exactly my cup of tea. Golf Peaks has proven to be the exception to that attitude, though. Of course, that may be because despite the name, it's far from a traditional links outing.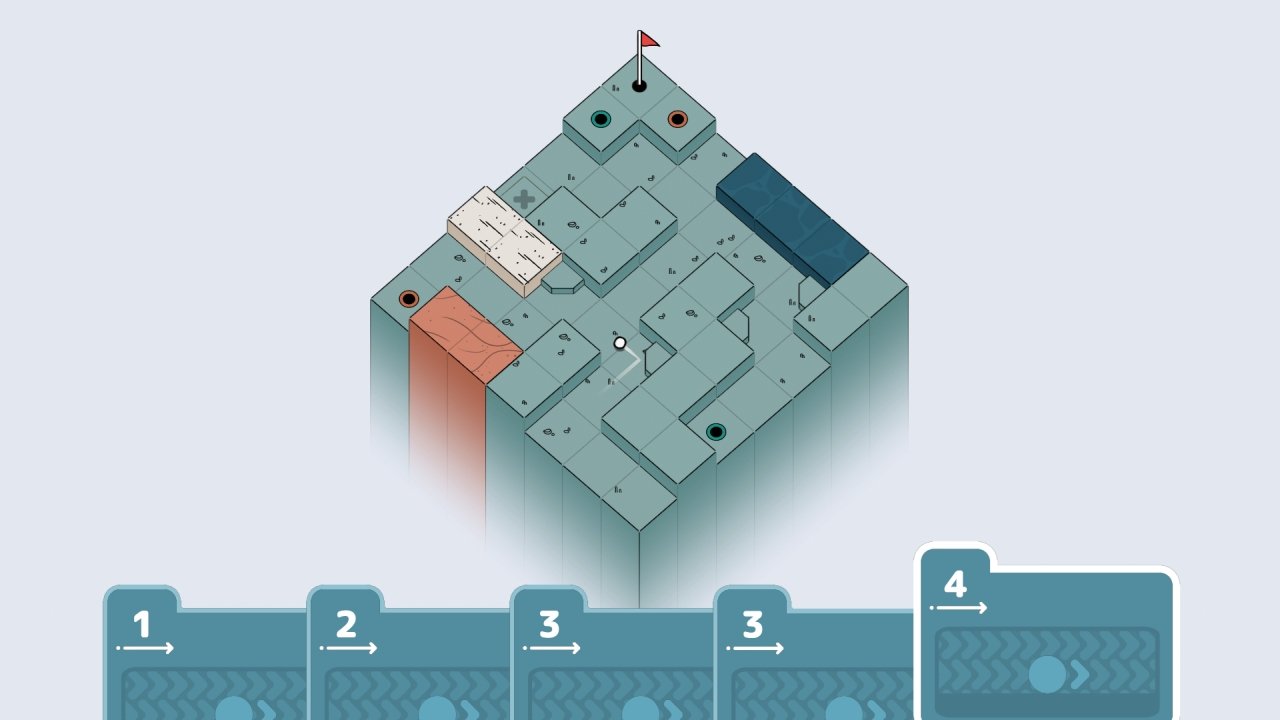 Ignoring pretty much every aspect that makes the sport a challenge, Golf Peaks is more puzzle game than golf simulator. As per usual with the game of golf, the goal for each course is to get the ball into the hole in the least number of moves. However, there's no wind to account for or cumbersome club switches to make. Instead, at the outset of every individual course, you're given a series of cards to play. Each card carries a number that represents the number of tiles the ball can cover per use.
There are two types of shots in the game. There's a regular putt that drives the ball in a straight line, and a wedge that lifts the ball into the air instead. The numbers on the card for the wedge cover both how many spaces it moves while airborne, and how many it covers once it lands. So, while a wedge is useful for clearing gaps, it could roll too far afterwards. The trick is to properly measure your shots so that you don't go flying off the course or miss the hole entirely.
And what would a golf course be without a few hazards hanging around? As you progress through the 100+ puzzles in Golf Peaks, you'll come across more treacherous and dangerous traps. Some are of the traditional course variety, such as sand that stops your ball dead, or pools of water. Others, like conveyor belts and spring-loaded tiles, are a little more fantastical. The tricks the game throws at you make sure that the four-direction movement you are limited to doesn't feel too confining.
While the hazards of the title can be frustrating to deal with, developer Afterburn utilizes them in both positive and negative ways. Sometimes you'll need to work with the traps in order to reach the end hole. You could purposefully shoot into water to get a better drop, or use a sand trap to stop your shot before it goes careening off a cliff. They're a perfect example of the type of brain teaser the game does so well.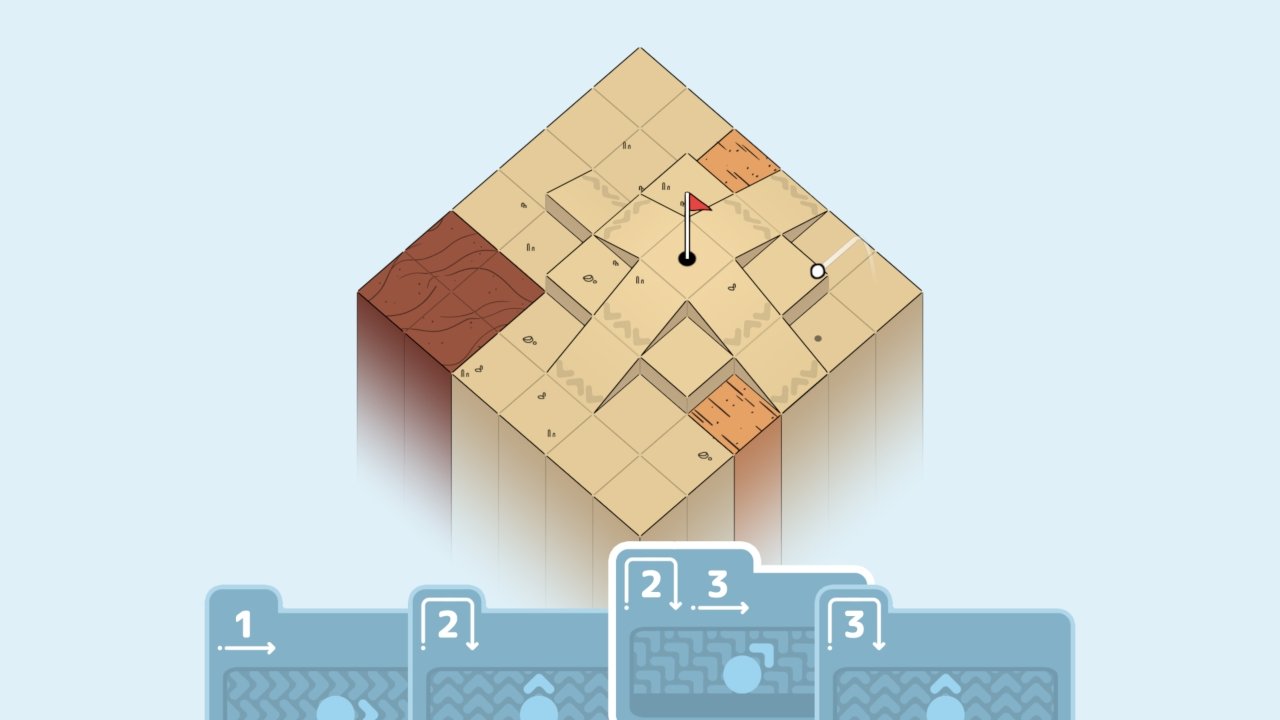 There are certainly more challenging puzzle games out there, but Golf Peaks is not necessarily trying to be maddeningly difficult. The game is trying to make you think yes, but not in a way that will make you lose your mind. It's rare to call such a title relaxing, but I think that classification would easily apply here. During my few hours with it, I never found myself getting too bothered by any course. Instead, I just let myself get lost in the Zen of it all, and eventually I came to the solutions I needed. In that way, it's almost perfect for the Switch. The type of experience I would take with me on vacation so as to not ruin my mood.
Unfortunately, it's also an experience that is over way too quickly. While 100+ levels may sound like a decent amount, most of them can be cleared pretty quickly. If you're really up for it, it's definitely possible to run through the entire game in one mildly long sitting. I know that the title was originally developed for mobile devices, and its brief length does reflect that. With the move to the Switch, though, it would have been nice to see maybe some additional levels. Or even a mode that rewards you with finding the optimal path through a given course. Just something to either add length to the game, or draw you back in for repeat sessions. As it stands now, once you're done with it, there's little reason to return.
Since Golf Peaks did get its start on iOS and Android, the touch screen control scheme transfers right over to the Switch. It's snappy and intuitive, and one could even make the case it's the ideal way to play the game. However, I think the title works just as great, if not better, with the Joy Con. The slight tactile feedback when you make a shot is a nice touch. I also just generally prefer using a controller to my fingers, so maybe I'm biased. And while you can play the game in docked mode, I do think it ultimately works better un-docked.
There isn't much variety to the look of Golf Peaks, but it does have a nice minimalist style. It's clean and sleek, and generally looks great on the Switch's screen. The colors of the game really pop on screen, as well. What could have been a rather dull and drab effort instead has a pleasant appeal that lasts all game. The same minimalism carries over to the soundtrack. It's a series of comforting backing tracks that contribute to the peaceful mindset the game often instills in you.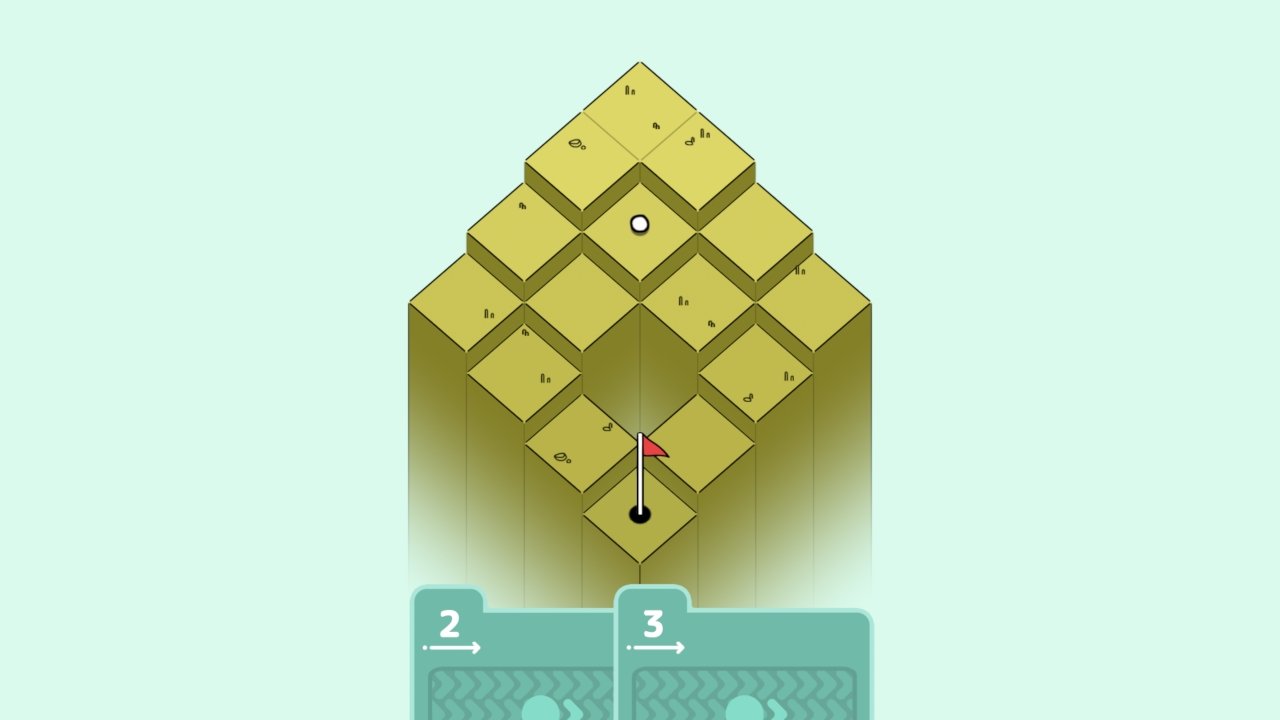 Considering the relative low cost of the title, Golf Peaks is worth taking a chance on. It's a relaxing puzzler that managed to make a sport I had little to no interest in previously engaging and fun. I know it's not an actual golf game outside of the fact you are hitting golf balls into holes, but I don't care. It's a charming little experience whose biggest problem is that there just isn't enough of it. I don't know if Afterburn has any additional content in the works, but at the very least, this sets this hopefully sets the groundwork for a follow-up that expands on the concepts introduced here.
Our ratings for
Golf Peaks
on Switch out of 100 (
Ratings FAQ
)
Comments
blog comments powered by Disqus