DiRT Rally 2.0 Review
Another excellent rally simulation that cuts a few corners
DiRT Rally 2.0 never once told me to change my tyres. When I was hydroplaning my Ford Escort across the wet tarmac in Spain, it never said that I'm an idiot for not checking the condition of the rubber that connects my vehicle to a road surface covered in puddles. So when I slid off a cliff and crashed my car, the game just whisked me to the next stage. Swapping tyres is an easy task but one that was never explained. DiRT Rally 2.0 is a racing simulation that will not hold your hand, and that's part of the reason why it's so good.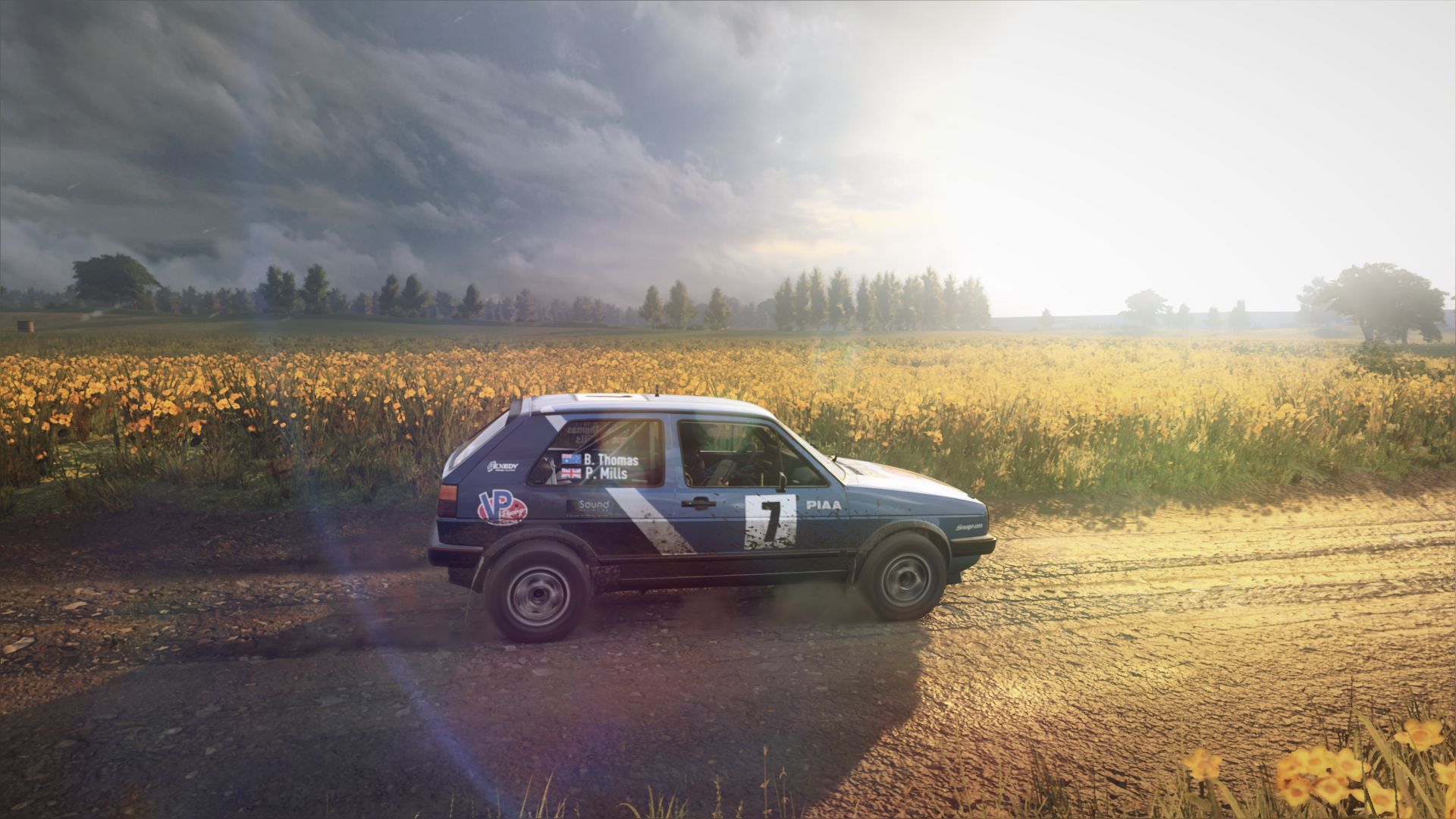 The sequel certainly has some beautiful views
Codemasters released the original DiRT Rally over three years ago. It ended up being a great new direction for the franchise with a brutal focus on the rally discipline. It was a little rough around the edges, most notably with inadequate multiplayer and mediocre secondary modes. A year later, DiRT 4 polished some of those edges, offering an array of difficulty options, satisfactory multiplayer, and an amazing random track generator. Unfortunately, DiRT Rally 2.0 does not continue with the random tracks, which is a shame because a bit more content would have gone a long way.
Like the two previous DiRT games, this sequel focuses heavily on the rally discipline. Rallycross has not been left behind though, so you can still drive around circuits if that is your jam. You can play either mode in custom events, but the career will be tempting due to its progression system. The career requires an online connection and it has credit rewards, car purchasing, and difficulty tiers. Progression is fairly basic, with vehicle upgrades and shallow staff management. There is only one co-driver option this time, so hopefully you enjoy his calls. Since the career is online, there are lengthy delays when using the menu to do things like repair cars, upload results, or just browse events.
As you progress up through the difficulty tiers in the career, AI simulated drivers become faster, mechanical reliability drops, and extra stages are added to test endurance. The rally mode itself remains largely unchanged; you merely race against simulated times set by AI drivers. You'll drive through linear stages and listen attentively to your co-driver as he calls out the severity of corners and then says nothing when you crash into a tree.
After a hot stage, you may end up on fire
Immediately after the starting line, you'll notice exceptional vehicle handling that extends across nearly the entire vehicle roster. Getting behind the wheel and weaving through corners is extremely satisfying and should be quite familiar if you have played recent Codemasters games. There are drastic handling differences between an aging 1960s Mini Cooper and a 1980s Group B monster. Each car has different weight, acceleration, ride height, suspension, gear shifts, and braking abilities. And a good portion of these aspects can be tweaked with tuning options. Adapting to each vehicle is like playing a new game and the learning process is both punishing and satisfying. Codemasters have long excelled at handling, and it's not surprising to see it work so well again here.
There are many little touches that make the vehicle implementation even better than its predecessors. Sounds emitted during the journey are varied and high quality, whether it is the squealing of tyres losing traction or the knocking of a failing engine. If you drive with a cockpit view, then expect to hear the clunks of the brake pedal. External camera views give better sounds of the gravel being pushed aside and yahooing crowds as you take a big jump.
Alongside the vehicles themselves, tracks play a massive role. There are six rally locations: Spain, Poland, Australia, New Zealand, Argentina, and USA. Some of these were in DiRT 4 and DiRT Rally, and it would be fair to say that corners and landscapes are quite similar. Spain and Australia, in particular, have eerily familiar corners due to embankment structure. While there are cases of déjà vu, the key difference is that every location looks much better. The track surface in particular—the thing you'll be staring at for hours on end—is rocking some high resolution rocks, tyre tracks, and grooves. Foliage on the roadside is way more natural, and it is especially dense around Hawkes Bay, NZ, although this resulted in lower framerate compared to other stages. Overall the visuals are far better across all locations, whether you're under the trees in USA or looking at a blinding sunset in Spain.
Argentina rocks
Each rally location has 12 stages, but not all are unique. Half are merely mirrored versions. There is a fair bit of overlap between the six stages; longer ones usually incorporate two of the shorter stages. In practice, it only took a few hours before large chunks of track were retread. The co-driver will still be needed, but after a few dozen hours, some stages could be driven with minor guidance. This can be a good thing though, as some of the co-driver calls were inaccurate.
Even though there are a few weather options and night stages, the rally variety could have been better. There is basically no fog, the rain never changes during stages, and time is fixed for each event. It's a shame there are no snow courses either, but those are coming in the form of paid DLC. The number of stages is light considering the overlap and familiarity, and apart from their visuals, they are not much better than the randomly created ones in DiRT 4.
Like its forebear, rally is brutal. One mistake can ruin an entire ten minute run. As you get into higher difficulty tiers, merely crashing into a barrier can puncture a tyre. The guard rails on the roadside in Spain are hard to spot and act as launch pads, should you cut corners. If you break through fences in New Zealand, getting back on track is hard. Road bumps in Argentina might force you into rock walls, tempting you to soften suspension. And if you forget to equip new tyres, say goodbye to reasonable traction. But the hardest rally stages were fast sections through narrow, shallow corners; these entice reaching a maximum speed in which you still have control. You can restart stages if you fail, but only five times. Even the practice "shakedown" is a risky prospect in the sequel, as any damage is preserved and needs to be repaired.
If you get worn out by the harsh rally mode, then you can dip your toes into rallycross. Unfortunately there are not many improvements to rallycross from its monotonous implementation in the last DiRT game. You race around traditional circuits, against other drivers, and need to take a single joker lap each race. It tortures the player by forcing them to race for 28 laps on each track. It also does not help that many of the tracks are from the last few games. Hell, Norway is back again and its name is rather appropriate after looping around it for the umpteenth time. The only saving grace for the tedious rallycross mode is that there are a few new tracks, which feature a good mix of tarmac and gravel.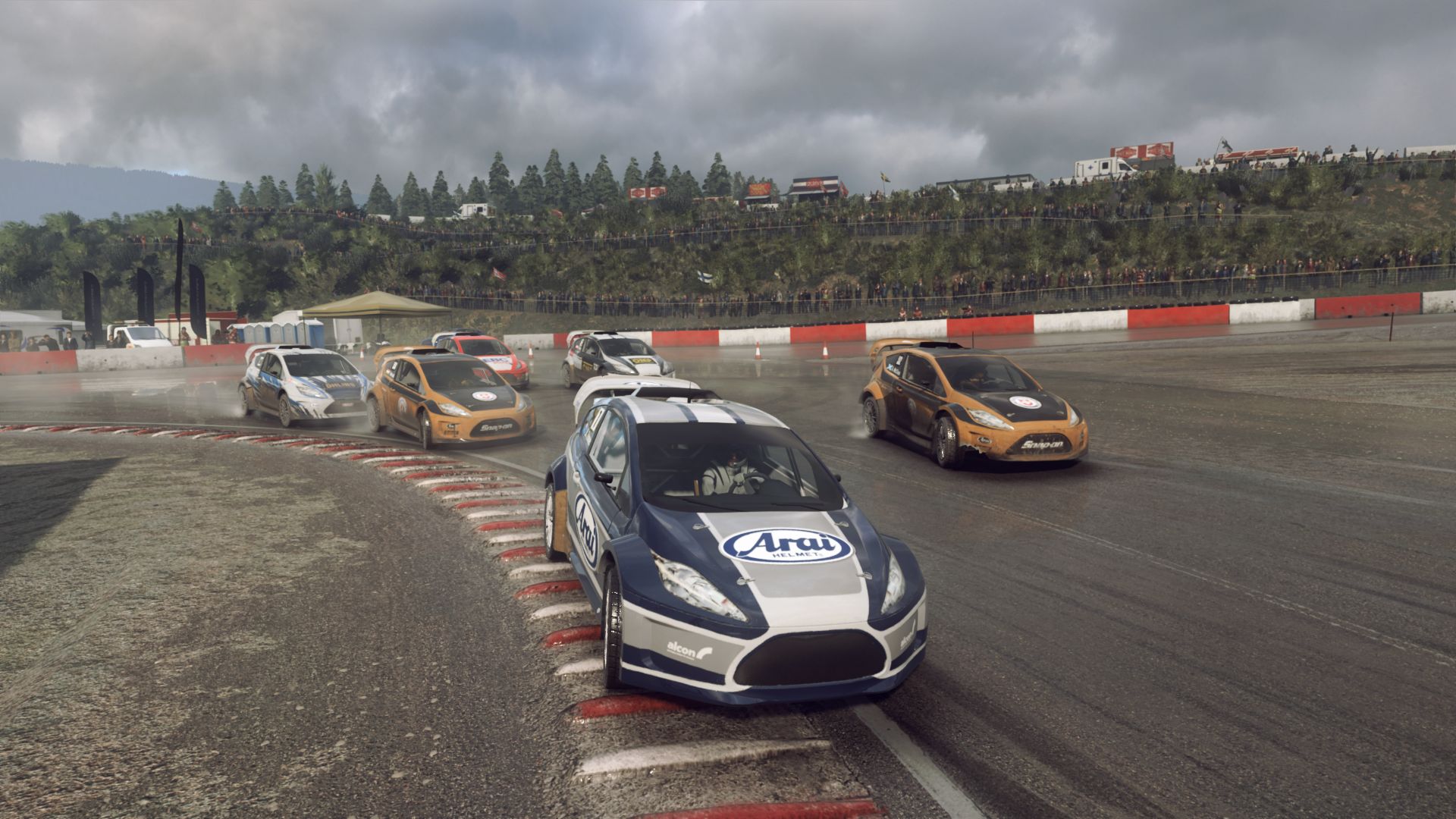 Rallycross brings little joy, due to repetition
The AI drivers you face are odd in both modes, more so in rally. All rally drivers are simulated which means they cannot be spectated and are not present on track. Their times were strange. In wet conditions, with moderate unavoidable tyre wear, they put in times that would be fast on a dry stage with new tyres. In other stages they would gain and lose ten seconds over a single sector. Many championships had easy finale stages, as though the game was trying to generate close results before letting you win—perhaps to encourage endurance more than raw skill. This catch-up AI even happened in custom events with fixed difficulty. It definitely seems like there is some funny business going on with the simulated AI times in rally events.
Rallycross AI drivers do exist on track, and they are a little more predictable. They are oddly aggressive though, especially on the first corner, emulating some of GRID Autosport's angry drivers. It forced me to drive like a crazy person before the first corner, just so they would keep their distance and not take me out like a police cruiser in pursuit of a criminal. After that, they usually maintained consistent times.
If you tire of racing against AI then there is basic multiplayer. It resembles DiRT 4 in implementation, so that means there is online rally driving—it was absent in the original DiRT Rally. You can setup championships, difficulty options and players can join mid-session but they'll need to wait until the current event is over. Online racing worked okay. Other players are physically present in rallycross, but the collisions were heavily muted, possibly to minimize latency issues. Rally mode has all drivers competing simultaneously and you merely race against their times. Unlike some of the older DiRT games, there are no ghost cars and no staggered starts. It's a basic online component that works well enough.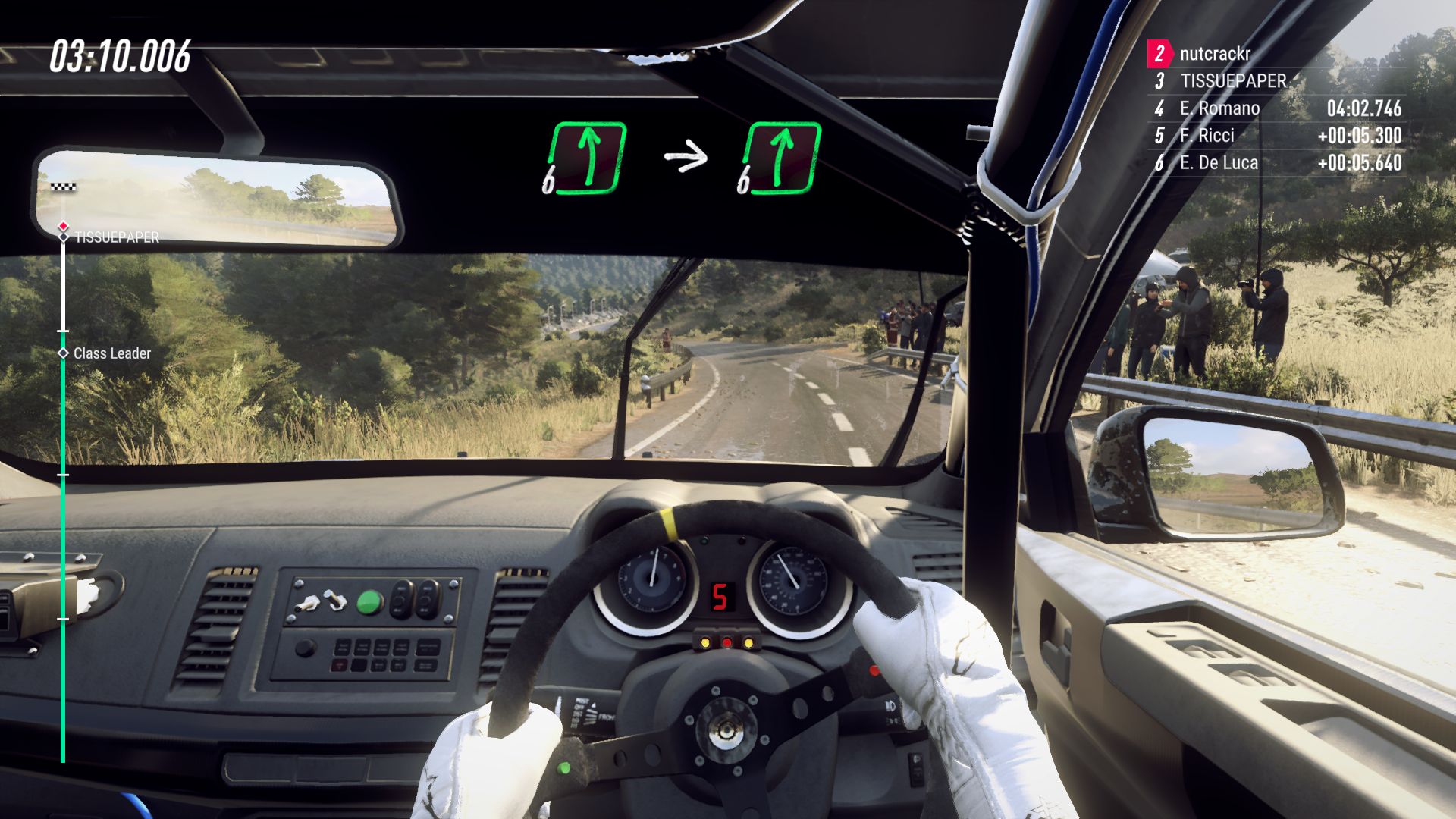 Multiplayer is fairly basic, but at least you can rally against others
DiRT Rally 2.0 is a good sequel that takes the fundamentals of the original and mixes it up with a bit of DiRT 4. It's still a brutal simulation that offers some of the best vehicle handling in the business, with a broad selection of cars that are rewarding to master. Its course selection is a bit limited and familiar, but there is good challenge to be found and the trackside visuals are excellent. Despite a few quirks with the AI drivers, the career offers many hours of competent racing. This is a sequel that does what it needs to do, to get where it needs to go, even though it forgets to change its tyres to a fresh set. But even the best of us slip up sometimes.
Our ratings for
DiRT Rally 2.0
on PC out of 100 (
Ratings FAQ
)
Comments
blog comments powered by Disqus