Game of the Year Awards 2018
We celebrate the best games of the past year with our annual feature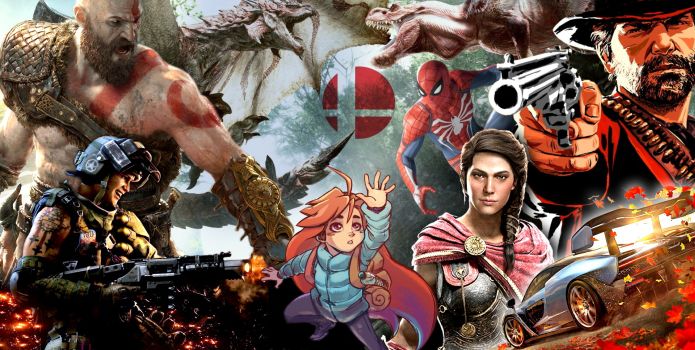 2018 saw many battlegrounds in the games industry. On the hardware front, things were quiet but remained competitive, as next-gen rumours began to swirl. Sony released the PlayStation Classic to compete with Nintendo in a battle for fan nostalgia, similarly to the various remakes and reboots of classic games such as Spyro Reignited Trilogy. VR headsets continued to fight over a relatively niche market.
Virtual battles were all the rage. Players got to fight for either the Spartans or Athenians in Assassin's Creed Odyssey. Then Battlefield V took us back to the deadliest conflict in human history. Super Smash Bros Ultimate pitted heroes from across many franchises against one another. Battle Royale found itself another contender, with Black Ops 4 showing us how a big studio can handle the last-man-standing mode. Fortnite continued its incredible success with over 8 million concurrent players. Even BattleTech dropped huge 'Mechs into hostile territory so they could blow each other up.
Sometimes, players fought against hidden forces. In Vampyr, the biggest threat was a virus that attacked the residents of London through their blood. Spider-Man fought iconic villains in an attempt to stop a deadly virus from propagating through New York City. Players in Far Cry 5 had to endure strange visions as they succumbed to a blissful drug at the hands of a cult. And the adventure game, Unforeseen Incidents, asked players to investigate the origins of Yelltown fever.
But perhaps the biggest conflict in 2018 was not against man, machine, or affliction - it was against the environment itself. Subnautica dropped players to the ocean depths where they needed to manage oxygen and resources to survive. Frostpunk asked players to build a city so they could keep its occupants warm and alive. Shadow of the Tomb Raider saw Lara navigate through a tsunami, and explore a deadly jungle. While in God of War, Kratos endured dangers across several interconnected realms just to reach the top of a mountain. The environment became a real character in Red Dead Redemption 2, as hunting and taming were an important part of life on the frontier. Even the racing game, Forza Horizon 4, required drivers to adapt to the changing conditions across different weather seasons.
As the dust now settles and we gear up for the year ahead, join us as we present our annual Game of the Year Awards 2018. As always, the winners were decided by a collective vote from all our writers.
Comments