SNK Heroines: Tag Team Frenzy Review
Not exactly the Queen of Fighters
It would be easy to write off SNK Heroines: Tag Team Frenzy at first glance. Its cheesecake aesthetic gives the fighter an aura of shallowness. Of course, that would do a disservice to the talents of the legendary SNK. Outside of Capcom, perhaps no other developer is as synonymous with fighting game excellence. While the studio has normally been pretty forward thinking with their development, this latest endeavor feels like a relic of the past.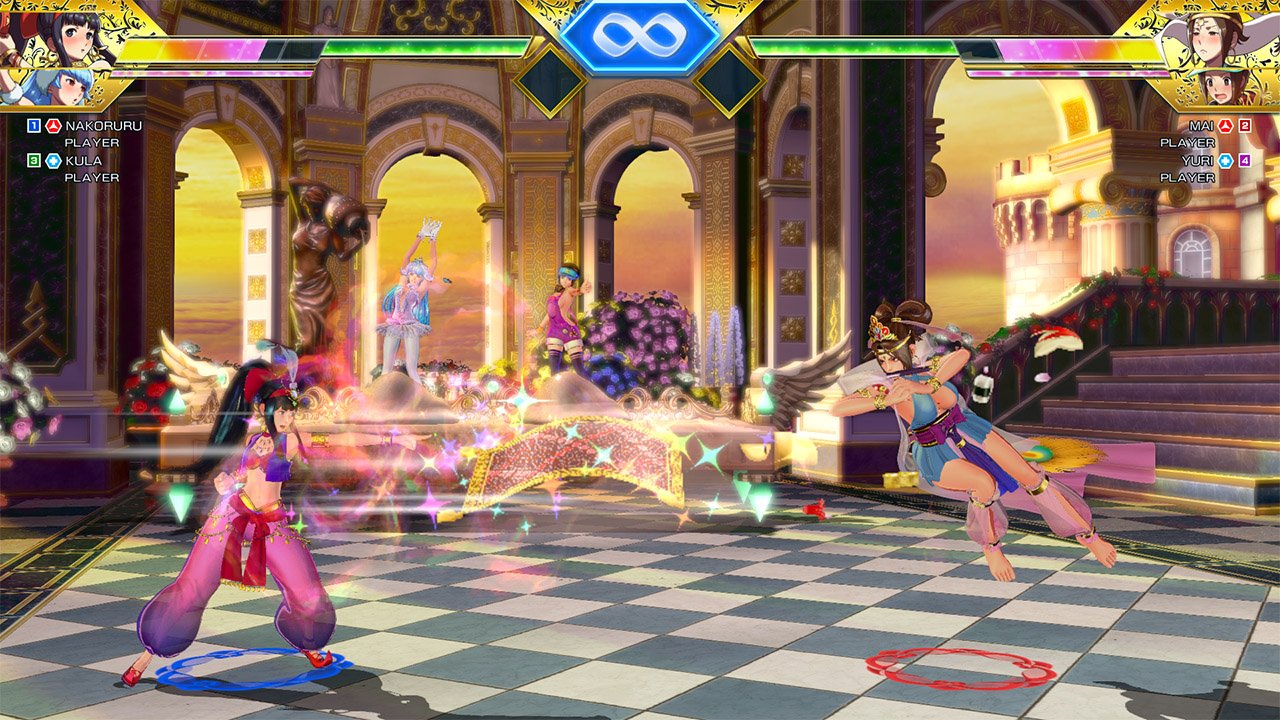 Paring down the mechanics of the more traditional The King of Fighters, SNK Heroines was clearly designed with a casual audience in mind. Based around a 2v2 engine, players are given the option to select an attack character and supporting character at the beginning of a fight. The role of the attacker is obvious, but it's the support character that can change the outcome of a match. They can replenish your fighter's special meter and can even throw out objects that can hinder your opponent. And this is all handled through a flick of the analog stick, which cuts down the complication of the engine.
As mentioned, Tag Team Frenzy is for the non-hardcore crowd. You got your traditional light and heavy strikes, throw, and a button for special moves. Pushing the analog stick in one direction in correspondence with the button will trigger one of four unique special moves. There are auto-combos built into the engine as well, which cuts down on complications and creativity. The other unique thing about the game is the Dream Finish mechanic. Once your opponent is close to defeat, you need to trigger a Dream Finish, which is just a simple button press, in order to end the match. It can lead to some intense finishes, but otherwise feels kind of half-baked.
Despite the casual appearance, there is underlying depth to the mechanics of this fighter. High-level techniques such as reversals, move cancels and air dashing are built into the engine. With that said, I still struggle to say that the title is actually fun to play, though. The support system is too chaotic, and the mish-mash of simple combos and more complicated techniques doesn't gel together well. It feels like SNK tried to have it both ways, and instead came out with something that feels clumsy on either side.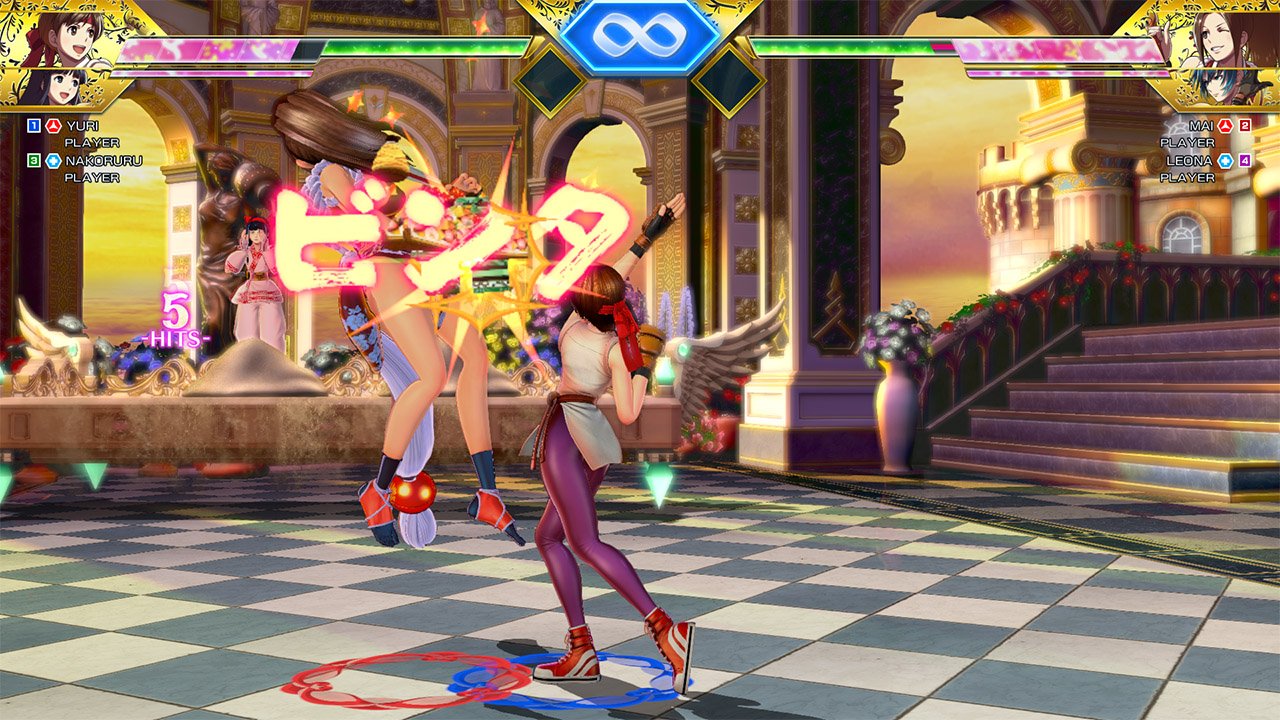 There is a story to SNK Heroines, if you think a skimpy justification for skimpier outfits counts as a story. The King of Fighters creep Kukri has captured a variety of heroines across the SNK universe, and a gender-swapped Terry Bogard, in order to power some vague piece of machinery. Also, for reasons, all of the fighters have been outfitted in ridiculous clothes that showcase their physical beauty.
I know nitpicking the plot of a fighting game is pointless, but man, is this thing stupid. You only get a few cutscenes per run, and they do very little to get you interested in paying attention. The only fun thing about it is that each pair of characters get their own unique banter between rounds. It gives the game a much needed dose of personality that isn't just being attractive. If you subtract load times, you can easily run through the story in less than an hour. While you can mine coins from multiple runs, I think one playthrough is more than enough.
Outside of the story mode, SNK Heroines features your standard selection of modes. Local and online versus play, as well as a survival mode and training room. It's not quite enough to make up for the short story, but there's nothing particularly important missing here. Online play has been a bit of a mess, at least in this current stage. I have had little trouble finding a match, which was surprising on the Switch, but the frame rate for these matches rarely reached an acceptable level. Combined with the game's base 30 FPS, you have a fighter that can feel a little too sluggish online.
I suppose we should finally get into the main selling point of the game. The skimpy heroines of the SNK universe are going to be the biggest reason why people buy this game, and if you're into that sort of thing, I suppose you won't be disappointed. I'm not going to begrudge anyone for getting their kicks from such a thing, but it's not really something for me. The outfits are a little too ridiculous, and some of them, such as Mai's cow outfit, just don't make sense. You can purchase their regular outfits in-game with money earned from playing, but the message is loud and clear as to how SNK wants you to view these characters.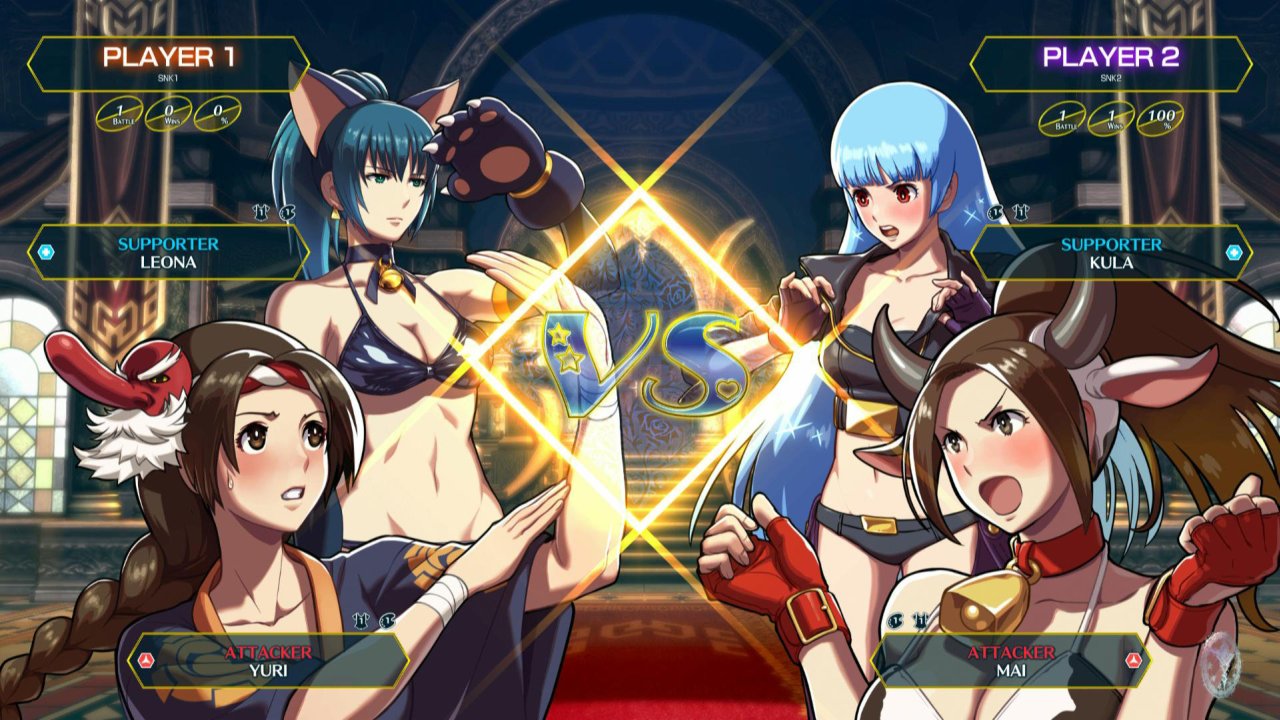 With that said, the graphics are lackluster, regardless. Utilizing the same style as in the most recent The King of Fighters, the title goes for 3D models rather than 2D sprites. While it probably fit better for what the studio was going for, the character models look rather dull. For a game that is so focused on style and presentation, you would think SNK would have focused on optimizing the visuals. The backgrounds are drab, as well, with little going on in the environment outside of the support character cheering you on.
SNK Heroines: Tag Team Frenzy is not the total disaster it could have been, but in an increasingly crowded market, it's hard to justify playing. Unless you are hard up for pin-ups, the fighter just doesn't have what it takes to match the greats. The combat engine has underlying depth, but it's not particularly enjoyable to play or learn, and the limited story mode gives the game little replay value. Even the title's main selling point, the alluring visuals, aren't at the level they need to be. I'm sure this titillating fighter will find an audience, but for those looking simply for a solid brawler, you best look elsewhere.
Our ratings for
SNK Heroines: Tag Team Frenzy
on Switch out of 100 (
Ratings FAQ
)
Comments
blog comments powered by Disqus