PES 2019 Review
A solid outing for the annual sports franchise, but one that fails to excite
Fans are intimately familiar with the ebb and flow of sports, especially when it comes to competitive franchises. You could have a great year and make it to the finals, or you could be forced to rebuild a suffer a year of defeats and middling performances. When it comes to video games though, most annual series would definitely prefer to stay on top year after year. For Pro Evolution Soccer, it has been a bumpy ride. Going from a top-spot competitor to a decidedly second-place offering, the Konami franchise has been unable to maintain even its own level of quality between iterations. After last year's somewhat disappointing outing, things are thankfully looking up again with PES 2019, though the top spot remains just out of reach due to some recurring issues.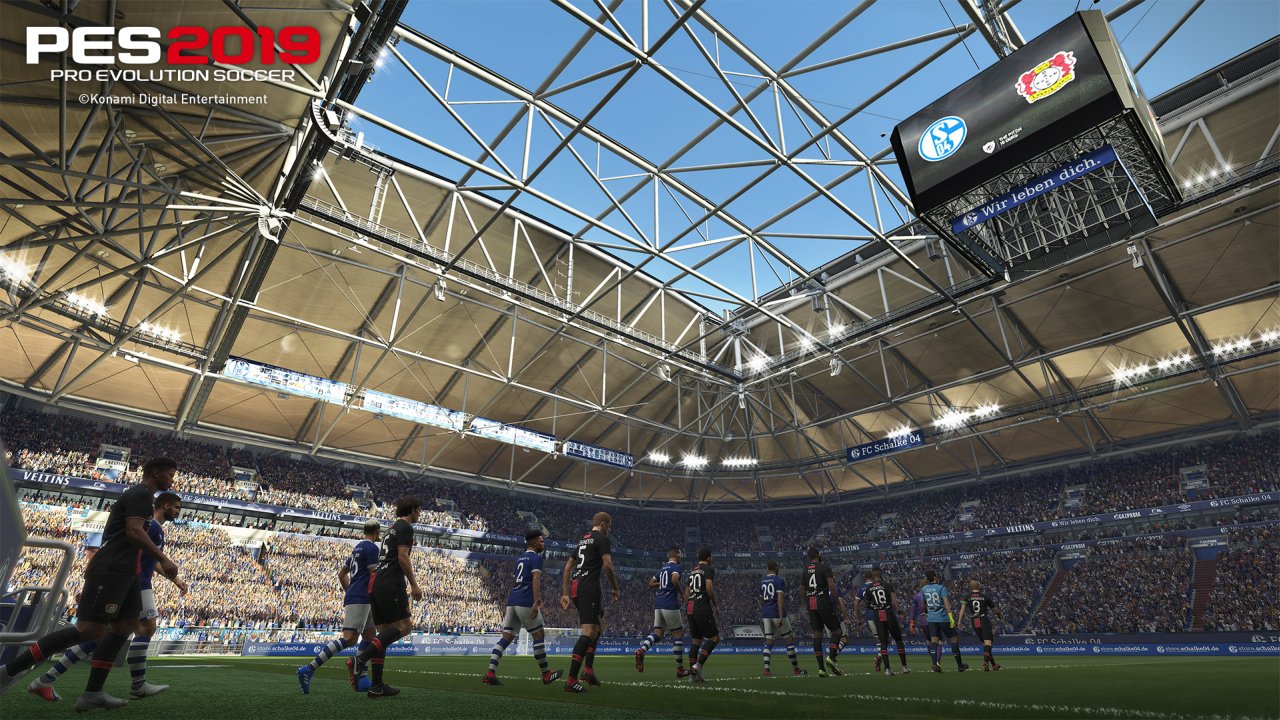 Master League remains the big offline mode where players can take control of a club and hopefully lead them to glory. The harder difficulty Challenge mode is back from last year. The pre-season games have been formalized with the added license of the International Champions Cup (which also features in Become a Legend). The menus remain decent after the revamp a few years ago, although trading negotiations are a bit awkward. There's no clear comparison between your offer and the counter-offer, and on deadline day, you can only respond to one offer each hour during the countdown. The scouting and transfer system remains straightforward, with helpful guidelines on how well your offer will be received, though it lets you re-negotiate and you can just keep increasing the price, perhaps an unintended exploit. Trades between AI teams still can be too wildly unrealistic. New options during negotiations, like re-sell and clean sheet bonuses, help add flexibility. As such, Master League is still an engrossing offline management mode that you can lose plenty of hours in, though this year's tweaks are small refinements rather than groundbreaking changes.
Become a Legend mode remains almost exactly the same, apart from some new brief cutscenes, which is disappointing. You pick a created or an existing player and try to guide them to individual stardom, playing matches for your club and performing well enough to remain in the starting lineup. It can be exciting to be on the pitch, and creating chances feels more involving thanks to the low camera perspective. Ongoing minor annoyances remain, like not being able to skip time when you're not on the pitch, and the coach refusing to substitute you off despite being drained of energy. You can still only choose the league to start in as a created player, rather than the exact team. Konami may not have the budget or expertise to create something like FIFA's The Journey story mode, but surely it's time to at least add something new.
As I said a few years ago, the PES brand of football simulation is now well established for this console generation. Konami has carved out their own take on the beautiful game, and the sport is enjoyable to play. A few issues that plagued last year's PES 2018, such as terrible AI behavior, questionable goalies, and trouble switching to the right player, have all been rectified. There aren't any drastic changes that fans will notice, and on the whole PES 2019 feels quite like last year's edition – minus the bugs – and that's not a bad thing. New skill moves and additional individual player personality traits, such as no look passes and rising shots, have been added. The game gives a good feeling of precise control over feint movements, step-overs, and other dribble moves to help you exploit defenders. It's a tightly controlled and robust simulation of the sport.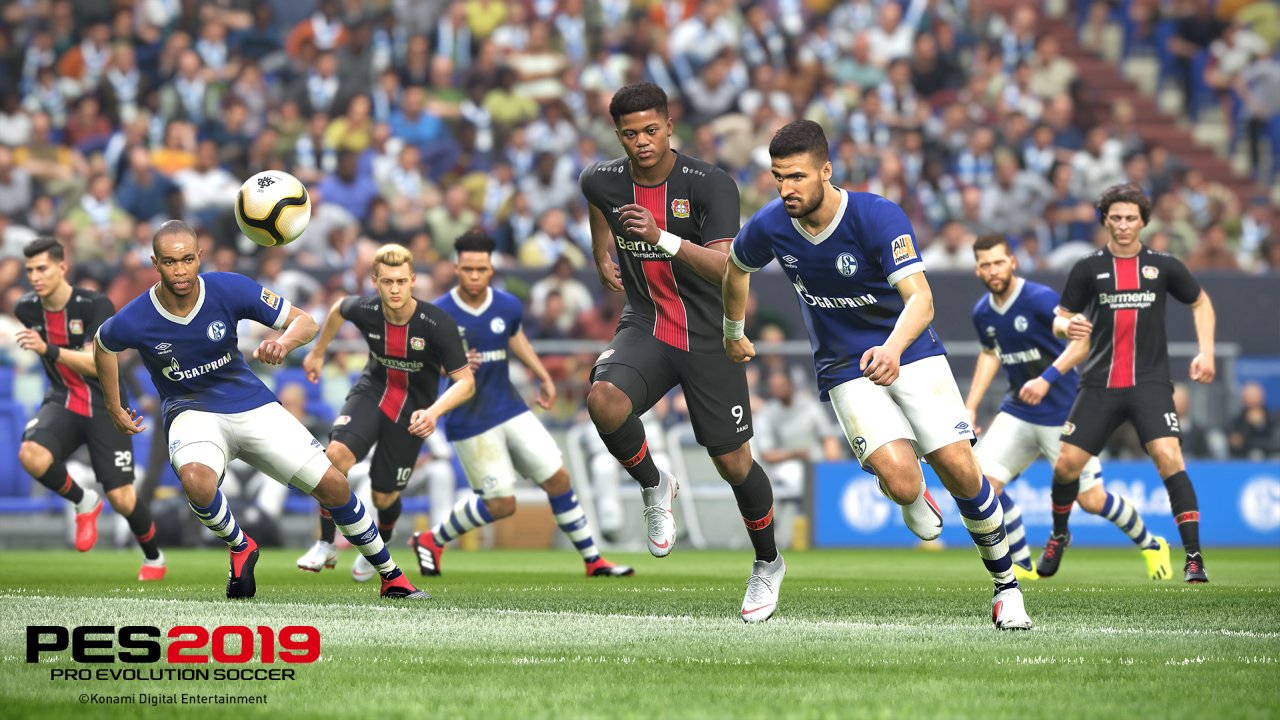 The referees do their job well, and the opponent AI get fouls and bookings on regular basis. The attacking AI player even got a yellow card for diving, the first I've ever seen. Borrowing an idea from the FIFA franchise, quick substitutions are available during play, so you don't have to go into menus. Goalies are competent enough, and so is the AI, making effective decisions in both offense and defense, though there are still awkward moments where your defenders don't chase loose balls in the box with as much intensity and desperation as you'd want, and this results in a number of goals conceded from sloppy play that would look more at home in FIFA's physics-based approach, rather than PES's more traditionally precise control.
The passing can feel a bit strange, as on default settings your players will forcefully punt the ball to the teammate in the direction you're facing, even if they are far away and you barely power-up the pass, which leads to many interceptions. Even tweaking the assist settings, there's just too many unintended giveaways this year. The only surefire way to get the ball across seems to be through-balls and shorter, accurate ground passes. Another annoyance, that seems to be entrenched in the franchise, is the fatigue system, which sees players drop to 50% remaining energy by as early as the 40th minute, while they were barely involved and never utilized sprinting. This is especially notable because in this year's game, players will slow down visibly when they are gassed, forcing you to adjust and utilize more creative ball management tactics.
MyClub has arguably become Konami's hopeful path to the future, and it prominently features throughout the menus. You can still earn GP (as long as you're online) in most modes and carry this currency into the coffers of your card-based team. The player agent signing system is still in place, which means you don't know exactly who you will get when spending money. The staple "roulette" minigame, when making new signings, has been removed. If you're into the classics, Legend player roster has been expanded, with the likes of Beckham, Maradona, Maldini, and others making an appearance. To sign specific stars, you need to use the scout system, which means hoping for a good scout as a reward or buying them on the expensive and slow-moving marketplace. It makes for a system that's fair, but rather grind-focused in the long run, as you need a ton of GP to get new agents and scouts. It seems to be a ton faster to use coins (the real-money microtransaction currency) to get a decent team together.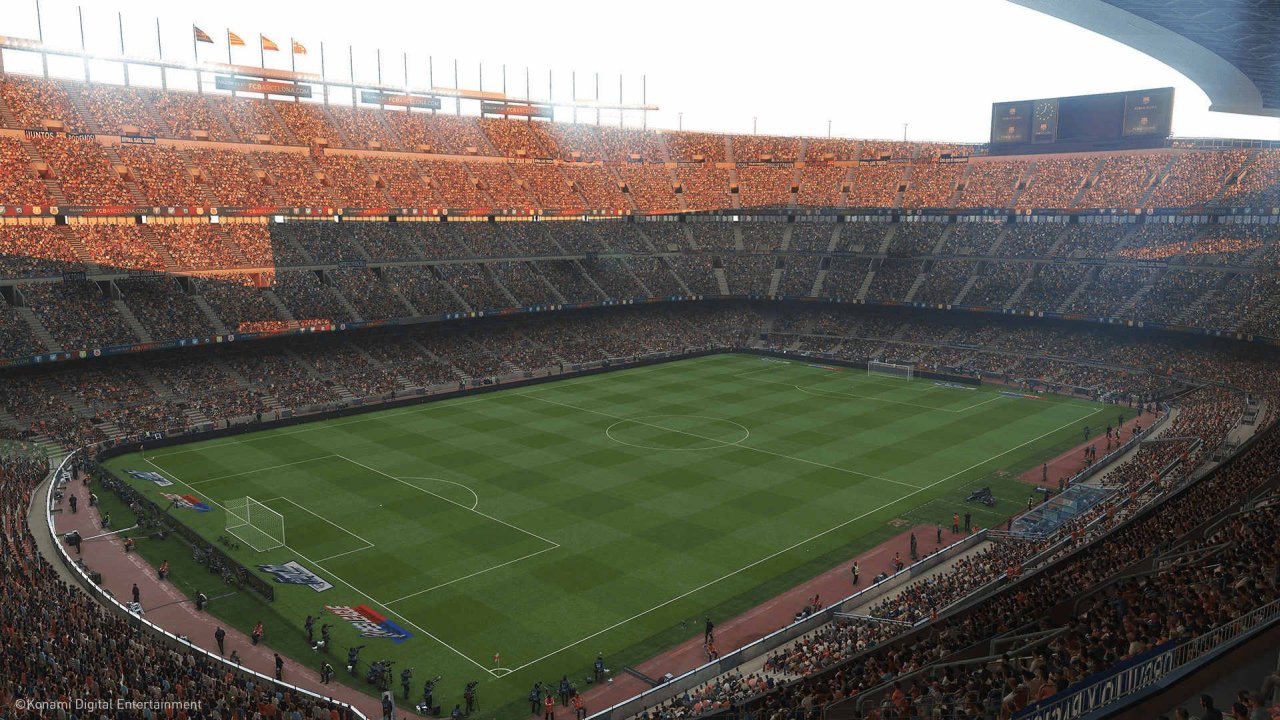 New this year in myClub are position and skill trainers, who can add specific diversity to the squad that can be often difficult to find without acquiring fresh faces. Helpfully, the player limit has been boosted, so you no longer need to purchase slots to add more footballers. You can also have duplicate player cards in your roster, which adds some flexibility, and you can even "trade in" 3 of them for another player of the same quality. The cards themselves have been touched up and now have a choice of displaying a few different icons (such as club or nationality), whichever you prefer, and there are now High Performance Players and Players of the Week – stat-boosted versions of cards, which is another borrowed idea from FUT. The bottom line is that if you already enjoy PES's unique approach to ultimate team building, then this year's edition will continue to satisfy, but fans who prefer FIFA's approach are unlikely to be converted this year.
This leads us into multiplayer, which remains stock standard. Last year's very fun new additions return, such as the well-designed co-operative play modes, and the Random Selection match kickoff. Standard friendly and competitive matches can be played, along with tournament participations. In myClub, you can now view your opponent's squads as well as those of top ranked, so you can see exactly who they use. As has been the case for many years now, the servers are mostly barren in North America, and much of your opposition will be players from south of the US border and South America. It takes a few minutes to find an opponent, but at least the connection seems decent in the early days.
Discussing the licensing issues of Pro Evolution Soccer feels like playing a record on repeat. Konami is always trying, but you have to feel bad for the publisher, as every year it's the same story. Gain a few licenses, lose a few, and the status quo barely shifts. PES 2019 still has a decent selection of existing licensed leagues such as France's Ligue 1, Netherlands' Eredivisie, and Campeonato Brasileiro from Brazil. These are joined by the Belgium, Scotland, Denmark, Portugal, and Argentina leagues, along with Russia which is exclusive to PES. There are also some partner clubs such as Celtic, Rangers, Inter, Schalke 04, Arsenal, and of course Barcelona. And yet, the gaps remain glaring – only partial licenses of teams in EPL, Bundesliga, Serie A, and La Liga. Also, the often-promoted partnership with UEFA has been snatched away by FIFA, leaving PES 2019 without the Champion's League. Yes, there are ways around this thanks to the ability to import user-created files, but it's still a cloud that seems to forever loom menacingly above. Plus, at launch the game does not have the latest rosters; sure, the transfer window in the real world doesn't close for a few days, but there's little excuse not to have big moves from months ago (like Ronaldo to Juventus… sorry, to PM Black White) in the game at launch.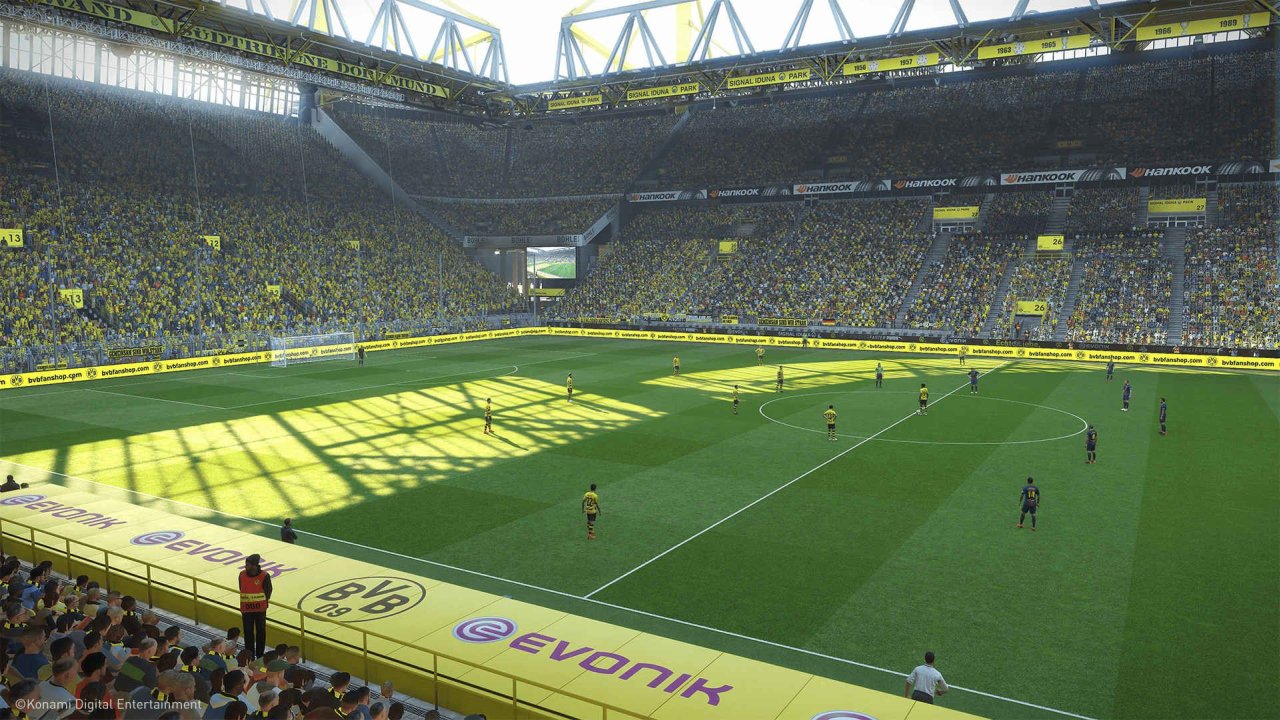 The franchise has been making steady improvements to its presentation, but like the licensing issue, the underlying problems seem to be persistent. The good part is that player likeness and re-created stadiums are all rather excellent, creating some very life-like scenes. Lighting systems are also impressive (probably helped by dropping the last-gen versions of the game), the varied in-game soundtrack is fun, and loading times feel quicker. But beyond that, there are still woes. Snow has been added this year but feels a bit lackluster as it only appears on the sides of the pitch. The very tired commentating duo of Jim Beglin and Peter Drury continue to drone out the same generic lines they have used for years. The repetition manifests itself in pre-match introductions that make little sense – always talking about the weather, the amazing matchup (even if it's two weak non-rival teams), and the grand stadium (even if it's just a smaller generic one). The matchday sound design also feels lacking, with audiences looking rather generic and lacking in detail, and crowd cheering at odd intervals, often lagging behind the action. It's time for the franchise to take the player/stadium visual assets and overhaul the rest of the presentation, but I fear we'll have to wait until next console generation for that.
The PES mantra has always been to put gameplay above all else. For better or worse, this has carried the franchise steadily through the years, and when it had an underwhelming gameplay outing, the entire experience suffered. Thankfully, PES 2019 comes out strong, with no qualms that hindered last year's edition. Tweaks to Master League, myClub, and other modes are probably enough to entice hardcore fans to jump back into this year's edition. Having your own brand of football simulation is all well and good, but the rest of the game needs some major tuning – particularly when it comes to presentation and authenticity – if the series ever wants to catch up to its EA rival.
Our ratings for
Pro Evolution Soccer 2019
on PlayStation 4 out of 100 (
Ratings FAQ
)
Comments