Wolfenstein II: The New Colossus - Nintendo Switch Impressions
Take the revolution to go
The Nintendo Switch console isn't exactly a lightweight, but it certainly isn't capable of the kind of visuals that the PS4 and Xbox One can pull off. That 2016's Doom even appeared on the system is nothing short of a miracle, but developer Panic Button made it work. A year later, the studio is back with another id Tech 6 engine game and the results are just as stunning.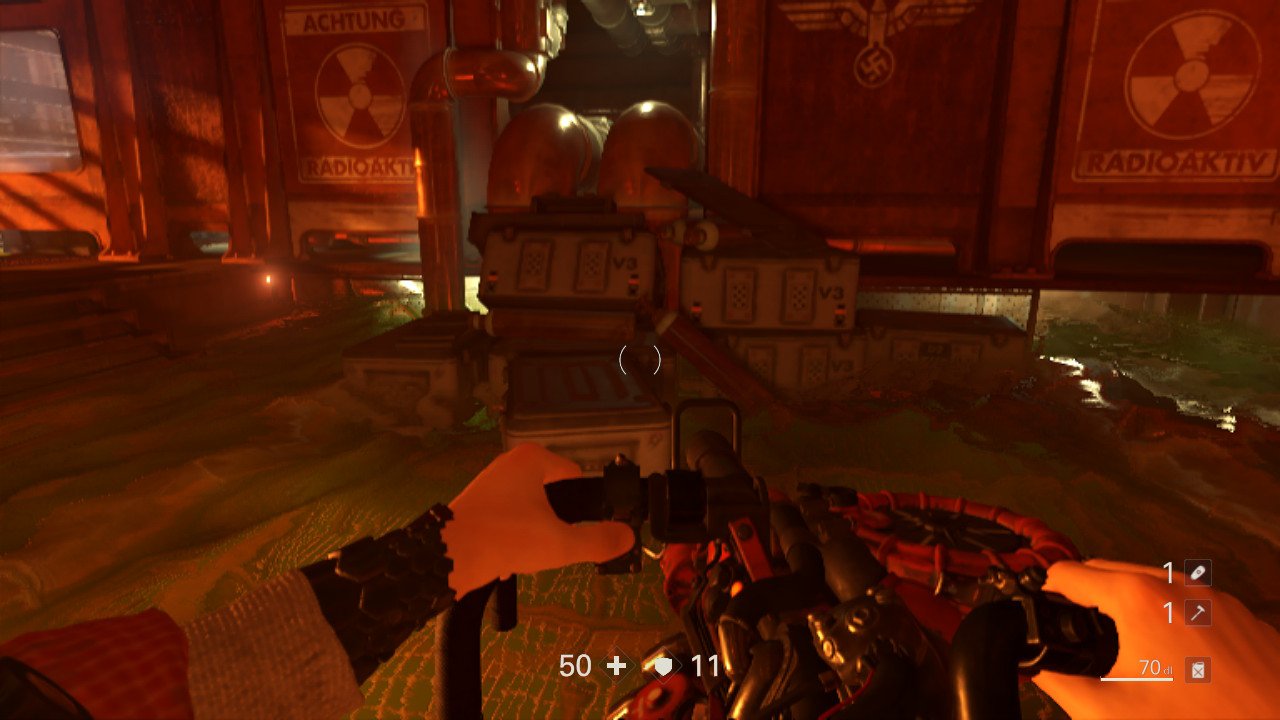 Wolfenstein II: The New Colossus is arguably a more demanding game than 2016's Doom, but this new Switch port offers up a remarkably more polished experience than the last go around. Somehow, Panic Button caught lightning twice and anyone looking for a portable shooter would be wise to grab this. That being said, if you're simply wanting the best available version of Wolfenstein II, clearly the Switch port is not it.
Similar to Doom, Wolfenstein II uses an adaptive resolution feature on the Switch. While the max res can hit 720p in docked mode, you're often looking at numbers far below that. I'm no technical wizard, so I don't have any raw numbers, but the game can get remarkably blurry during intense firefights. Thankfully, the framerate doesn't really buckle and remains at a locked 30 FPS for most of the game.
Sure, some instances will see the occasional drop, but Wolfenstein II performs a lot better than Doom did last year. I know some patches have ironed out performance for Doom, but it is nice to see Panic Button prioritize performance first this time. I think one of the biggest reasons for this is that Wolfenstein II doesn't introduce more enemies as you increase the difficulty level, meaning better optimization was possible. It also means you can realistically play Wolfenstein II on "I Am Death Incarnate" on Switch and not have a bad time.
As far as level geometry goes, only a few areas have seen tweaks. These result in some stylistic changes to decrease light shafts and the placement of some new buildings to reduce rendering of distant objects. I only noticed this since I had recently played Wolfenstein II on PC at max settings, but the Switch version comes remarkably close to retaining all of that detail. The same lighting and particle effects are all there, just greatly reduced in overall quality.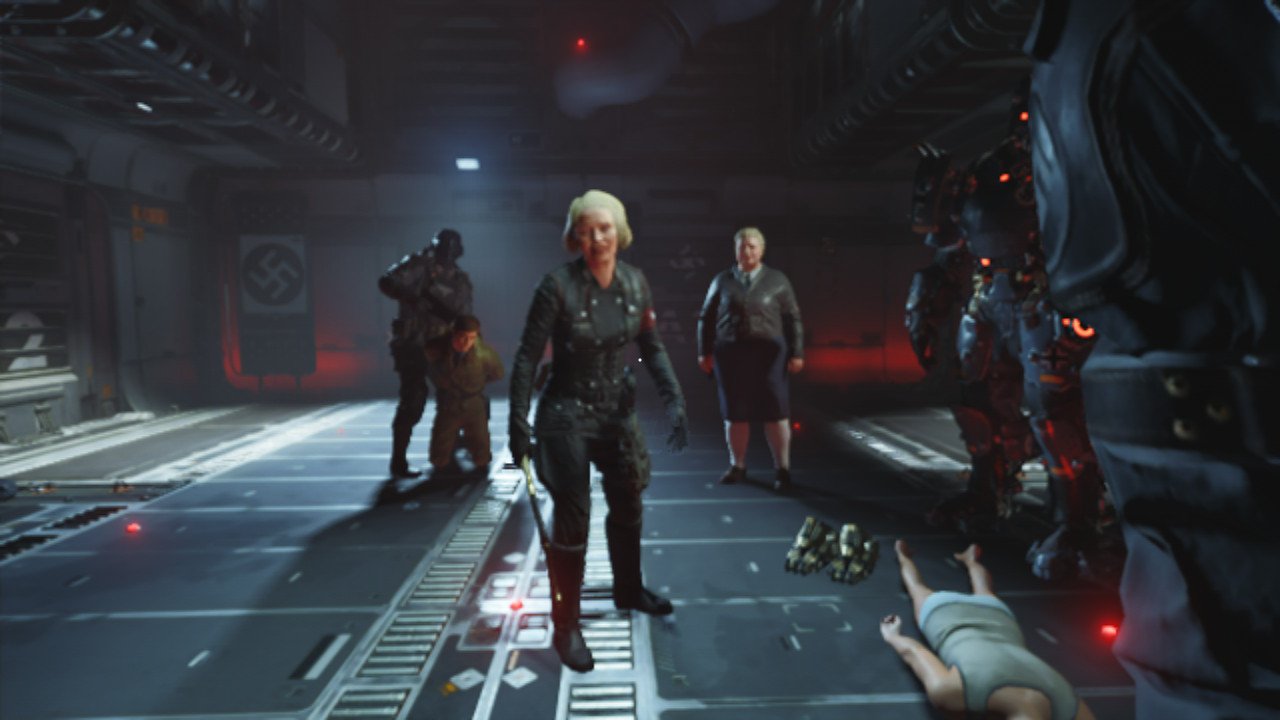 In handheld mode, the game truly shines. It can get even blurrier, but having a smaller screen means it looks far sharper than blowing up a low resolution image. You can also lean into the screen more and spot enemies in the distance, which can be a nightmare on a large TV thanks to how blurry everything looks. It almost reminds me of playing the original Doom on an SNES back in the day, what with how insanely pixelated everything was. Thankfully, you can typically make out distant enemies due to smart color choices in the environments.
What I'm still not a fan of is using the joy-cons for shooters. The dead zone on each joystick is far too erratic and it makes pulling off precise shots hard. The rebooted Wolfenstein series by MachineGames has some pretty agile enemies that will dart around arenas at a moment's notice. Trying to line up headshots with these crappy little joysticks is just asking for a bad time. There are even some flying enemies that I can never seem to hit with any kind of reliability.
At least to combat this, Wolfenstein II provides gyro controls on Switch. This is a feature that wasn't present when Doom launched, but later got introduced with a patch. It actually works remarkably well in Wolfenstein II. Unlike Splatoon 2, you can still use the joystick to aim like normal with gyro activated, meaning getting those pinpoint shots is all the easier thanks to how conveniently the feature is implemented.
It also just feels quite excellent in your hands. I would never call it a replacement for mouse and keyboard control, but I did find myself using it in docked mode more than I expected. I do wish there was a quick button command to recenter your position, but not disabling the ability to turn with the joystick while using gyro really helps out. It just feels like a natural extension of the control scheme rather than a tacked on extra.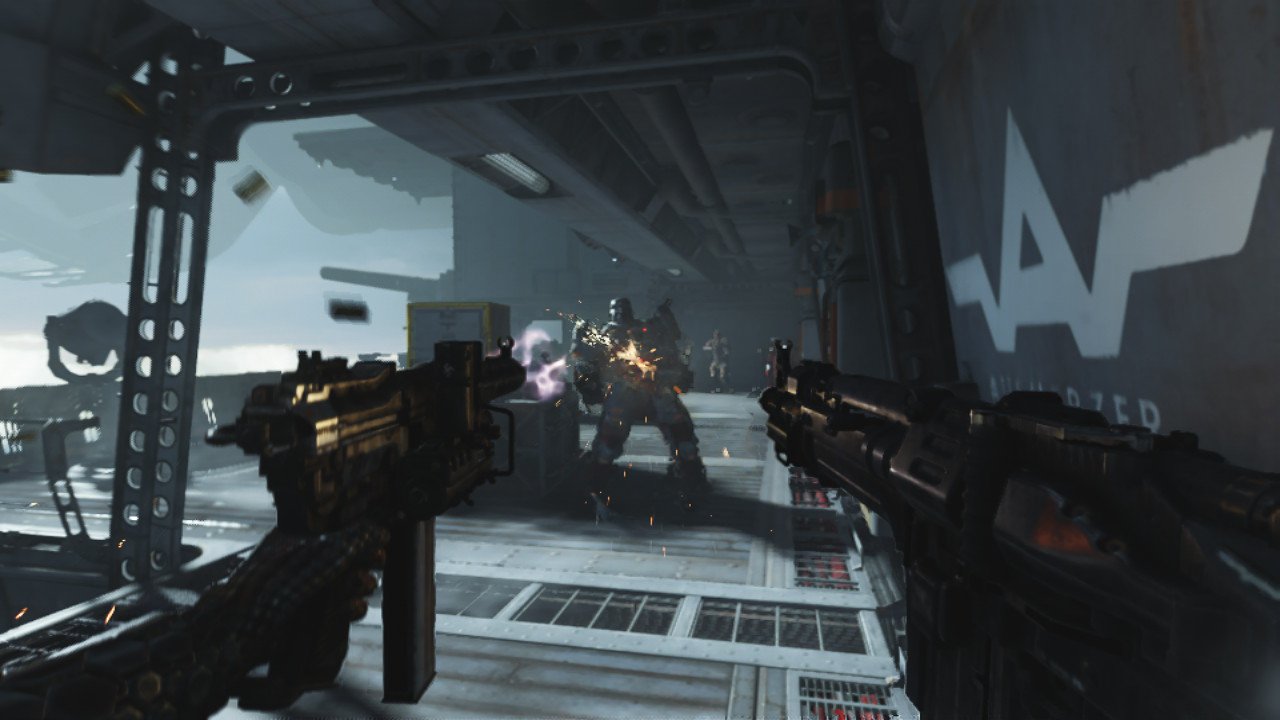 As far as the story is concerned, this is where the Switch port starts to fumble. All of the cutscenes and dialogue are here, but the quality is just low. Voice samples never playback as clear as in other versions and there is something weird going on with the framerate in each FMV. Regardless of playing in docked or handheld mode, each cutscene stutters along and looks pretty ugly. The general compression of them is solid enough, but the jerky movements betray the excellent motion capture and voice acting.
At least all of the features of the game made the cut. I may not be big on the game like I was with its predecessor, but Switch owners are getting everything that their console and PC brethren got. The campaign should last you about 8-10 hours and there is a plethora of side missions available. The combat simulators are all present and even the Wolfenstein 3D Easter egg is included, though it runs at half-speed (possibly due to the 30 FPS lock).
This is a remarkably similar package to Doom on Switch, just with better overall quality. The real killer is going to be that price tag, as Bethesda is asking for a full retail mark. Seeing as how the other versions routinely go on sale for $30 or less and even have DLC you can grab, I'm not sure I would recommend grabbing this at full price. It is feature complete, but there are no plans for DLC and the game is easily the weakest version of the bunch.
Then again, this port isn't meant for people with access to a powerful PC or a PS4/Xbox One. This is for Switch owners that want a first-person shooter they can take on the go. In that regard, Wolfenstein II is another quality port you can add to your Switch collection. It may be blurry as hell at times, but it lets you eviscerate Nazis from literally anywhere you please. That is certainly worth something.
Comments
blog comments powered by Disqus