Breach Pre-beta Hands On
We check out Breach hands-on with the pre-beta version at PAX East 2010
Digging through the expo hall today, I managed to get my hands on a pre-beta build of Atomic Games' Breach for Xbox Live Arcade. Having released only a few details about the game so far, I knew little else other than the fact that the game featured destructive environments ala Battlefield: Bad Company 2. Breach is a multiplayer first person shooter in the vein of many other recent shooters such as Modern Warfare 2. Matches are 8 on 8 with four different classes all of which seem to fit into the traditional vein such as gunner, assault, recon, etc.
Now that all of the basic information is out of the way, let me get to the actual gameplay.
My first reaction was that, for a downloadable title in its pre-beta stage, Breach was a solid looking game graphically. The animation was somewhat rough and a lot of the little things weren't there yet. When you killed an enemy for example, there was no indicator that you did anything at all. They simply disappeared. All of this though should be anticipated for such an early hands-on. All things considered, Breach looks like it's on track to be a very graphically impressive downloadable title.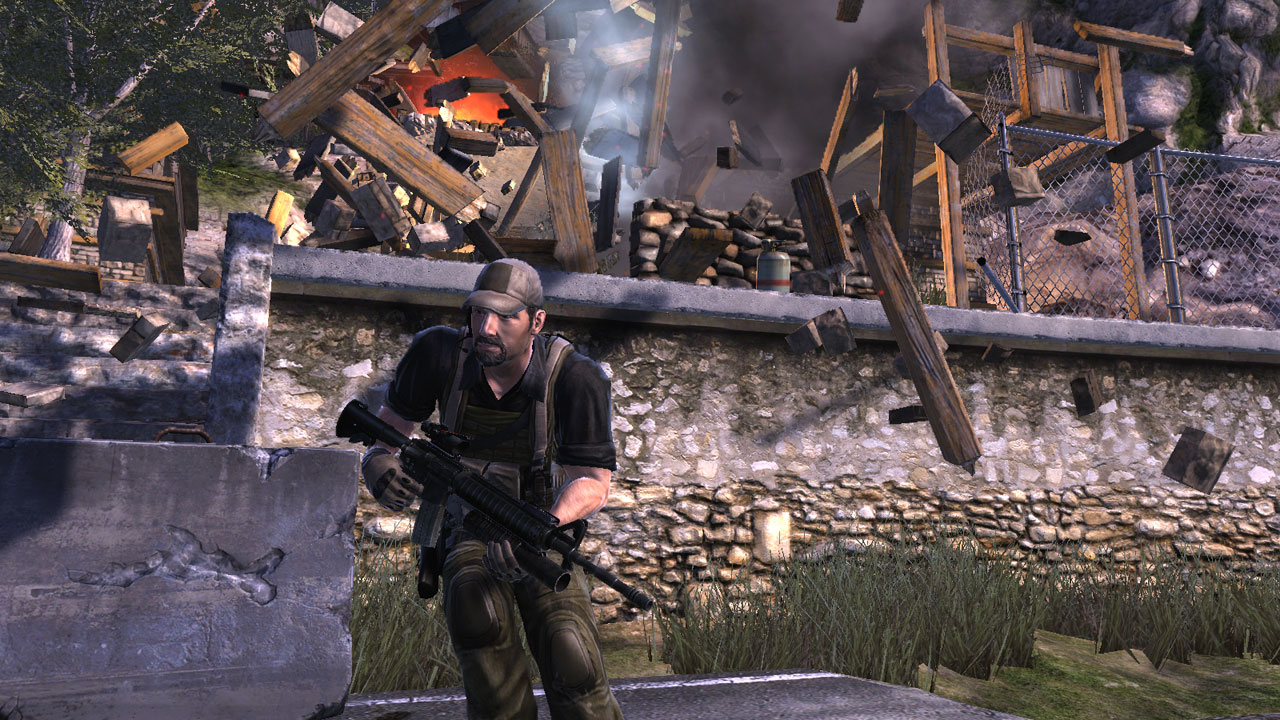 The game followed the standard FPS conventions with an easy to pick up and play control scheme… for the most part. Unfortunately, the secondary weapons like hand grenades and proximity mines were only able to be equipped and used through a rather complex series of button presses which I was unable to actually figure out in my time with the game. In addition, the controls felt very loose especially while aiming. I never felt confident I could get that headshot with my sniper rifle or strafe my way out of enemy fire. Although the looseness in control can easily be attributed to the early stage of the game build, I think that the control scheme could potentially be a more serious issue to look for in the future as the game progresses in development.
The biggest question I had leaving the booth was what void in the market is Breach looking to fill? Call of Duty: Modern Warfare 2 is the clear and undisputed leader of the modern console FPS in terms of pure shooters and Battlefield: Bad Company 2 has a big leg up in terms of environment destruction, class mechanics, and team play. Considering that the game is looking to retail at such a low price, that could help it some, but how many Xbox users that are looking for a modern FPS experience haven't already picked up one of those titles?
Breach is planned to retail for $15.00 USD. Atomic Games is hoping to get the game out sometime early this summer, but stressed to me the fact that for many XBL games, Microsoft has the final say.
Comments
| | |
| --- | --- |
| #2 Mar 28, 2010 14:45:53 (Mar 28, 2010 14:45) | |




SpectralShock

We do have an entry for the title on the PC platform

| | |
| --- | --- |
| #1 Mar 28, 2010 11:14:37 (Mar 28, 2010 11:14) | |




sirdesmond

The developers available at the Breach booth failed to inform me of this at the time, but I learned from a fellow media man that this game is also going to be released on PC which is definetly worth noting.