Just Cause 4 Preview - E3 2018
The Just Cause franchise looks to amp things up even further with new weather elements
Avalanche Studios' cleverly titled "Just Cause" series is an anarchist's dream. It's like a child's fantasy of playing around with, blowing up, and dismantling all in your wake on a massive scale. Based off my demo presentation at E3, the latest entry, Just Cause 4, seems to embrace these qualities of toying with physics and causing a heap of destruction, and ultimately ramping it all up to the enth degree. It all seems like a goofy concept on the surface, but this game certainly looks to capture the essence of what makes games so fun - the ability to take complete control of the environment around you in various ways and performing feats of anything your heart desires.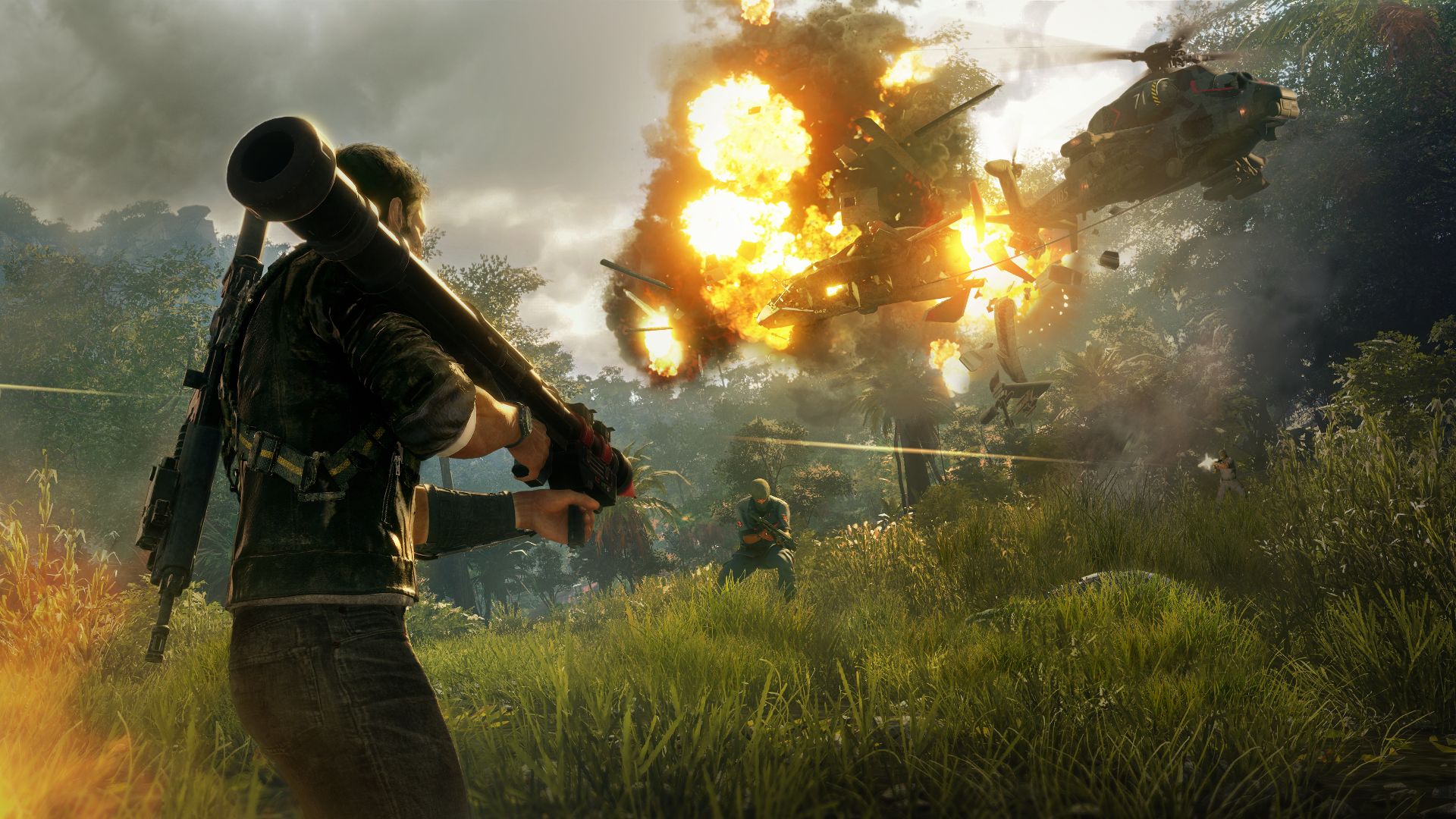 It's perhaps fitting then, that Just Cause 4 is branded a sandbox game. This obviously pertains to its open world aspects in one sense. But in many ways, it really is the digital embodiment of a massive sandbox full of toys that invites you to play around within its loose boundaries like a giddy child on a sugar high. The key difference is that this sandbox is crawling with a plethora of hazards, not the least of which is the game's introduction of extreme weather conditions. You've got towering tornadoes that can slice through bridges, piercing lightning bolts, and ominous blizzards. The game boasts 4 large biomes in the fictional South American nation of Solis. Each of the areas comes with their own distinct environments and a specialized natural disaster waiting to outdo your campaign of demolition and destruction.
Of course, you've also got the pesky human element to get in the way of your antics, in the form of an oppressive and violent militia known as the Black Hand. In between your sessions of blowing things up and launching large crates into the air, you must chip away at their power by taking out their forces and destroying their structures by any means necessary. Our demo mostly steered away from these direct confrontations, however. Instead, we focused on the various tools in our arsenal, and experimented with how they can manipulate and annihilate objects with the game's physics system.
There is a massive wealth of in-game objects and structures that could be altered, rigged, or otherwise interacted with in some way. This creates an interestingly fun and in-depth dynamic that opens the door for something different to happen in almost every situation. Some of the wacky actions that ensued from the over-the-top physics certainly provided plenty of yuk's and whoa's in our presentation.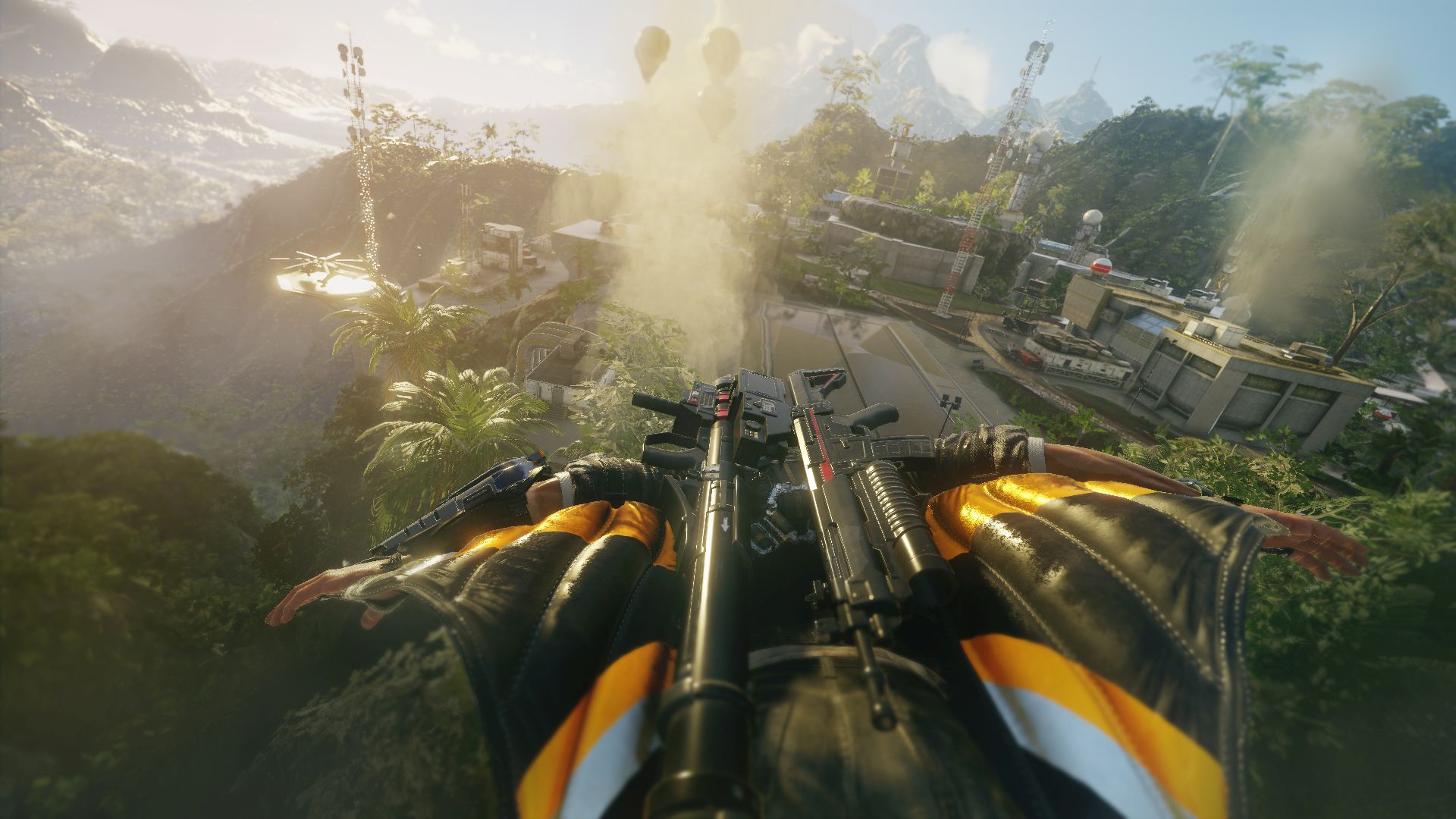 While the biggest breakout feature and selling point of this 4th iteration of Just Cause seems to be the extreme weather, we were told that other, more subtle enhancements will also be featured. These include a more fleshed out and diverse AI system, overhauled vehicles like bulldozers and cranes, greater draw distances, and missions that require you to venture a bit outside the "blow things up" objective. You even get to assist in building an army of your own this time, known as the Army of Chaos. Perhaps most notably, though, the grappling hook has now become the central tool for most of your actions. It's super versatile and fully customizable, complete with unique loadouts, more tethers, and a quick swap feature that helps keep the action going. You can now deploy booster rockets and air lifters directly from the grappling hook through a secondary ability.
The majority of our presentation involved the demonstrator toying around with this handy device, as he fired away at a variety of objects both small and large, causing them to take flight, explode, and crash into other objects. One amusing segment consisted of him soaring across an environment atop a giant shipping container, using it as a makeshift airship. It was quite the rocky and unstable ride, but it got the job done. We also propelled a couple objects directly at an unsuspecting Black Hand soldier which sent him flying, plummeted off cliffs as we soared in our wing suit, and demolished some wind cannons using our trusty rail gun. Additionally, we engaged in a storm chasing expedition with a looming tornado, which was flinging large pieces of debris around in a whirlwind like plastic toys.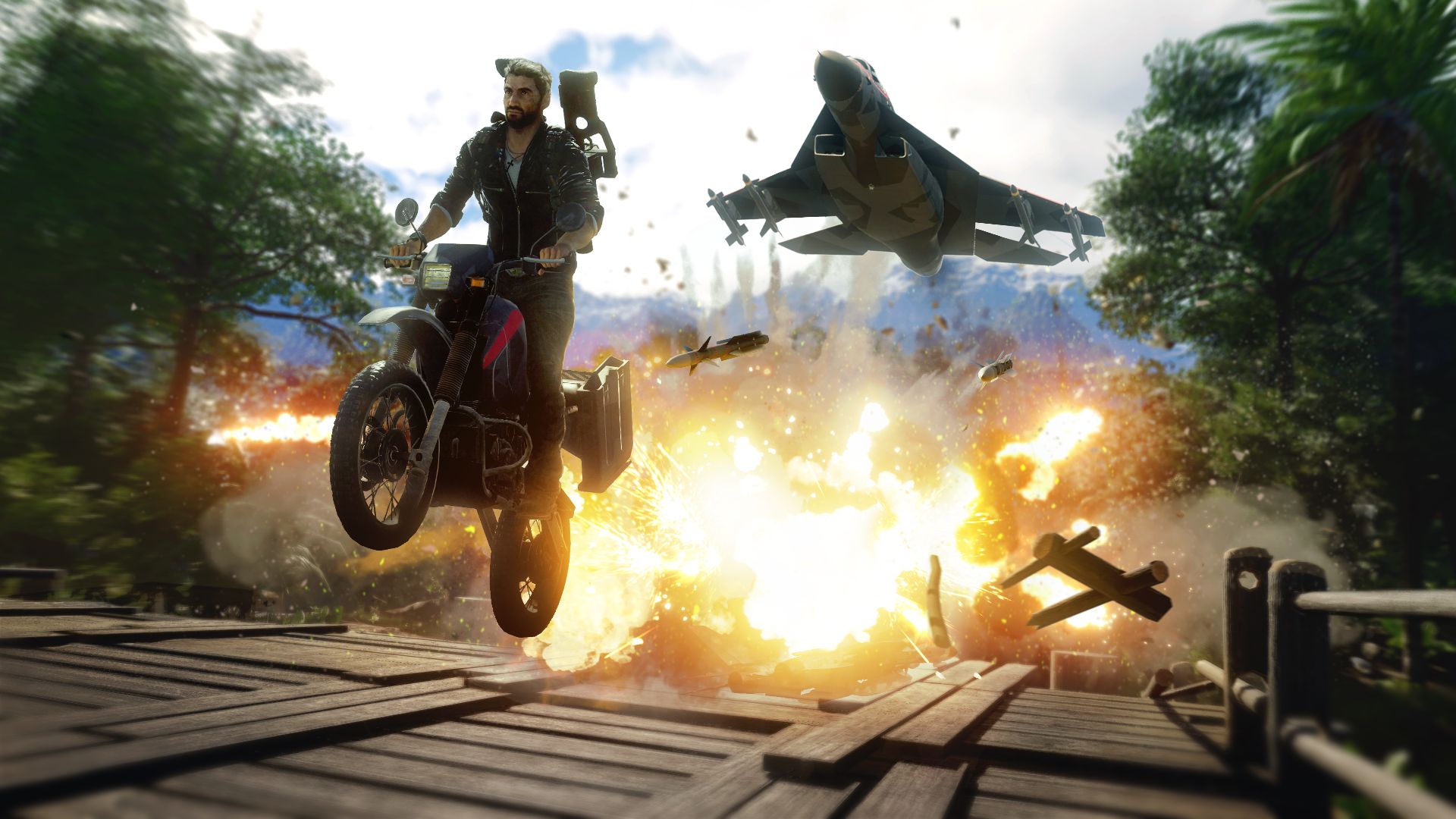 Just Cause 4 looks to be the expected sequel to the series. Outside of the crazy weather conditions to interact with and work around, there doesn't seem to be a ton of ingenuity or new concepts in the vein of the wing suit and grappling hook introduced in Just Cause 2 and 3. Rather, this game looks to build on what made the franchise memorable and entertaining in the first place. It injects a dose of steroids into the original formula and goes all-in on creating chaos and destruction in creative ways.
Just Cause 4 is set to launch on the PS4, Xbox One, and PC on December 4th, 2018.
Comments
blog comments powered by Disqus