Shadow of the Tomb Raider Preview - E3 2018
We go hands-on with the upcoming third chapter of the rebooted franchise
There is something that's just captivating about exploring treacherous and unexplored terrain; of delving into the great unknown and seeing what sort of dangers and/or riches lurk within. The Tomb Raider series has been one of the major gaming franchises to capture this feeling of childlike curiosity and wonder. The latest entry, Shadow of the Tomb raider, looks to really embrace these qualities of exploration, while at the same time, flesh out the gameplay and story elements to make for a memorable third entry to the rebooted franchise.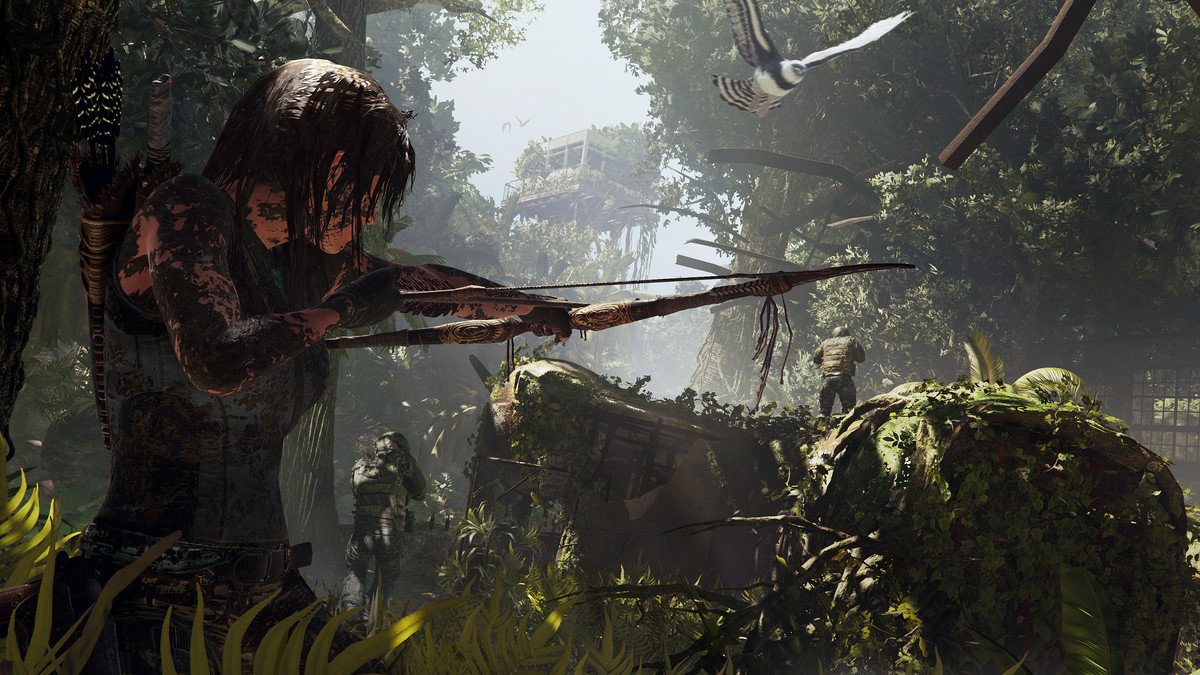 Upon viewing some gorgeously detailed outdoor environments and epic cinematics to kick off our demo presentation at E3 2018, I felt like I was watching a massive movie trailer for a new Tomb Raider film. In true Hollywood Blockbuster form, we were shown a wealth of both action bits and nail-biting drama through survival and stealth scenes, complete with the unique backdrop of an ancient Mayan setting, and an exciting dose of apocalyptic exposition. Though neither Angelina Jolie nor Alicia Vikander were anywhere to be found, this version of Lara Croft takes on a similarly gritty realism more reminiscent of a movie, along with a more 3-dimensional personality and motivations. She also possesses less of a, shall we say, disproportionately cartoony appearance than in the old days of blocky polygons.
Much like Link from the latest Zelda entry ditching the typical green tunic, this Lara Croft is missing her trademark tight-fitting tanktop and boots, but is still distinctly Lara. Instead, she's now sporting a new, slightly more comfortable and ergonomic looking wardrobe, given to her by her allies she meets during her journey. She's also wielding a massive bow and arrow that would likely intimidate even Legolas the elf. These aforementioned allies, "The Rebels", are in conflict with a local tribe led by Trinity, who seek to gain power and remake their Latin American empire to their liking by capturing an ancient Mayan relic. This game definitely looks to have some interesting lore behind it to help keep the experience engaging and enriching. Taking place in a sort of "historical fiction" setting of Paititi in Peru, the game promises to be wrought with personality, culture, and historical depth through a sort of melting pot of ancient Mayan, Incan, and Aztec cultural influences.
The town we're shown is large and bustling with activity, which gives the impression that this game looks to run with at least a semi-open world style of play similar to 2015's Rise of the Tomb Raider. People walk around, engaging in a variety of activities, and chatting in sometimes indecipherable languages. While there is a bit of English, as the language is brought over by the cult of Kublai Khan, background dialogue can be switched fully to English, or in Mayan for a more authentic experience. The setting and narrative play in a space between historical fact and fantasy, often settling on events that weren't necessarily proven to have taken place but "could have."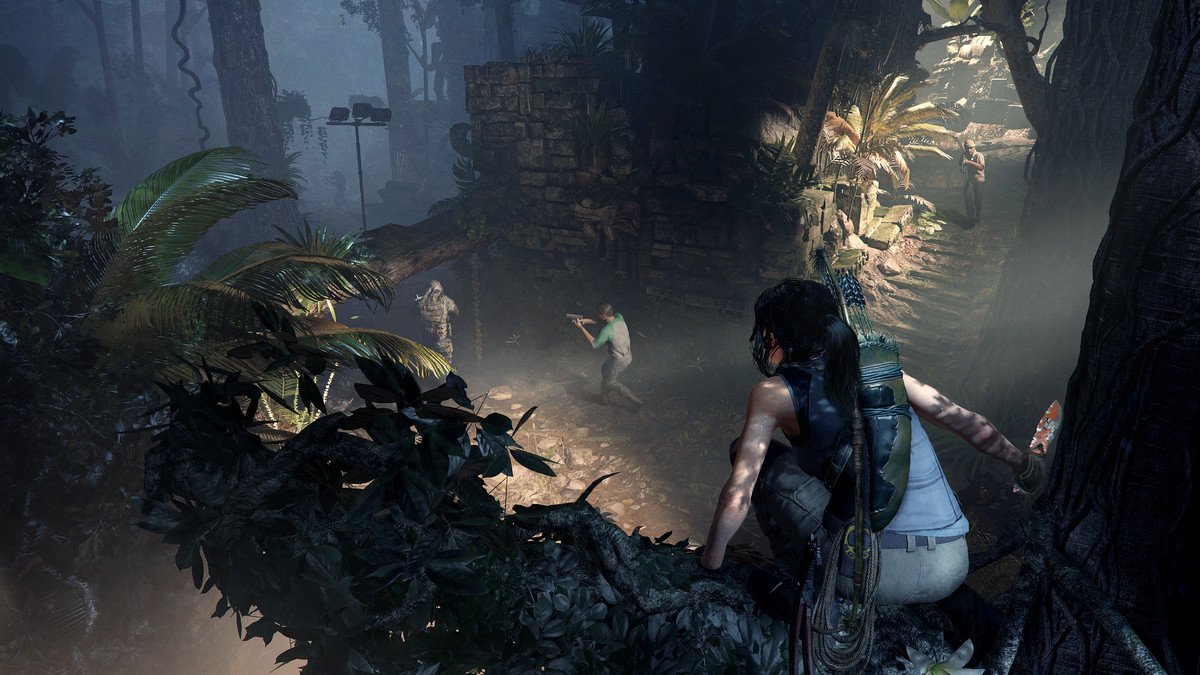 Taking a stroll across the town, we engage in a number of activities ourselves, including buying restorable gear from a local merchant, and taking on a side quest to help a boy find his dice, which he claims has been snatched by a ghost. We also partake in the amusing action of petting some friendly llamas before we leave. The lighthearted atmosphere, along with the vibrant and colorful foliage soon gives way to a dark and eerie abyss as we make our way to an underground cavern, and Lara prepares to engage in what she does best; raiding tombs. The large tomb we traverse, complete with diverging paths, is just one of the many crypts, caverns, and tombs found throughout the game, which promises to emphasize these areas of exploration more than ever.
Upon scoping out the cryptic entrance, we delve into the underground cavern and make our way further into the depths. As Lara crawls, climbs, and hops her way through, we're told different aspects of the difficulty can be tweaked and controlled, including how clearly the points of interest and progression markers are communicated to you. Of course, you've got traps like protruding spikes and tumbling hazards scattered about that can end you if you aren't alert. Yet, often merely traversing the treacherous environment itself without a guide can seemingly lead you to an unexpected tumble to your death.
I found this to be the case during my hands-on playthrough, as I occasionally missed a jump, slid off a wall, and nearly drowned in an underwater cavern. My demo certainly didn't go out of its way to hold my hand in this regard, but that increased challenge just added to the fun and intensity during my exploration. Making it past a particularly treacherous area made my brief journey all the more rewarding.
Speaking of swimming, we're told that this aspect of the game is going to be notable point of emphasis throughout. It certainly opens the door for a unique dynamic of traps and hazards, as demonstrated during our presentation. These include deadly piranhas and eels, mazes that can lead you to dead ends and inevitable drowning, and claustrophobia-inducing crevices that must be squeezed through by button mashing. Of course, there will still be plenty of traps and obstacles to overcome on land, complete with small platforming-style puzzles to figure out. These will require interactions with the environment, which include firing a repel to yank rope from a spindle, pushing minecarts around, and working various contraptions to open new access points Indiana Jones-style.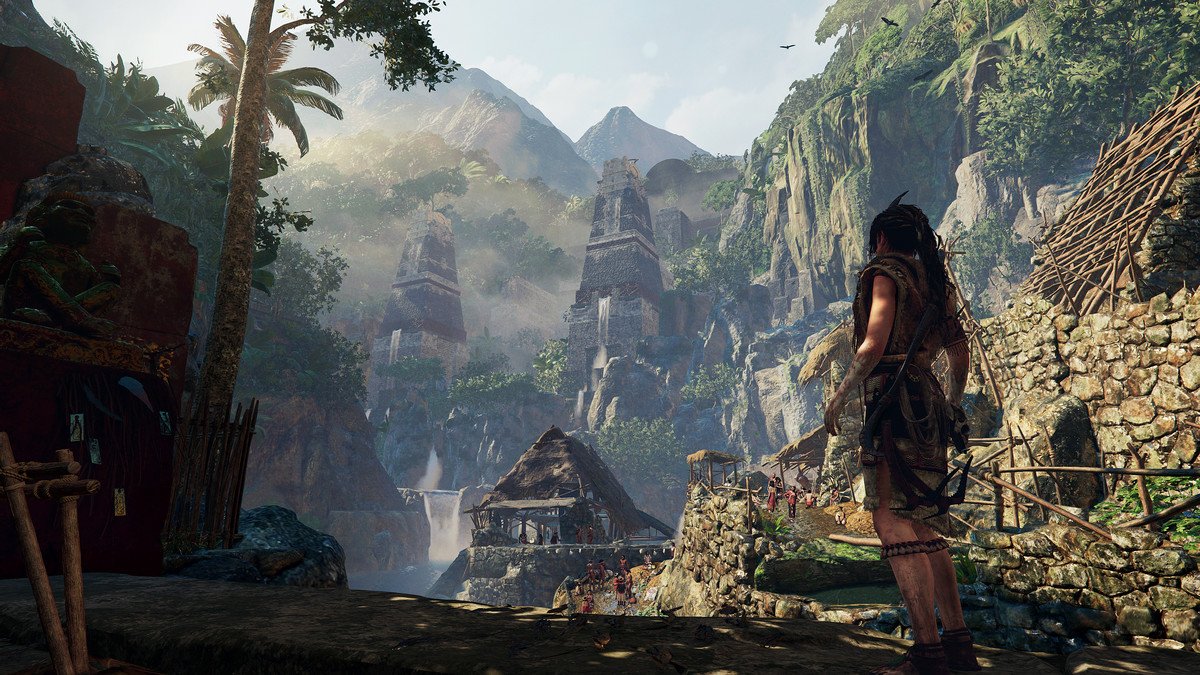 Another point of emphasis is stealth and takedowns; an element that I enjoyed messing with as I snuck my way through the shadows, evading and neutralizing enemies chatting and wandering about. With all the dark areas present, evasion through stealth is certainly a viable option, but not the only one. In our presentation, we also found ourselves finally putting our bow to use, as we took out an enemy from range with a soaring arrow, initiated a few takedown stabs, and lobbed a couple explosive objects for good measure.
Shadow of the Tomb Raider seems to really embrace the essence of what made the series so enduring; the thrill of traversing treacherous lands and wandering the depths of the unknown. At the same time, the game looks to inject fresh elements and provide some twists to give it a character of its own. I personally enjoyed being immersed in the rarely explored area of historical Latin America, and the intriguing lore of Mayan and Aztec culture that comes with it.
Shadow of the Tomb Raider is set to launch on PS4, Xbox One, and PC on September 14th.
Comments
blog comments powered by Disqus