GreedFall Preview - E3 2018
Taking a first look at the new game from creators of The Technomancer
I think the name GreedFall still has me scratching my head a little bit. Out of the games I personally checked out at E3 2018, I still can't quite get a handle on it. I suppose it has something to do with the consequences/dangers of avarice? Like, there's a veritable waterfall of it? Despite the puzzling name, GreedFall is an action RPG from developer Spiders. We had a chance to sit down and got to peer into this brave new world.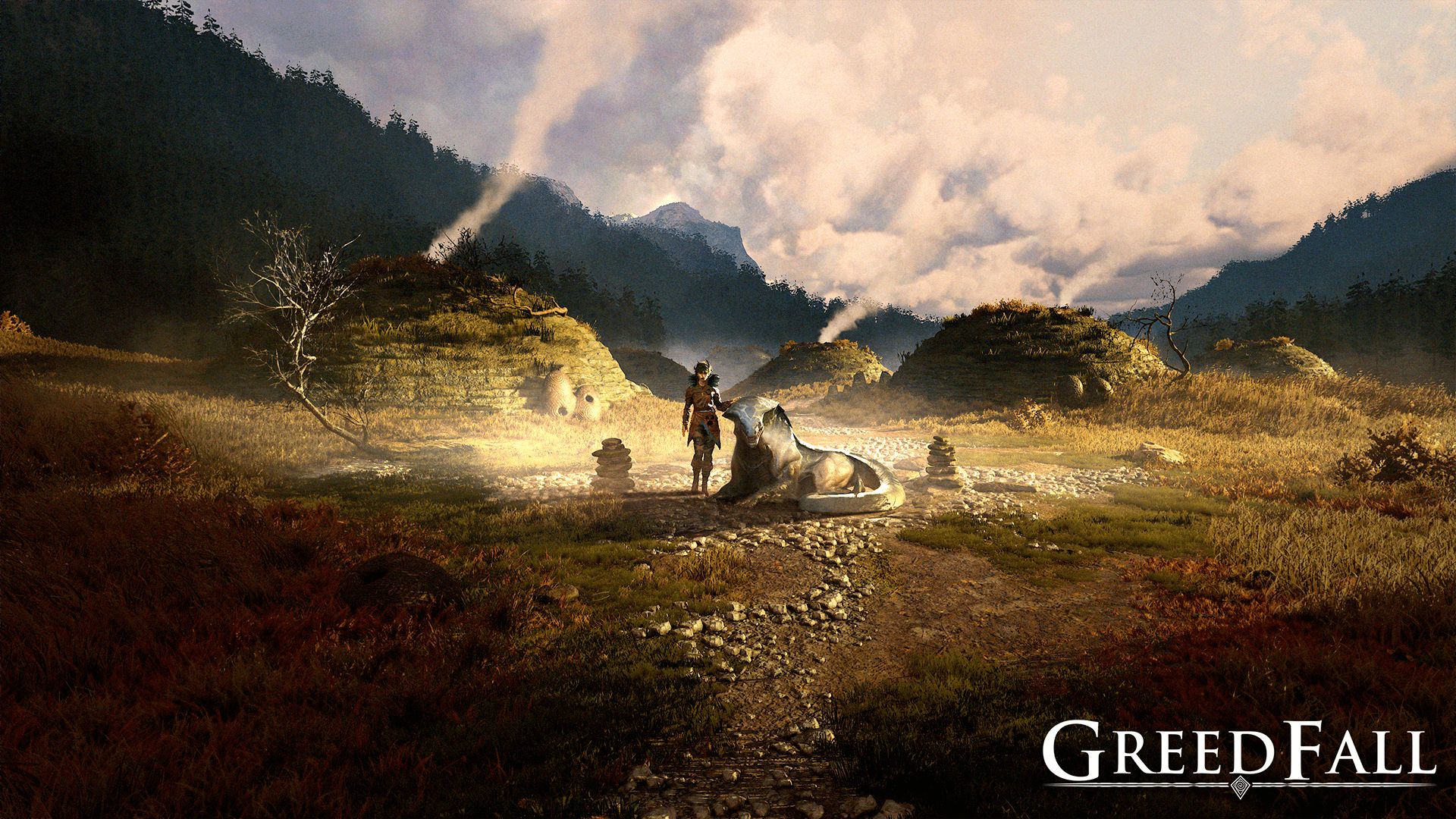 The game takes place during the 17th century. A bunch of settlers, mercenaries and treasure hunters are busy fleeing a continent plagued by pollution and an incurable disease. These groups land on a remote island bursting with dormant magic - and riches, and lost treasure to boot. Your character - be they male or female - have been dispatched to the island to aid your cousin and discover a cure, setting off a chain of events that affect this new nation's future.
After recently stepping foot into this new land, our protagonist is on the way to a large governor's mansion to rendezvous with their cousin. We're stopped at the gates because a native woman, hailing from one of the island's tribes, is busy exchanging words with the guards, demanding entry. An emissary sent by her mother, she is allowed entry after your cousin comes to the rescue.
Inside, there's a bit of court tongue-wagging, ending up with you solving the problem - as is standard RPG fare. You are to accompany the emissary, in hopes of your people getting closer to discovering the island's secrets and the natives not breaking in to all-out war. I think what struck me a little strange is that your people have been here long enough that they've built some pretty impressive structures, yet this is only the beginning of the war. I'll chalk it up to the fact that the backstory hasn't been revealed to us because we are at a later state in the game.
So, the roads aren't safe and we need to put on our walking boots. We take the emissary, as well as another companion, and set off. You can have up to three companions at a time in your merry band, and you will meet more as you progress - 5 in total. Each hale from a different faction and impact the game's story.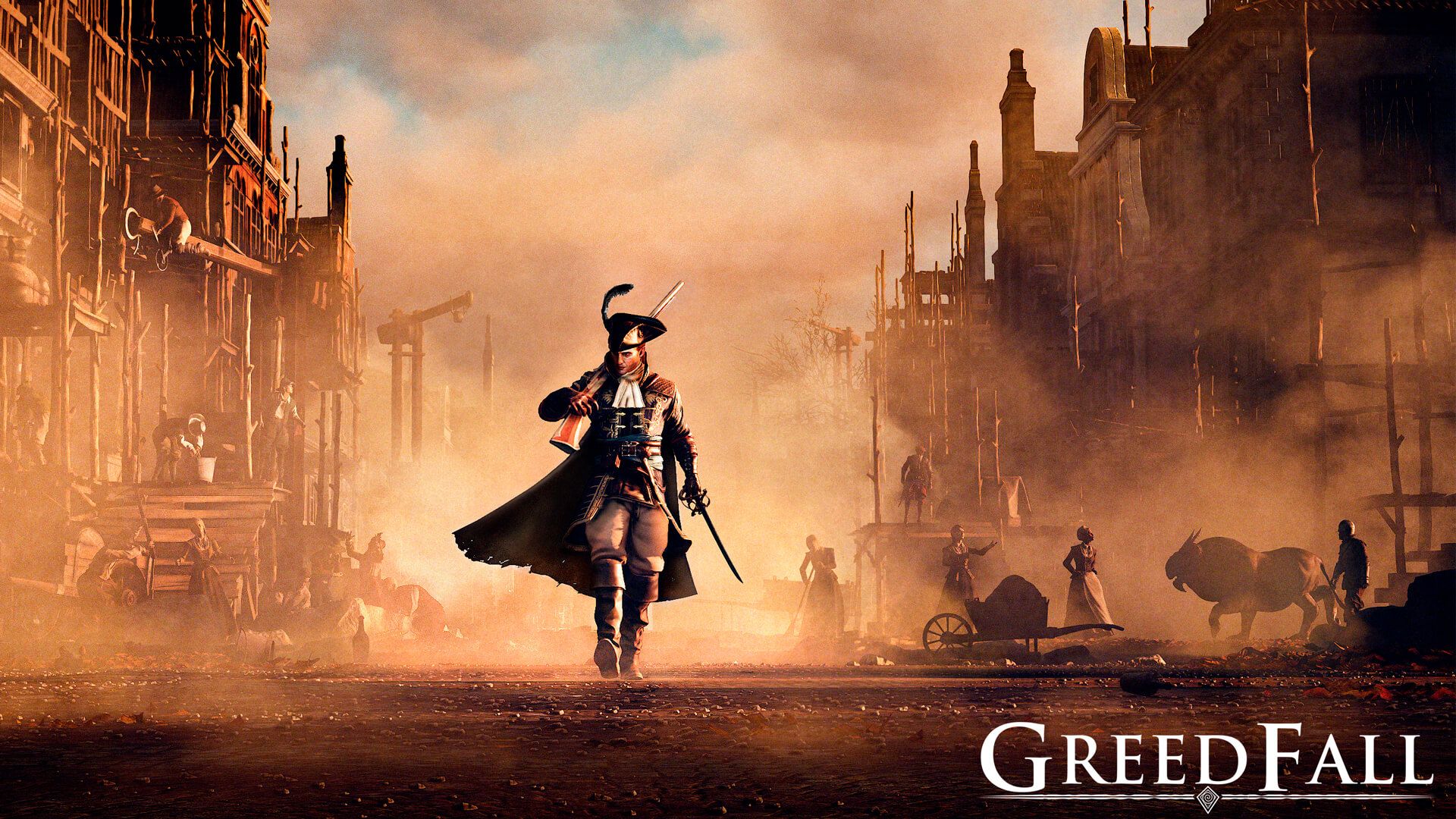 In the field, you're greeted by quite picturesque sights - trees, hillocks, dusty roads - your quintessential "green" environment. It didn't particularly stand out for me, because I was expecting this strange continent to throw up a few more visuals to convey the feeling of the unknown. However, it was only minor.
As well as using your feet, you can use a campfire to move around the open world. Your basic fast travel. These worlds are "hubs" - 16 in total - so it's not your typical open world. We were assured they each pose different environments, so keep in the back of your mind the wind-blasted plains, snowy lands, etc.
Graphically and thematically, GreedFall takes inspiration from European Baroque art. If you're not familiar with the style, just think of those pictures of fancy, old-timey French buildings/mansions/opera houses that you may have seen. Everything is rather grand and intricate, and people dress like they have an engagement at Palace of Versailles. This, however, is contrasted with the more rural environment surrounding these pockets of "civility" that the invaders have erected.
Soon enough, after having a wander, we encounter those out to bash in our heads. Combat is 3rd person, where you can switch weapons on the fly, utilize ranged weapons, the game's own brand of magic, and unleash powerful critical hits. We were promised over 10 different styles of weapons and hundreds of variants within that, so there should be a style/combo for every type of player. Generally speaking, you have your longsword, greatsword, axe, flintlock pistol - weapons for that era.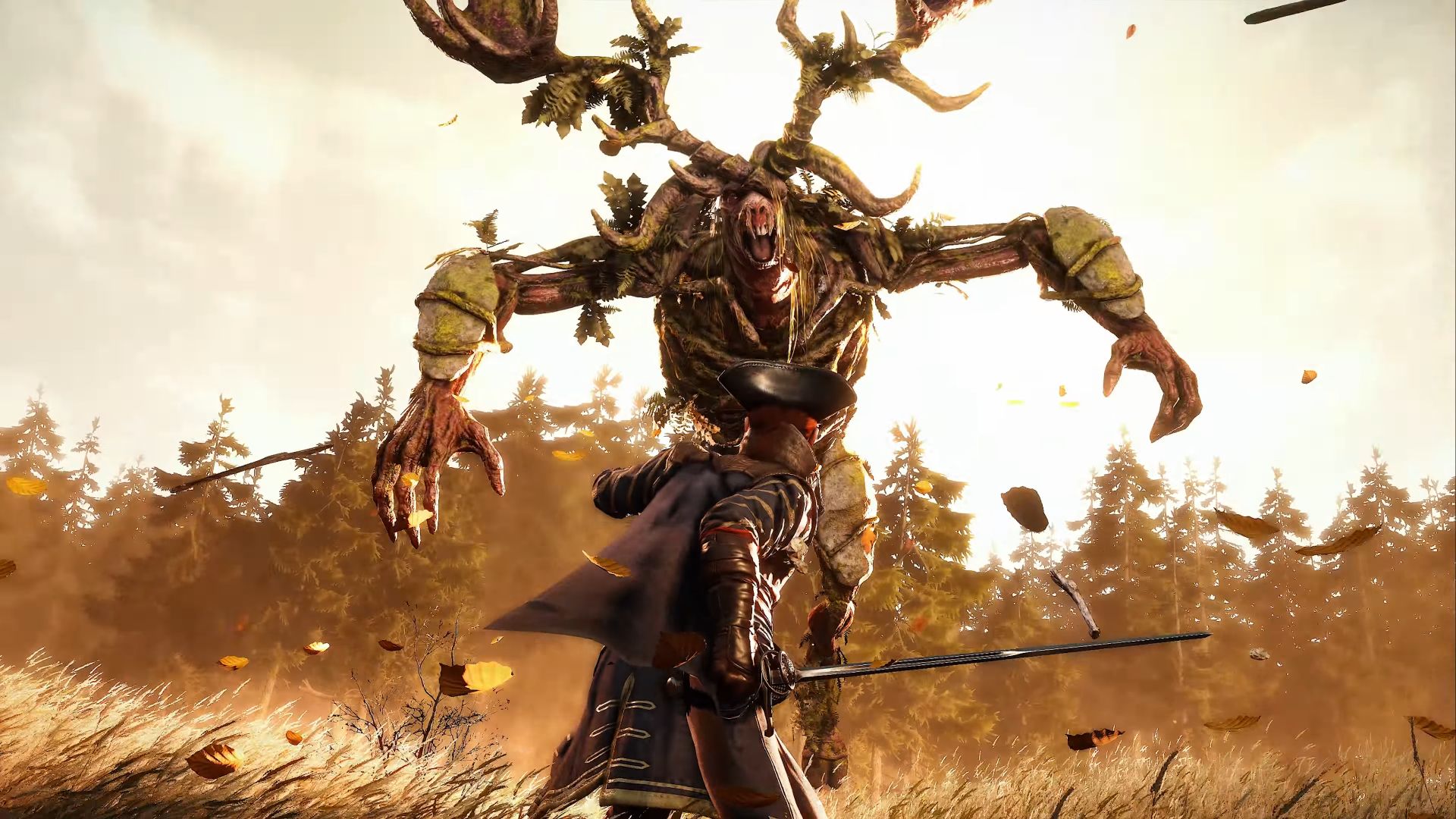 If we're talking 3rd person action, the system and style was more like publisher Focus Home Interactive's other title - Vampyr. It's not as fast as Dragon Age/Bloodborne, nor punishing like Dark Souls. It actually looks somewhat old-school (maybe even dated) to my eye. You wail on your opponent, build up your crit metre, then unleash a powerful attack while your companions join in.
The approach to gating off areas is through powerful enemies, so the environment does not level up in tandem with you, like Skyrim. There are some sections of the map where opponents will be too strong. You'll have to get better gear, level up, and then take them on. However, there is nothing stopping you from sneaking around powerful enemies to plunder some good loot.
Eventually, we reached the emissary's village. One of the elders at the village wasn't too welcoming, but our friend helped us out. He let slip that the emissary's mother is off waging a battle with our people. Better get there quick.
We can go a short way - fraught with danger - or a longer, safer way. Decisions like this affect the story. We chose to take a quicker route, but ran into some trouble along the way, resulting in a battle. With the enemies swiftly dispatched, we could also pick up some crafting materials, as well as level up. In addition to this, there are day and night cycles. This impacts the game, so certain times may reveal exclusive quests, monsters, and more.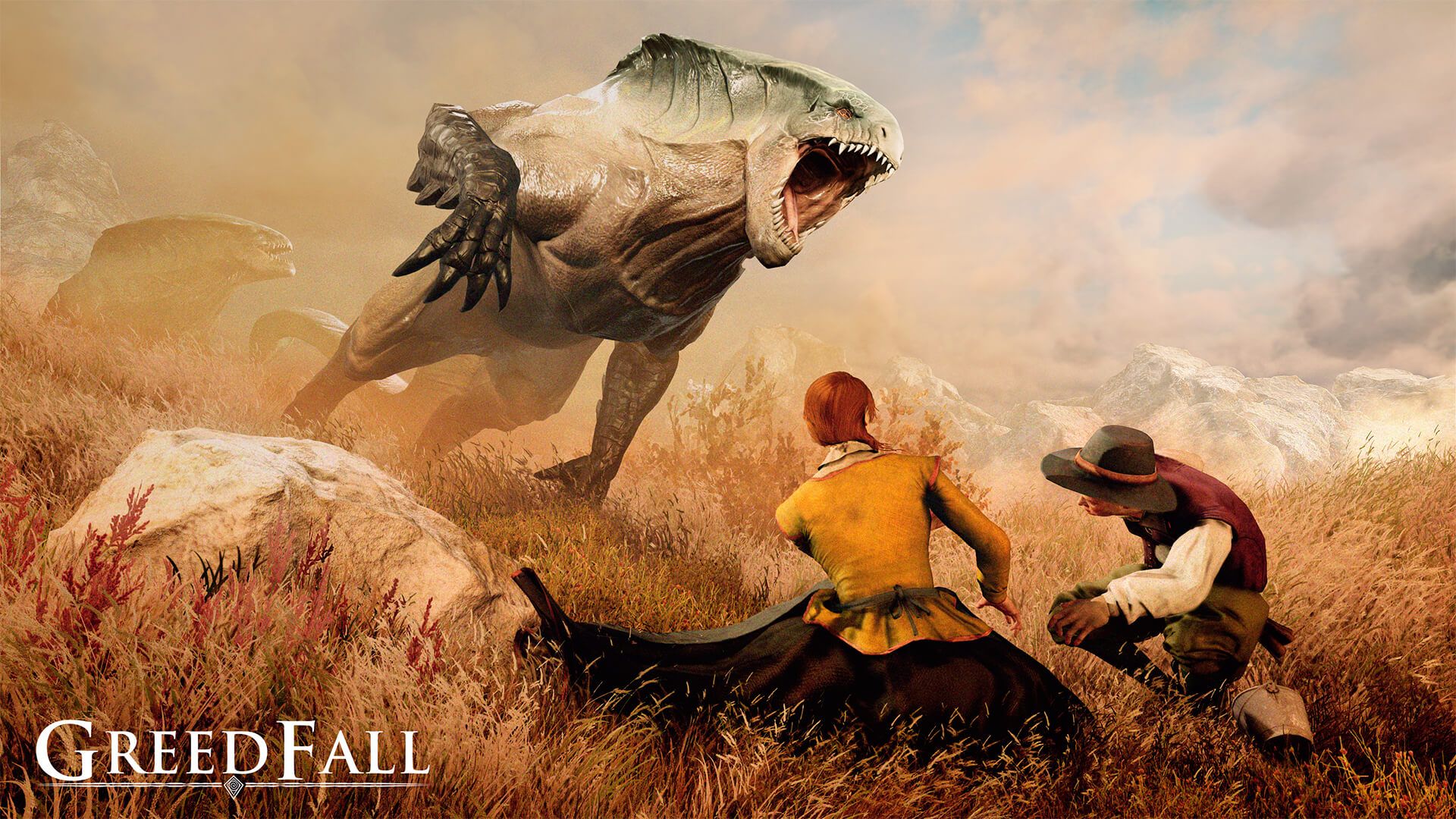 There are over 100 skills available, and they branch off in familiar patterns. You want to be a mage? Fine. Warrior? That's cool, too. Or just choose the skills you like most and create a hybrid. You can also take a more tactical approach to battle, by pausing and ordering your companions to fire off certain moves, spells, and skills.
Because we took the shorter, more dangerous path, we reached the battlefield in time to join the fray and meet up with the emissary's sister. However, it was too late for their mother. Our character could choose to console the sister or get straight down to business. These instances affect your reputation with factions and have story repercussions.
After a quick conversation session, a big green monster appeared. To defeat it, our companions had to employ some good ol' fashioned teamwork, in a flurry of blades and magic before our preview finished.
There is no doubt GreedFall is an ambitious game. It pulls every design trope from RPGs over the last several years out of the bag. Will the game be a jack of all trades but a master of none? Does it have enough unique features to drag you away from bigger titles in the same genre? From the preview, it seemed to me like GreedFall's strongest weapons in its arsenal are its story and characters. Elements such as combat and world design weren't too fleshed out for me to get a real sense of it all, so it may have a difficult time standing out from the pack.
GreedFall is planned for release on Xbox, PlayStation 4, and PC in 2019.
Comments
blog comments powered by Disqus