Strange Brigade Preview - E3 2018
We go hands-on with the upcoming cooperative shooter
On the surface, Rebellion's Strange Brigade looks like a unique take on the zombie shooter. It certainly comes with a curiously wacky overlay, with a mesh of old fashioned British, Egyptian, and monster movie themes. The colorful wardrobe of our 4 main heroes definitely stood out to me; you've got a Red Coat Brit that looks like they were plucked from the Revolutionary war, and an African woman dressed heavily in Egyptian tribal garb and covered with ink. You've also got 2 other characters, both of whom appear to be the bastard children of western movies and the roaring 30's. This truly was a strange brigade. Though once I got past this amusing starting lineup, along with the lavish-looking Egyptian decor of our demo room, I quickly realized that behind the glamor and glitz was a typical survival shooter.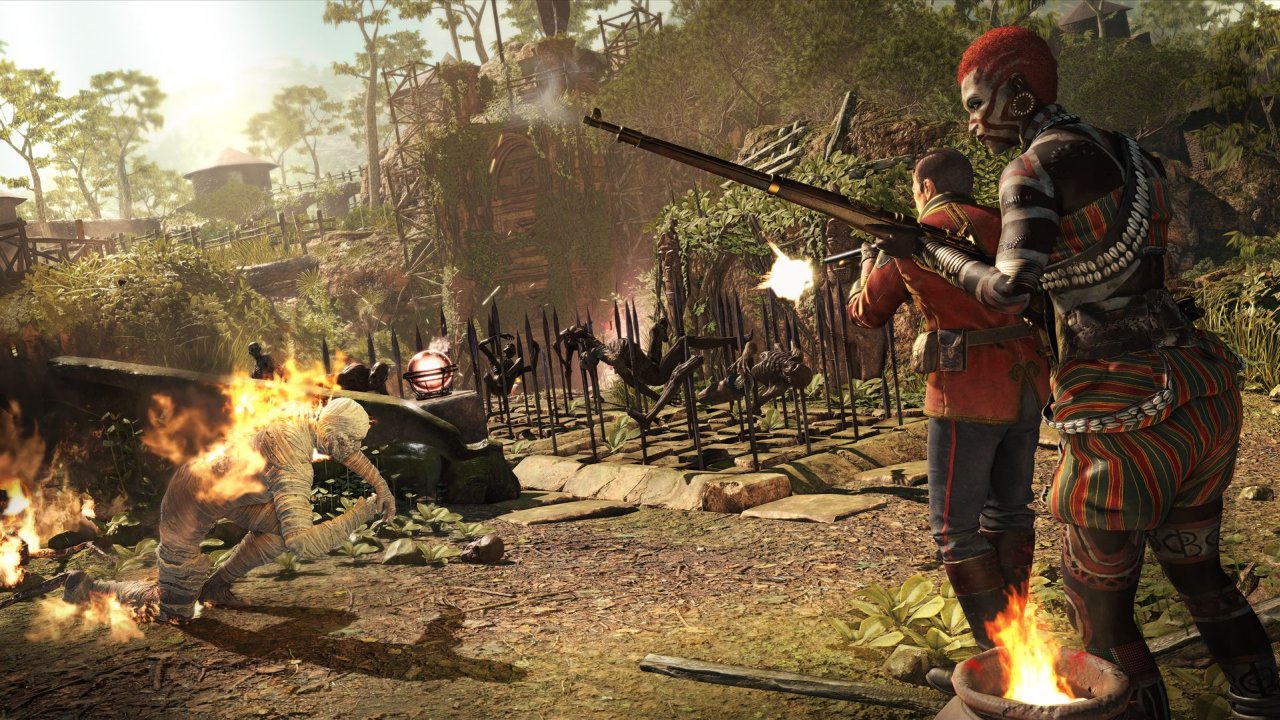 Our demo dropped us into old Egyptian ruins, which were littered with monsters and mummies rushing frantically towards us. It all felt quite Left 4 Dead, though at least the setting was a bit more imaginative. Fans of the old mummy movies would likely get a kick out of this, as these 30's monster movie themes were prominent throughout. The game certainly looked pretty, and offered some neat exotic backdrops which seemed pretty polished.
It's too bad I couldn't say the same about the mechanics, which could have used a little ironing out, along with the occasionally shaky camera. I struggled a bit with the aiming, as it was quite sensitive and finicky. This became especially apparent when stuck with single-shot weapons, which for me was often. Just a tap on the thumbstick would often fling my reticle over my fast-moving target's head. Once I got the hang of the mechanics - as best I could anyway - I did discover I was having a pretty good time fending off waves of monsters with my fellow Brigader.
While he was handling most of the gritty run-and-gun offensives with his assault rifle, I stuck primarily with popping heads with my pistol and sniper rifle that the British chap had started with, and occasionally heavy explosives. I took over as the primary muscle during a few light puzzle portions, fending off mummies and ghouls as he tinkered with laser beams and traps, Indiana Jones style. To the game's credit, these puzzle moments managed to be cleverly implemented and even acted as a secondary weapon at times to take out large groups of zombies. While ours were pretty minimal (and simple, as we were usually prompted to simply "shoot here"), we're told the puzzles get more complex as the game progresses. There was also the occasional diverging path that invited us to split up for a bit and do our own thing. Some areas emphasized more puzzles, some were pure fighting, and still others offered loot boxes.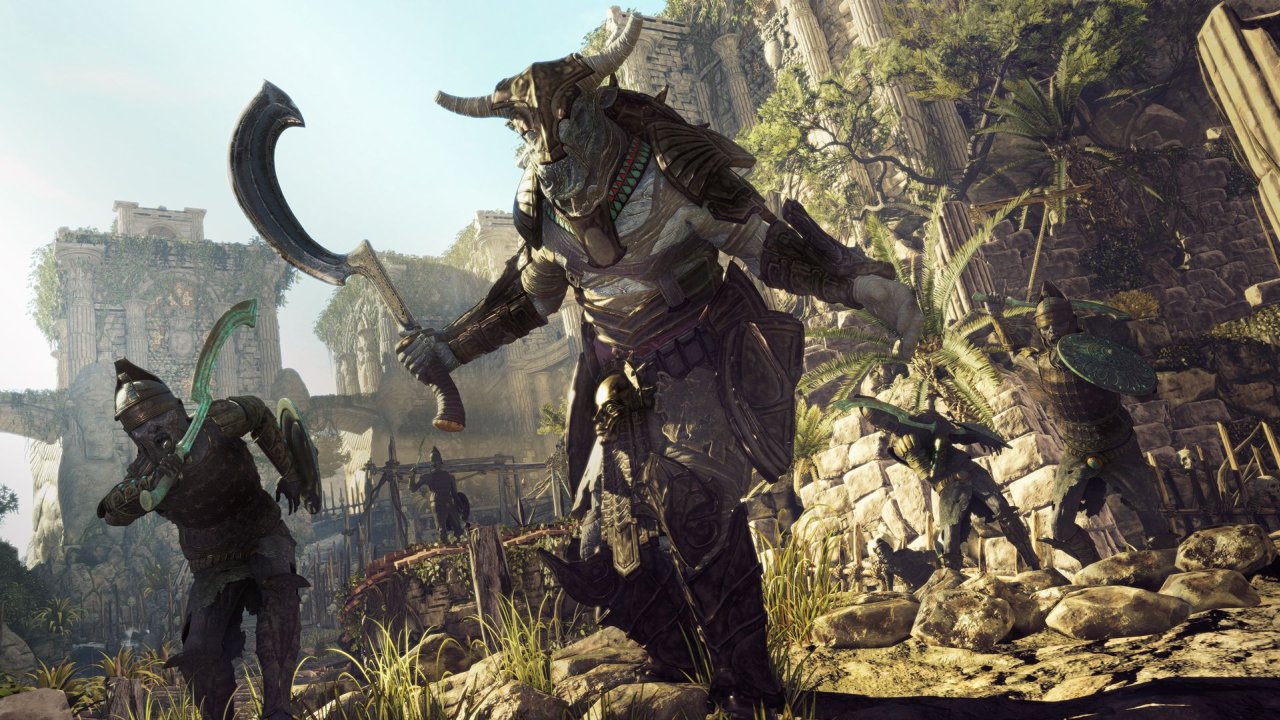 As we progressed, we also came upon a few weapon stations in the form of compartmented boxes. Here we were able to cycle through a number of weapons, each showing their own statistics in damage, accuracy, and rate of fire. Pretty typical stuff here. From there we could purchase what we wanted using gold we had obtained throughout our run. We're told these weapons can also be upgraded later on through customizable slots. This mobile weapon shop proved useful to me, as neither my sniper nor my pistol felt ideal for fighting back gaggles of fast-moving monsters. We also came upon a box that spat out a randomly generated weapon for gold, providing hints of roguelite for those who like to live dangerously. I stocked up on a high-powered shotty and carried on.
Gunning down foes in typical fashion felt a touch monotonous, though using traps like spinning blades to defeat baddies was a satisfying endeavor, as was the impact from tossing optimally placed grenades. Strange Brigade's coup de gras however, seemed to be the sort of special move which came in the form of an amulet power. These could be charged up by gathering souls from defeated foes by walking towards them, or reigned in by holding down a the trigger button. These super-charged offensives, which included a rapidly-firing 6-shot, and an explosive wave of flame, proved helpful when the crowds of baddies began to pile up. The quick deaths en masse also helped us rake in the gold quicker, as gold accumulation runs on a sort of point combo system.
Overall Strange Brigade likely won't make any massive waves, but should end up being an enjoyable action-packed shooter that emphasizes multiplayer. The game looks to meld 2 genres that thrive with cooperative play - dungeon crawling and survival shooting - while working in a fun and cheeky theme to keep things entertaining. If not for some wonky controls, my demo mostly seemed to achieve that. While my experience only featured a second player, I'd imagine that upping that number to 4 total people running and gunning would make for a mindlessly fun mummy-slaying time.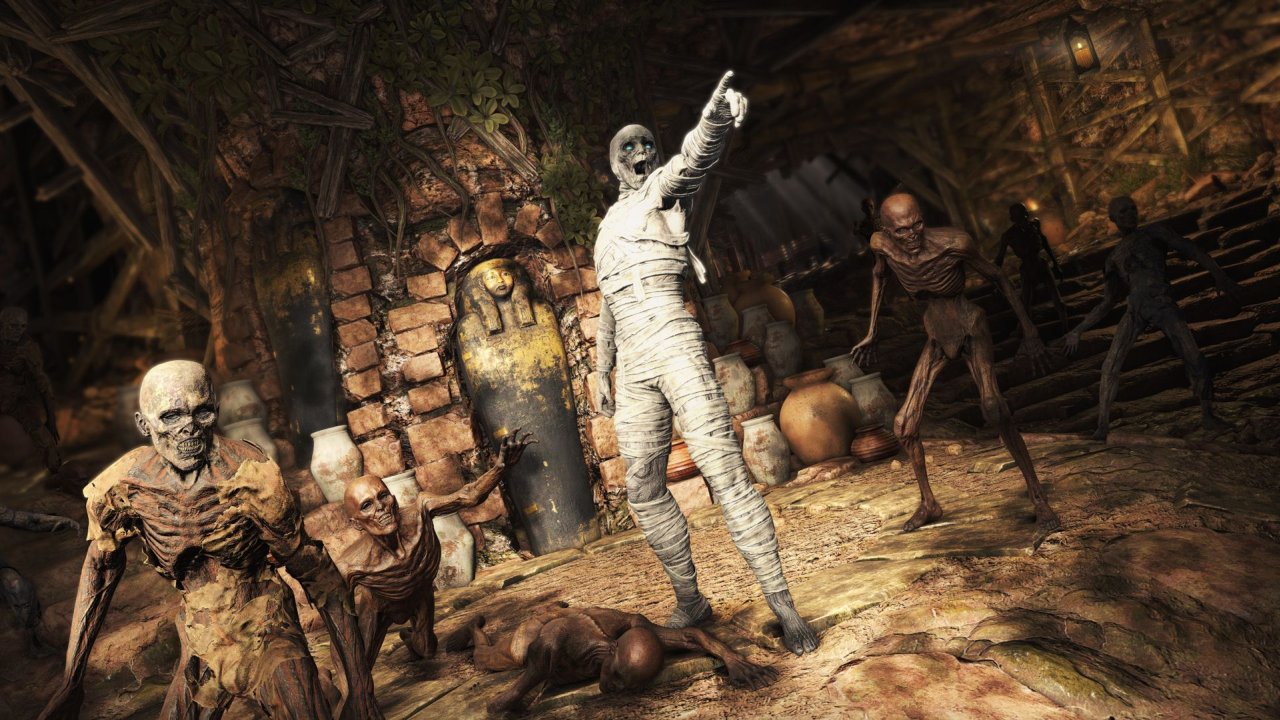 Strange Brigade will release on PS4, Xbox One, and PC on August 28th.
Comments