Kingdom Hearts III Preview - E3 2018
We go hands-on with the long in development third entry in the franchise
I need to say right off the bat how happy I am that fans of this series are finally getting the long-promised third numerical installment. The age of the PS3 and Xbox 360 were relatively unkind to the JRPG and it's been fun this generation to see the patient fans of series like Final Fantasy, Persona, and now Kingdom Hearts be rewarded with new entries in their long-dormant franchises. I had a chance to play a bit of Kingdom Hearts III at E3 2018.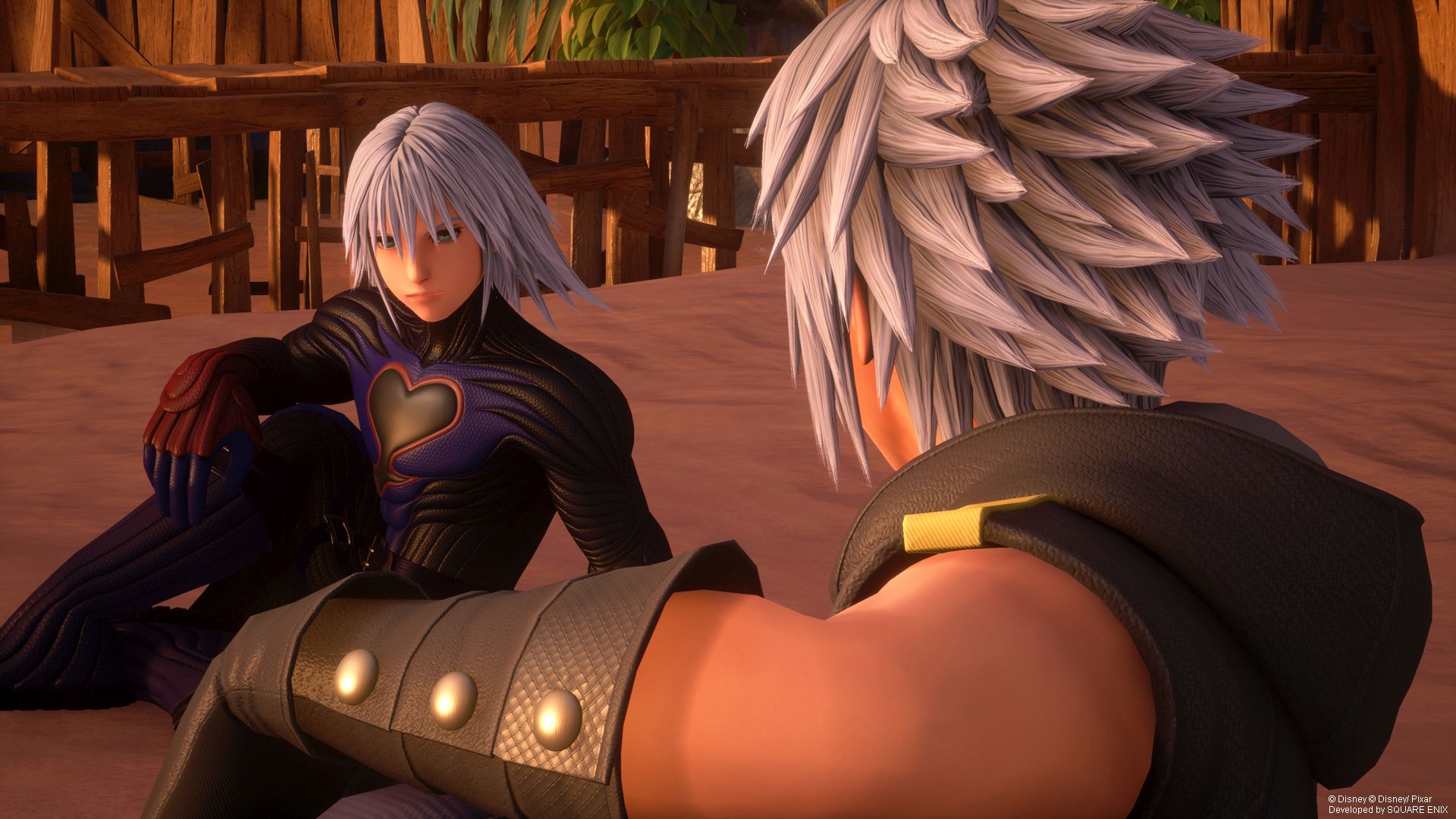 I must admit that I've always found Kingdom Hearts to be a bit silly, though that's a little mean for a series that is so heartfelt and earnest. There's a beautiful intersection between Disney fan and JRPG nerd that makes up the Kingdom Hearts fan and seeing them (hopefully) get everything they wanted in this new game is pretty great. Kingdom Hearts fans are the kind of people who get a tattoo showing their devotion and still yield the controller to someone else, because they've "been playing for a while already". Yeah - that actually happened to me. You keep doing you, Kingdom Hearts fans!
But the series is still so syrupy sweet in its sincerity, one can't help but be a little overwhelmed at times. Seeing the trailer with Disney characters and overly-designed JRPG heroes leaping all over the screen and gasping at the camera with the music twinkling in the background (with someone singing about what I assume is the power of togetherness), can be just a little too on the nose. I guess it's vapid to accuse Kingdom Hearts III of being a little too on-brand - and many of you might consider this to be exactly what you wanted/expected of a new Kingdom Hearts game.
My demo for the game began with Sora and his trusted company of Donald and Goofy exploring a brightly lit rock quarry. I probably wouldn't have known off-hand that this was the Hercules world had I not seen the person before playing the same level. Still, once Lythos, the rock titan, shows up, there's no doubt who it is and where I am.
Lythos springs into action, hurling down boulders at Sora. I take Sora running up a cliffside, dodging boulders as I run. The game doesn't control great. Sora feels a little too weightless to me, his change of direction is almost instantaneous. Still, there's no denying that this sequence is a thrill. It's not hard, but running vertically, while zig-zagging through falling boulders is something that is hard to get wrong.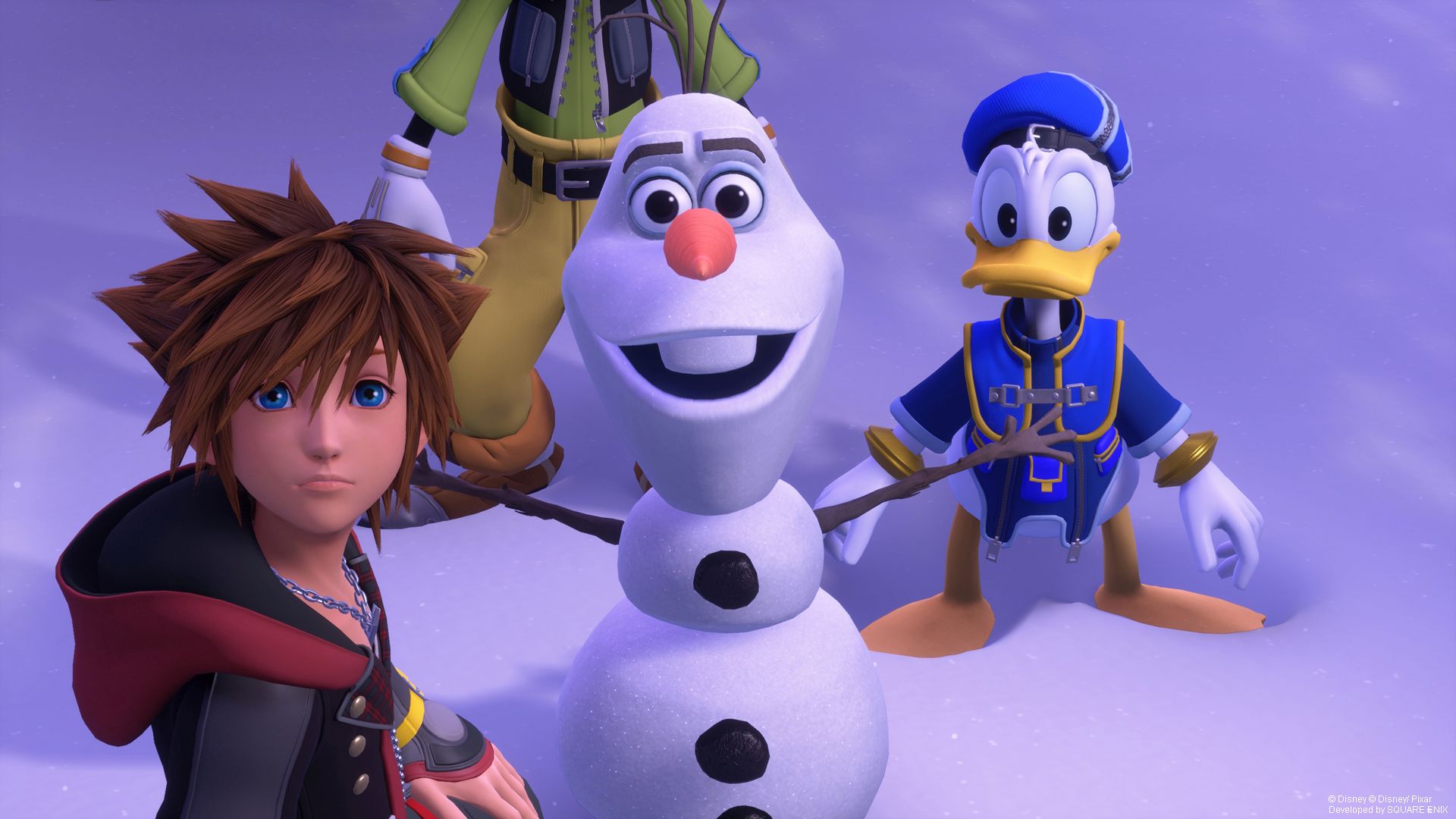 Soon I find a little path that leads to a wave of dark little minions, better known to Kingdom Hearts players as the Heartless. The little beasts are swarming in this area and I finally get a chance to try out the combat controls. It takes a little while to find my flow with Sora. The combat is a little sticky and not necessarily fluid. Sora is much better at pounding away on one enemy rather than seamlessly bouncing around between them all. Still, it starts to click after a little while. Soon I'm able to chain some attacks together and learn how to better juggle between enemies, and handle Sora a bit better. The special attacks are pretty cool and easy to trigger. There are team-up attacks with Donald and Goofy that are visually spectacular. Goofy launches Sora into the air for a high flying aerial assault, and Donald's blast wiped out whole chunks of Heartless.
I run up another cliff and soon I'm battling Lythos himself. I swipe at his giant legs with Sora's keyblade, calling in all the special attacks I could. I might be fighting a little aggressive and I'm having trouble dodging the attacks of Lythos, who sends waves of rocks at Sora, knocking him prone and doing damage. I need to heal, so I get a little distance between those large legs and navigate my way through the menu using the d-pad to heal up.
I go back to beating on Lythos' legs and soon he falls to his knees. I'm cued by some instructions to trigger an attraction - special attacks for boss battles. After running up the body I press the "Y" button to trigger this attack. It's a bombastic spectacle that summons a giant, sparkling train, which I drive into the head of Lythos.
After the attraction, I fall back to the ground. I start wailing away at Lythos' legs again, but he stomps and this attack knocks me back, tumbling down the cliff. However, Sora sticks to the wall and starts running his way back up. It's a cool little flair, catching myself while falling by transitioning right back into a wall run - the kind of JRPG nonsense that is usually relegated to cutscenes, but here it happens naturally due to the gameplay mechanics working well together.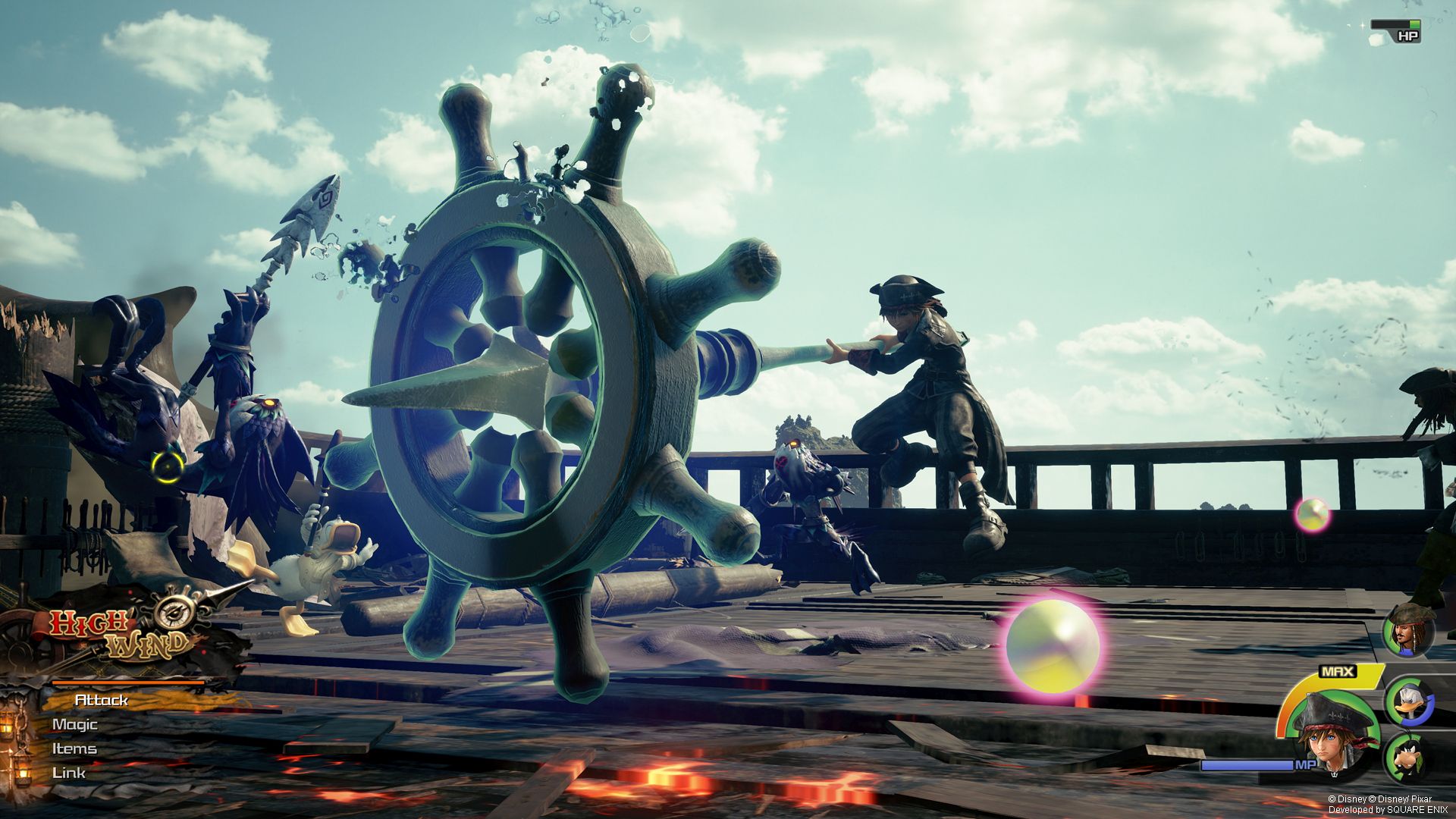 I'm using my team-up attacks again, throwing everything I have at Lythos, healing up when a couple of his attacks get me low on health. Soon the titan is back on its knees and I can use another attraction. I guide Sora up the titan's body and this attraction shoots a series of fireworks into the titan.
With that, Lythos is defeated and the demo is over. I can't deny that I got caught up in Kingdom Hearts III's demo while playing. Much like the previous games, I can't help but smile as I play. They're silly, but they're wonderfully aware of how silly it all is, and you can't help but let your guard down a bit and just enjoy it. Fans can probably rest assured that this Kingdom Hearts game is going to deliver the goods. For those who haven't played one before, give it a shot, you might be surprised at how much goofy fun you can have (no pun intended).
Kingdom Hearts III will launch January 29th, 2019 on PlayStation 4 and Xbox One.
Comments