Control Preview - E3 2018
Developer Remedy Entertainment aims for a new direction
Max Payne is a favorite game of mine, a shooter that I played during those formative years, shaping my view of games and their potential. As such, Remedy Entertainment holds a special place in my heart. I don't know if I would say the hardboiled third-person, bullet-time shooter has aged well, but its intelligent and inventive level design made it a shooter that deserves way more respect than it gets. Remedy is perhaps best known for their genre-obsessed storytelling, but it's important to remember that May Payne, The Fall of Max Payne, and Alan Wake all had strong level design - winding labyrinths of enemies and that led to nasty combat arenas which challenged the player. Until Quantum Break, Remedy had constructed shooters that didn't allow for cover-based shooting, instead forcing players to rely on movement and abilities to save themselves. So color me thrilled to see Control eschewing cover-based mechanics in lieu of that same fluid, dynamic shooting that Remedy has done in the past.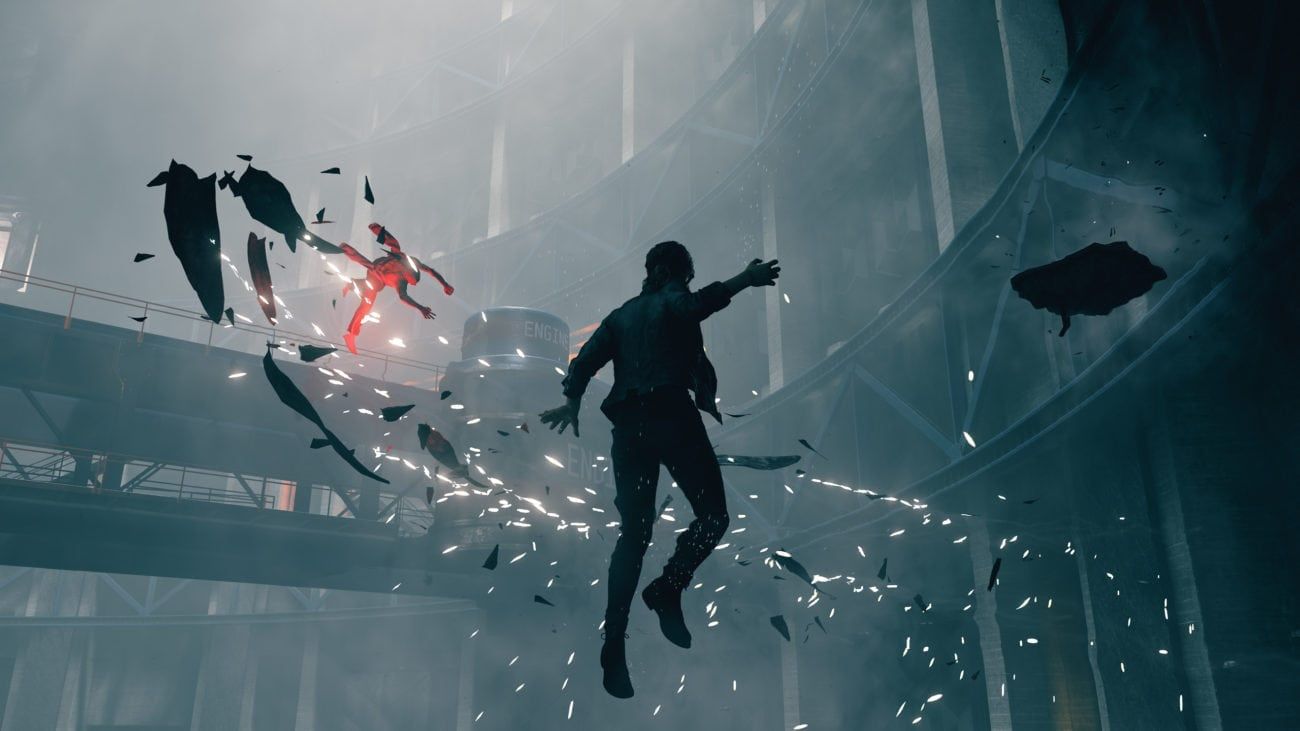 With Quantum Break it felt a bit like Remedy were chasing Naughty Dog, which is a little odd since Remedy had been doing Naughty Dog's cinematic shooting shtick while Sony's premier studio was still pumping out Jak and Daxter games on the PlayStation 2. Still, in Quantum Break, you could feel the pressure to deliver cinematic storytelling that went toe-to-toe with the best of the industry. Because of this, it's nice to see Control break away from linearity with a more open-world design that challenges the storytelling Remedy has leaned on in the past.
If you're thinking that Control looks like Quantum Break, you're partially correct. The game uses the same engine, the Northlight engine, which is the studio's own, proprietary tech. But trust me when I say that Control aesthetically is a completely different animal. It's actually probably closer to Alan Wake than it is to Quantum Break. While Remedy's last effort lacked much visual flair beyond the crystal-like time rifts that appeared all over the screen, Control is almost monochromatic in its art style. The stark whites and blacks of the world contrast in an unsettling way, with giant looming shadows draping over much of the building. There's a sterileness to the world, with design elements that are intentionally replicating the bureaucratic buildings of institutions like the FBI or CIA.
Tension is on the minds of Remedy, which is where my comparison to Alan Wake has the most merit. Enemies creepily dangle in the air, dropping to the ground as they come to life and attack the player. The imagery is haunting and unsettling. When we reach a boss fight, the game is suddenly drenched in red. The visual vibrance of the work is really something to see and definitely refreshing for the studio.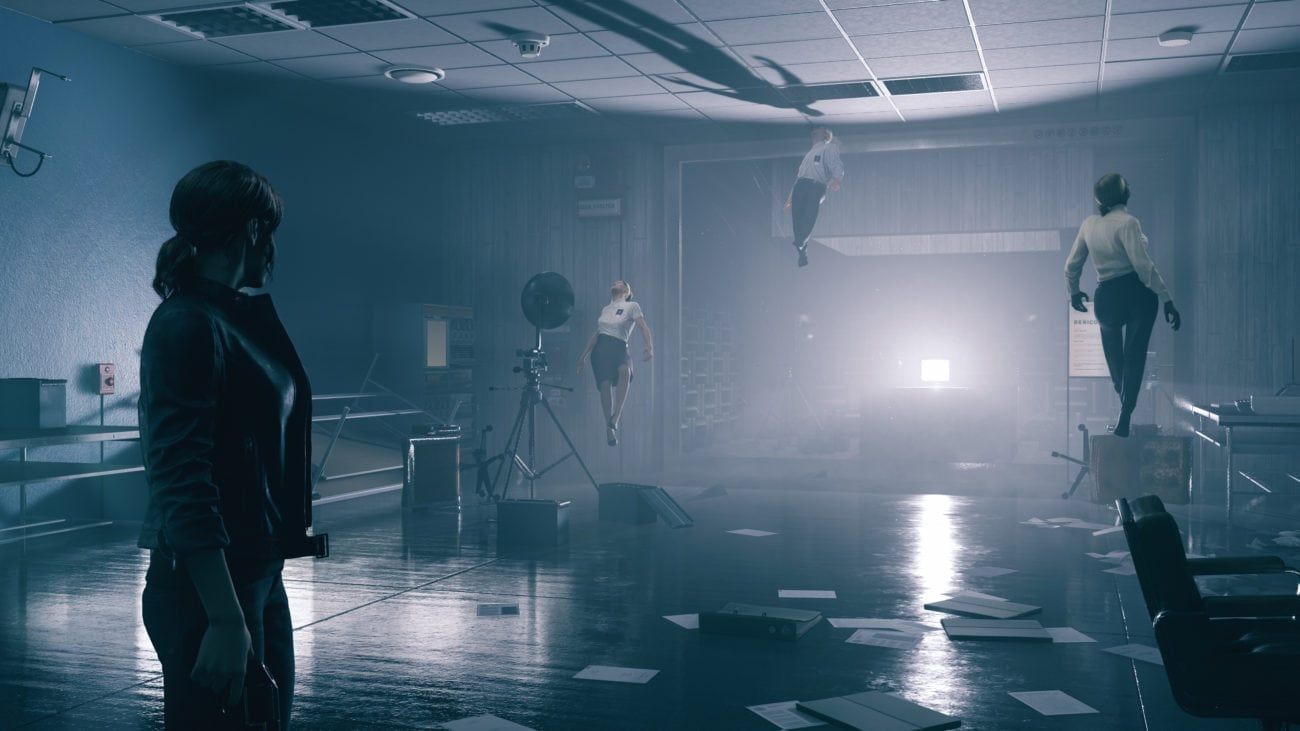 Players assume the role of Jesse Faden, a woman whose quest to find out about her past leads her to the Federal Bureau of Control. After the secret agency in New York is attacked by an otherworldly threat named the Hiss, Jesse, by happenchance, becomes the new Director of Control - the head of this strange agency.
I can't quite stress how wonderful it was to see such attention being paid to gameplay in Control. Jesse's supernatural abilities might have seemed like something from Quantum Break in the E3 trailer, but watching them as part of the gameplay demo, they were quite different. These abilities seem to be more telekinetic, as Jesse can pull elements toward her to use as a shield before hurling them at enemies, or even levitate above the ground. The abilities like these also change the way that Jesse traverses the world. She floats over giant chasms and it's cool to see Remedy refining their ideas this way. There are also modifiable loadouts and reactive environments. The weapon carried by Jesse can modify itself to act as different kinds of firearms, allowing the player to quickly switch between weapon styles (like a shotgun-esque rifle and a traditional pistol).
The game is set in the Oldest House, and this represents another gameplay change for Remedy. The shifting and changing world creates a more sandbox environment with side-missions, which can change the story. When asked about lessons that Remedy has learned from Quantum Break, I was told that the studio had wanted to break away from another linear story and explore something a little more open-ended.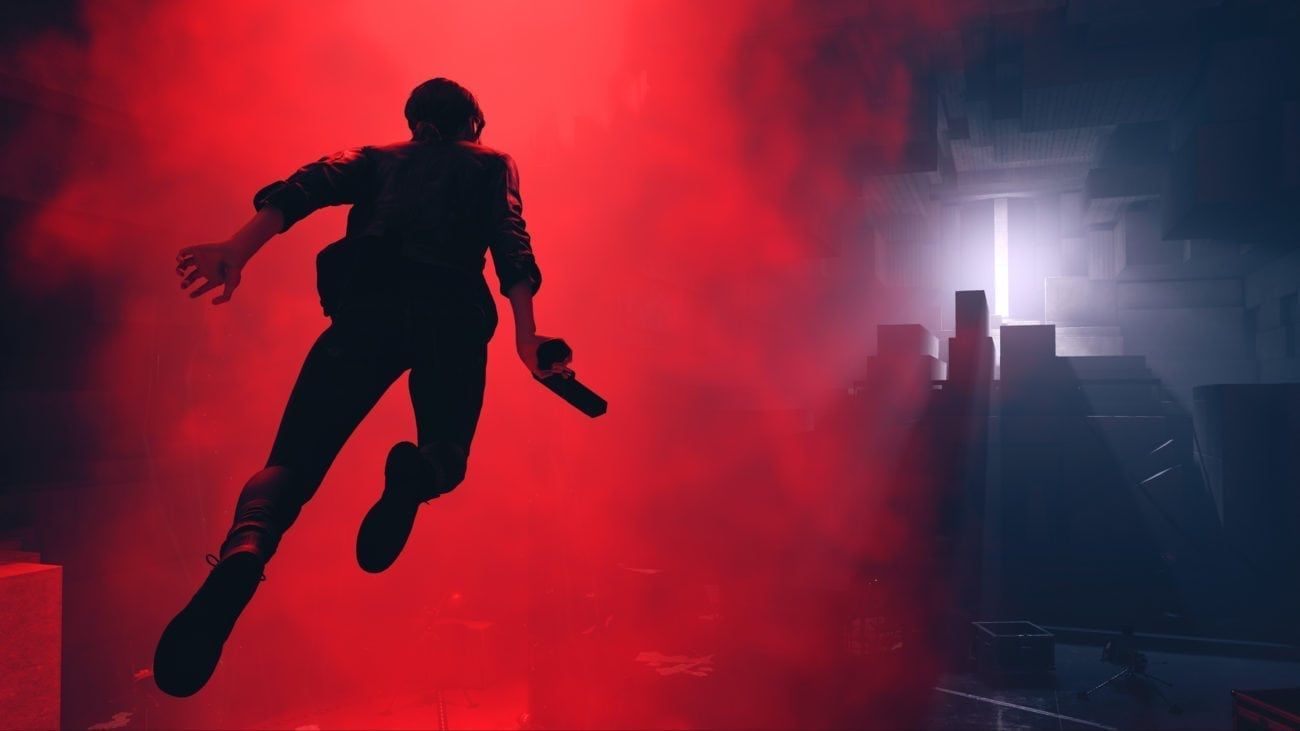 Adding to the unsettling nature of the game is the isolation of Jesse. While we watched the gameplay demo, the Hiss would take over the people within The Oldest House, turning them into enemies. Those that the Hiss hadn't turned seemed to have gone mad. Someone was guiding Jesse over the radio, but she still felt largely alone. When asked about this, Remedy said that as the Director, Jesse's task would be her responsibility and while she would meet people along the way, she would have to fight her way through the world on her own.
It's nice to see Remedy working independently again, developing across multiple platforms with a project that is unlike their previous efforts. Control is an eerie and trippy experience, something that feels like the kind of scrappy effort we haven't seen from the studio in some time. Remedy seem to be stretching their legs and looking to tackle new challenges, and with Control it looks like they have something interesting on their hands.
Control is set to arrive on PlayStation 4, Xbox One, and PC in 2019.
Comments
blog comments powered by Disqus