Ubisoft Conference Recap - E3 2018
Assassin's Creed, The Division 2, and Skull & Bones lead the show for Ubisoft
It's day three of the E3 2018 conferences, and now it is Ubisoft's time to take the spotlight. Things start off with an introductory video of a marching band and dancing panda, with additional dancers and acrobats joining in, proving to be a live performance that moves into the conference theater and onto the stage. All this dancing is for a purpose, as we see the words Just Dance 2019 appear on the screen behind the performers, which is revealed to be coming in October.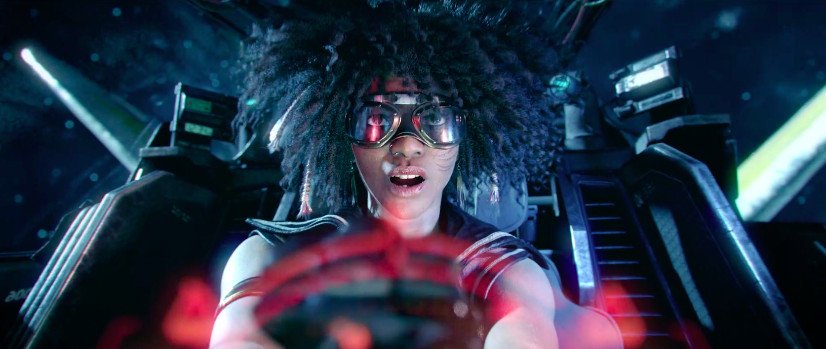 With this extravagant opening over, a trailer starts to play, depicting outer space, then zooming in to a large space ship. It looks to be for Beyond Good and Evil 2, as we see the Pey'j and a couple of other characters that return from last year's announcement trailer. Eventually the ship gets caught up in some kind of giant disturbance in the asteroid belt, caused by an even bigger ship that emerges, before we get a look at Jade, villainous looking at the end. Guillaume Brunier and Gabrielle Shrager from Ubisoft Montpellier take the stage to talk about it.
They talk a bit about the story which will focus on a crew looking to investigate a mysterious artifact, and we get introduced to a few of the central characters. You will play as a space-pirate captain, and we get to see some pre-alpha gameplay footage. We see a bustling futuristic city which also has a dark underworld. The game will be a RPG playable solo and in co-op. We see a clip of a spaceship flying around the city, and in outer space, and a brief clip of some melee combat. A partnership is announced with HitRECord – a collaborative creative platform founded by Joseph Gordon-Levitt, and Joseph takes the stage to talk more about it. He claims that the final results that make it into the game will be collaborative and combined by different contributions. They will have a dedicated community event, BG Fest, which will take place in Montpellier this fall.
With that, it's on to Rainbow Six Siege as community developer Justin Kruger takes the stage. He announces that the Rainbow Six Siege community has reached 35 million players. He plugs the recently released Operation Para Bellum DLC, and the competitive scene for the game, with competitive events coming in August and November of this year, and February of 2019. He then unveils a documentary being made about some of the competitive gamers for this title, which we get to see a brief trailer for. The documentary follows 8 Siege community members for over 9 months, with the title being Another Mindset, coming this August.
Next, some heavy metal music starts to play as a man riding a tiny dirt bike rolls into the theater wearing a Trials branded jacket before taking the stage. He stumbles and falls, breaking the speaker stand. The man is Antti Ilvessuo from Ubisoft Redlynx. He introduces a trailer for a new Trials game, which shows off a variety of environments, a race between a bunch of different players, and familiar motorcycle platforming action as well as some spectacular crashes. The new game is dubbed Trials Rising, and will take you to different locations around the world. Antti returns to claim you will never ride alone, before introducing Brad Hill from the University of Trials, a YouTube channel about helping players master the series' tougher levels.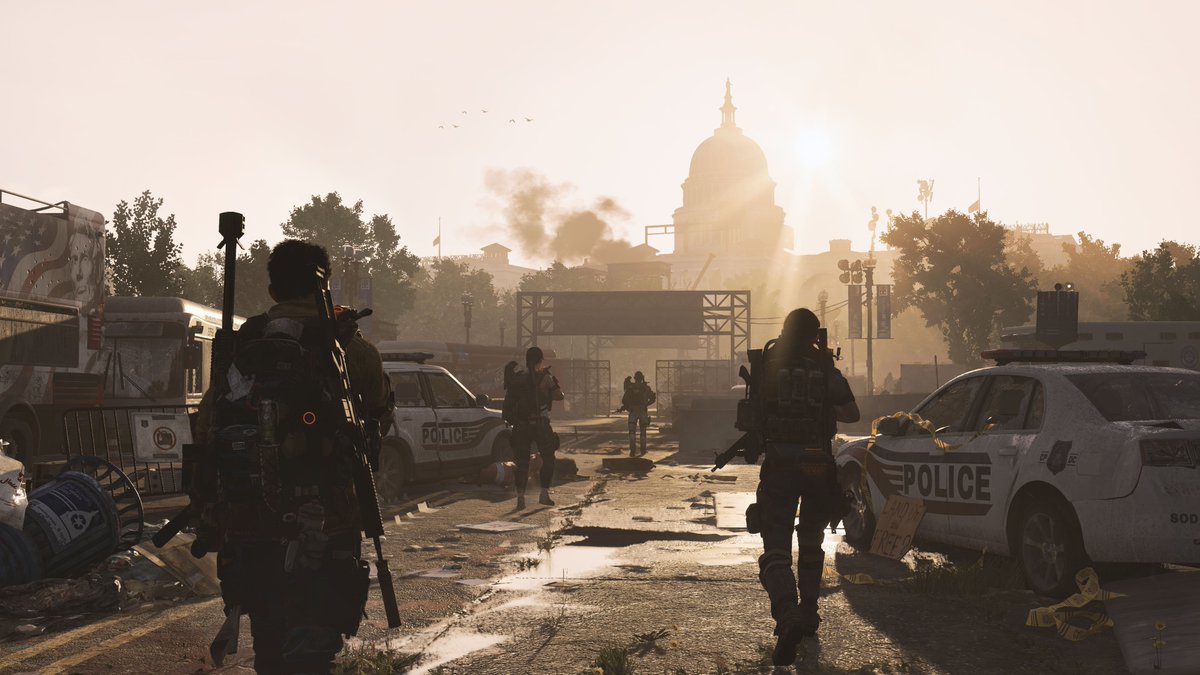 He says that the Trials team approached him to help design tutorials for the game, alongside 20 other community members who were involved with the game's development over the last two years. He announces a closed beta coming later in the year. The release date for Trials Rising is February 2019, and it is coming to PC, PS4, Xbox One and the Nintendo Switch.
The Division 2 is next, as Julian Gerighty from Massive Entertainment takes the stage. The sequel will take place in Washington DC, and we get to see a trailer depicting a community of survivors growing food located inside a barricaded complex. Outside this facility we see ruined streets and scavengers carrying weapons, taking advantage of unarmed civilians. Eventually, we see some Division agents looking over the city before the trailer ends. Once players finish the campaign, a new progression path will begin with access to unique weapons, tools and specializations. Eight players will be able to team up to take on end-game Raids. The game will launch with plans for years of post-launch content.
In the first year, there will be three DLC episodes, bringing new stories, locations and activities, all of which will be free. We get another trailer to end this segment, consisting of shots of different locations in the game and some action between division agents and bandits. The game will be coming on March 15, 2019.
Now an animated jungle scene appears on the screen as Xavier Manzanares takes the stage, announcing the release of another Nintendo/Rabbids crossover, this time with Donkey Kong, and we get to see a trailer accompanied by a live musical score. We see Donkey Kong and Rabbids interacting in a few different environments. This will be titled Donkey Kong Adventure, and is DLC expansion for Mario + Rabbids Kingdom Battle coming on June 26.
Now we get another trailer, pre-rendered and depicting pirates and British naval ships fighting each other, for the game Skull and Bones which was announced last year. Justin Farren from Ubisoft Singapore comes on to talk about it, announcing a new mode called Hunting Grounds in the Indian Ocean where players will play as pirates and attempt to raid merchant ships for treasure. The game will have Fortunes, which constitute changes in weather, factions and trade routes. This will be a shared world where players can choose to fight or ally with others.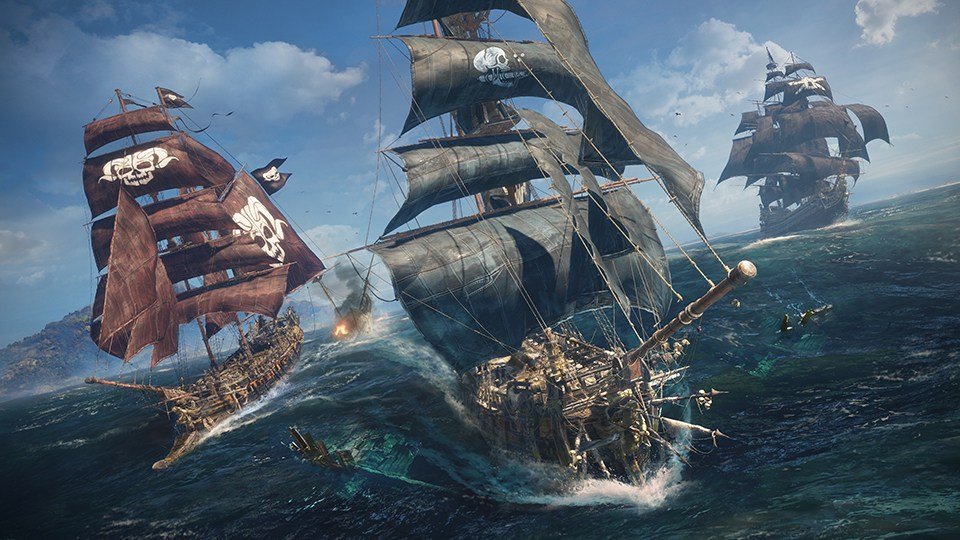 A gameplay trailer plays, showing that players will get to choose a ship, equipment and crew for each voyage. The player heads out looking for a convoy, sneaking past a fort by flying fake flags to disguise themselves, before ambushing the convoy. The ship combat looks similar to what is seen in the Assassin's Creed series, with one player essentially controlling the entire ship and crew. Eventually, the player encounters a frigate which is too tough for them to fight alone, and it is hinted that you can lose your loot if your ship gets sunk. The player calls for help, and other player ships appear to assist in the battle, with different ships having different strengths and weaknesses within the ensuing fight. After this, the four players can fight each other to determine who gets to claim the prize. This ends the demo, and the game will be coming in 2019.
After this, Elijah Wood from Spectrevision alongside Benoit Richer from Ubisoft Montreal take the stage to talk about Transference, which will combine the storytelling of films with the interactivity of games. It will be a first-person VR exploration game with puzzles where you shift between multiple perspectives. The game will be a psychological thriller, and we get to see a trailer, with full motion video being seemingly mixed with in-engine first person gameplay. We see the player walking through a hallway with some paranormal goings-on, between shots of a man talking to the player. Transference will be coming this year.
Another trailer starts right after, showing a science fiction setting with ships flying over different planets, part of an organization called Atlas. There are a couple of shots of controller modifications, with a model ship being attached to it. This is for Starlink: Battle for Atlas which is coming this October. Laurent Malville from Ubisoft Toronto comes on to talk more about it.
The game will be open world, taking place in the Atlas star system. It seems like it will be focused on space combat, and we get to see another trailer where we see a few ships, one of them piloted by a Fox, engaging in some dog fights in space. Larent returns, now joined by Yves Guillemot, who confirms that Star Fox will be part of the game, marking another partnership between Ubisoft and Nintendo. Yves introduces Mr. Miyamoto from Nintendo who is in the audience, and presents him a model ship from the game. The game will launch on October 16.
Next a For Honor segment, with Roman Campos-Oriola from Ubisoft Montreal appearing, announcing that starting today and for one week, the starter edition of the game will be available for free on PC. He also announces that they will be expanding the game, and introduces a trailer, a pre-rendered one showing armored soldiers fighting, before the action pauses and one of them takes off their helmet. We then get to see some new Chinese soldiers show up before the action resumes, part of a new DLC called Marching Fire, which will include singleplayer and multiplayer content. It will introduce a new 4v4 mode with castle sieges, dubbed Breach. We see a brief cinematic trailer of Chinese soldiers laying siege to a castle, with attackers pushing a battering ram and defenders manning ballistas. The DLC will be coming on October 16 this year.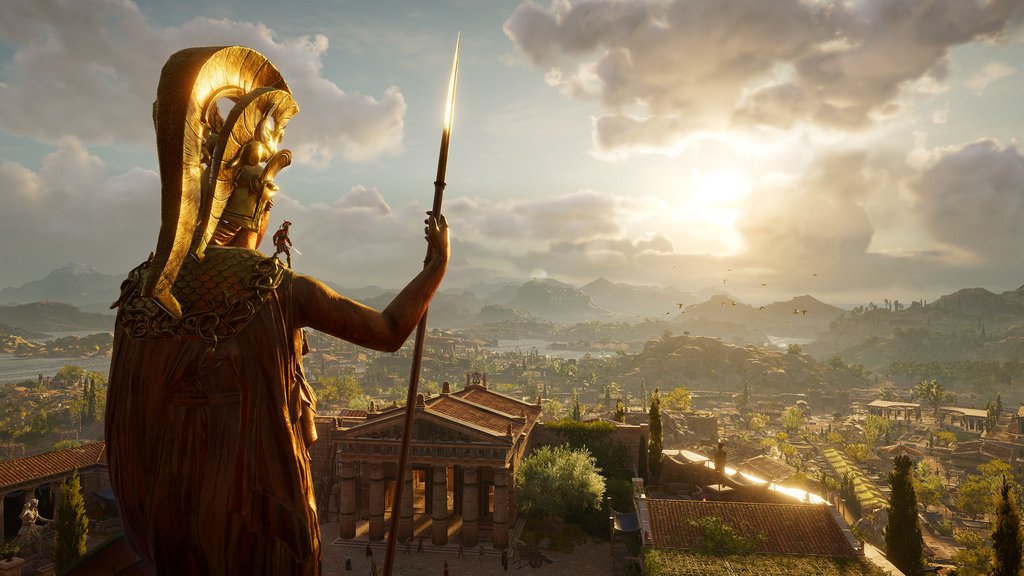 Now it's time for upcoming The Crew 2, with Delphine Dosset from Ubisoft Ivory Tower taking the stage. She announces that the open beta will be available on PS4, Xbox One and PC on June 21, and players can sign up for it now. We get a trailer showing a mix of driving, flying and boating in urban and rural environments in the United States. The full game is set to release later this month.
Next up, Assassin's Creed Odyssey trailer shows off the Greek setting, with the hero sporting Spartan armor. We see some naval combat, indicating this will return from previous games. At one point we see the main character using a Trident, another shot shows a Spartan formation using a Shield wall. Creative Director Jonathan Dumont from Ubisoft Quebec comes on to talk about it, confirming the setting, during the war between Athens and Sparta. You play as a mercenary, taking on a quest to save your loved ones. The game has been in development for three years, and will continue the trend of turning the series into an RPG. You will get to choose your character, between siblings Alexios and Kassandra, and you will play as that hero for the entire game.
We get another trailer, showing a cutscene from the game, with a mother giving a spear to her son, which is the broken spear of Leonidas. We see a couple clips of fighting and hunting, before Jonathan says the storytelling has been changed with the introduction of dialogue options, with the example being shown of the player choosing between telling the truth and lying in one scenario.
The segment ends with a gameplay sequence, first showing off some sailing, before we see Kassandra walking along a dock and entering into conversation with an older man to get a quest. She gets onto a horse and rides to her objective, getting chased by a mercenary, before she knocks him off and enters one-on-one combat. The combat system appears similar to Origins but with some fancy new animations thrown in, and we see experience getting gained and the character levelling up, and spending the new skill point in skill tree. She moves on and gets into a conversation, where we see a dialogue option that hints at romantic possibilities. After this, we see Kassandra get into a larger battle taking place on a beach, with her wielding dual blades, and later getting into a fight with a tougher enemy using double maces. We also see a brief shot of an eagle, indicating this mechanic will also return from Origins. The game will be releasing on October 5 of this year.
All previous presenters return to the stage, as the presentation concludes with some final comments from Yves Guillemot.
Comments
blog comments powered by Disqus