Dawn of War II: Chaos Rising Review
A much improved campaign and seamless integration with the original game make Chaos Rising a brilliant expansion fans of the original will love
Expansion packs are fast becoming a thing of the past as DLC – Downloadable Content – becomes more and more popular, perhaps too much so seeing as how many games now feature 'Day 1 DLC.' This is unfortunate seeing as how the philosophy of a good expansion pack is different than that of good DLC – a good expansion expands and improves on the concepts introduced in the original game, while DLC is essentially aims to provide the gamer with more of the same – although there are notable exceptions. Relic Entertainment is one of the few companies still producing traditional Expansion Packs for their games, and Dawn of War II: Chaos Rising is a fine example of what a good expansion should be like. It retains the strengths of the original, but removes the major problems, producing a game which in many ways a better experience than the original Dawn of War II.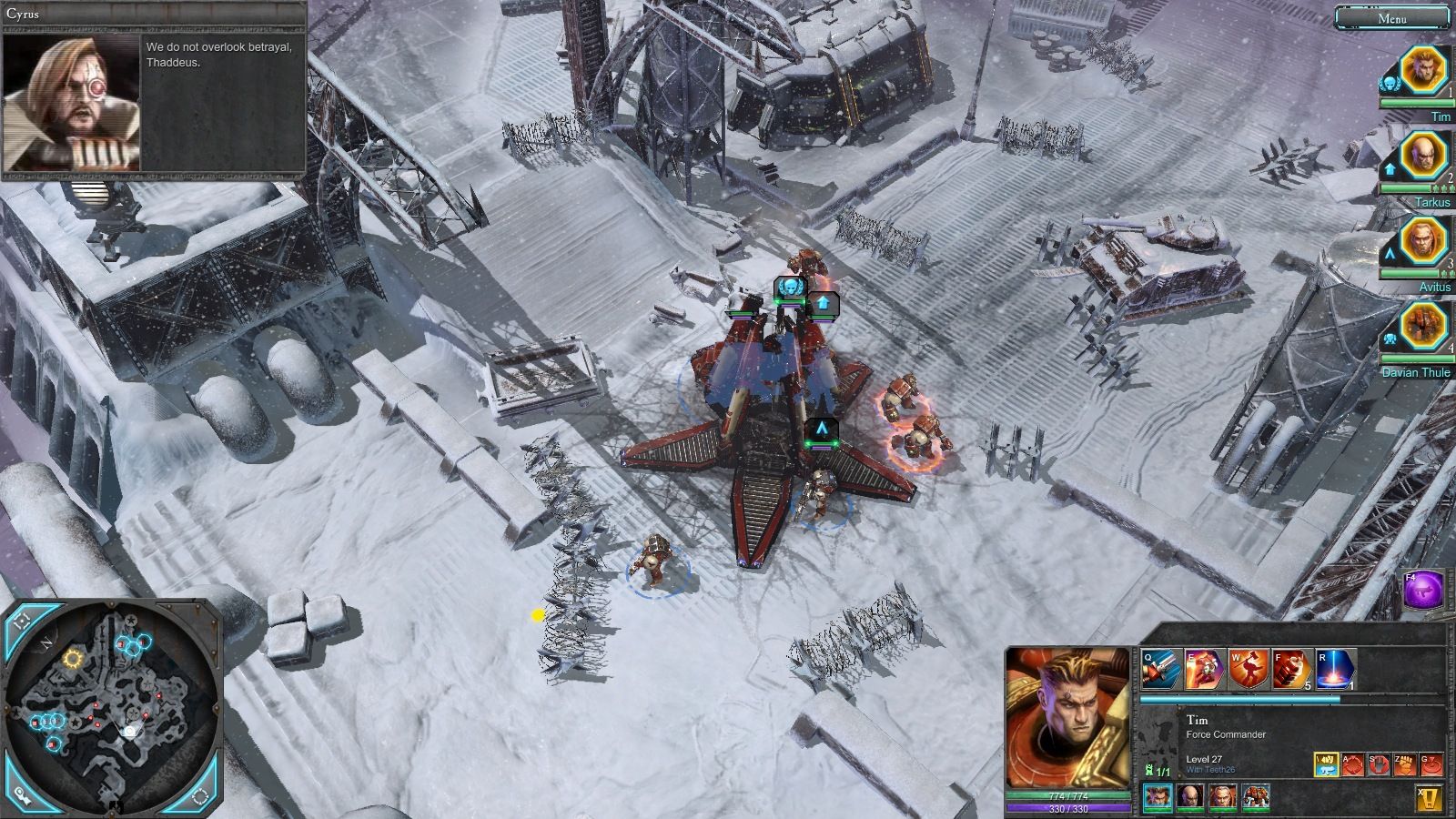 The single player campaign, which was easily the weakest aspect of the original game, has seen the most change and subsequently the biggest improvement. While the core gameplay remains largely the same, the actual campaign is more focused and far less repetitive that that of Dawn of War II, which saw you returning to the exact same maps over and over, repeating missions of identical design, turning the game into a pretty big grind towards the end. In Chaos Rising, you never visit the same map twice; instead each mission takes place in a different area, with different structure and different objectives. In DoW II you would work your way through a level, killing enemies, occasionally blowing something up along the way, and end with a boss fight. Chaos Rising is much more varied; each story mission has multiple objectives which range from defending a strategic asset to capturing a base to chasing down a traitor.
The missions are also somewhat longer, most story missions range from 20-40 minutes in length compared to the 10-15 minute missions found in the original. With the increased mission length comes the ability to save your progress in the middle of a level, but you can only save when you quit, so you can't go back to an earlier save if everyone in your team gets killed. There are also a number of less interesting but still fun optional missions that are mostly a bit shorter ranging from 10-20 minutes, but even with these optional missions there are only 14 or so in total, the campaign can be completed in 8-10 hours depending on how fast you go through each level and how many side quests you do, which is pretty short, but this is a necessary result of a more focused, less repetitive campaign.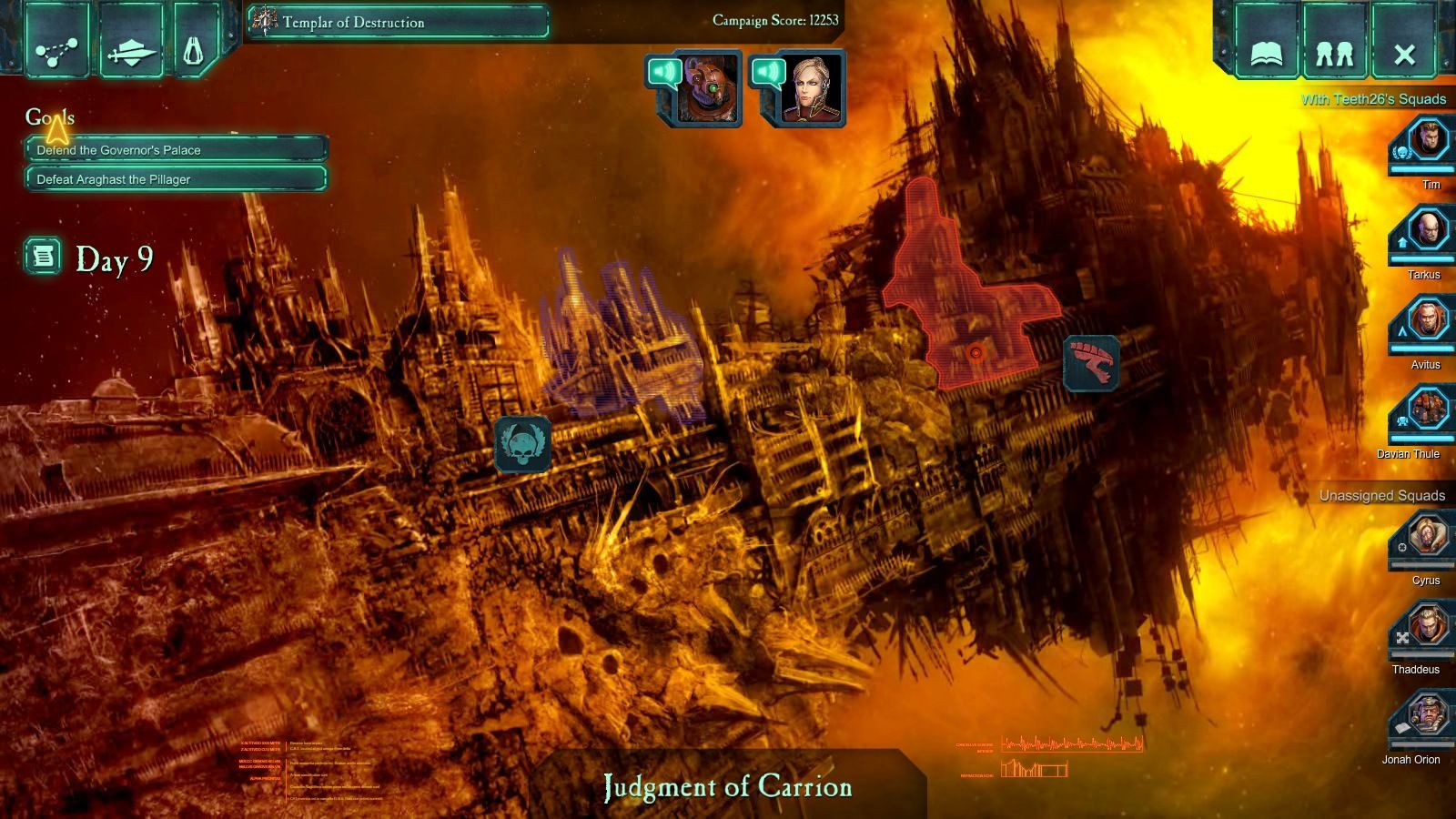 Chaos Rising has gone even further down the Action-RPG road, the looting, gear swapping and levelling remain, you can even carry over your saves from the original campaign so you can start with higher level characters and get access to some very interesting gear, although the Terminator armour you fought so hard for in the original is broken, and you cannot use it until later in the campaign. There is also a new 'corruption' mechanic that lends itself well to the surprisingly excellent story of the campaign, it works similarly to good/evil choices made in other RPG's – doing certain actions, or even equipping certain gear, will 'corrupt' your character, and doing other actions will 'purify/redeem' your character. There aren't a lot of obvious consequences to going down the separate paths other than the ending and what gear you can equip, but most corrupt gear will have a pure equivalent with similar stats and abilities.
The game also remains very co-op friendly, and give you tons of options for playing online with friends, although it's unfortunate you have to use Games for Windows Live to do it. The campaign can be played in co-op, and all multiplayer modes, both ranked and custom, allow you to form a party before you start playing. If you don't have friends with the game, it is still very fun to play by yourself and it remains very easy to link up with other players after a multiplayer match if you worked well as a team.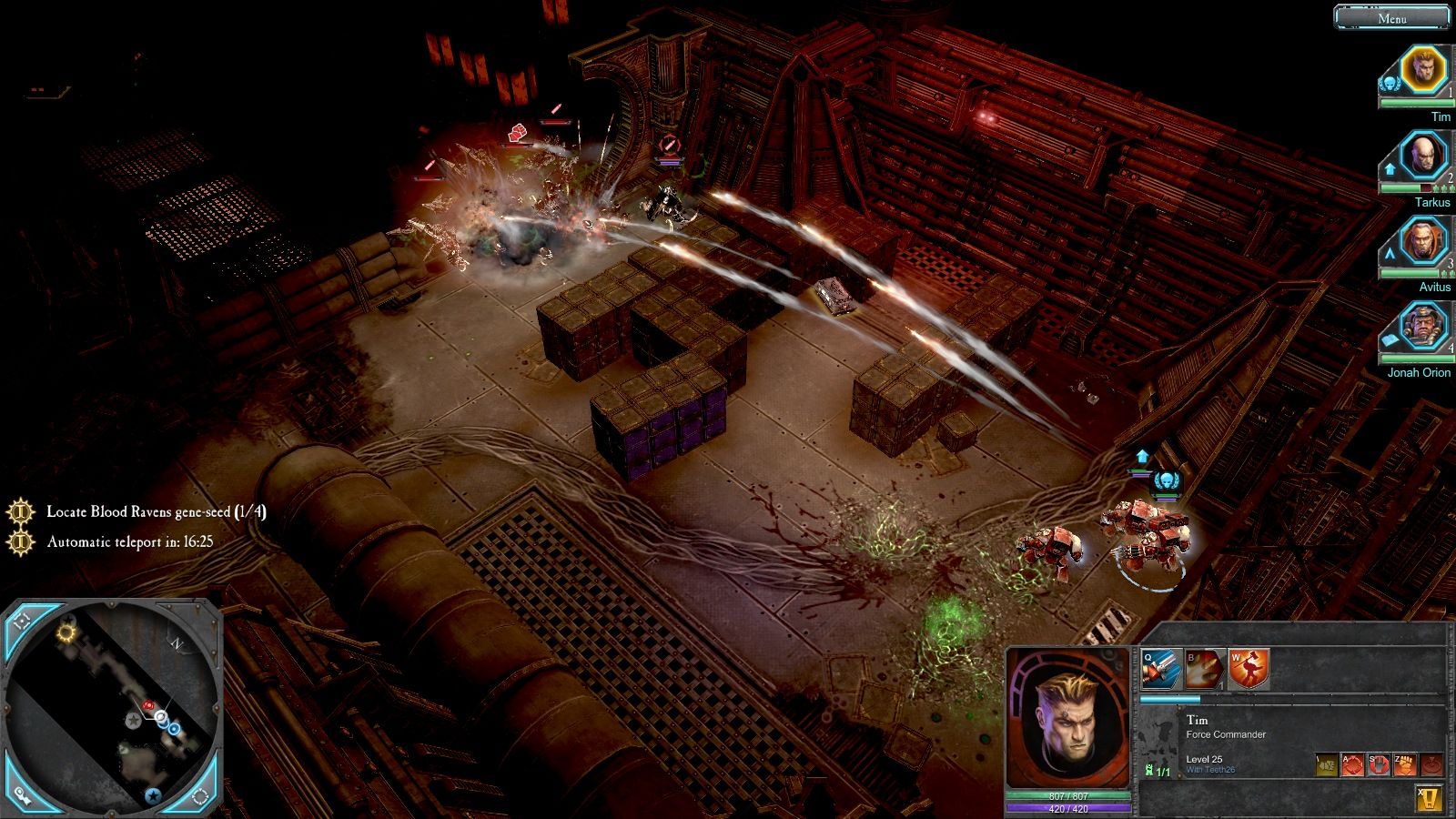 Two new heroes have been added to the Last Stand mode, which was added in a free DLC and is a very entertaining arena-defence game where you and two other players must defend an arena using 1 of now 5 heroes. You can now play as a Tyranid and a Chaos Sorcerer in this mode, and both are viable options, the Tyranid can summon allies to fight for him, and the Sorcerer can clone enemies and make them fight for you, even the really powerful ones, which make things very interesting in later waves.
The main addition to the competitive multiplayer is the new Chaos Marines race, which play fairly similarly to the Space Marines until you bring out a one of three kinds of demons, which are some of the most horrifying yet interesting units in the game. While the Great Unclean one is a sight to behold and can bring down an Avatar with relative ease, the unit costs a vast amount of resources, and can be brought down with a concerted effort. The other races also receive new units, some of which are very interesting – the Ork Wierdboy can fling groups of allies into battle, and the new Eldar Wraithguards are juggernaut infantry that while lethal in ranged combat are virtually useless in melee. New maps have also been included, many of which mirror the environments of the singleplayer campaign, including a winter environment and the claustrophobic interior of a derelict space hulk.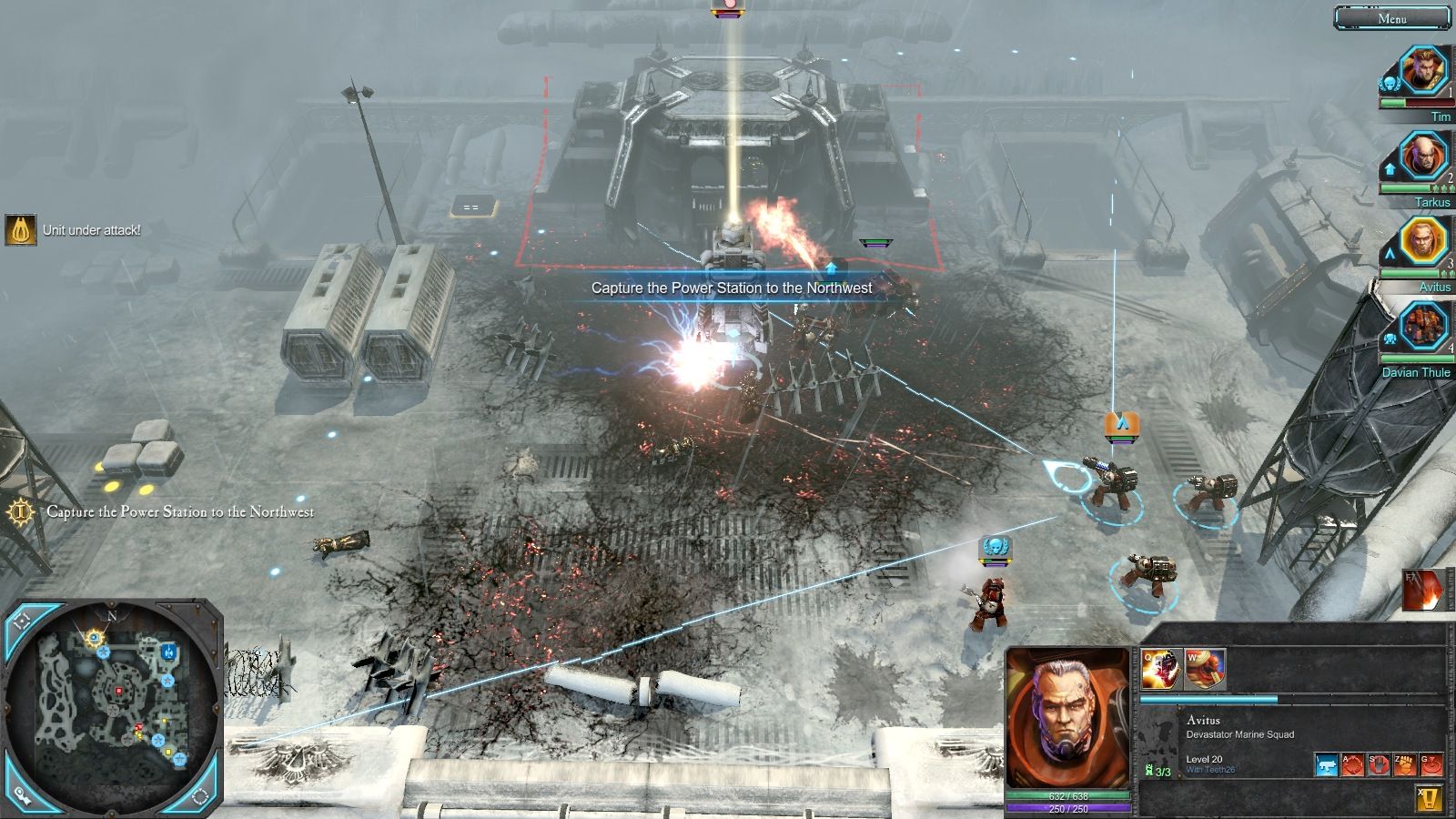 The Free-For-All game mode has been added to custom games, where 4 or 6 players all fight for a number of control points. These matches are hard to find, but are very fun and frantic if you manage to get into one. The competitive multiplayer remains extremely fun, although the matchmaking can occasionally make some very unfair matches that aren't fun for either side. Chaos Rising is technically a stand-alone expansion, but if you only have chaos rising, or only have the original, you can still play with everyone else, the two games are totally integrated and those who do not purchase Chaos Rising will have access to all of the new content other than the new campaign, the new multiplayer race and the two new last stand heroes.
Graphically the game is still very impressive, and a few minor visual enhancements have implemented with the update. Special effects such as explosions and gun fire are still amazing, and fully-destructible environments are highly detailed and varied in nature. The sound design remains outstanding, with different weapons making different noises, units yelling, and explosions going off all over the place. The voice acting also seems better in the campaign, and compliments the great story nicely.
Overall Dawn of War II: Chaos Rising is a brilliant, well designed expansion that brings a fantastic campaign and loads of multiplayer content to the table. If you didn't like the original Dawn of War II because its lack of base building and tactics heavy gameplay, chances are you won't like the expansion, but if you enjoyed Dawn of War II, you will love Chaos Rising.
Our ratings for
Dawn of War II - Chaos Rising
on PC out of 100 (
Ratings FAQ
)
Comments
blog comments powered by Disqus
| | |
| --- | --- |
| #3 Mar 31, 2010 22:40:13 (Mar 31, 2010 22:40) | |




| | |
| --- | --- |
| #2 Mar 26, 2010 12:25:28 (Mar 26, 2010 12:25) | |




DoomGiverIV

Now im not the biggest rts fan but DoW 2 was very enjoyable and kamikaziechameleon and I played it to death. Im tempted to get this but at the same time im playing the dragon age dlc, bad company 2, i bought supreme commander 2 havent even touched it. So i dont know if i want to pick up another game that i wont touch for probably 4-6 months.

| | |
| --- | --- |
| #1 Mar 21, 2010 03:30:34 (Mar 21, 2010 03:30) | |




sirdesmond

I'm still pondering picking this one up. I'm interested by the new singleplayer campaign, especially since I found the original one in DoW2 to be really enjoyable and the reviewer, who didn't seem to be a fan of it, saw a lot of improvement here.