Life is Strange: Before the Storm Review
A friendship strong enough to overcome most of its problems
Life is Strange is a tough act to follow. When it released in 2015, it was a big hit because it offered a Telltale-like story experience with more emotion and natural player choice. It revelled in the quiet moments as it told the story of a rekindled friendship between two young women searching for a missing person. Since the protagonist could rewind time, conversations and puzzles were non-linear. It was also a self-contained story that didn't need a sequel, which is why Life is Strange: Before the Storm is an aptly named prequel to those unforgettable events. The developers of the original are not responsible for this new title, as Square Enix have put Deck Nine Games behind the wheel for a three-part narrative experience. There is no time-rewind mechanic and the original's protagonist, Max, is nowhere to be found. When it comes to story and characters, the prequel is faithful and mostly rewarding, but minimal player choice and other failings do hold it back.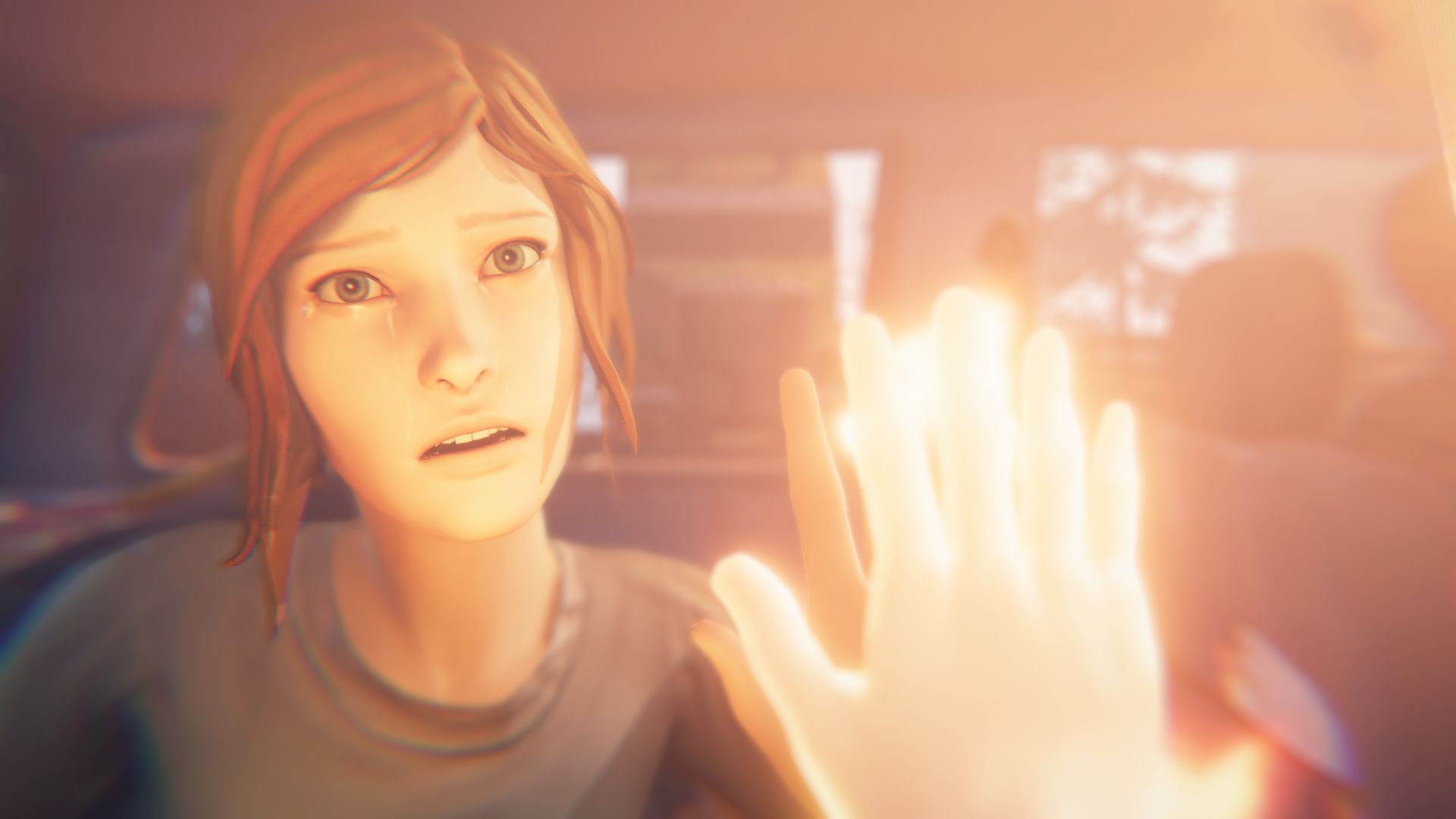 The events in Before the Storm occur in the seaside town of Arcadia Bay about three years before those in the original game. You will play as Chloe Price (Max's best friend) before she dyes her hair blue and adopts a strong rebellious attitude. But signs of anarchy are present from the get go, brought on by her father's death, loneliness at school, and pressures at home. She vents her frustrations via regular journal entries to Max and finds solace in a familiar junkyard. We gain frequent access to her inner thoughts, be they fears or dreams. Playing as Chloe is quite natural given how much time we spent in her world in the original. Her softer edges also make her more likable while still retaining much of that trademark sarcasm.
It just so happens that the most important friendship in the game comes about via one of Chloe's early disobedient acts. As Chloe sneaks out at night to a concert, she meets Rachel Amber—the same missing person that was central to the story of the original game. The pair become friends, even though their scholastic achievements would suggest otherwise. Rachel is practically academic royalty but a family secret drives her to act impulsively. What better way to lash out than to associate yourself with an outcast like Chloe?
Rachel Amber is the driving force in the prequel and a great character in her own right. Friendship is still the central element, but the relationship is different than it was between Chloe and Max. Rachel is outgoing, smart, mysterious, popular, and kind. She's also intimidating and charming, with the ability to read people and act a role. This daunting combination is the reason why Chloe has a hard time believing she'd even want to be friends. But the friendship builds over perceived betrayal and grows from there. They make a pact: escape Arcadia Bay and leave their troubles behind. Nothing is ever that simple.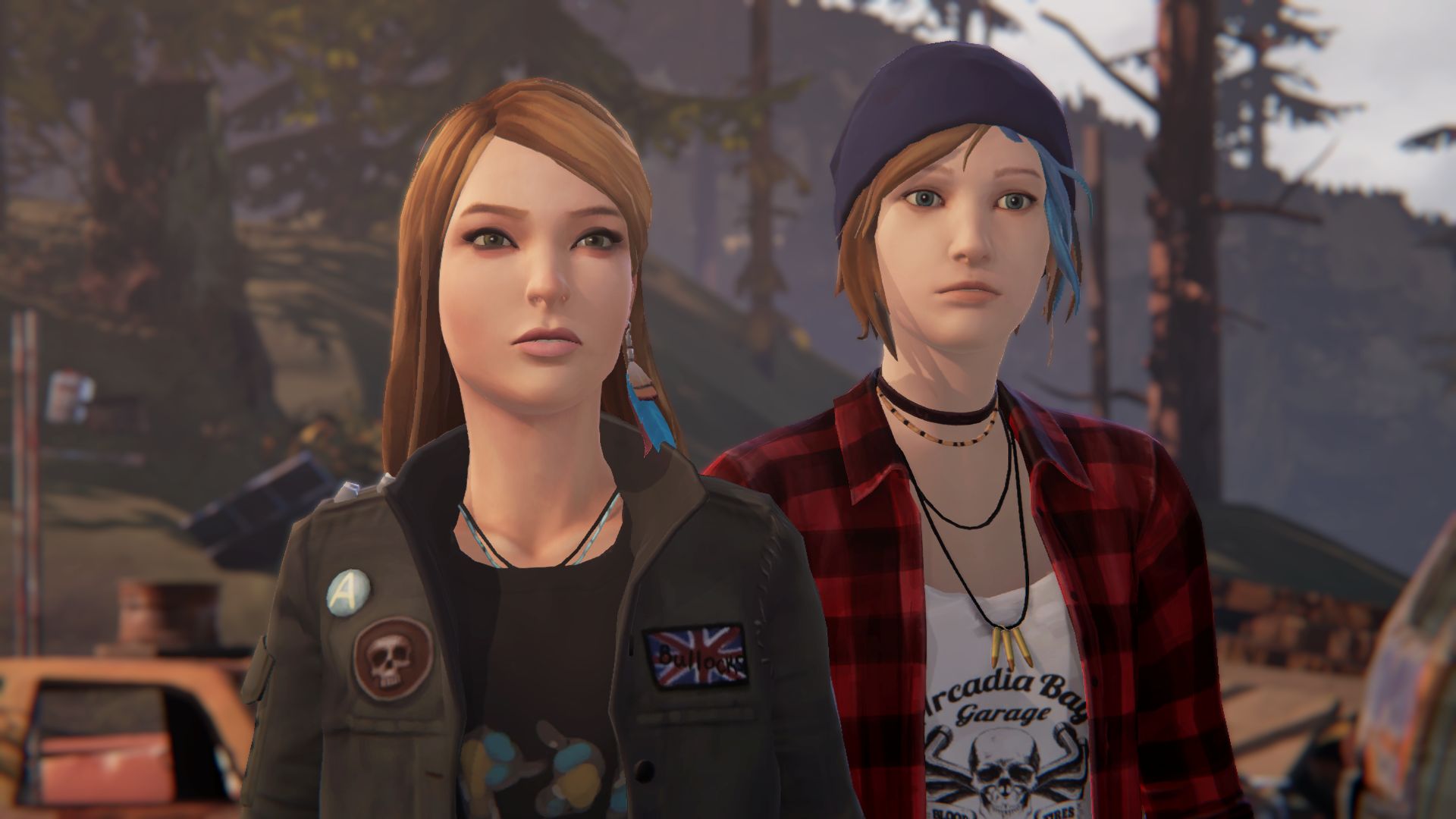 The dialogue in all the episodes is quite well written. Not only does it have that dry comedy, it maintains emotional tones and character traits with impeccable accuracy. Even the journal entries from Chloe are a breeze to read because of how lexicon meshes so well with actual events. Sadly Ashly Burch does not reprise her voice role for Chloe—due to the voice actor strike—but she helped create the dialogue. It definitely has paid off in terms of characterization and Rhianna DeVries is a decent voice replacement. Rachel is similarly consistent in her actions and expressions. In combination with this improved and believable dialogue, the lip syncing is considerably better than in the previous game.
Being a prequel, the story is somewhat restricted from doing anything that could compromise the lore, yet it manages to create personal and important twists due to it being several years removed. The tale should be fairly relatable for most people but is not too predictable. There are many returning faces (albeit with different voices) and their roles in the narrative fill some of the gaps. There are several new characters too, and these blend well with the existing cast. Each episode is rather lengthy, taking roughly three hours to complete. The story of Rachel and Chloe is compelling and it strengthens the universe.
While the story and characters are great, choice and consequence is a letdown. What seem like big decisions rarely change events too much. There might be a few minor alterations to dialogue and comments about your chosen outfit, but the story rolls forward just the same. The best example of this is when Rachel is removed from the lead role in a Shakespeare play due to her transgressions; despite your actions or failings, the game will reinstate her role via an arbitrary solution so you can perform in one of the best scenes alongside her. Later, when trying to enter a dorm room, a security guard can be tricked via dialogue, but failing to do so just makes him quit on the spot, leaving the entry unimpeded. Possibly the biggest change happens when Chloe interjects during an assault, resulting in an injury to one character or his brother. This swap does change a few scenes, but is hardly on the same level as the big choices in the original.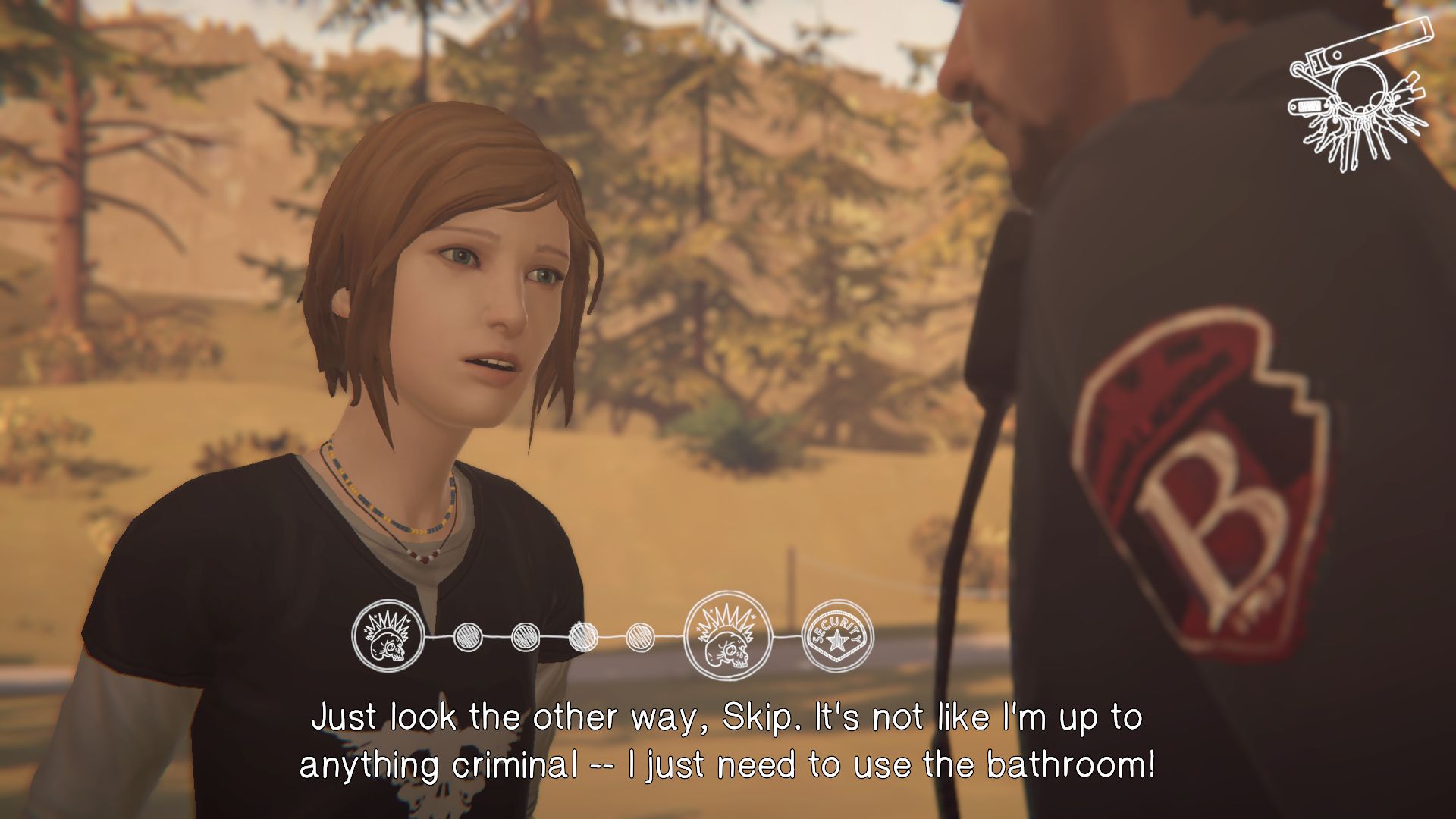 Several of the choices do require Chloe to undertake a 'Backtalk' challenge, which is effectively just part of a conversation that you can either win or lose. To win you merely pay attention and pick the obvious responses before the time runs out. Sometimes it requires smart comebacks to belittle and deflect, like when you don't wish to listen to authority. Other times it's about trying to convince characters, like talking Victoria Chase out of her starring role in the play. These challenges are never difficult and are not quite different enough from regular conversations to justify the separate mechanic.
When it finally comes down to making the biggest (and rather clever) final decision, the result is a disappointing pre-recorded video montage of the outcome. The ending is a let down because of this, but also because it showcases another series of brief videos of the two main characters that would have been neat to experience firsthand. Overall the finale is unsatisfying and haphazard, failing to properly encapsulate the friendship. Perhaps a sequel, to this prequel, is possible, as there are still many years left to explore. Due to the ineffectual player choice and fumbling finale, it may be almost best to disregard choice and consequence entirely.
To add a bit more disappointment, the adventure puzzles and exploration mechanics are too simplistic. Most tasks just require the collection of a few objects in a small area. Some are linked to a short cut scene or some dialogue, just to elongate proceedings. The game also suffers from a common adventure game drawback of not letting players interact until they've completed another task—you can't move a box until you fail a Backtalk challenge and you cannot release a hood latch until you try to brute force it. Chloe can optionally tag objects with graffiti (like how Max took photos) but this element is mostly superficial.
Although the prequel does not use the same graphics engine as its forebear, it manages to accurately portray the universe that DONTNOD created two years ago. The Unity engine faithfully reproduces many locations, such as Chloe's house, the junkyard, and the high school. Characters look similar and the texture work is the same visual style as in the original game. It even implements a similar color scheme with warm reds and oranges. A generous depth of field effect and oversaturated lighting keep the focus on the here and now. While the scene composition is not quite as careful as the original, it still revels in the quiet moments with many places to just sit and absorb. Helping with this is an excellent soundtrack. Most of the songs are by indie-folk band 'Daughter' that were composed specifically for the game. The music features soft guitar strumming, dreamlike vocals, mesmerizing fades, and long flowing instrumentals. The appropriate and consistent soundtrack helps to maximize emotion and is one of the best music offerings this year.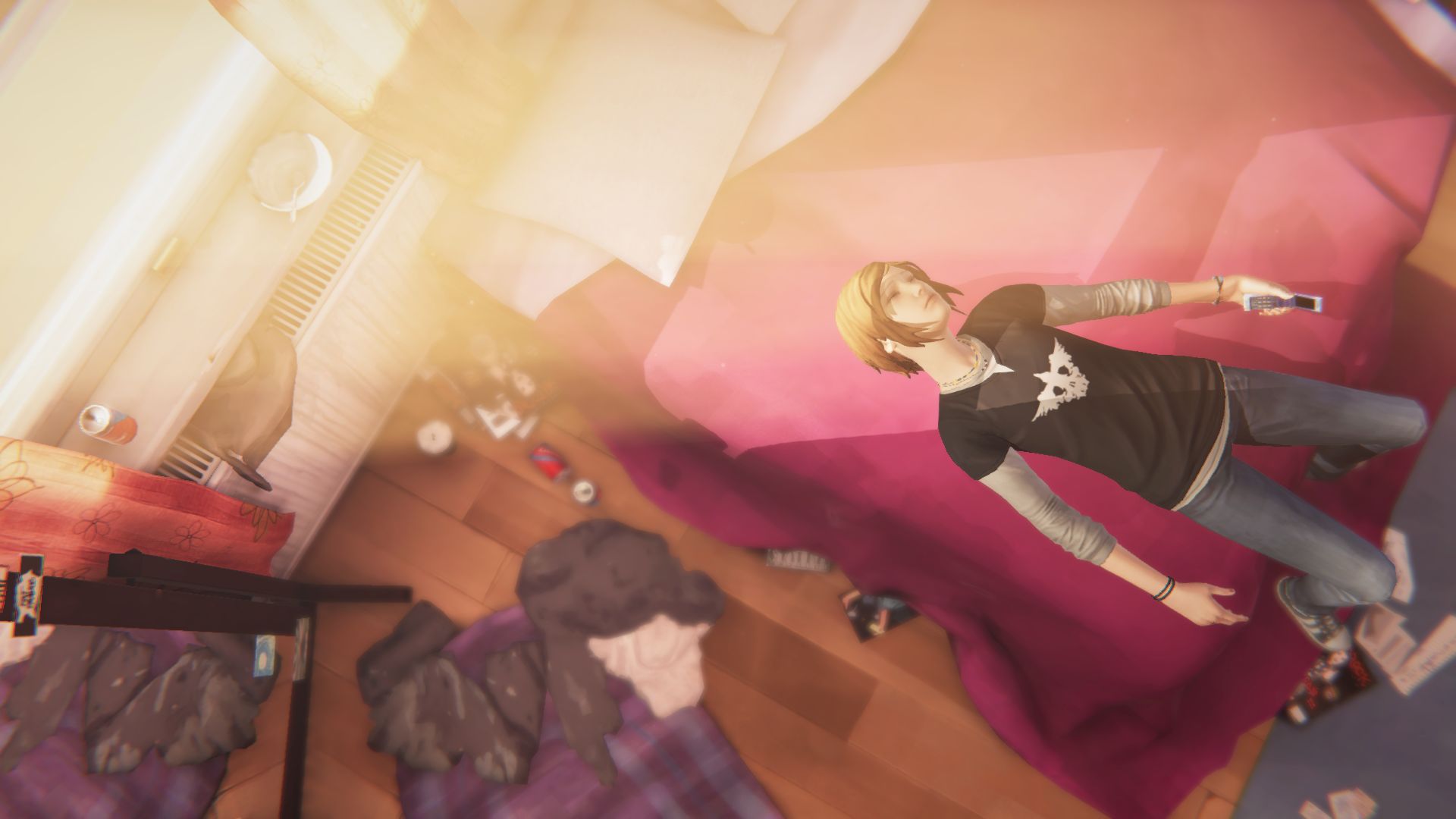 Life is Strange: Before the Storm is definitely worth playing if you loved the original, just don't expect it to be as good in all areas. It expands and enhances the universe, offering great insights into the mind of Chloe Price in addition to more back-story. Its dialogue and characters are strong; Rachel Amber is crucial, as her alluring friendship with Chloe is the proverbial glue, even if the emotional threads are not quite as powerful. Unfortunately the secondary elements prevent it from always walking hand-in-hand with the 2015 release. Player choice is unsatisfactory because circumstances happen regardless of what the choices indicate. The adventure puzzles and Backtalk challenges are flimsy. Even the ending is anticlimactic. But when put together, both the original game and Before the Storm become better experiences, and isn't that the mark of a good friendship?
Our ratings for
Life is Strange: Before the Storm
on PC out of 100 (
Ratings FAQ
)
Comments