Attentat 1942 Review
A truly respectful account of historical experience
Oftentimes, Attentat 1942 comes across rather like a documentary. Its alternation between authentic archival footage and video interviews isn't dissimilar to what you might find in a national museum. The educational impression is perhaps unsurprising, given the game is a collaboration project between Charles University and the Czech Academy of Sciences, but the balance these cinematics strike between factual exposition and personal experience construct a narrative not only informative, but deftly sensitive.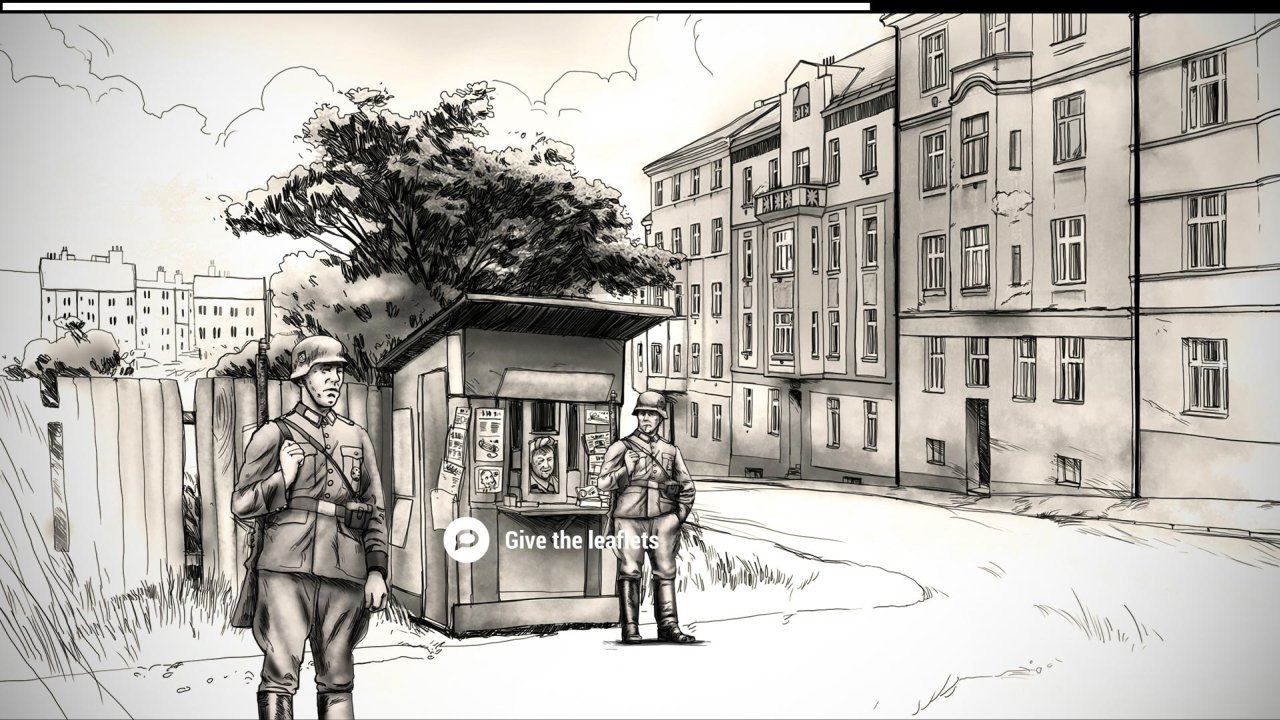 That narrative relates to a well-known part of contemporary history, but speaks from an area that (perhaps) hasn't been vocalised as much compared to others. It begins in contemporary Prague, after you learn that your grandfather was arrested during the Nazi occupation of Czechoslovakian land in 1942, promptly after the assassination of lead Holocaust architect, Reinhard Heydrich. What follows is a series of interviews, in which you seek out the few connections your grandpa kept during the war, in attempt to make sense of his involvement in the assassination.
Each interview takes the form of a live-action cinematic, in which you choose from a few dialogue options to learn about grandpa's young life from eight different survivors. Each interviewee tells a different side of life during the occupation: from tales of familial loss and clashes between government and media, to heart-warming accounts of friendship in otherwise brutal environments. They're also remarkably organised, alternating between poignant stories of grief and guilt and horrific descriptions of imprisonment, striking a tonal balance that gives the entire hour and a half the impression of a well-constructed docudrama. Depending on the questions you choose to ask, your interviewee will drop various clues as to your grandpa's arrest, which will then unlock new lines of questioning with the other seven survivors. Your findings are all organised in your journal according to a timeline, which might come in handy if you'd like to focus on the story, without handling multiple strains of information. But equally, if you're wanting something a little closer to Her Story, Attentat's comparably linear format might (from an entertainment standpoint, anyway) come across a little too tick-boxey to remain engrossing for long.
Occasionally, the game delves into the memories of each interviewee, in which you experience the events they discuss through a series of hand-drawn flashbacks. These sequences feel like an animated comic crossed with film noir, with a scratchy, monochromatic art style that expresses perfectly the tension dominating life under Nazi regime. The few sound effects punctuating these animated comics are incredibly well chosen. Mostly, they're mundane snippets of ambience: the crackling of a cigarette or the insistent bark of a dog. Yet, their presence amidst otherwise silent (often, disquietingly so) locales underscore a remarkable anxiety; ever so slight reminders that accusation could be just around the corner. Oddly, it was during these more stylised, comic-book sequences that I felt most connected to historical narrative Attentat concerns itself with. Though well-acted and diligently-researched, the lack of interactivity during the interview scenes can place a distance between the player, and what are evidently highly personal, highly important experiences.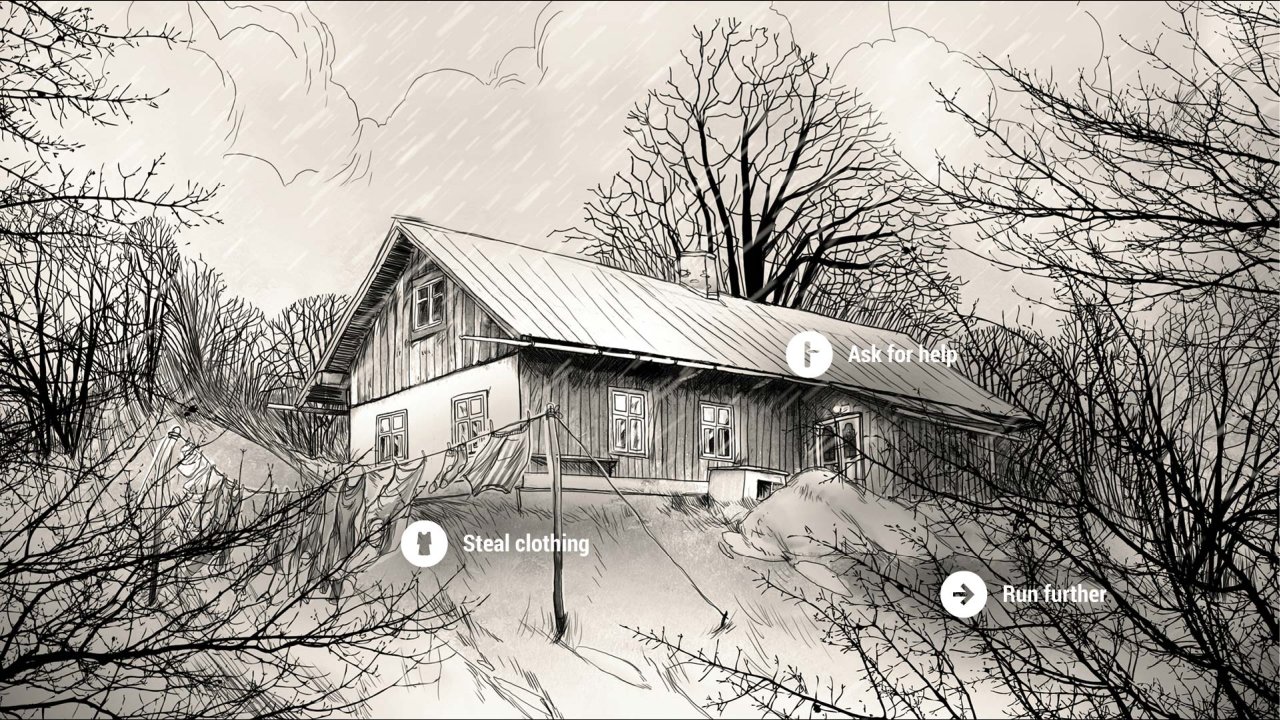 I'd imagine it'd help a great deal to have an interest in the subject matter at hand. While it won't punish you for not knowing specific strains of information (historical accounts of each event mentioned are handily compiled in an encyclopaedia that can be accessed via the pause menu), it more often tends toward exposition, with brief minigames and dialogue options bridging the gap between authentic archival footage and the live-action interviews.
Minigames often take the form of point-and-click 'investigations', where you'll scan ransacked houses, rifle through possessions and read useful documents to collect information surrounding your grandpa's arrest. Clicking on an item brings up a brief description of its use during the Czech occupation, which can prove illuminating in uncovering just how oppressed the country was under Nazi regime. Other times, you play out the memories of interviewees in dynamic black and white, writing speeches, delivering illegal leaflets and choosing outcomes against the clock in ways comparable to a visual novel. Though there are undeniable moments of narrative-suspense scattered throughout these episodes, the emphasis nevertheless seems very much to be on the educational side of things; perhaps for reasons understandable, Attentat's prime focus doesn't appear upon providing an 'entertaining' game per se.
Of course, there can be issues attempting to balance player-agency with a respectful homage to those whose lives were affected during the occupation, and it's clear Attentat's interests lay more in educating the player, than providing a fully-manipulatable game. When considered within those educational spheres, Attentat is quite accessible as a tool for learning about an important period in Czechoslovakian history, and I can see it doing particularly well in classrooms, and possibly museums.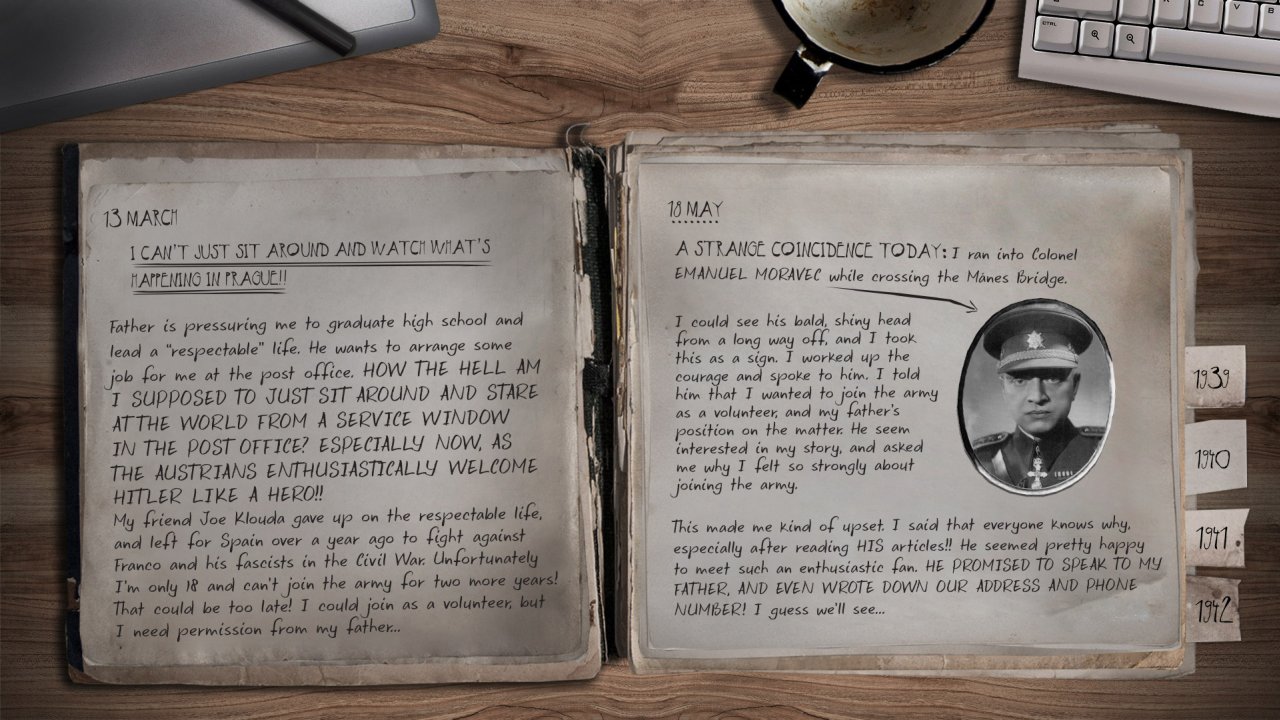 It's clear that Attentat 1942 is more interested in providing an educational account, than a crucially 'interactive' piece of entertainment. Ultimately, it's a gesture both noble and understandable, and certainly seen before with the wonderful Valiant Hearts. But if the intention is education here, I often wonder if it wouldn't have been more suited to a documentary. Certainly, the live-action interviews do heighten the impression, and the mini games tying their stories together can often feel in place merely to justify the format. Then again, it's arguably much easier to get visibility through publication on Steam, rather than – say – holding screenings in your local cinema, so if the video-game format does 1942 a favour, it's that at least its story is likely to find more listeners than it might have in a medium to which it is perhaps better suited.
Our ratings for
Attentat 1942
on PC out of 100 (
Ratings FAQ
)
Comments