Knowledge is Power Review
A party game first, trivia game second
Growing up, I spent many evenings with my extended family, hunched over a game of Trivial Pursuit, arguing over which president signed the Voting Rights Act or the first American novel to become an international best-seller. I've spent trivia nights with my friends trying to guess obscure movies by a single screenshot, and arguing about where the sweat glands of dogs are located. I love trivia and I'm surrounded by a lot of people who love it as well. So when I had the opportunity to review Knowledge Is Power, I was excited to spend some time with my family and friends trying to prove who is smarter than who. The problem is that Knowledge is Power isn't really designed to prove who is smarter, but rather employs different strategy and skills.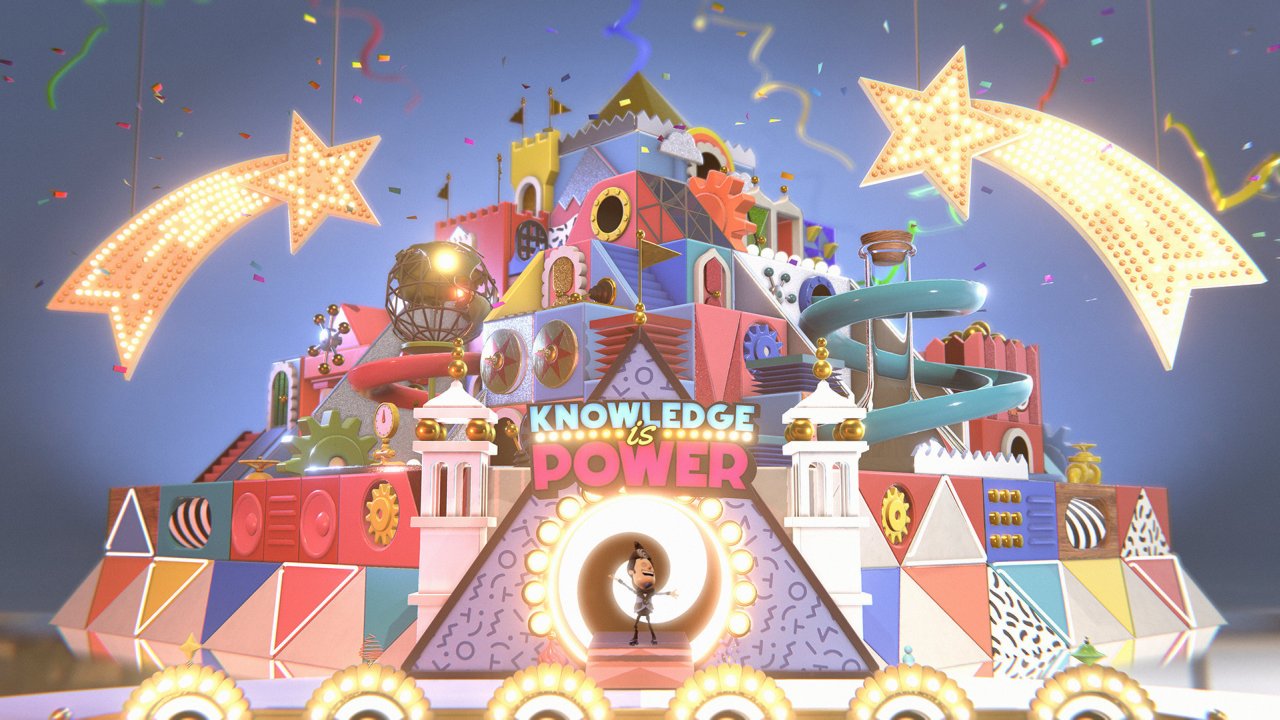 Developed by Wish Studios, Knowledge is Power is a trivia/party game presented with a suitable game show aesthetic. Relying on PlayStation's PlayLink technology to provide each player with their own personal buzzer to answer questions privately, the setup is pretty clever. PlayLink is a new platform for the PlayStation 4, eschewing the controller in exchange for smartphone-based gameplay. Each player connects their smartphone to the same Wi-Fi network as the console, downloads the necessary app for the game they want to play, and suddenly your smartphone is the new controller.
Players begin the game by selecting one of several different characters. There's a lumberjack, an aristocrat, an astronaut, an alien - you get the idea. Then you take a selfie of yourself with the ensemble of your character superimposed on your face. I chose the lumberjack, so my selfie included a giant bear and a stocking cap. This selfie will appear next to your name as the game keeps score. The claymation aesthetic gives the whole thing a weird vibe, like if you're watching Laika Studios do their best impression of Jeopardy! It's interesting and unique, but also a bit strange.
In charge of the proceedings is a little animated host who looks like they just stepped off the set of a TV game show in the 1970s. Adding to the game show feel is a vibrant background set with flashing lights and bright colors. There are three rounds of questions, each broken up by a bonus round, and then a final round. The whole things snaps along quickly, so there's rarely an opportunity to be bored.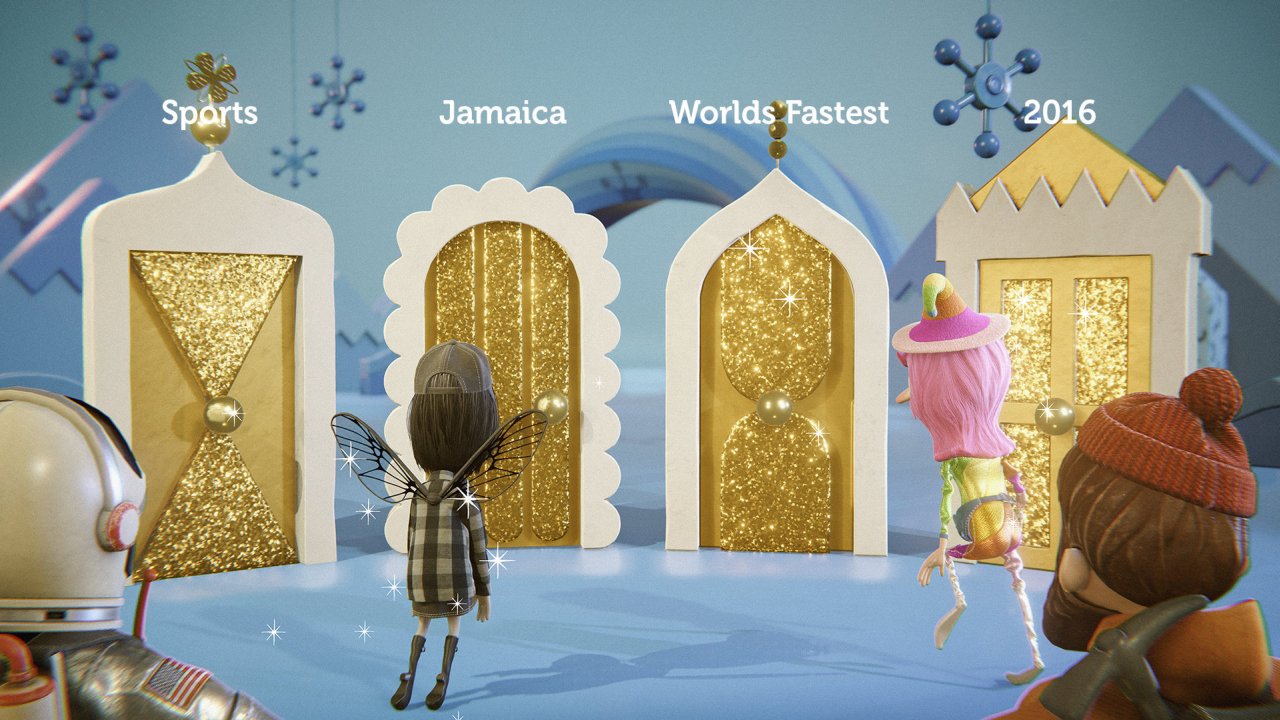 The regular rounds will begin with four categories to choose from, each represented by a door. Players choose which door/category they want and the majority wins (if needed, tie breakers are decided at random). Players are then given three power plays to choose from; these special abilities can make it harder for your opponents to answer questions by covering up their screens or removing letters from answers, or they can also be used to score you some extra points by multiplying the scores for a round you feel confident about or letting you bet on who you think will know the correct answer.
Each round follows the same pattern: the power plays are revealed, the question is asked, and the players answer. Had these power plays been less than functional they could have quickly grown annoying, but they're well executed. PlayLink is responsive and easy to use as you wipe goop off of your screen or avoid tapping on numerous little bombs covering up the answers.
The power plays also help add a layer of strategy to the game. In my experience, most of the questions were pretty easy to answer but the game awards the person who answered first the most points. So it becomes less about getting an answer right and more about getting it right first. Using power plays as a way to slow down someone's ability to answer becomes crucial as you jockey for points.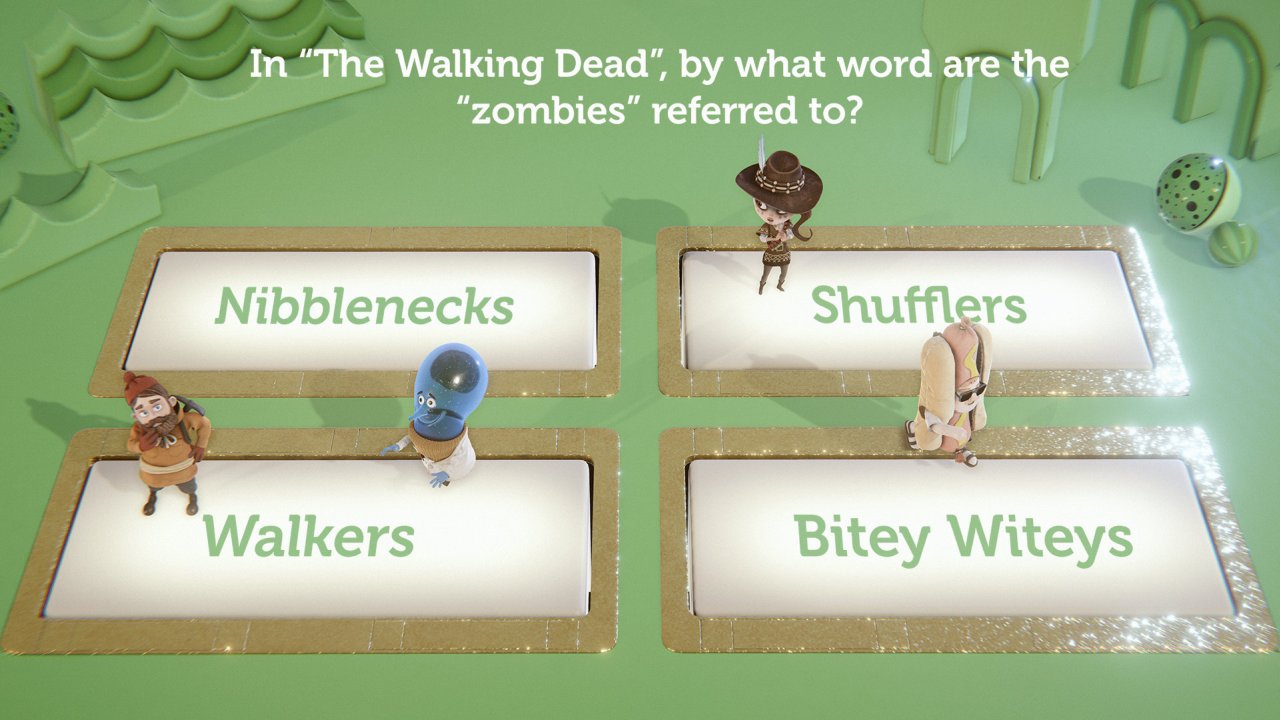 After three questions are asked, you get a bonus round. The first bonus round is played by matching two words. For instance, in one game we had to match greetings with the right language. The second bonus round provides two answer categories and makes you guess which category the title belongs to. For one of these rounds, we were given song titles either missing the word "baby" or "gangster".
After the three rounds have concluded, the points are tabulated and you're assigned a position in the Grand Finale. In the finale you have to scale a pyramid by answering questions. It's similar to the regular rounds in that the faster you answer, the more steps of the pyramid you'll scale. Instead of the choice of three power plays, you're only given one in the finale, so it's more a question of who you're going to use it on. The Grand Finale does a nice job of rewarding those who are leading the game while also making it possible for those in last place to still win. Once you've reached the top of the pyramid, the game is over and the winner is crowned.
Knowledge is Power is a party game first, trivia game second - which is fine, but while the power plays are well done, it doesn't feel unique enough to keep people coming back. It moves along at an impressive pace, constantly keeping things light and fresh with no technical issues. But beyond the power plays, the game doesn't have a whole lot of depth. After a couple games it was hard to entice people to keep playing. As a party game it doesn't have the addictive qualities of the games you'd find in a Jackbox Party Pack package. I wish this game leaned harder into its trivia or had more party elements, but that doesn't stop it from being a serviceable option for you and your friends.
Our ratings for
Knowledge is Power
on PlayStation 4 out of 100 (
Ratings FAQ
)
Comments