Xbox One X Review
The most powerful Xbox ever offers superior tech for passionate fans
A new console has been released. No, you haven't been caught in some sort of time loop, and 5 more years did not pass by. The new Xbox One X is indeed launching today, and last year's launch of the PS4 Pro was not a glitch in the Matrix. Sony and Microsoft have taken a new direction with their hardware - an experiment to refresh the consoles perhaps about midway through their planned lifecycle, and offer gamers something better. Perhaps gamers isn't the best word there, as enthusiasts would be more appropriate. If you're not interested in splurging and tinkering with PC parts, both console makers have decided to offer an improved version of their current systems, with the added power and 4K support for the best darn game graphics and performance we've ever seen. And while Sony opted to launch first, Microsoft has been biding its time until now, preparing for the release of the Xbox One X - the most powerful console on the market to date. We've had a chance to spend almost two weeks with this new upgraded console, and while it may not be for everyone, it certainly delivers on its promises.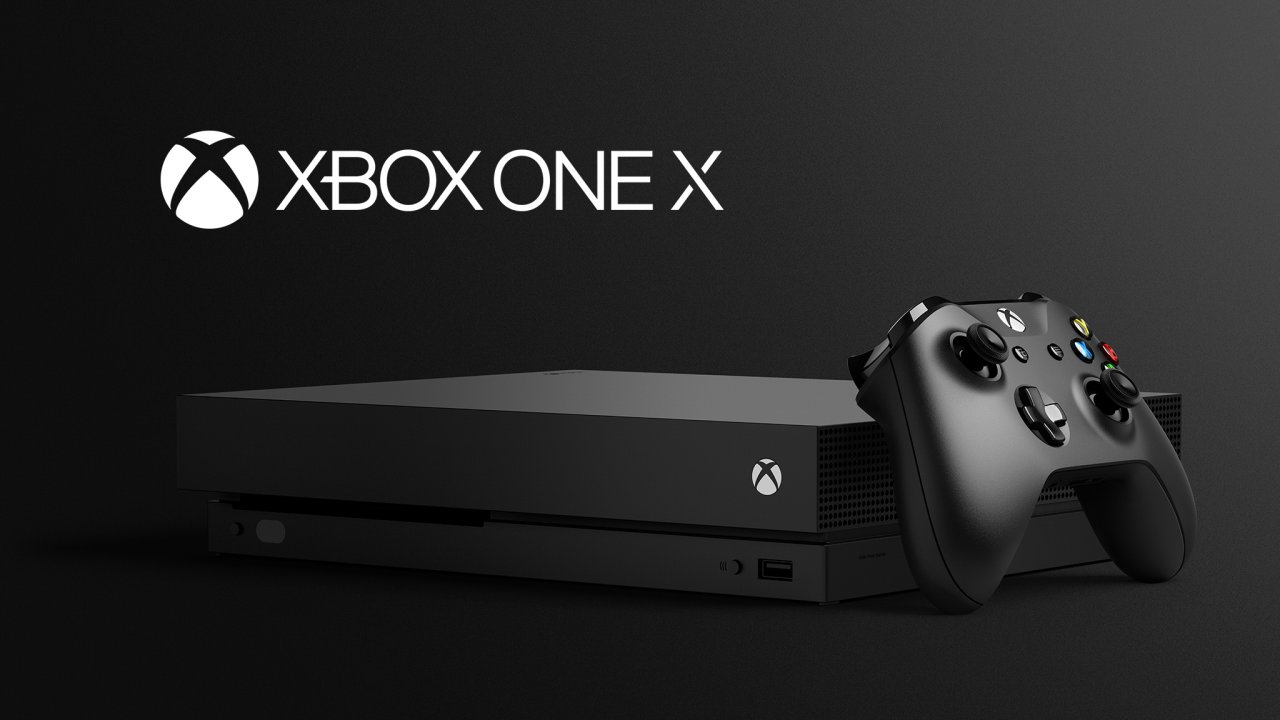 The base Xbox One X retail bundle ($499USD / $599 CAD) that we had a chance to spend the two weeks with is fairly standard, as far as tech packages go. The first thing you see is a nicely packaged sleeve which contains some basic instructions, a code for a trial of Xbox Live Gold, as well as the Xbox Games Pass. The console is nicely secured within, while a small accessories box contains a HDMI cable, the wireless controller with a set of batteries, and a power cable. Perhaps the only downside here is that unlike the launch Xbox One retail bundle, there's no headset included for voice communication. Otherwise, you've got everything you need to power on and get going. You'll notice right away how nice it is not to deal with the hefty power brick that the launch Xbox One needs, and the good length of the HDMI cable. Xbox One X joins the "family of Xbox One consoles", referring to the original and the Xbox One S, which means that all your accessories are cross compatible.
As you get the console unwrapped and wired in, you'll appreciate its sleek design. There's no reflective surface like on the launch unit, and instead the whole thing is matte black, which should look fine in any entertainment unit setup. The power button, still a glowing white Xbox logo, is now a pressable spring-loaded button like the S model instead of the flush touch-button of the original. Also unlike the original, you can operate the console vertically, if you get the optional stand. With dimensions of 30cm x 24cm x 6cm, the X is a much smaller unit than the launch edition, and it weighs about half a pound more. With this combination of smaller dimensions and yet heavier weight, the console definitely feels hefty, like there is a lot of power packed into a small size.
Inside the Xbox One X is a Custom 8 core CPU running at 2.3 GHz, as well as custom GPU at 1.172 GHz, putting out a big 6.0 TFLOPS of graphical computation power, higher than any console out there. Combine that with 12 GB GDDR5 memory carrying 326 GB/s, and this is some serious firepower that currently stands unopposed at the top of the console market. Connectivity wise, you'll find a gigabit Ethernet interface, a built-in Wi-Fi card that supports the latest 802.11ac spec, 3 USB 3.0 ports, HDMI in and out ports, S/PDIF digital audio port, and an IR Receiver/Blaster port. If you're still looking to use your Kinect, the X lacks a dedicated port for that peripheral so you'll need an adapter. The console also contains a 1TB hard drive, and a 4K UHD Blu-ray optical drive. The latter is a great feature because, surprisingly, Sony's competing PS4 Pro opted for a regular Blu-ray drive instead.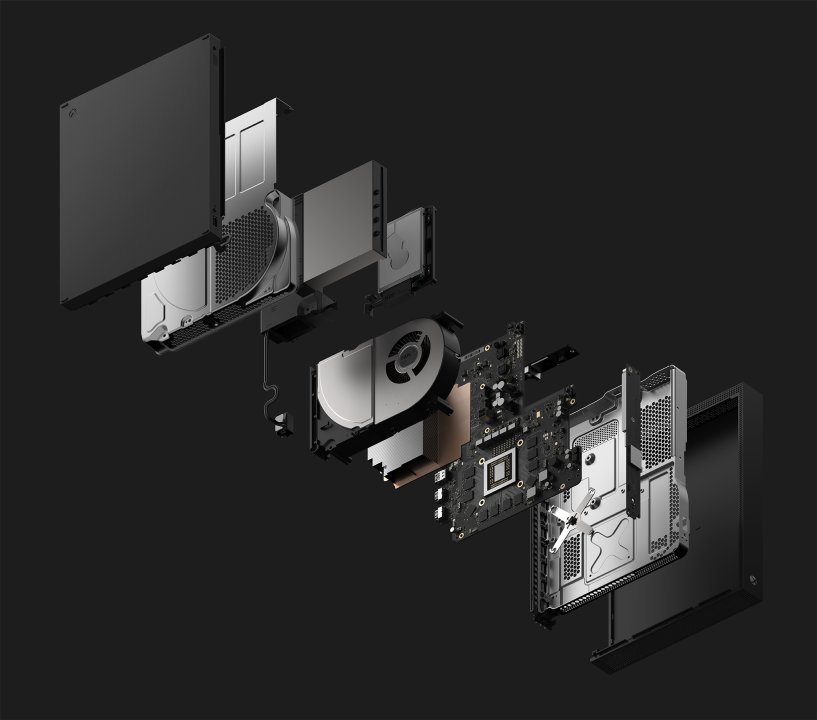 As you power on the Xbox One X, a quick video clip showcases the chip inside the console, like you may have seen in the commercials or at Microsoft's E3 presentation. There is a day-0 update that you'll need to download, but that's par for the course with modern hardware. Following a few setup steps, the console will boot and welcome you to the current Xbox dashboard. This is the exact same dash that you have on the One and One S, so you'll feel right at home. Despite the top of the line hardware, we still clocked the Xbox One X booting times to be a lengthy 50-55 seconds. An improvement for the original Xbox One that needs over a minute to boot, but still nowhere near the snappy PS4 startup. As with the rest of the Xbox One console lineup, the X is whisper quiet apart from the optional chime during startup/shutdown. It's also just as cool - we had the console on, running some apps and a game for over 72 hours straight, and it barely got warm. There were no hiccups either when it came time to resume activities. There was a minor issue with the controller - although this is the same, modern version of the pad that already comes with the Xbox One S, ours had a face button that would get stuck, and needed the straw method to resolve. It's certainly not related to the performance of the Xbox One X, but something we have to mention.
With the Xbox One X humming along, you're ready to start playing, but for those who are upgrading, you'll probably want to transfer your content first. With the network transfer feature, users can simply select which games they want to transfer over Wi-Fi from one console to the other, and let it run. It's super convenient, and much faster than re-downloading your items from the Xbox Store. You can also use an external hard drive, if you wish. Once everything is moved over, simply fire up the game - your saves will quickly synchronize, and you can resume playing exactly where you left off. It's a fine example of a system that works very smoothly and eliminates the hassle of any file management. Do keep in mind you can only sign into your profile on one console at a time, so be sure to allow network transfer on your current console before switching to the Xbox One X. If you sign out and start downloading things from the store on another console, the transfer will pause and need to be resumed manually.
Given so much computational potential, game performance is obviously one of the major areas of focus for the new console. The titles that are taking advantage of this are dubbed "Xbox One X Enhanced", and come with three areas of possible improvements. The bare basic Enhanced games will, at the very least, be positioned to take advantage of the improved architecture of the console, whether that's faster loading times or higher framerates. The second possible improvement is the addition of 4K resolution support, pushing the raw amount of pixels and graphical computation to their limits with 3840×2160 (2160p). Lastly, the third possible improvement is HDR (High Dynamic Range) support, which means deeper blacks and brighter whites, wide color gamut and lots more contrast. Games can be either Enhanced on a base level, and also support 4K, or HDR, or both. But while you do need a 4K TV to take full advantage of these improvements, the Xbox One X is capable of bringing some of the visual enhancements to the 1080p TVs as well. Through a technique called Supersampling, the Xbox One X takes a 4K image and scales it down to the 1080p resolution - like the opposite of upscaling last-generation games to 1080p from 720p base image.

With all that power comes responsibility, and that responsibility is for lots of storage to hold all the 4K textures and updated data for the games. To that end, the Xbox One X ships with the 1TB hard drive and it does the job, and those who are switching from the 500GB console models will certainly feel the elevated breathing room. Even during our testing, it was tough to have to keep transferring games back and forth because the limited 500GB drive really could only hold 4 or so X Enhanced titles. Further, depending on which games you install and how many in total, even a 1TB drive can start to feel the pinch. But seemingly the worst aspect of all this is actually the owners of other Xbox One consoles - those who cannot put 4K assets to use, like the launch Xbox One and the Xbox One S. Those console owners are still forced to download all the enhancement patches - which wastes a ton of space and bandwidth on features they cannot use. Although you can use a shrink option on those consoles to get rid of assets you don't need, hopefully Microsoft soon finds a way to not force players to download content they cannot use.
Speaking of game downloads, we ran some tests to see how the X stacks up against the launch Xbox One. Obviously, all your Xbox One games are also compatible with Xbox One X and everything on your account will carry over. We tested the download and installation speeds with the two consoles within a few feet apart, and taking turns performing the same downloads on the same Wi-Fi connection (using 802.11n to ensure fairness, as 802.11ac is not supported by the launch Xbox One) that was free of any other devices. Grabbing the Just Dance 2018 demo, it took 1m25s to install on the X, and 1m55sec on the launch model. The classic game Limbo took just 36 seconds to install on the X, and 45 seconds on the launch unit. Finally, Xbox 360 backwards compatible title Shadow Complex was ready to go in 3 minutes on the X, and 4 minutes on the original Xbox One. We ran the tests a few times to ensure accuracy, and indeed the Xbox One X consistently put up better numbers - due to better hard drive. Download times for apps is nearly the same, and the delay loading tiles within the Xbox digital store is still an issue.
As the Xbox One X was roaring to go and content transferred, we got to the game tests. We mostly looked at games that carry the Xbox One X Enhanced moniker, meaning we expected to see improvements at least on some basic level across the board in 1080p, and greater leaps when it came time for 4K. Starting with the best and seemingly most in-depth enhancement offering, Gears of War 4 was up for some action. The game now offers two render modes - Visuals for 4K support, and Performance for consistent 60fps. In Visuals mode at 30fps, the supersampling technique that we mentioned earlier was obvious even on a 1080p screen, and in 4K plus HDR the game looked quite glorious. The environments and characters looked sharper and cleaner, with smaller details being rendered further away, and added effects bringing a new level of atmosphere to the scenes. Better reflections, shadows, and character textures popped off screen, and it looked really good. But if you're willing to sacrifice a bit of flare for a constant 60fps, Performance mode delivers that without a hitch. In Versus, the game runs at 4K and 60fps the whole time, though the game scales the resolution down whenever things get too intensive to maintain the framerate. By and large, Gears 4 sets the bar on what it should mean to be an X Enhanced title.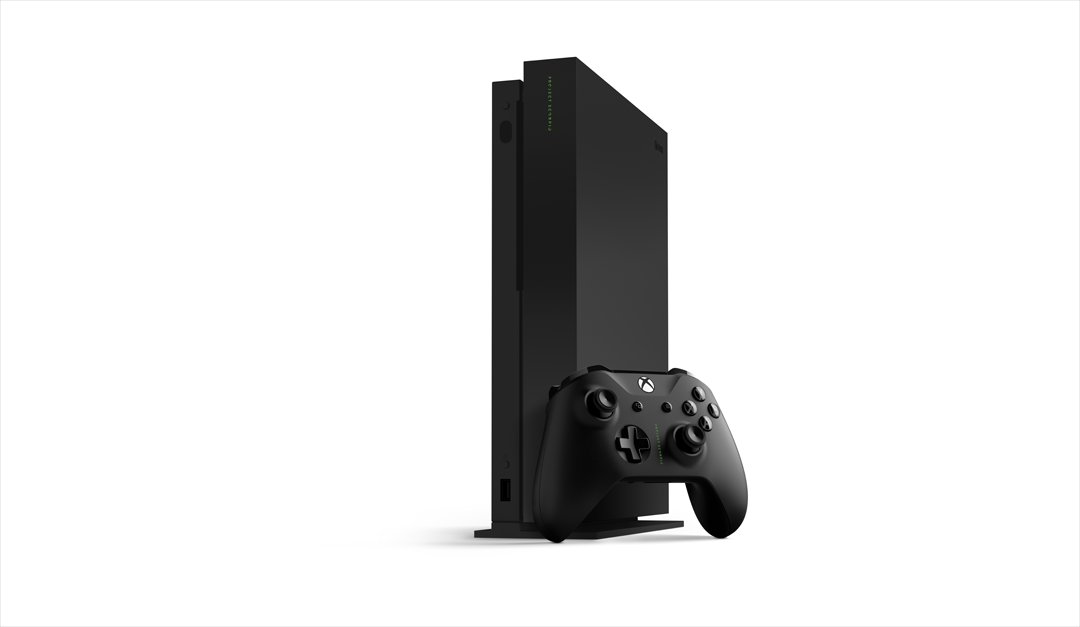 Other first-party Enhanced games we tested have also obviously done their best to make improvements. Minecraft doesn't take much to run, but you'll still appreciate the added performance boosts, and seeing the game in 4K/HDR really does put a new spin on it. Halo Wars 2 gets the benefit of 4K HDR as well, with improved framerate when the action gets intense and where the original Xbox One would sometimes see performance issues. Halo 5: Guardians, a game that already ran quite smoothly, gets the 4K treatment - though without HDR - and looks very nice at a locked 60fps. Perhaps as a way to bolster the lineup of Enhanced games, while third party developers get their patches out, Microsoft has also re-released a few older Xbox 360 games, such as Zoo Tycoon: Ultimate Animal Collection, Rush: A Disney-Pixar Adventure, and Disneyland Adventures. While they aren't exactly groundbreaking offerings, all three support 4K and HDR and serve as a nice, more accessible way to introduce families to the powerful hardware. Speaking of friendly, the sole game that coincides with the launch of the Xbox One X is Super Lucky's Tale, and while it looks nice in 4K, just as the rest of these family-oriented titles, it doesn't really blow you away with its use of the technology.
And as such, not all of the X Enhanced games are winners, as developer effort and initial starting point certainly play a role. For example, Halo 3 is being advertized as an Enhanced game, though it offers only the basics, with no 4K or HDR. And there's really not much difference to the untrained eye between the Xbox One X visuals of this classic and those on the Xbox 360's Master Chief Collection. A similar fate awaits Quantum Break, a game that was quite low resolution and blurry on its Xbox One debut, sporting lengthy loading times. After downloading an enormous 75GB patch, the game still didn't impress with its 1080p supersampling or its new 4K/HDR visuals. There's still a bunch of blur and poor textures occurring, and the time to load a level is a dreadful 1m40sec, though at least the framerate is steady. The most recent Xbox exclusive, Forza Motorsport 7, also won't necessarily blow you away, but for a different reason. The game already looks so darn good on the Xbox One in 1080p, that its Xbox One X performance on 1080p is quite difficult to discern. In 4K and HDR it obviously shines, though. Still, like Quantum Break, Forza 7's notoriously long loading times are only down to 55 seconds for getting to the race track on the Xbox One X, compared to 1m5sec on the original Xbox One.
Still, the future of Xbox One X Enhanced program looks bright. Compared to Sony's launch of the PS4 Pro, Microsoft has definitely done a much better job of communicating about its grand plans. They have an active list of Xbox One X Enhanced games that's regularly updated, and it provides a basic outline of what players can expect. Sure, a lot now depends on third-party support, but if our early testing is any indication, there's bound to be success here. With the recently launched Destiny 2, Call of Duty: WWII and Star Wars: Battlefront II also being X Enhanced, almost every blockbuster this fall seems ready to support the new console. Major players like Electronic Arts are also on-board, with the abovementioned plans to X Enhance Battlefront II, and also patching FIFA 18 and Madden NFL 18. Even the just-announced EA Sports UFC 3 is already promising Xbox One X support. From the third party roster of Enhanced games that we did test, Assassin's Creed: Origins boasted a decent visual bump on the X, but it was definitely more notable on the 4K/HDR textures than on 1080p supersampling. The game's save loading times improved from 1m10sec to 52 seconds. Middle-earth: Shadow Of War already looked nice on the base Xbox One, but it looks quite impressive on Xbox One X in 4K and HDR, with improved draw distances and higher level of detail; plus the loading times to get into the world are cut in half, from 55 seconds to 25 seconds on the X. On the release day of the console, the Enhancement program is in full swing and Microsoft is clearly putting out all the stops to get third party support for their powerful hardware. And as players, we should hope that more publishers get on board and provide the improvements, so that the industry can be ready for the inevitable next console generation that's bound to hit the ground running at 4K right off the bat.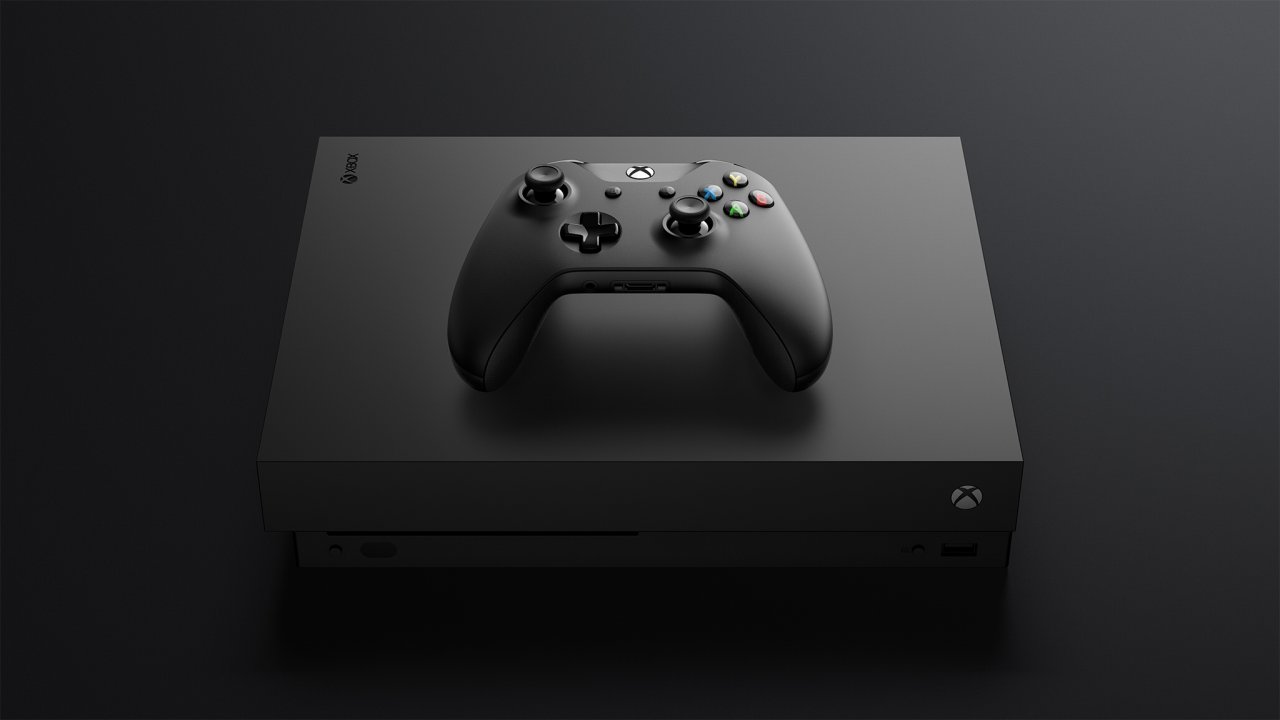 Even if you're somehow not ready to commit to all the newest and latest games, the Xbox One X retail bundle includes a trial of the Xbox Game Pass, a subscription service that lets you download and play a pretty darn good selection of titles for as long as you're a member. Unlike streaming options from Sony, being able to download the entire game offers the smoothest experience possible. Further, Xbox One family of devices remain the only consoles where EA offers its EA Access program, similarly providing free games and play-first trials of their latest releases, for a monthly or yearly fee. Both programs are very good value, especially for patient and more casual players. Oh, and you can also record clips in 4K resolution at 60FPS.
While Microsoft has certainly made it all about the games in recent years, they still want to be a dominant force in your living room as an entertainment device. To that end, the Xbox One X (and the S) includes a 4K UHD Blu-ray drive, so you can enjoy the insane level of detail in something like the BBC's Planet Earth II. Unlike the 3D TV gimmick a few years ago, the 4K trend is seemingly here to stay and grow, so getting a console capable of playing this content is certainly a good forward-planning move. For audiophiles, the Xbox One X should satisfy with its encoded HDMI support of Dolby Digital 5.1, DTS 5.1, PCM 2.0, 5.1, & 7.1; and Dolby TrueHD w/Atmos from games.
With the Xbox One X, you get what you pay for, in the best sense of the word. This is a premium device for enthusiasts that delivers the best performance on the market, with a price tag to match. If you're gearing up to make the jump to a 4K TV, and you want the best looking content for it - be that games or UHD Blu-rays - this is the console to get. There are obviously other considerations - such as exclusive games, and still room to improve in patch management - but if you're in the market for the most powerful device out there that will probably play multiplatform games at their best, Xbox One X comes out ahead. It's also a great value, because you're not putting a 4K capable PC together for the same cost as the X. Those making the jump from original Xbox One to the Xbox One X and a 4K TV will see the biggest leap in quality, while players who already have an Xbox One or One S on a 1080p will see a boost, but perhaps not as significant. But, individual factors aside, this is a serious piece of tech that does exactly what it promises, is priced accordingly, and delivers the most powerful console experience yet.
The Xbox One X is available today, November 7, 2017 in North America with a 1 TB model that is priced at $499USD/$599CAD.
Disclaimer: Microsoft has provided an Xbox One X review unit to New Game Network for coverage purposes.
Comments
blog comments powered by Disqus