PES 2018 Preview - E3 2017
We get an early look at the upcoming soccer game
PES 2018 plans to shake things up again this year, introducing a number of significant changes to cement itself as the definitive football title. Presenting itself more as a simulation, the game has had time to teethe with the FOX engine, and can now build on it via a number of enhanced features. Barcelona is still the main, touted partnership, having stolen Messi away from gracing the cover of the FIFA series, but Borussia Dortmund and Liverpool are also partnered teams. After sitting down for a presentation at E3 2017, I also had chance to get some hands-on time with the game on the PS4.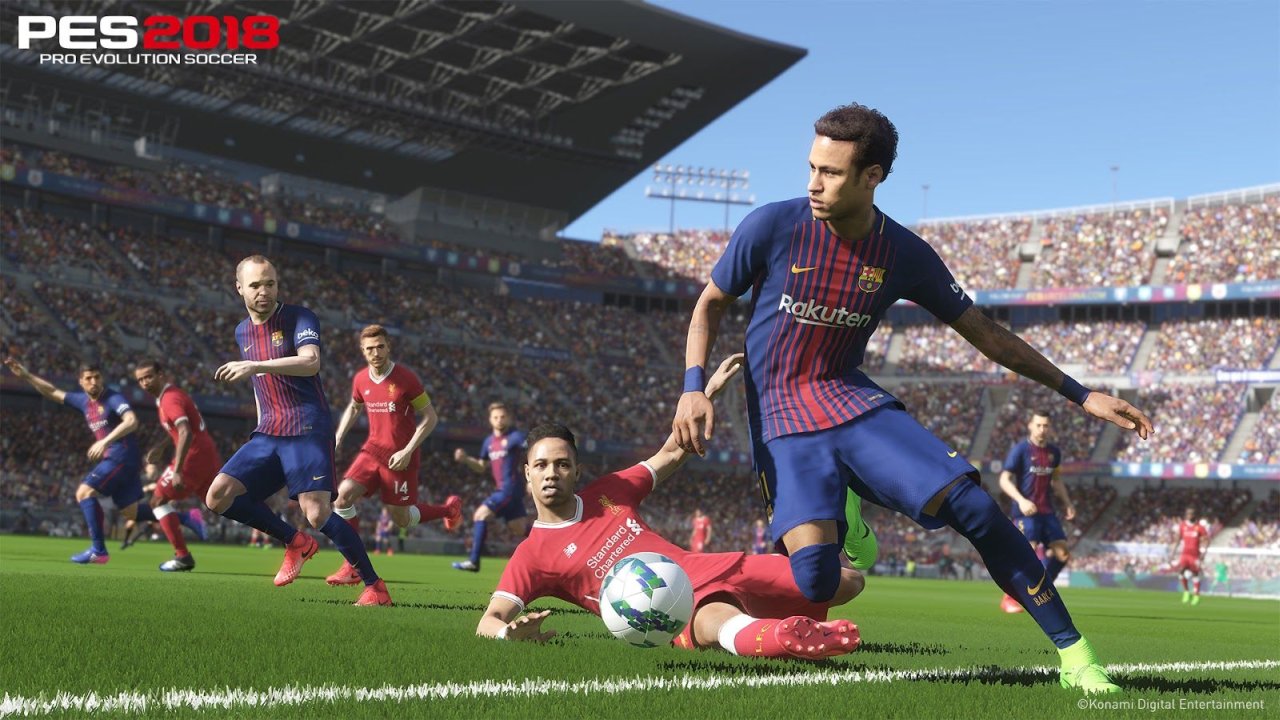 PES 2018 is said to be the "best quality in a decade", bringing with it the biggest slew of changes since the game debuted. Among these tweaks is also the inclusion of human racecar Usain Bolt, who will be available for players to recruit in-game. And yes, he has the best pace in the game. Whether his shooting and rest of play is up to scratch is yet to be seen. The team said they met the Olympian at a football match and struck up the conversation to include him in the title, which ended up with them sticking him in some kind of chamber that could recreate his likeness in game. The rest is history. To keep him company, legend players also make a return, including Maradona (who has resolved his legal qualms with the game) and many others.
Visually, once again, PES 2018 looks fantastic. Player likeness is the best it has ever been, right down to the movement personalities of players like Messi and Neymar. Particularly the former's almost hunched, head down run he uses to weave between players. The overall pace of the game feels somewhat similar to last year. What struck me as odd was that it seems its competitor FIFA 18 has been slowly decreasing its gameplay speed, so the two almost seem to have found some middle ground.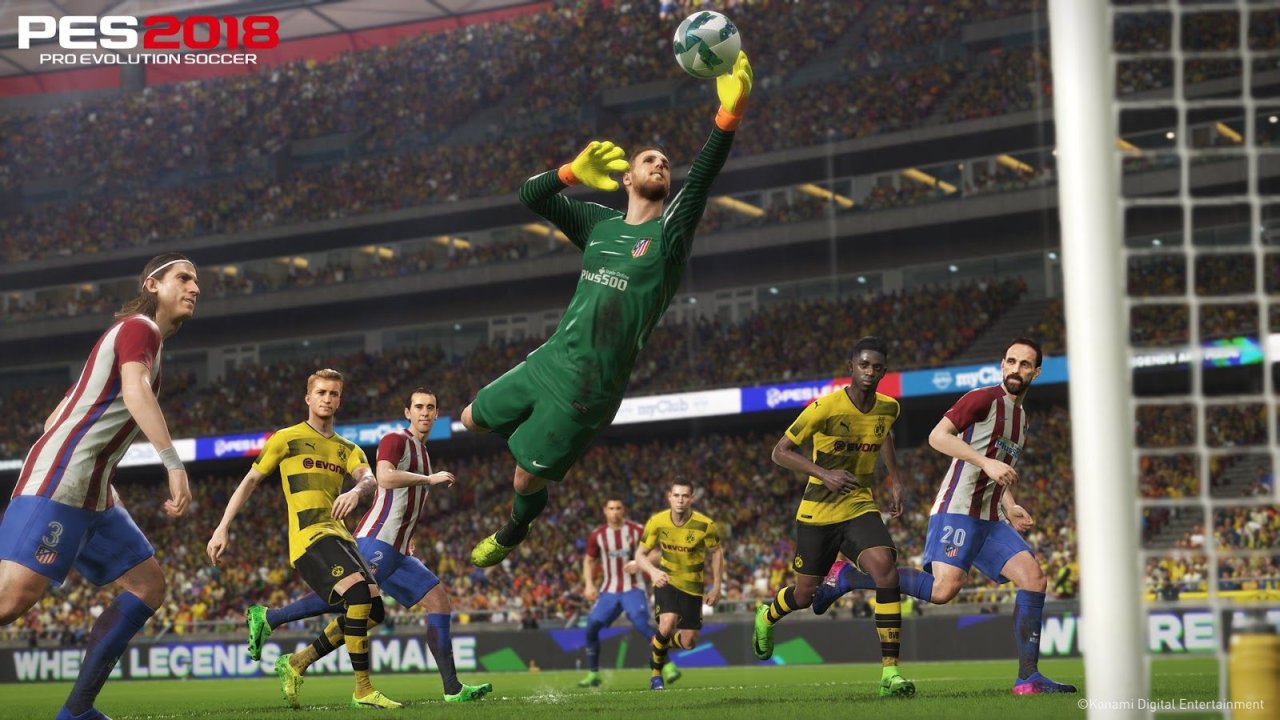 The realism in movement is down to what they called Real Touch+. It's an improvement on the movement from last game (which was pretty great). This comes into play when you, say, have to chest the ball with a defender at your back, a sweet flick of heel when you receive a high through ball or take on a heavy pass. From this, you have the extremely tight dribbling, which is key when you're in and around the penalty box. For example, I came in from the wing with Iniesta. I had two players closing me down, so straddled the line with some controlled dribbling and was able to nip past them and onto goal. Being able to dance through players is an awesome feeling. It's just so nuanced.
The matches I played had a good pace to them. I've always found the computer to be quite competent in PES, and this game is no exception. They change up tactics and will quickly close you down, forcing you to abuse your passing triangles, wings, and horizontal play. Getting onto goal is a challenge, and you're rewarded for it.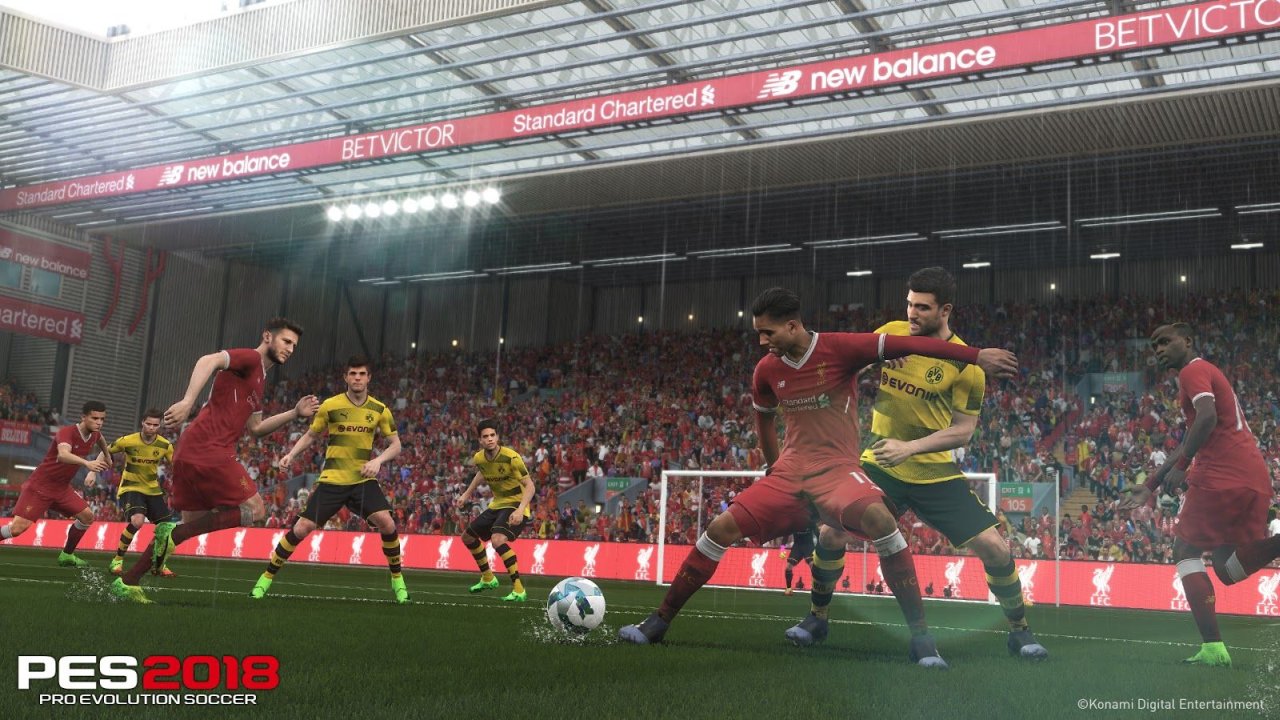 For those that have no desire to challenge the AI, there are always the online modes, which have become an increasingly large component of sports games over the past several years. PES 2018 is no different, and last year's game had an esports tournament with a $200,000 grand prize. There's PES League in myClub, including Random Selection Matches and online co-op, the latter of which looks intriguing. It's a new mode for 2V2 and 3V3 co-op play, which you can also team up with your friends to play. There is an online beta for 3V3 coming July 20-31 in Europe, and then for LATAM Aug 1-10.
PES 2018 is looking to be another strong entry into the series, featuring tighter controls, better graphics, and the addition of interesting online challenges I look forward getting stuck into. It's set for release this September 2017, across PS4, Xbox One, PS3, Xbox 360, and PC (with the PC being touted as much improved).
Comments
blog comments powered by Disqus