Super Mario Odyssey Preview - E3 2017
We go hands-on with the new Mario game on the Nintendo Switch
When it comes to Mario games, the series has gone through several tectonic shifts and taken on endless forms over its long 30 plus year history. We've seen everything from basic side scrolling to more vast, open-world 3D games, and everything in between. And this doesn't even factor in the dozens of spin-off games that span a multitude of genres. After many years of Nintendo placing emphasis on the more simplified, oldschool platforming version of our favorite Italian plumber, the pendulum seems to be shifting back towards the grandiose, with Super Mario Odyssey on the Nintendo Switch. I was lucky enough to get some time in with the demo of this latest installment at E3 2017.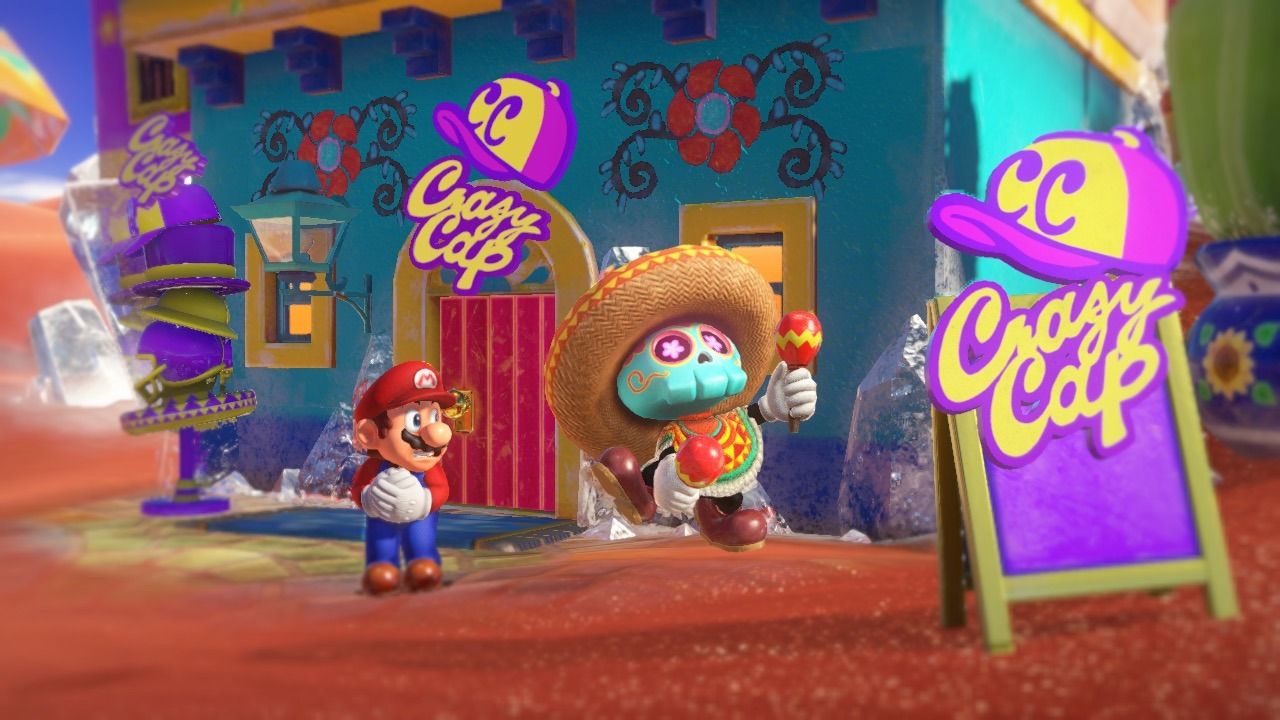 While games like the New Super Mario series brought things back to basics, even the recent 3D entries for the most part seemed to have one foot dragging back into the more retro, straightforward brand of Mario gameplay. Odyssey appears to strip away many of these ties to its predecessors and embraces more epic qualities - going full throttle into the realm of open-world gameplay. The closest comparison to this experience might be Super Mario 64 or Sunshine laced with some GTA style sandbox gameplay (minus the guns, carjackings, and "gentlemen's clubs"). But unlike 64 and Sunshine, Odyssey looks to really stress the element of freedom of exploration throughout its several distinct and colorful worlds. One key difference - stars are now replaced by moons, which will heavily populate several areas of the stages. Unlike the game's 3D platforming spiritual successors though, you can snag a bunch of them in one playthrough without being dragged back to the beginning of the stage, which keeps the gameplay flowing.
My demo - which ended all too quickly - consisted of a short run through one of the flagship stages, New Donk City. I was immediately thrown into an environment that looked more Watch Dogs than Mario, with people oddly twice my height walking around, and cheery music further painting the scene. Things looked a tad "cardboard cut-out" and cartoony, but was nonetheless filled with some crisp graphics a cool city backdrop. Mario looked sharp as ever and came with some impressively detailed animations. Initially, one might come to the conclusion that this is Nintendo truly taking Mario back to its Brooklyn roots when looking at the New York style atmosphere. Though this is apparently a subtle harkening back to the old Donkey Kong arcade environments, bringing things even further back to their roots. Think industrial theme, construction sites, and steel girders. The name "New Donk" should serve as a hint in that regard, as should the names of advertisements and street signs referencing Donkey Kong Country characters.
After gazing around this vast and bustling city, I was instantly off and running, and recognizing some rather familiar Mario 64-esque mechanics. A key difference comes to the forefront this time around though - Mario's hat is now his primary weapon and tool; he can whip the cap around like a boomerang, hop onto it like a sort of makeshift platform; and it can even be controlled by another player for a limited co-op functionality. This new mechanic was a little strange and clunky to get used to at first, but after being walked through the different ways in which to fling my cap with the joycons, it began to click, feeling both intuitive and satisfying to pull off. This strange looking cap with eyes - naturally named "Cappy" - will also be the source of a number of power-ups later down the line in Mario's adventure.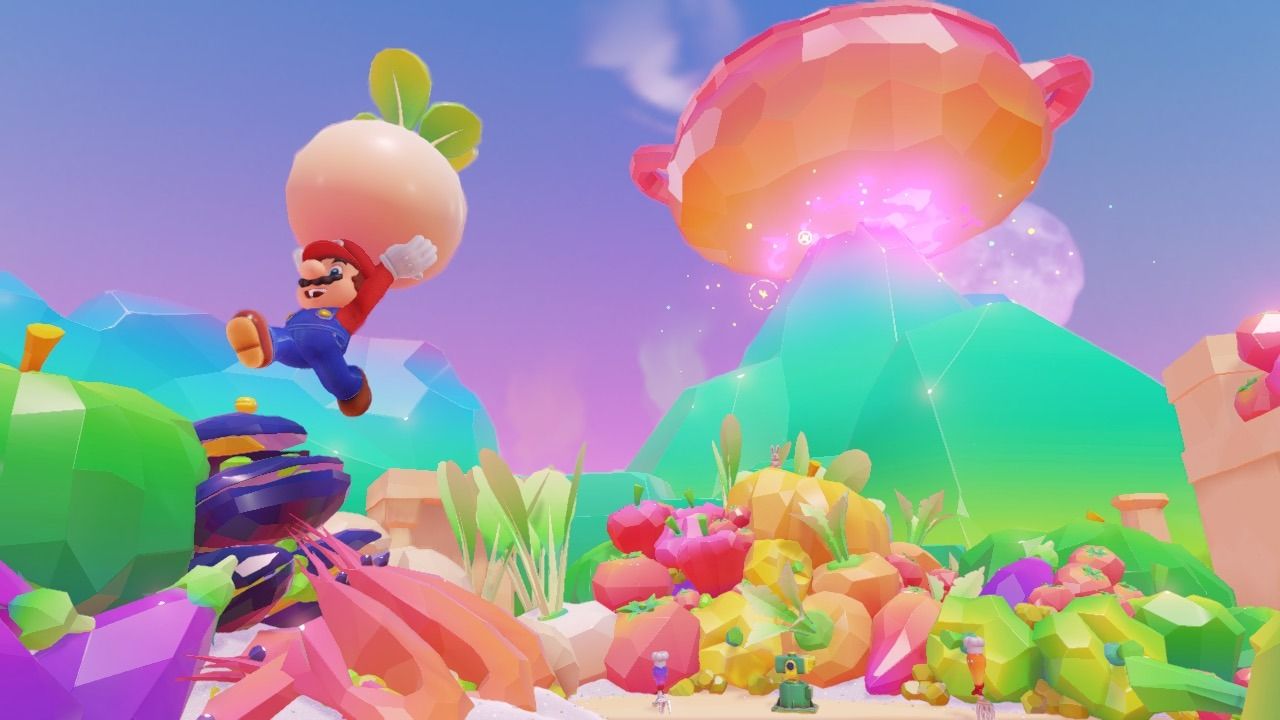 My Super Mario Odyssey experience felt at once fresh and - at least mechanically - a bit familiar, even with the x-factor of Mario's versatile hat-a-rang. With plenty of terrain, activities, and obstacles surrounding me from all sides and seemingly having the world at my white-gloved fingertips, it was difficult to determine where I should go first. I initially talked to a couple of NPCs playing band instruments which brought them together to jam at the local auditorium. But the band reunion would have to wait - I wanted some action! I began running, jumping, and rolling around the city like maniac, and getting an instant dose of that nostalgic Mario "feeling" again. After snagging some coins and notching some checkpoints in the process (which can be used to fast travel from the map when tagged), I spotted the tallest building and found myself compelled to inch my way to the top.
On my way though, I found a few light bulbs with wires coming out of them, which, after using the game's universal tactic of tossing Cappy at them, I was able to travel swiftly through to more easily reach higher points of the building. I soon found an entrance; so, in keeping with the spirit of exploration in this game, I made my way inside. I was then inside the inner-workings of the tower, complete with some familiar moving platforms, coins, goombas, question blocks, and collapsing wooden planks. This portion zeroed in on the more classic platforming elements Mario is known for, and provided more of an oldschool/Mario 3D World feel of getting from A to B.
Upon completing this trial, I emerged back outside the building on the roof, crawling my way like an inchworm to the highest point, and grabbing a moon piece that sat atop the tower. I then undertook the exhilarating feat of leaping off the tower onto the streets below. Afterwards, I experimented with more hat tossing moves and acrobatics, in addition to bouncing off the hoods of a few cars. Because how often has Mario gotten the chance to do that? Before I knew it, my demo had concluded. This had left a bitter-sweet feeling; for the enjoyable gameplay had largely lived up to the hype I had built up in my head going into it, yet at the same time, it seemed as though I had only scratched the surface with my New Donk City Tour.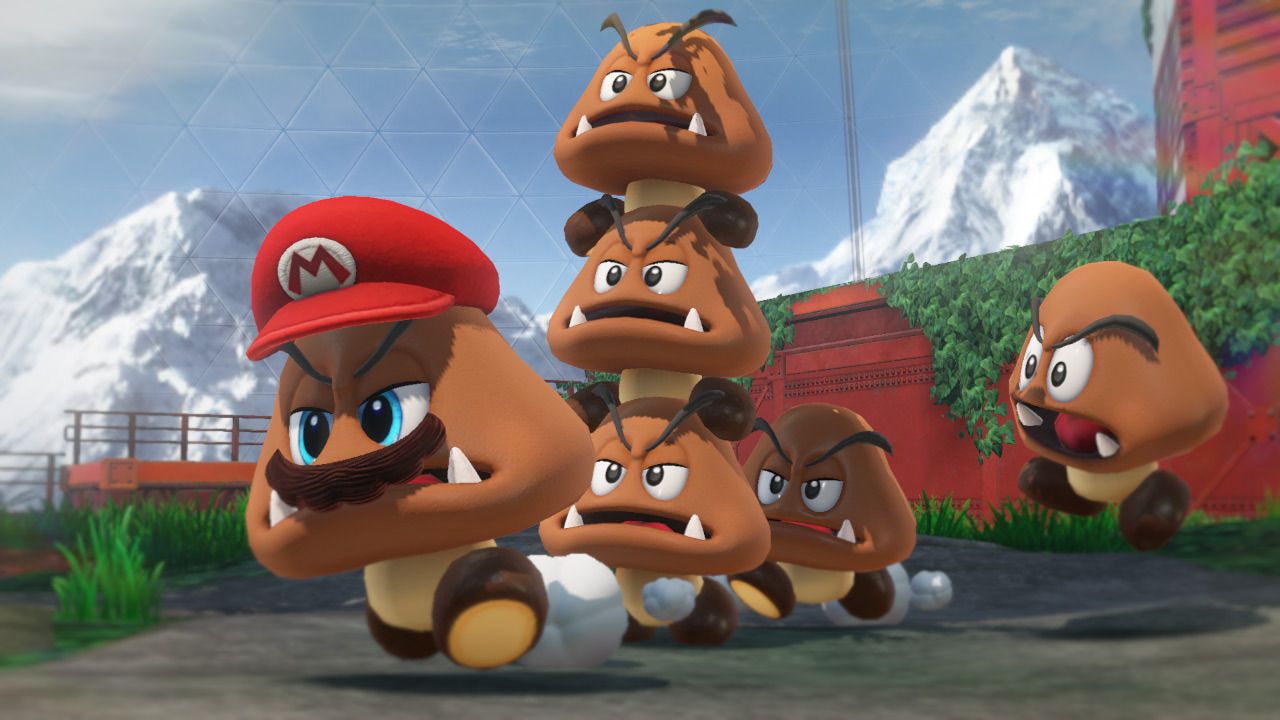 Thankfully, we'll all be able to fully lose ourselves in the city of New Donk, in addition to several other enchanting environments, when this platforming odyssey makes its way onto Nintendo Switch on October 27, 2017.
Comments
blog comments powered by Disqus