Days Gone Preview - E3 2017
We get a walkthrough of an alternate demo from the upcoming action game
PlayStation has always focused on producing new IPs and promoting innovation within the industry; this is especially true for brand new franchises and characters. And as such, it was exciting to see one of their studios introduce Days Gone at last year's E3. Developed by SIE Bend Studio, creators of Syphon Filter, this is their first new IP in over 15 years. A year ago we were treated to a concept trailer that mostly focused on showcasing the technology and the potential chaos of this third person action title. With release likely approaching in 2018, the studio had a bit more to show at this year's E3 and we had a chance to get a look at the game.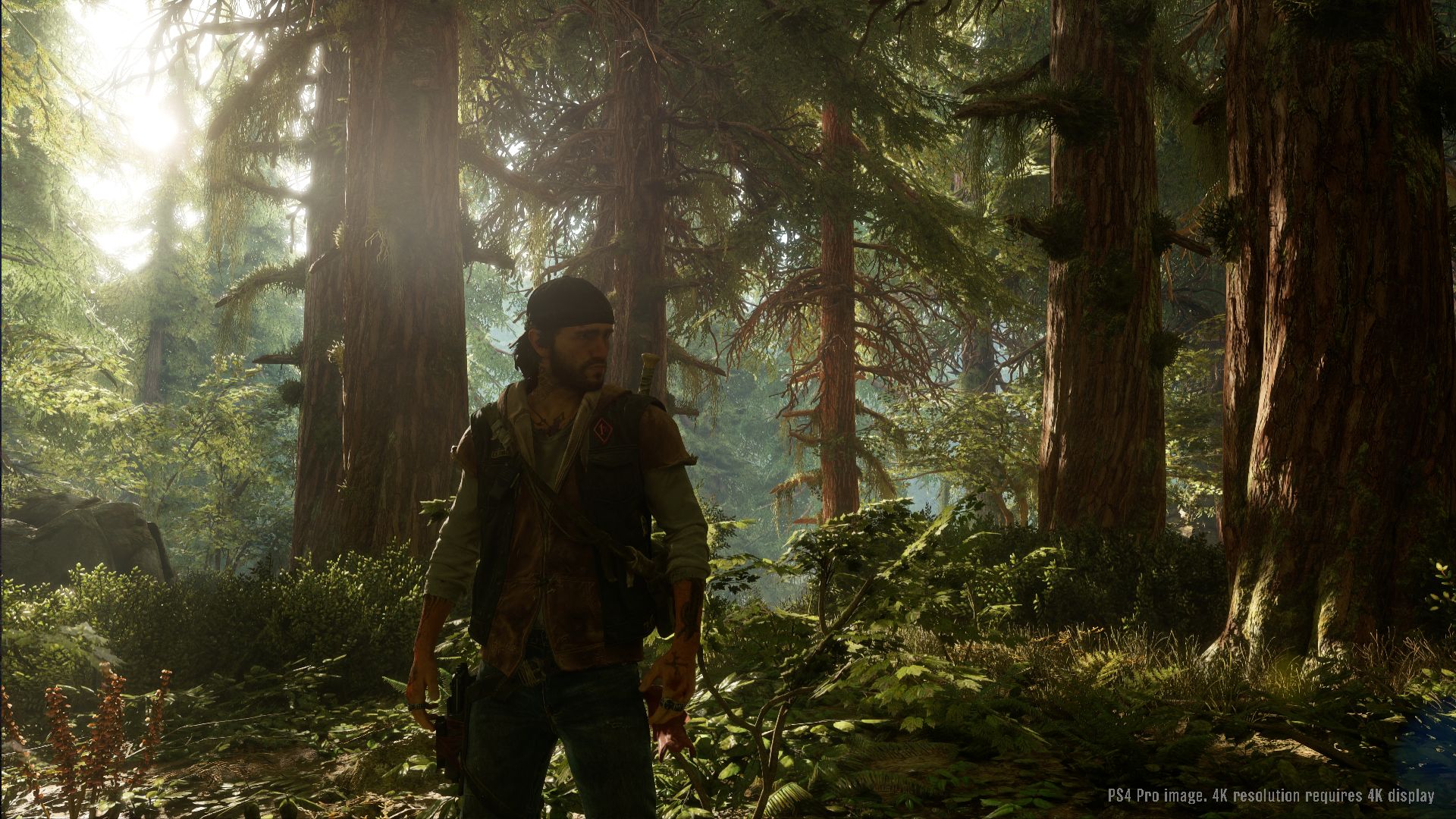 As mentioned, Days Gone is a post-apocalyptic survival game set in an open world. Players will assume control of "Deacon St. John", a drifter who prefers to stay on the move rather than settle at one of the survivor encampments. The game takes place two years after a global pandemic occurred and transformed millions into "Freakers", mindless zombie-like creatures. We got to see a demo that was the same in scope as the one shown during the PlayStation E3 press conference, but from a very different angle. Starting off in the survivors camp, Deacon was ready to leave but he is informed one of his friends, Manny, has been kidnapped by bandits. Thus, we set out to rescue him. Unlike the video, our demo takes place at night and also in snowy conditions.
Riding our bike, we choose to go off-road instead of following the highway as in the video. After following a few dirt paths, we eventually arrive on a small hill that overlooks a bridge. We get the binoculars out and observe the ambush – the same wire runs across the road that knocks Deacon off his bike in the gameplay video. We also see the ambushers hiding in the nearby bushes, discussing what they will do with their loot once someone falls victim to their trap. Deacon makes his way across the ravine and to the other side, where we sneak up and engage the ambushers in some melee combat. With them dispatched, in a few brutal takedowns, we cut the wire to ensure nobody else gets caught. We then spot our friend's bike and follow the trail to the nearby small bandit camp, as in the video.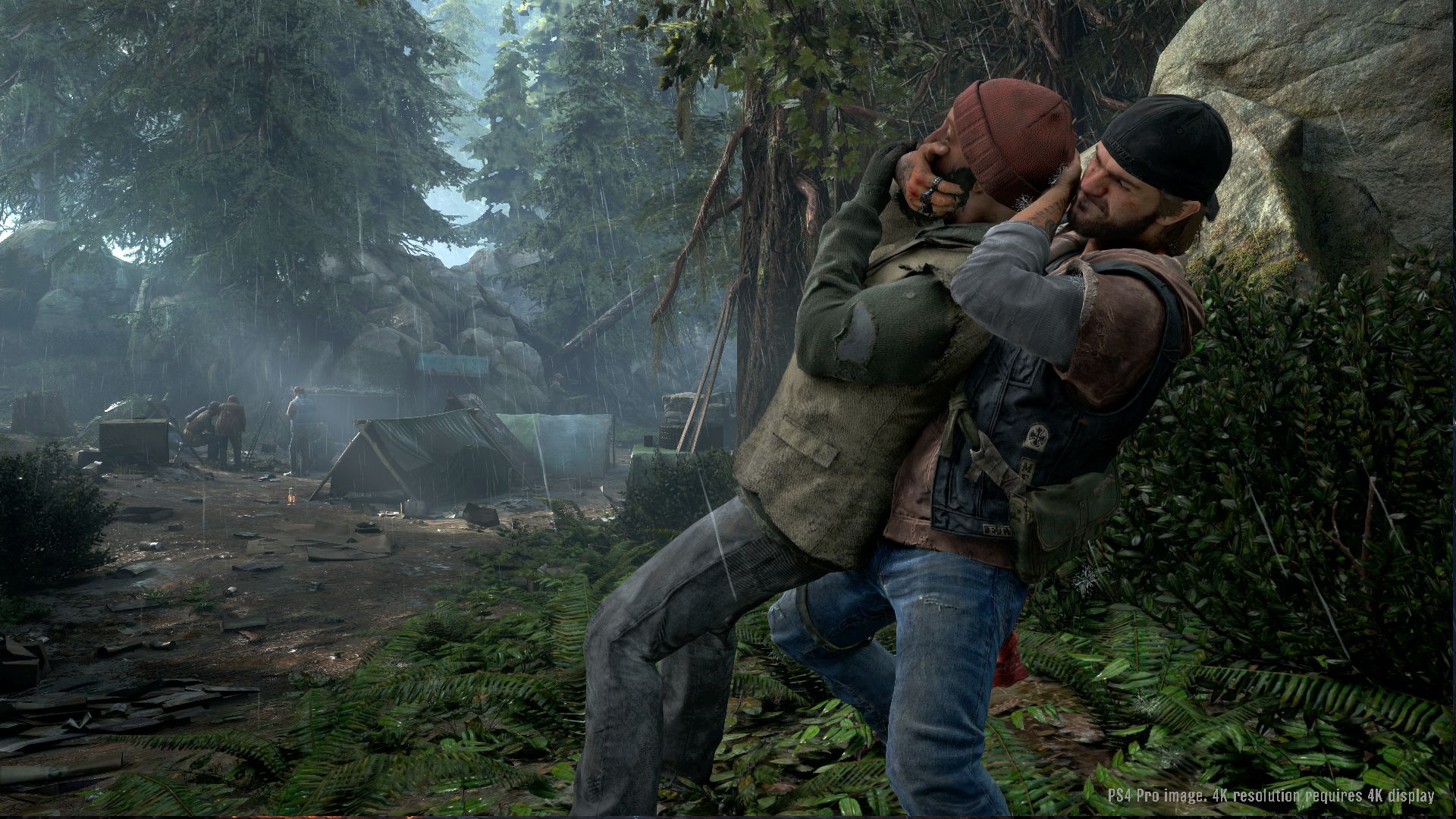 A few foes are sitting around a fire, so we setup a bear trap in the bushes and then attract the foes by throwing a rock in its direction. An unlucky soul wanders right into the trap and gets his foot stuck. As others rush to his aid, instead of passing by as in the video, Deacon sneaks around the tents and gets some supplies as well as a Molotov. The group is telling the guy in the bear trap to keep quiet or he will attract the Freakers; when he is unable to comply, they shoot him. In this dark moment, Deacon also uses the opportunity as they are all grouped together to throw the Molotov and light them all on fire, thus dispatching the entire group. We move on and soon enter the bigger camp, where our friend is being held hostage.
Here, in the video demo we witnessed Deacon unleash the nearby Freakers right into the camp and cause chaos. This time around, we approach the camp from a different angle, and silently dispatch a few patrols along the way. We get ahold of a sniper rifle, and begin picking off targets in the camp. Soon an alarm is raised, and Deacon whips out his looted AK and begins laying down fire. This very head-on approach hopes to showcase the action mechanics of Days Gone, and they looked to be a slow yet satisfying mix of cover-based shooting. Comparisons to The Last of Us wouldn't be too far-fetched. Moving cover to cover, we eliminate foes that converge on the camp from multiple angles, and pick up their dropped weapons and ammo. A few of the soldiers are clearly of the "heavy" type, wearing lots of armor and taking quite some time to go down. With the camp cleared, we free our friend from captivity, and witness the appearance of the seemingly infected bear. After Manny accidentally knocks over some items and causes noise, the bear spots them and lets out a roar, where our demo ends.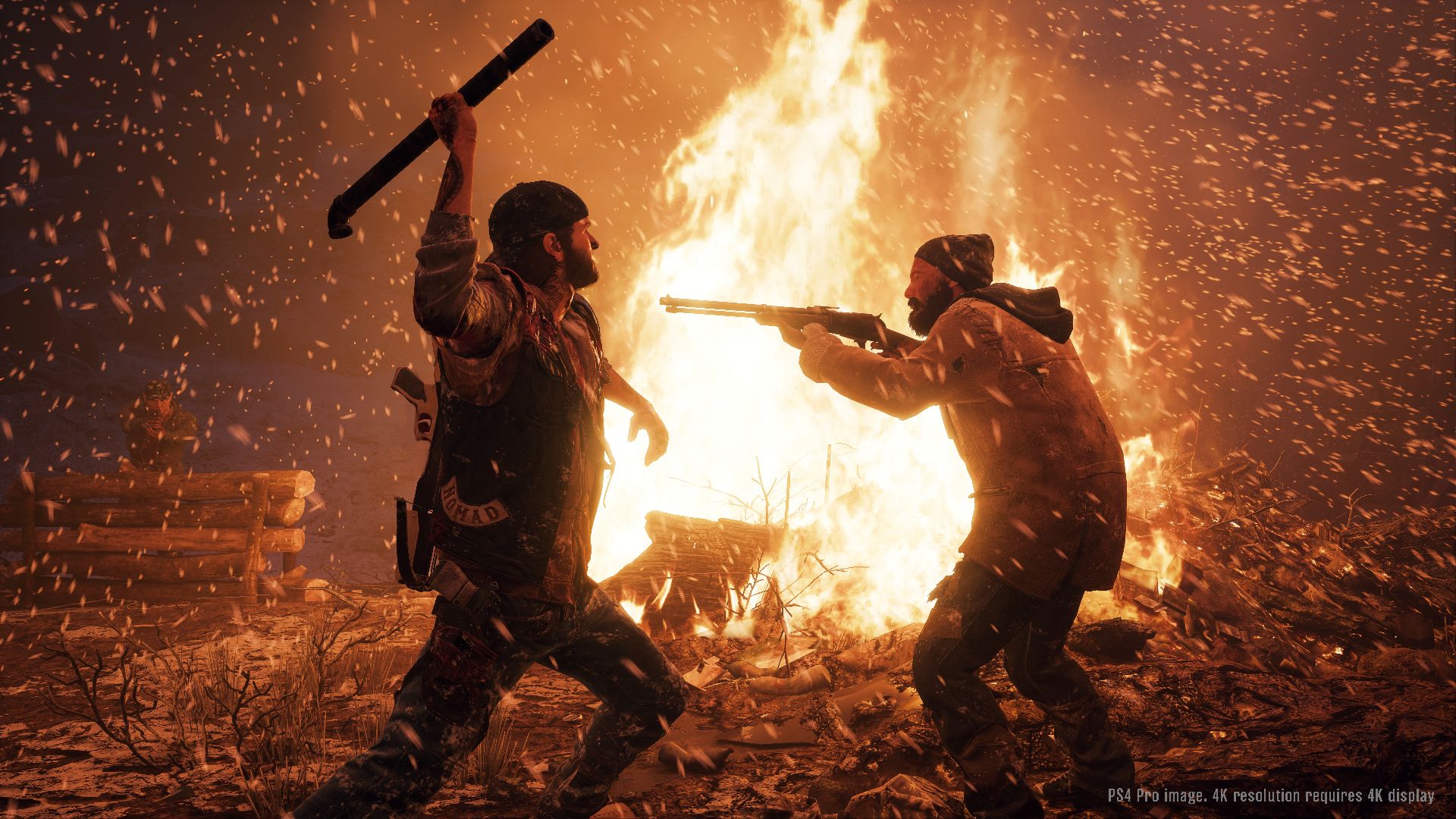 Through our presentation and the publically released gameplay video, it's clear that Days Gone is going to offer at least two or three avenues of approach to each situation. It may seem fairly typical design for a modern open world action game – stealth vs guns blazing – but the design and gameplay seem to be of high quality thus far. It's an interesting setting, and the Freaker interactions open the door for utilizing them in unique ways. Look for Days Gone in 2018, exclusively on PlayStation 4.
Comments
blog comments powered by Disqus