Super Lucky's Tale Preview - E3 2017
We explore a few levels with this charming new platformer
You might not be familiar with Playful Corp's previous offering, Lucky's Tale. Launched as a Oculus Rift exclusive, the game attempted to reinvent the platformer genre for virtual reality, giving control of the camera to the player through movement of the head, as opposed to the controller. The results were mixed, but now Playful Corp is returning its 3D platformer to more familiar territory with Super Lucky's Tale, a sequel to the first game.
While Super Lucky's Tale might have come off as an odd game to showcase during the Xbox E3 2017 press conference, I think it might have more of a reach than initially realized. A few years ago, the desperation for the return of the 3D platformer led to the wild popularity of developer Playtonic Games' Yooka-Laylee Kickstarter, a game that launched this year to a mixed reception. This might mean that Super Lucky's Tale is the right game at the right time. A colorful and joyful 3D platformer that is sure to draw comparisons to Rare's golden age.
The game starts me in a tutorial arena, where the jumping, double jumping, spinning, and burrowing mechanics are explained. Super Lucky's Tale might have a light and fluffy look to it, but the game has a surprising amount of difficulty as well. This is in large part thanks to the timing of the platforming. Lucky tends to hang in the air for quite a bit, but doesn't get the amount of hops one might expect, even with the double-jump. The best asset I found while trying to jump was using the spin move to propel myself forward.
After acquainting myself with the controls I leap to a giant wooden door, where I encounter Mr. Mittens, a ninja-like cat who tells me that I'll never be able to catch him before disappearing in a cloud of smoke. With that, the doors open and I'm brought to another colorful floating island where I encounter a little golem who has lost their body. They entreat me to carry their head to a new body and offer to wake up the giant golem who can help me catch Mr. Mittens.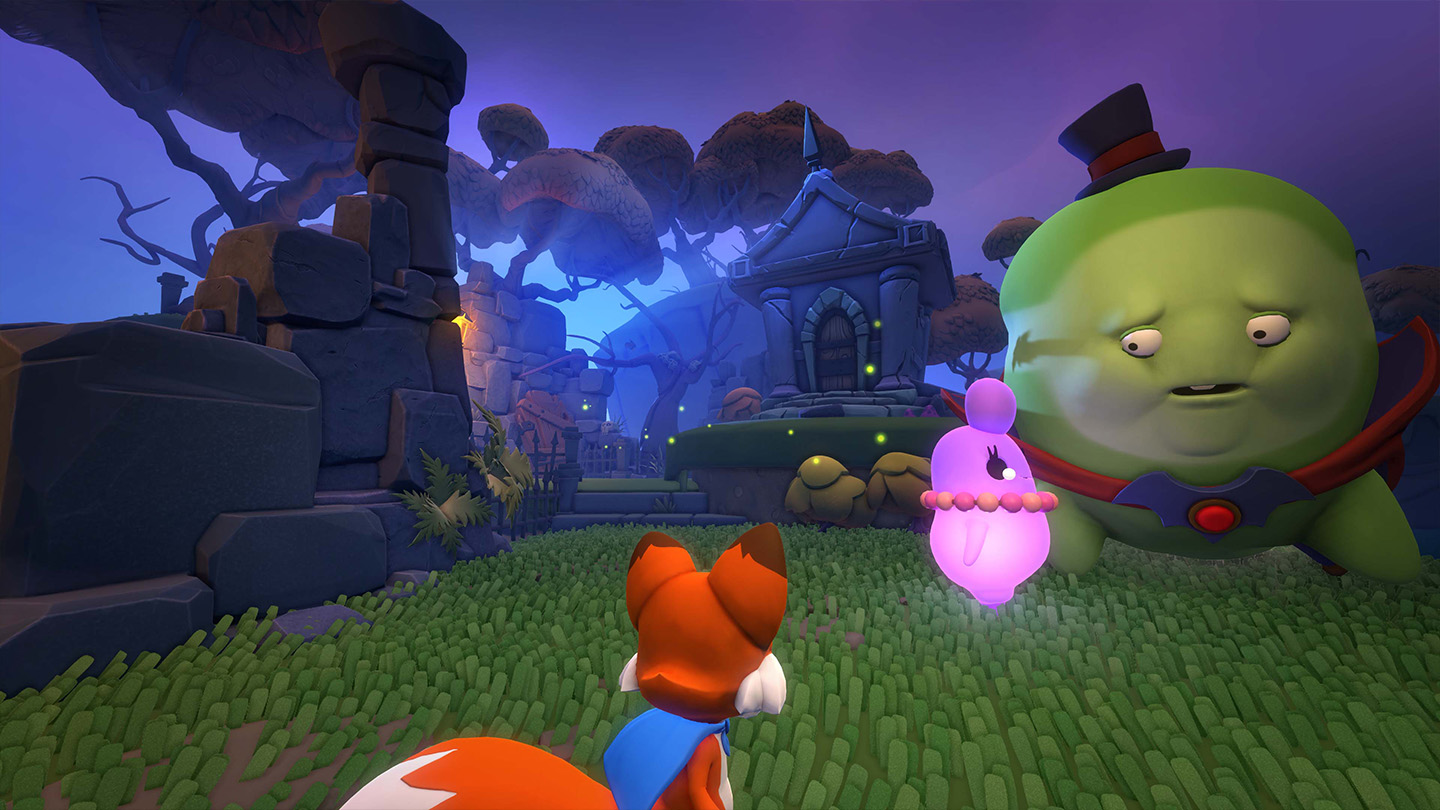 I carry the first golem to their body and notice that there is room for two other golems, who I begin to scour the level for. The enemies are the kind of platforming staples one would expect; they all spit fire, attempt to jump on top of me, or shoot spikes out of their body as I get close. It's all very challenging until I find there's a dodge button that allows me to duck out of danger and sometimes smash into enemies, taking them out.
In addition to the other two golem heads, there are also numerous coins that can be found and the letters of Lucky's name hidden throughout the levels. The original Lucky's Tale lacked many hidden secrets or side items to locate, and it seems like Playful Corp has taken this criticism to heart, or maybe they were able to do more with the game now that it isn't being specifically developed for the Oculus Rift anymore.
The visual language of Super Lucky's Tale is also very similar to Rare games and other 3D platformers. The game didn't take much time to explain itself to me, but basic instinct instructed me to dodge fireballs or use floating drum-like platform as springboards to reach distant locations. Playful Corp have built something that communicates a lot of information without having to over-explain itself.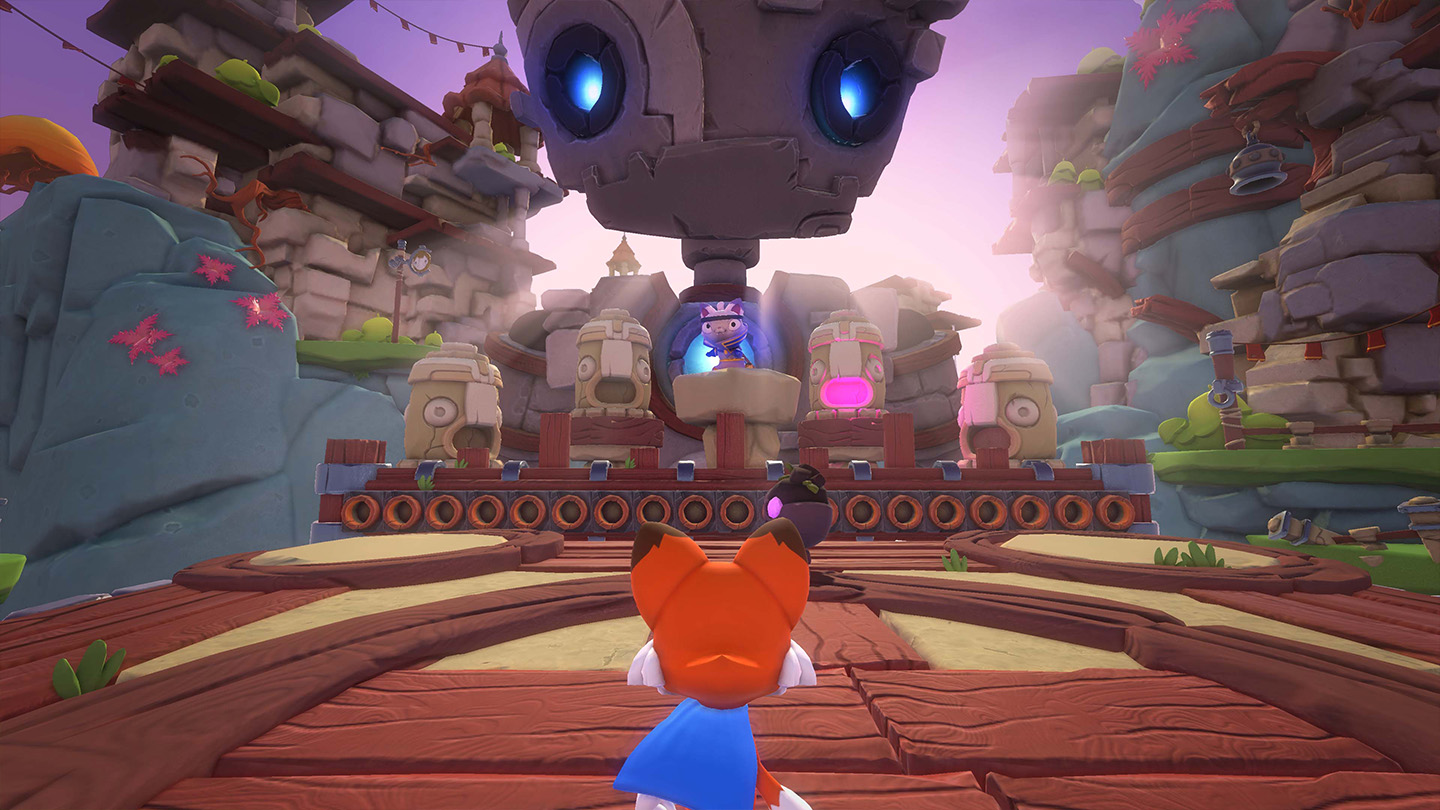 After I've found the second golem head, I drop into an underground world to find the third head. Here the game switches from 3D to 2D as I pick up the golem head and attempt to walk it through a series of fire traps that are littered throughout the underground. This was my favorite part of the demo, with Lucky's abilities stripped way, I was forced to navigate a path through the fire almost like a puzzle. This all concludes with a giant fire golem chasing me through the final stretch, until we come to a shaft that takes the little golem head and Lucky back to the surface.
With all three golem heads replaced the giant golem comes to life and Mr. Mittens reappears, begging for me to chase him through another underground labyrinth. I do and finally he turns on me and challenges me to the demo's climactic boss fight. Mr. Mittens summons minion golems who attack me, but also provide the perfect weapon to defeat him. Using my spin attack, I can shoot the golem heads at Mr. Mittens for some damage. I do this a few times and to retaliate, the feline foe summons fire traps to attack me. While this is happening the giant golem I woke up drops health and coins for me, aiding me in the fight. After I've hit Mr. Mittens enough times, the demo ends.
Super Lucky's Tale wasn't the most exciting thing I saw at E3 this year, but it certainly has a charm that is all its own. I really enjoyed the short time I spent with it and am intrigued to see if the game delivers a richer platforming experience now that it's on more platforms.
Super Lucky's Tale is slated to be released late 2017 on PC and Xbox One.
Comments
blog comments powered by Disqus