The Artful Escape Preview - E3 2017
We get an early look at this strange but enticing game
The Artful Escape is a game that defies genre classification. It's a platformer to be sure, but there isn't a lot of challenge to the platforming. The jumping and hurdling feels more like a means of exploration, rather than the bread-and-butter of the game's mechanics. It's also part rhythm game, with other-worldly jam sessions taking place in between platforming sections. But even still, these descriptors hardly do The Artful Escape justice. Not to jump into hyperbole with this comparison, but the game that The Artful Escape most reminded me of was Journey, as in it has traditional gameplay elements, but is far more concerned with visual flair that engages the player in interesting scripted sequences.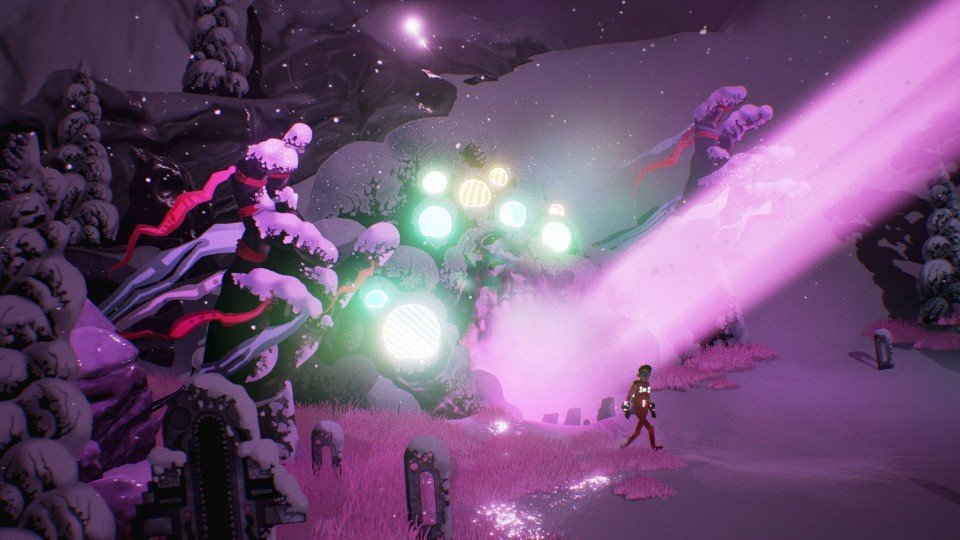 I begin the E3 2017 demo talking to a spirit of some sort. The ethereal humanoid hovers in the air. I can choose my own dialogue here, but it feels a little superfluous, more like the dialogue is designed to help you get a grasp on the character of the protagonist you're playing rather than to alter the narrative in a meaningful way. The banter has a very hipster feel about it; this guy wouldn't feel out of place trading barbs with Chloe from Life is Strange, though The Artful Escape has better writing. After the spirit has left, I'm free to wander the trail before me.
The character animations are a little stiff, but it's hard to nitpick with such a gorgeous background. Running through the unsullied snow, sparkling as if the northern lights are shining upon it, is immediately visually arresting. As I leap through the small bit of platforming, the music takes me in. It can be hard to play atmospheric games like this on the E3 show floor - the chaos and noise can sometimes swallow games whole with a quiet, simple ambience like this. But The Artful Escape stands its ground. Instead, it transports me away, and quickly I'm won over by its ironic musings, self-awareness, visual beauty, and calming tones.
The platforming is simple enough. It's a little float-y, but very forgiving. One top of the double-jump I have at my disposal, I can also hit the jump button a third time to hang in the air, strumming a note on my guitar. I run, with very little caution, ahead to an empty chasm; here I belt out a guitar solo to create a bridge. My spiritual guide appears again and encourages me to work on how I introduce myself, advising me that a commanding stage presence is important in this world.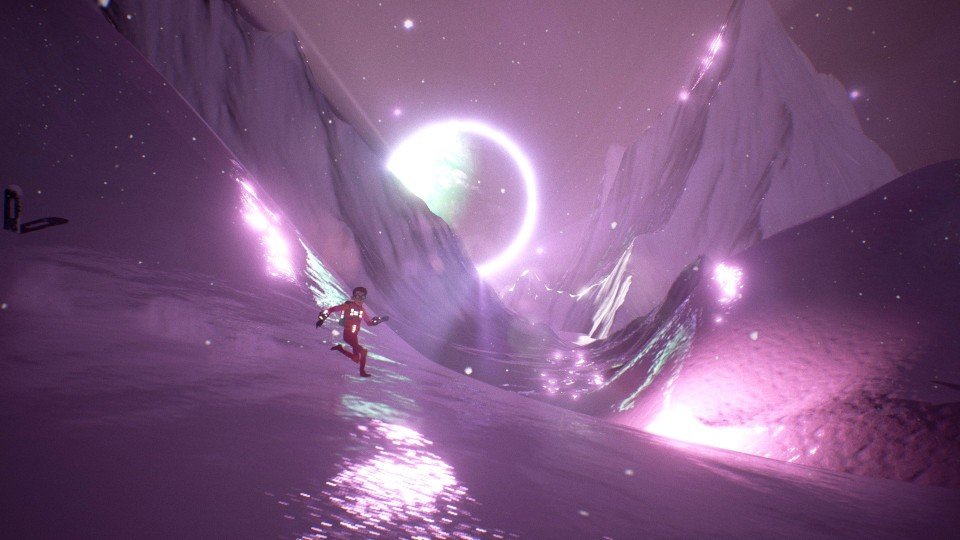 I cross the bridge and soon I come across an enormous creature that resembles a monstrous spider. I introduce myself as the spirit instructed me and the spider encourages me to jam with it. I whip out my guitar and we rock out together - the gameplay of which is a rhythm game that takes a couple tries for me to master. There's more dialogue about time and space and I'm allowed to pass by the spider.
I come to a cliff and here I meet a giant beast of light. After another quick dialogue exchange, I leap off the cliff and grab a snowboard, which seems to materialize out of thin air, then begin sliding through the snow that awaited me below. As I pass trees they light up and chime musical notes. As I come to jumps, I use them to propel myself over any gaps in the snow - continuing to slide down until I reach the end of the demo.
It's difficult to write about The Artful Escape, because so much of it dodges the commonplace video game lexicon used to describe games. The best way I can describe it is that it felt like some sort of video game fever dream, but there's more substance to it than simply throwing visuals and music at you. While the dialogue choices don't seem to change much in the game, they did hint that the protagonist is on a larger journey than what it might initially seem. I got the sense that the protagonist was not simply traversing this ethereal world, but searching for something in it, particularly something that related to their music which fills the game.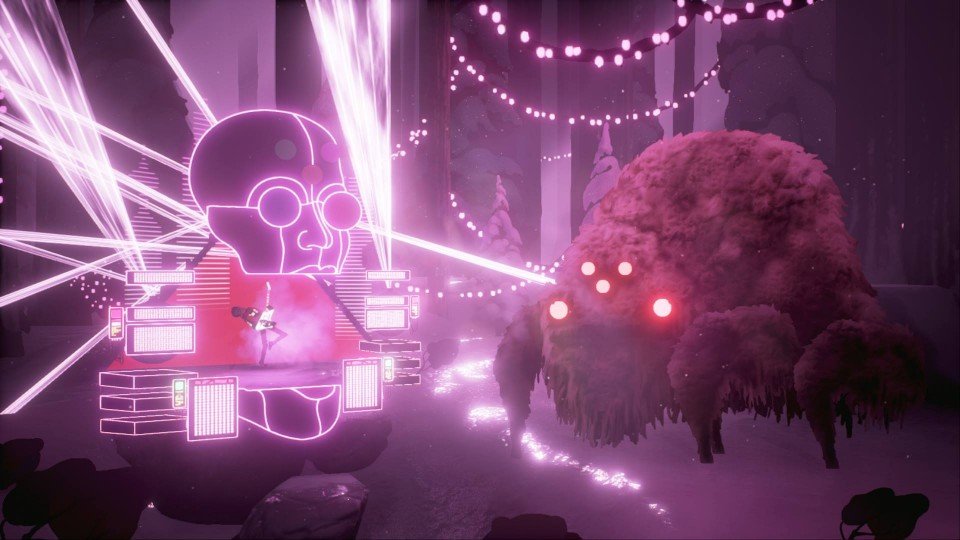 I can't really provide more than speculation on the narrative and the overarching tone of the game, but this is part of what intrigues me about The Artful Escape. It might be beautiful and thrilling, but it seems like underneath all of that something significant is waiting in the wings, hopefully adding to the wonderful work already on display. I'm very excited to see more of The Artful Escape, and I would suggest you keep it on your radar as well.
The Artful Escape is the debut release from Beethoven & Dinosaur, an Australian studio. It will be released for PC and Xbox One, with no launch window currently set.
Comments