Metal Gear Survive Preview - E3 2017
We try out the multiplayer in the upcoming spinoff action game
I recall seeing the reveal trailer for Metal Gear Survive and imagining Kojima spinning in his grave… but he's still kicking and so is this game. The latest instalment in the Metal Gear franchise (which I feel a little bit dirty saying) follows in the footsteps of Metal Gear Solid V: Ground Zeroes, but delves into an alternately bizarre timeline in which wormholes have opened up, transporting you to another dimension. Here you must, as the game name implies, survive. A "survival action" game, there is both a single player and multiplayer component to this, and I was able to sample the latter at E3 2017.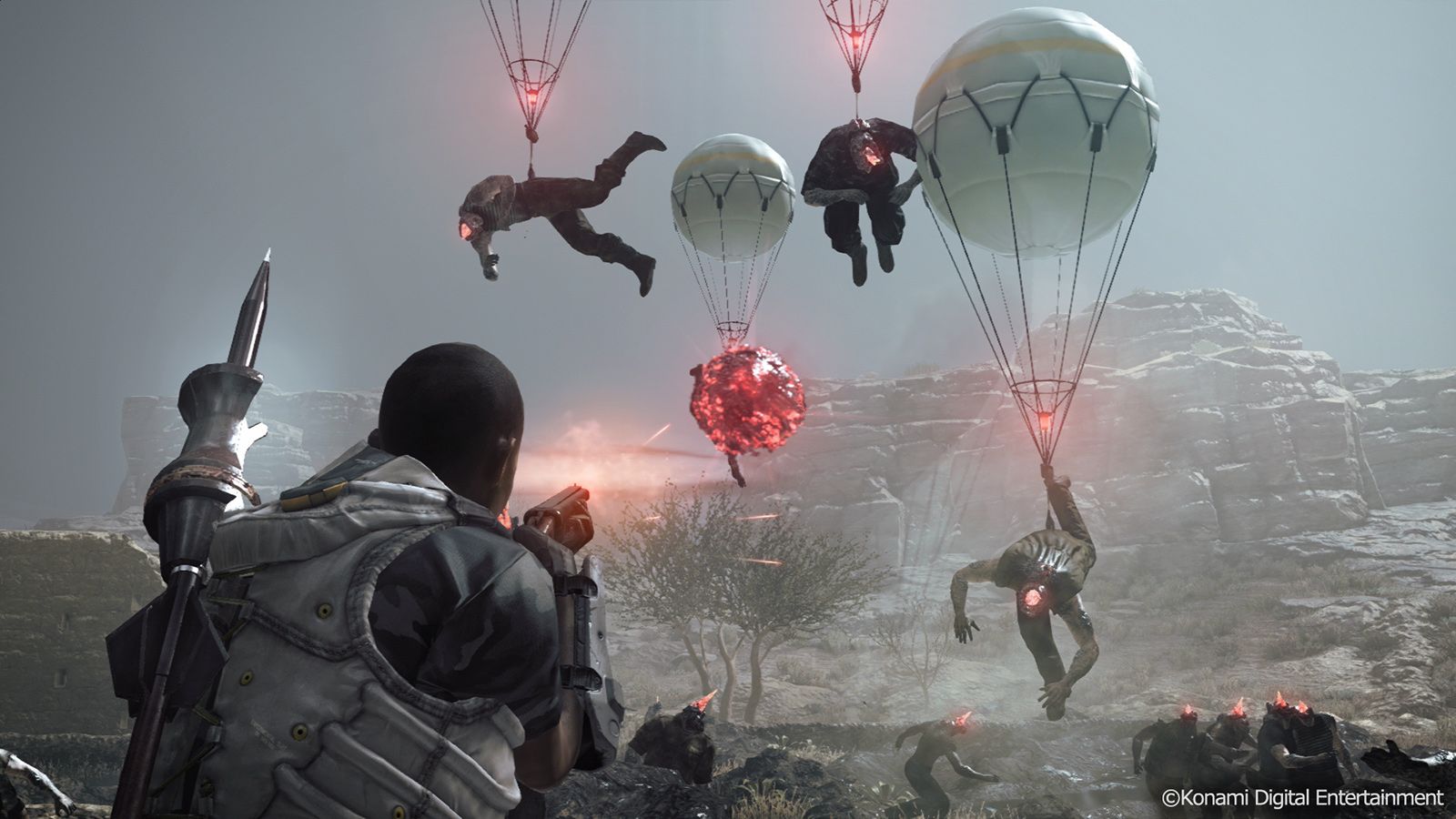 So, multiplayer is basically tower defence but within the FOX engine. You start off by choosing your character. For reasons of brevity, a handful of "classes" were already created for us. But if you want to create a purple-skinned giant with an afro, Metal Gear Survive has you covered. I opted for a melee-focused woman, who was equipped with a serrated blade, spear, revolver and shotgun. The other classes were pretty standard, based around shooting and melee. Combat, movement, interaction, etc. is nearly identical to Metal Gear Solid V and conforms to most third-person archetypes. As someone who played MGSV a lot, everything fell into place rather quickly.
Before heading into the game proper, there was a short tutorial area that took place in some kind of digitized realm, like you were in the Matrix. Obviously, the first thing I did here was run around with my shotgun, blasting my comrades in the face, of which there were four. You get used to setting up defensive tools like fences, barbed wire, gun turrets—the usual, and I'm sure the assets were imported from MGSV.
We were eventually dumped into the desert. I'm not saying it was a map from the Phantom Pain or Ground Zeroes, but I will allege that it felt that way. The battlefields in these games were never really bursting with colour, and similarly, there was a lot of grey/drab in this world. Our defensive point was a bombed out building. With its concrete carcass, you had multiple points of entry, ranging from plane wreckage used as a ramp, to simple exposed spaces between brickwork. The area itself was quite claustrophobic, and within its centre was a large generator.
This generator is the object which you are to protect at all costs. It powers the thing that leads you home… or something. You also have re-supply stations, and crafting benches for items and ammunition. Each encounter with the "wanderers"—zombies—lasts for three rounds, each increasing in difficulty.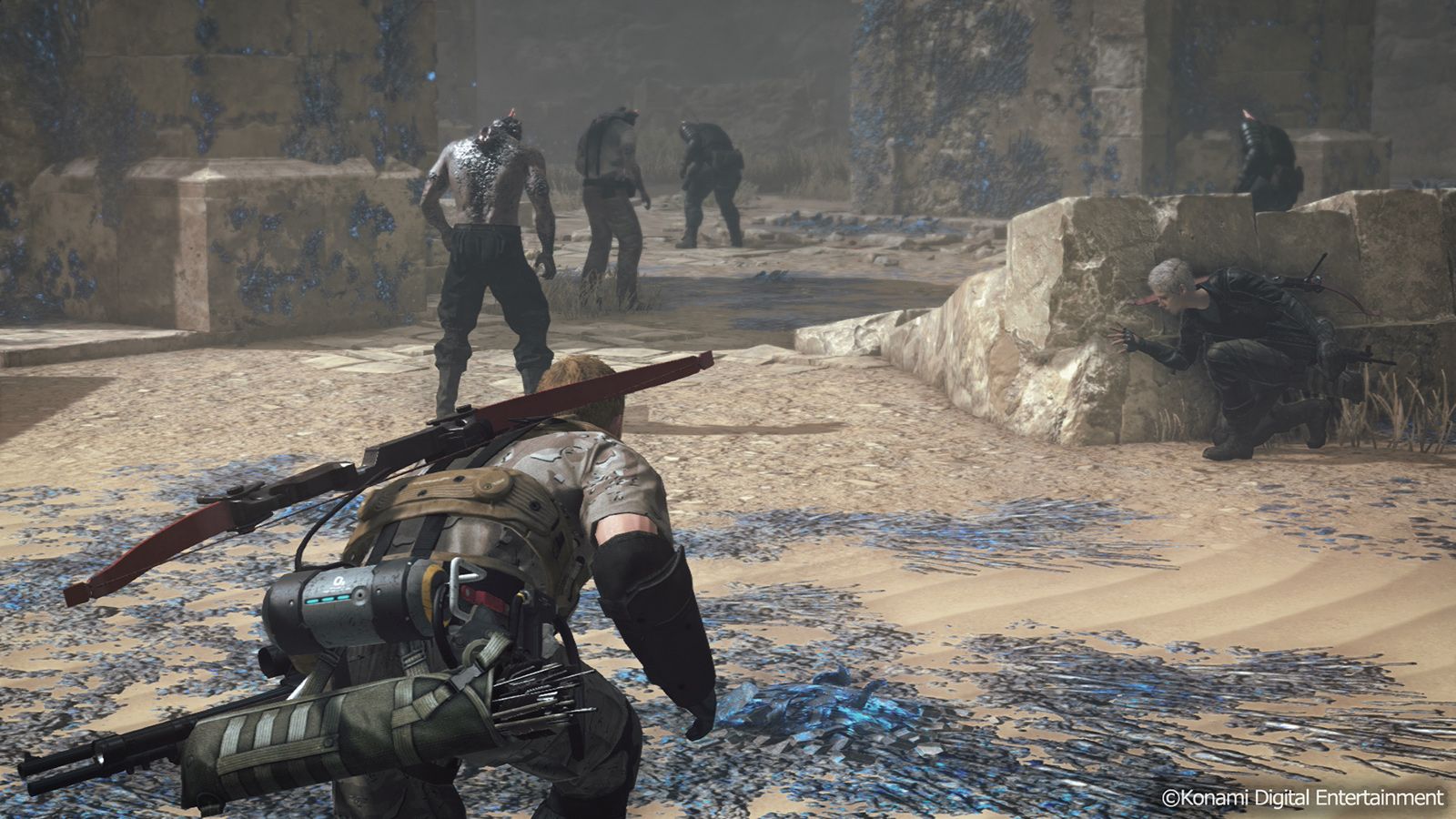 We began the prep for the first round by setting up our defences. My character had standard wire fence, which I deployed around the generator, and I added some barbed wire to really tie the scene together. Scoping out the various exits and entrances, my comrades and I deployed turrets (which you can control) and oil traps (which my friends had a tendency to slip on).
The wanderers soon came shambling down the road. The match plays out as you would expect if you have tried any kind of third-person tower defence game: keep an eye on your minimap and do your best to stop them from attacking the generator. Among the enemies, there are your standard zombies, fat ones that blow up after taking a certain amount of damage, and armoured enemies that require a little more finesse to kill.
When enemies bunched up together near a gate or on the road, I mowed them down with the mounted turret or lobbed a Molotov cocktail their way. Rarely during the first wave did any make it into the compound itself, and I actively went searching for some wanderers' skulls to bash in.
After the first round, while the time counts down to the second, you have the opportunity to embark on a short side-quest that will help you in the upcoming stage. This requires jogging off to a nearby locale and killing something to take some items. While I graciously bowed out of the first mission, I jumped in on the second, right before the final round.
The mission was a quick jaunt over a not-to-distant hill, where I came upon the remains of some kind of temple or building. Here, I used my spear to skewer a couple of armoured wanderers, then, with my pal, we both jumped into our own Walker Gears. If you're not familiar, imagine a Segway on steroids or a small transformer. It has two bipedal legs and little area for you to sit in. Then, both of us galloped back to base where the third wave was about to hit.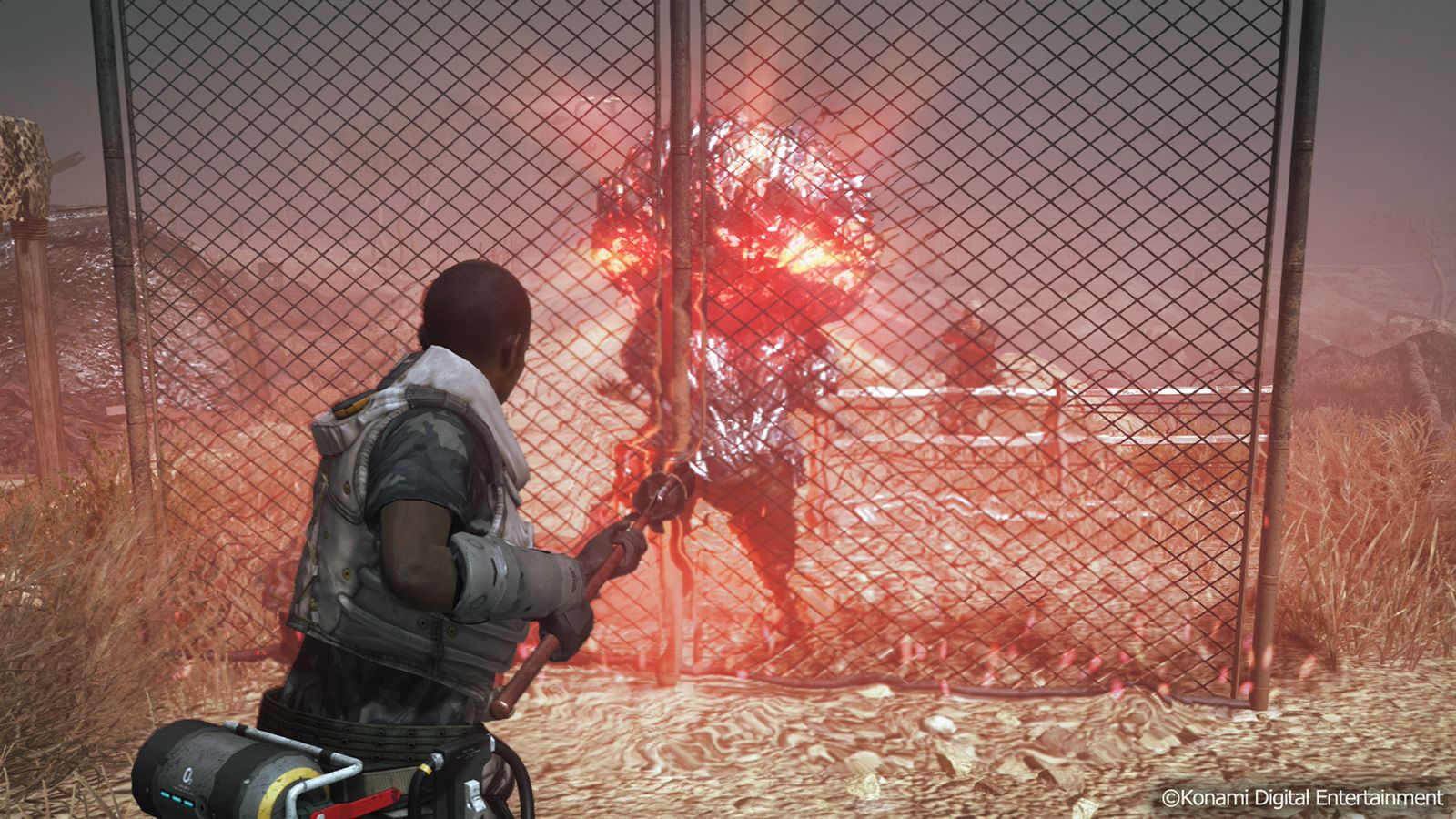 While the first two rounds were quite pedestrian and easy, the third was a lot more interesting. The greater number of enemies actually meant you had to run back and forth between openings, creating a sense of urgency. I was hopping out of my pet Gear, setting traps, then jumping back in and finishing off enemies with the machine's Gatling gun. You also had armored wanderers dropping in via the fulton/parachute system, so the area looked like a particularly ghastly children's birthday party complete with zombie piñatas.
Perhaps the most tense moment—which was totally my fault by the way—was when one of the fat, explody ones stumbled towards our guarded generator, and I thought the best course of action was to light it up. Upon doing so, it exploded and took away half of our generator's health.
But it was all good in the end. We survived the three rounds, which were relatively simple. At the end, you are given a rank and points based on your performance. You also unlock a series of loot chests that spit out upgrades and cosmetic items of varying rarity.
As an aside, I don't really sympathise with my character. If a bunch of people appeared from another world and started protecting some generator, I wouldn't be too happy with them. In truth, the whole game does feel like it should have been some weird, unlockable mode for MGSV, or an expansion like Red Dead Redemption's Undead Nightmare.
But Metal Gear Survive was a fun distraction for the 30-or-so-minutes that I played it. I don't know if it has the legs to go further than that, but I'll save full judgment for when it is released later in 2017, on PlayStation 4, Xbox One, and PC.
Comments
blog comments powered by Disqus