Far Cry 5 Preview - E3 2017
We play through an explosive mission from the upcoming open world game
I was on my back home from E3 2017, riding to the airport with someone else who had been at the expo. They asked me what I had seen during the event, and when I brought up Far Cry 5, their eyes lit up. They asked me how it was, and I struggled to find the right description. It would be easy to say that my time playing Far Cry 5 was similar to all other Far Cry experiences that I've had, but it wouldn't be fair. The series is relatively established at this point and even the most radical changes aren't earth-shattering.
If you're wondering what those changes are, there's a couple of cool ones. Far Cry 5 will allow for character creation, as opposed to the previous two games where you were assigned a character (in Far Cry 2 you could pick from a list of characters). The rest of this chapter's new additions are pretty straightforward - more vehicles, more choices, more world, more everything.
But these new additions aren't really what's exciting people about Far Cry 5, as I said to my newfound friend on my way to the airport - the series is far less about what you can do and more about where you do it. This, seemingly, is what has really spoken to fans. The concept of exploring the American wilderness and battling a fanatical doomsday cult has provided early imagery that has made Far Cry 5 immediately worth discussing. The choice eschews a lot of the exoticism the series has used before in favor of something that feels far closer to home (specifically for Americans) and more personal. For those who haven't been keeping score, the previous games were set in Africa, a tropical island between the Pacific and Indian Oceans, and the Himalayan Mountains. So moving the series to Big Sky Country certainly feels like a unique choice - especially since Far Cry games usually feature a supernatural element to them.
You might be wondering how much of this came through in my time hands-on with Far Cry 5. The answer is nothing... and everything.
Unlike most demos, there wasn't really an end to my time with Far Cry 5. At a certain point, the developers would have to cut me off and I'd have to stop playing, but even after completing the liberation mission that was available, the team managing the game station encouraged me to keep playing and experimenting with the mission - and I'm glad I got the chance to do that.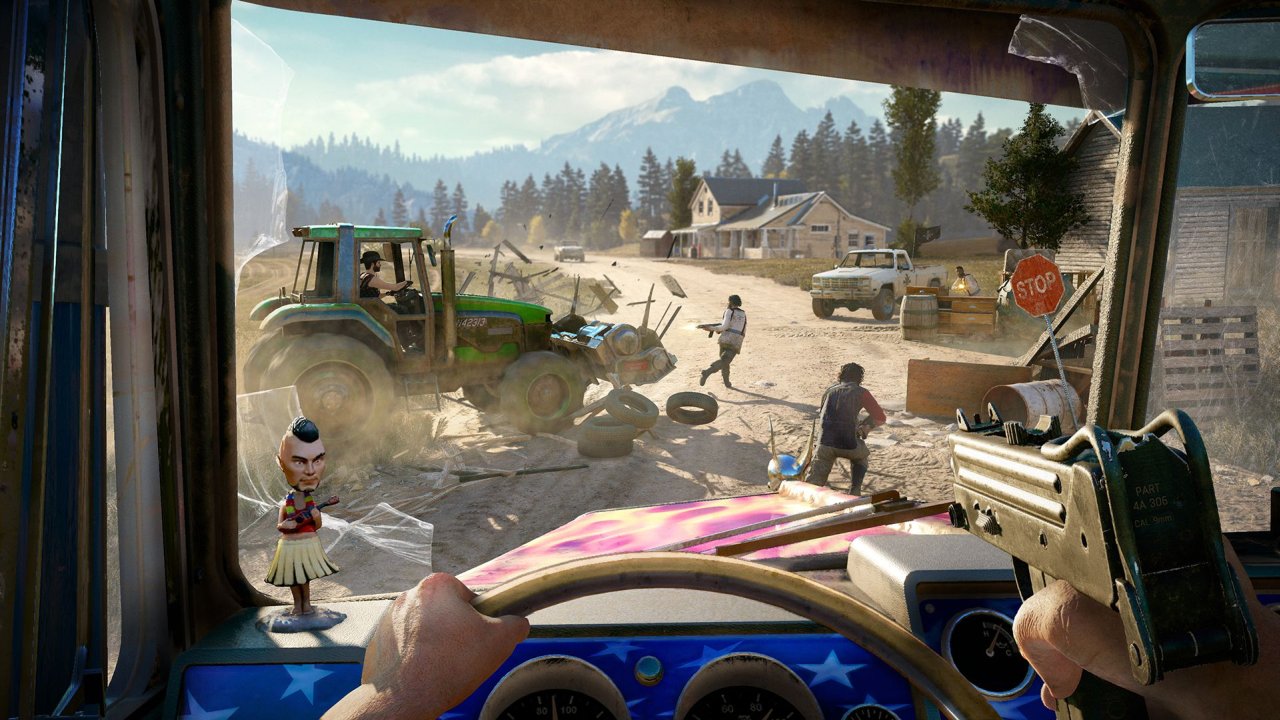 Before starting, I was able to choose between three guns for hire. There was a woman, a man, and a dog - I'll be honest, I don't even remember the names of the man and woman because when you have the opportunity to roll with a dog named Boomer, you do that. I started my demo by a water tower, a vantage point overlooking the town. I pulled up my menu and saw that the developers had been pretty generous with my starting supplies. I had a revolver, an uzi, a machine gun, a repair torch, a baseball bat, and four sticks of dynamite. Needless to say, I started with the dynamite.
As I snuck down, closer to the town, I ran into a clump of militia soldiers, talking about their service to the "prophet" - a patriarchal head of the aforementioned doomsday cult. I interrupted their conversation by throwing a stick of dynamite and the results are even better than I expected. Where there had once been six militia members, now there were none. Instead all that remained was a giant cloud of dust and debris kicked up from the explosion.
Chaos immediately erupted with every soldier in the area coming to see what had happened. I thought about holding my ground, but quickly realized I was going to be significantly outgunned. Instead, I hightailed it out of that position, sweeping along the outskirts of the town, ducking under laundry hung out to dry and leaping over trash cans and chainlink fences.
I ran for it while gunfire zipped over my head, occasionally stopping to take out a cultist who got in my way - and trying out the baseball bat, with less than great results. Finally I saw a little bridge that I could duck under and prepare for incoming waves of enemies; a bit of fortification that the militia would have to funnel into.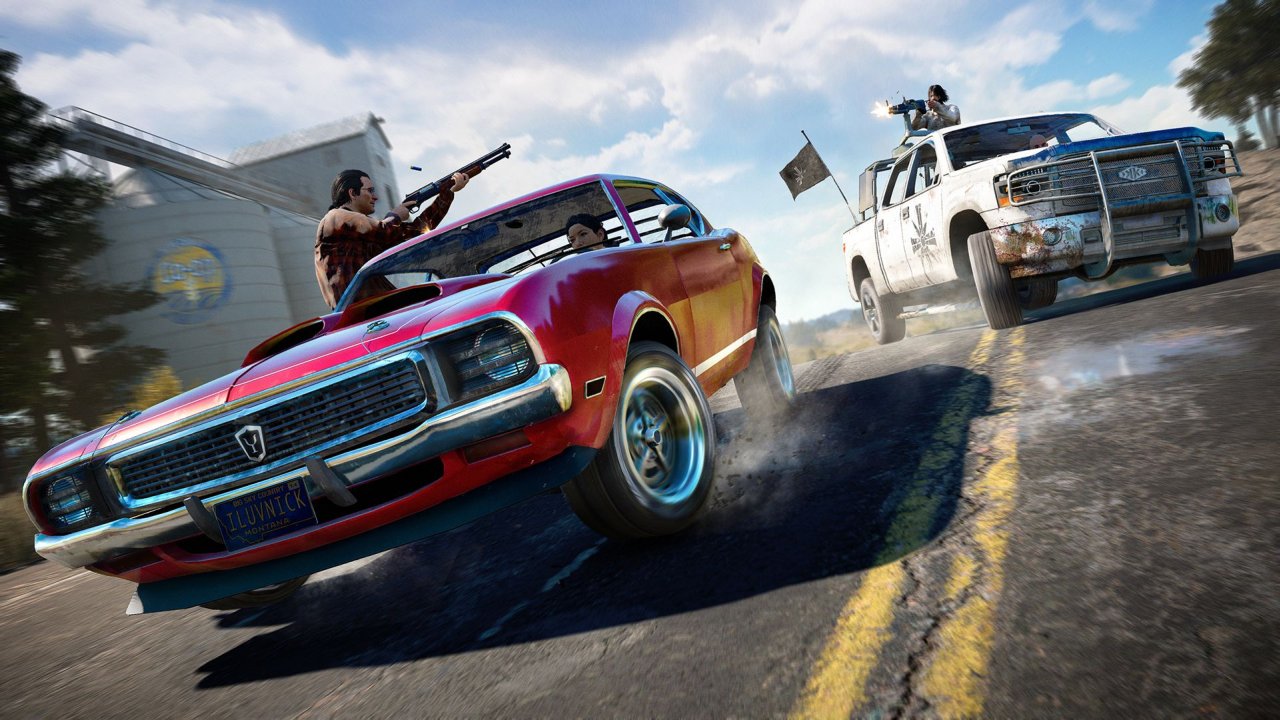 I slid through rock and dirt, finding my way under the bridge. Once underneath the cover, I strafed between the sides of the bridge. When I missed an enemy, or someone got the drop on me, Boomer would tear through them with snarling rage. The electric guitar riffs and pounding drums were the theme music to the slaughter. I weaved back and forth, letting my machine gun to the talking. Still, everyone knew where I was hiding and before long, they had me surrounded again.
Once again, I found the militia had clumped together on the far side of the bridge and I knew it was time to use my good friend, Mr. Dynamite. Just as before, the results were better than I could have hoped for with almost every member of the militia being taken out in one fell swoop. After I had some time to gather myself, I healed and went looking for the lone remaining straggler. It didn't take long to find them and take them out. With that, the town was liberated.
Yet, there was still some time left and I wanted to continue experimenting with Far Cry 5. The second time I tried a stealthier approach, sneaking around behind a church where I heard choral music. When I pulled in close to a couple soldiers, hoping I could get the drop on them, they saw me and chaos erupted again.
I was in trouble this time, surrounded with nowhere to hide. Lucky for me, an enemy pulled up in a truck, giving me the perfect escape vehicle. I used my revolver and commandeered the pick-up. I tried to drive through the town, but there was too much chaos and the truck exploded as I rolled out from the driver's seat. With nowhere left to go, I ran into the church, running and sliding to avoid the gunfire. That was when I found the shotgun, and knew that I was saved. I turned and blasted the cultists as they rushed the door, making sure that no one was getting in.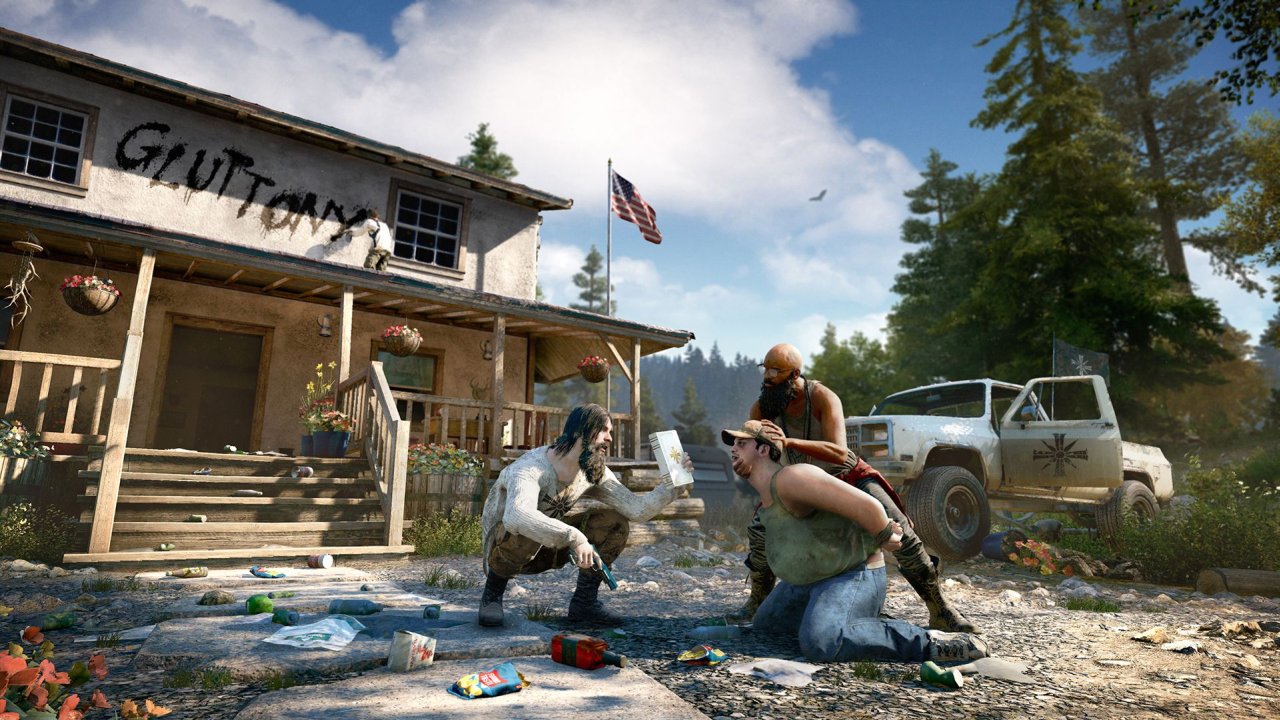 That was when my all-too-short time with Far Cry 5 came to an end. For those who are familiar with the series, it might sound a lot like the Far Cry experience one would expect. However, the American iconography of the game really does make it something special. It's still the loud, chaotic nonsense action trip, but it's something else altogether to see it set in your own backyard.
Far Cry 5 is set to be released in February 2018 on PC, PlayStation 4, and Xbox One.
Comments
blog comments powered by Disqus