Madden NFL 18 Preview - E3 2017
We check out the updates and the new Longshot mode in this year's sports title
It's been a while since Madden was able to grab my attention. Once the "it" franchise in sports simulation, Madden has seen a bit of a rough patch in recent years as it fell behind the biggest trends in the genre. First MLB The Show stole the spotlight with an in-depth career mode that featured more nuance and complexity than Madden ever did, then NBA2K redefined career mode again by infusing their version with a narrative that thrus your character into the spotlight of a rising star storyline, and through it all FIFA usurped the title of biggest franchise in the EA Sports stable. So what could Madden do to change it up? How could what was once the biggest sports title get back in the game. The easy part of that answer is to continue to refine the gameplay to a more faithful simulation experience. The more complex part is Longshot, a new story-based career mode that is something completely new, not only for Madden, but for the sports-sim genre.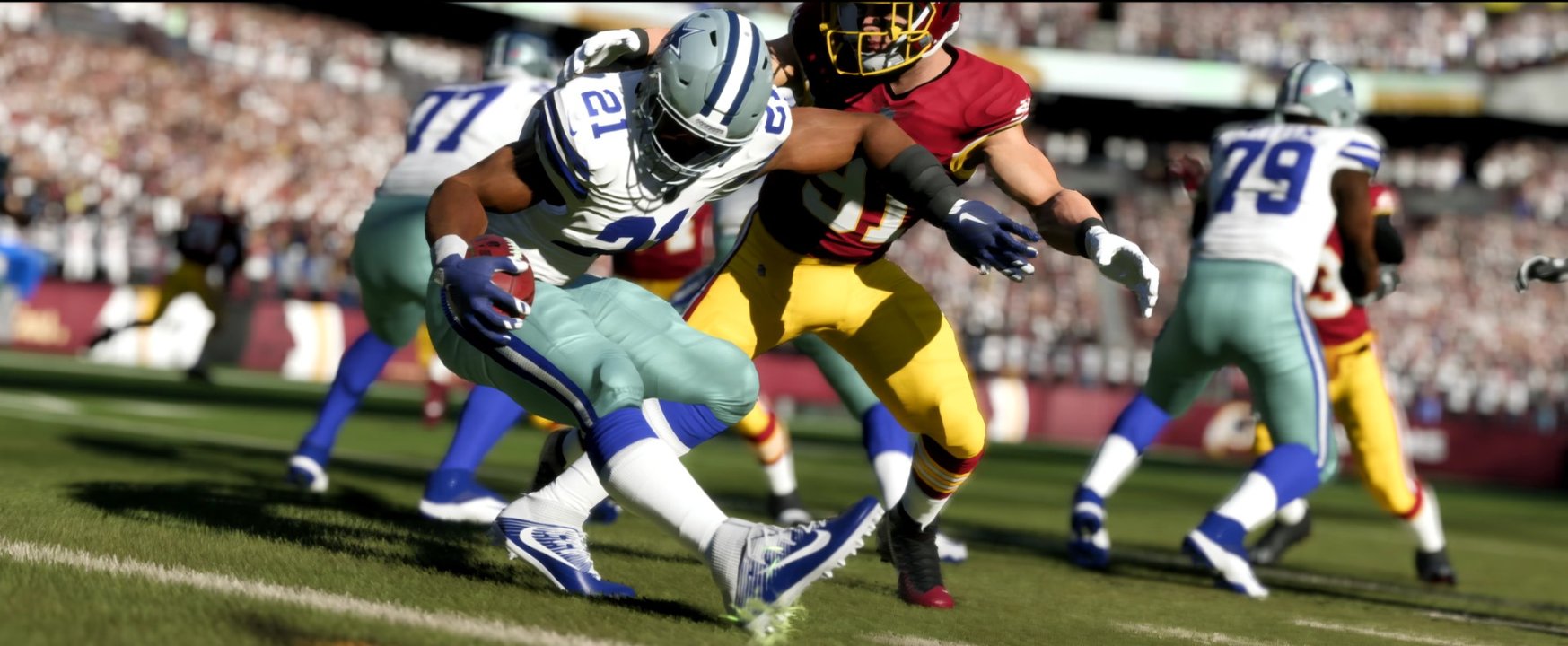 During my first hands on experience with Madden NFL 18, I played a game between my Minnesota Vikings and the Washington Redskins. While the basic experience isn't radically different, I did notice that the developers seem to have doubled-down on a game that is far more realistic. Actually, that depends upon the kind of game you want to play. You can play an Arcade style of Madden that leans toward a more high-scoring version of the game, the Competitive version which forces player skill to speak for itself, and the Simulation version which will tailor the game most closely to a true NFL experience - the latter-most version is what I played, and it certainly delivered.
Madden 18 feels more rigid in the Simulation version of the game, forcing players to use real NFL play-calling strategy and player technique. If you get too pass-happy, don't get a good read on a quarterback progression, or play too aggressively, the AI will almost certainly punish you for it. Luckily, all aspects of the game are a bit more interesting this year.
Football is a game about the action of a full 11-man squad working in sync, so the AI is very important, specifically the blocking. This year the blocking in Madden feels much better than before. Plays like running back or wide receiver screens used to be disasters and wildly ineffective, but this year they feel much more valuable and a smart way to take advantage of a blitzing defense. Running the ball also feels great. Madden dynamically changed their running game a couple of years ago, and darting through an open hole is still one of the most exhilarating feelings in sports. And once you get into the open field, it's fun to spin and juke around defenders. Trying to take someone down 1-on-1 on defense feels more difficult than ever.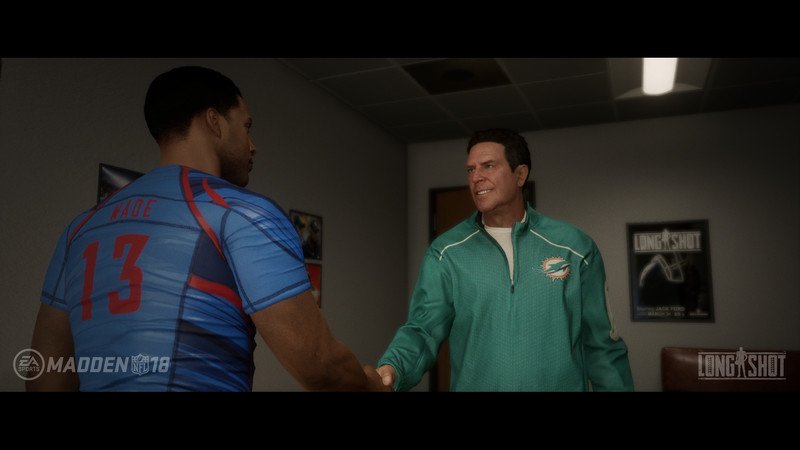 It's not just the 1-on-1 moments where defense feels more difficult, in general it seems offense is harder to stop than in previous Madden iterations. It used to be easy to dial up pressure and aggressive schemes on defense that usually shut down any offense. This time, Kirk Cousins slung the rock around and took advantage of my single coverage match ups with wide receivers.
Like I said earlier, the AI seems a bit more in-sync than in previous games and the whole offensive progression runs a bit smoother. Still, that being said, there were moments when it was hard to follow some of the plays. My biggest issue was when I ran a fake end-around and the camera tracked the fake a few extra seconds longer than I would have liked. Unable to see my quarterback, I basically ran right into the defense for a big sack.
While the small changes to the core game are interesting, the most exciting part of Madden 18 is easily Longshot, the new career mode. I even hesitate to call it a "career mode"; this almost feels like Madden by way of Telltale games. While NBA2K flirted with narrative in their games, Madden is going all out with Longshot. I only got to play the opening moments, but it was very interesting seeing what really felt a like a singular experience.
Gameplay began with the story's hero, Devin Wade, playing football in the backyard with his dad and best friend. Devin's father, voiced by Mahershala Ali (you might remember him for his role in Netflix's Luke Cage or the Oscar-winning Moonlight), is on defense, adding dramatic tension by helping his son imagine this backyard football game as an NFL defining moment.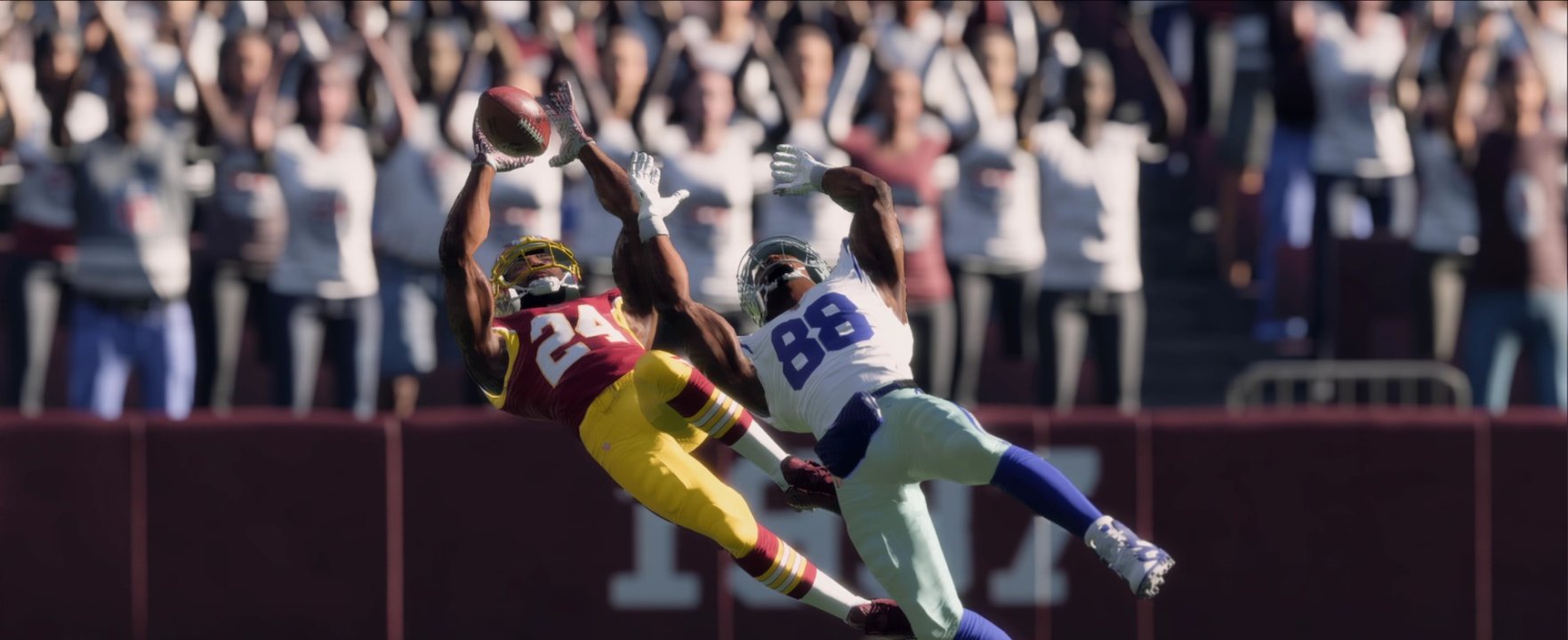 What follows isn't traditional Madden gameplay, but instead a series of quicktime events, as Devin rolls back and throws the ball to his friend. There are button prompts to snap the ball, throw the ball, and while the pass is in the air I guide it in slow motion with the analogue stick. Devin's friend catches the ball and the scene ends.
The next scene transitions forward to a Devin who is much older. His father's Oilers jacket hangs in his room - a symbol of the ever vigilant paternal figure in Devin's life still watching over him (it wasn't explicitly said, but I assumed Devin's father had passed on). Devin's friend pulls into the driveway, adjacent to the yard where the two played the game of football against Devin's father years ago and honks his horn. After Devin jumps in his friend's truck, he begins to reminisce about his first big high school football game from years ago.
We were particularly fortunate to have Josh Looman, the Lead Gameplay Designer of Madden 18, sitting next to us while we played Longshot. Looman's insight was particularly fun while I played through Devin's high-school football game. Looman confirmed the influences of narrative studios like Telltale on Longshot, but he also talked about how when you played games like Devin's high school coming-out party, that each player has their own story that supports Devin's. Instead of mindless AI, each player has their own skills and flaws, further highlighted by the commentary you hear while playing the high school game.
It's fun to see the developers changing things up in the styles of play in Longshot. The high school games are designed to almost be an introduction to the gameplay. There's less of a need to read progressions or worry about the incoming blitz. Every play is run out of the spread formation and Devin has the ability to pull the ball down and run in almost any situation. Dodging defenders and launching a pass deep downfield was a fun thrill. This early high school game is designed to be a cakewalk - even though you start down by 21 points - but I still had a lot of fun with it.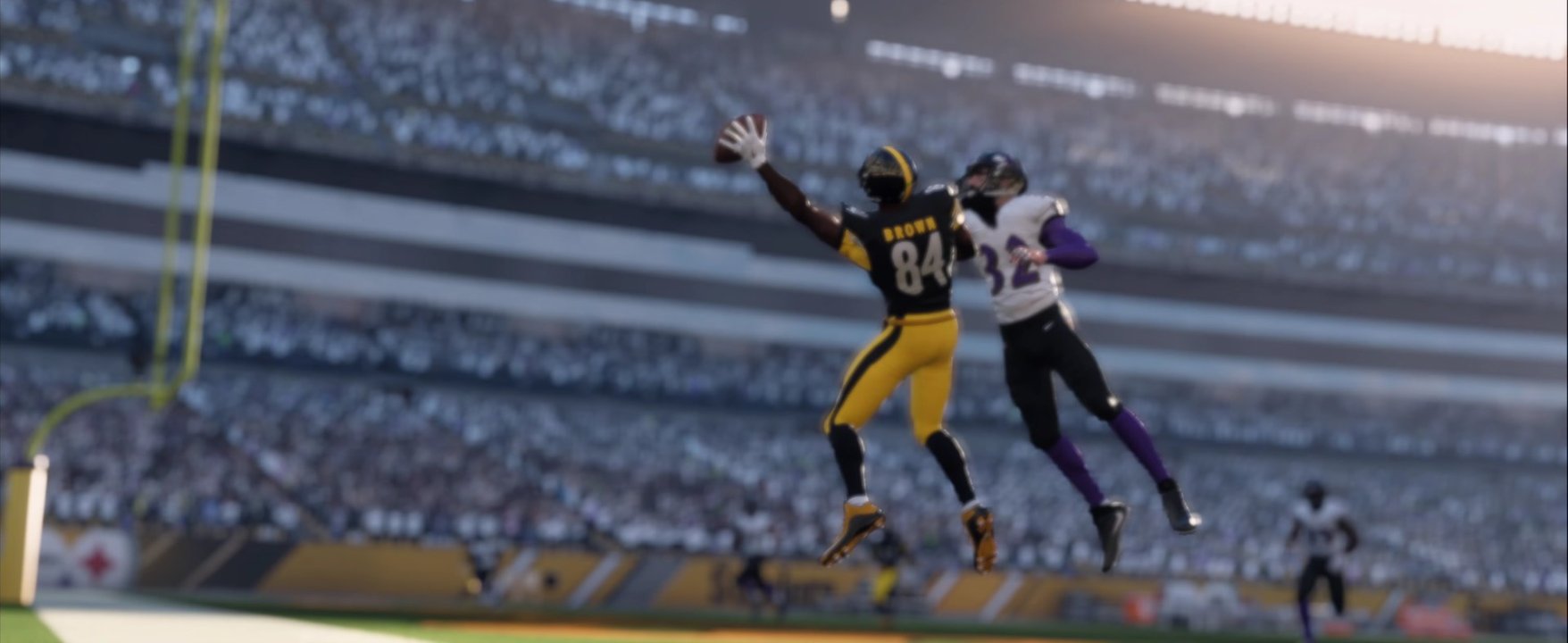 While you do play a couple high school games, Longshot is more about making it to the NFL than it is about having a storied career tracked through each moment. Devin's journey is one of setbacks and overcoming difficulties. I particularly liked Looman's description of the protagonist, saying, "Devin is someone who needs people to push him." It sounds like a nice change of pace from the perfect heroes of the NBA2K franchise. Perhaps the most intriguing thing Looman said is how he would love to have a second season of Longshot. The possibility of following Devin's career over the course of multiple seasons would really be something cool.
We didn't get to see much beyond the high school days of Devin, but Longshot definitely has my attention. I'm looking forward to playing through Devin's story and learning more about his journey to the NFL. This might be a return to prominence for Madden.
Madden NFL 18 will be available August 25th on PlayStation 4 and Xbox One.
Comments