Shatter Review
Bringing Breakout to the modern-day masses, Shatter adds a few layers to the classic gameplay but misses the mark on more than one occasion.
All the way back in 1976 when I was just a twinkle in my father's eye (if that), the first brick-breaking title made its debut in arcades worldwide as Breakout. With everything from Javanoid to Brickbeaker (which currently ships as the included game on most Blackberry smartphones), the classic Breakout style has moved from platform to platform but has stuck too firmly to its own roots and therefore has bred very little innovation. So does Shatter offer an innovative arcade experience or is it simply a pretty version of a 30 year old game?
Two of Shatter's most impressive qualities are the crisp visual style and high-definition graphics. In this regard, Shatter is far above and beyond any similar titles on the market today. The game is bright and super crisp, making the flowing fragments and physics-dependent objects easily recognizable yet quite detailed. For both a downloadable title and an arcade remake, Shatter sets a new standard for HD graphics.
Technical graphics aside, Shatter suffers from an unfortunately generic and faceless art style that screams "THIS IS THE FUTURE!" without being especially creative or inventive. You'll find yourself quickly growing tired of the game's visuals as the shininess wears off, and you realize that you've seen this version of the future a hundred times before.
When it comes to arcade titles such as this, the visuals always take a back seat to gameplay, and thankfully, Shatter's gameplay remains both inventive and fun even while the visual style starts to wear thin. Most easily recognized here are all the brick-breaking basics: paddles, balls, blocks, power-ups, points, and of course, high score leaderboards. In this regard, there's not much to say. It's a tried and true game style that nearly every human on Earth has come in contact with at least once over the last 30 years. Thankfully though, Shatter is more than just a pretty looking version of Breakout. It's got a few tricks of its own.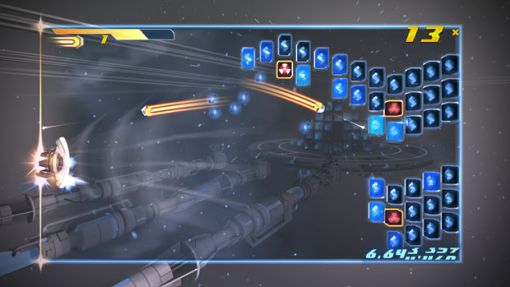 With the ability to fire multiple balls at once and a slew of physics-enabled objects on every level, things can get a bit complicated.

Shatter's primary gameplay innovation is the "Suck" and "Blow" abilities that grant the player a certain level of control over the balls and objects within each stage. This mechanic controls well and helps aid some of the frustration that is essentially inherent in this style of game. It seems like I have countless memories of just sitting back while playing Javanoid and bouncing the ball off the paddle about a thousand times just hoping to hit the final block. This alleviates that common dilemma and makes the boss battles considerably more tolerable, especially in later stages, than they would have been otherwise.

Comments