Ubisoft Conference Recap - E3 2017
Beyond Good and Evil 2, Skull and Bones, plus more lead the Ubisoft lineup
It's now time for Ubisoft to take center stage of E3 2017, with their event kicking off with something Rayman Rabbids related with a short animation playing, prior to Yves Guillemot taking the stage, announcing a marriage of Rabbids and Mario called Mario + Rabbids: Kingdom Battle. He introduces a special guest, Shigeru Miyamoto from Nintendo who shows off a real-life model of one of the weapons that will be in the game. After some somewhat awkward posing and exchanging of compliments between Yves and Miyamoto via translator, the latter says he only agreed to the IP-crossover if the game was unlike any Mario game made before. The game will have a layer of strategy and tactics, and the producer of the game Xavier Manzanares is brought on to talk more about it.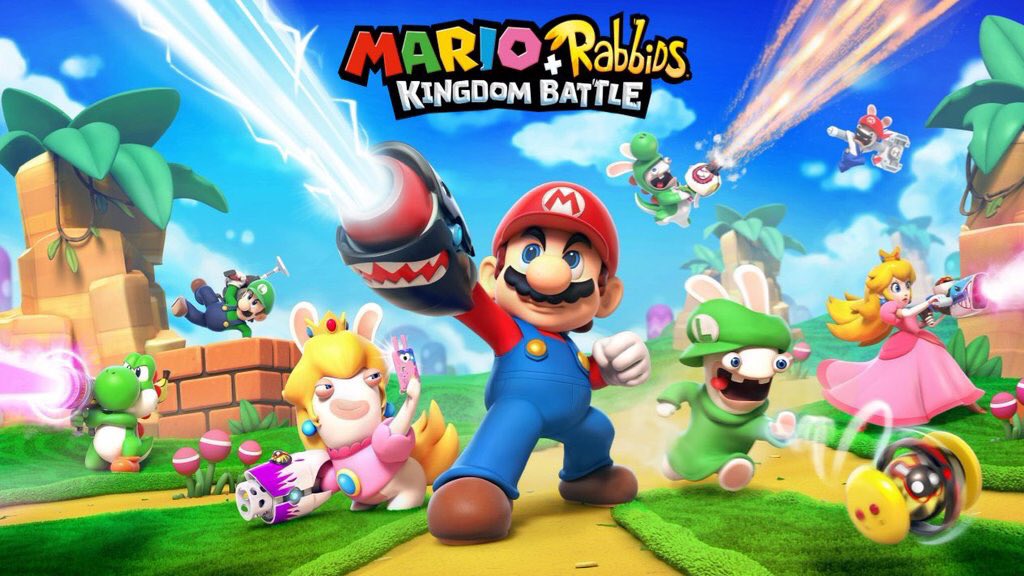 The game will be a tactical adventure exclusive to the Nintendo Switch. We get to see some gameplay next, showing Mario leading a couple of Rabbids dressed up as Luigi and Princess Peach around a 3D environment from an isometric perspective. The gameplay shows the trio running around collecting coins, and entering turn-based combat. There will be exploration and battle modes, and during combat characters will be able to use cover, jump on teammates to expand movement zones, and destroy cover enemies are hiding behind. There will be defensive and offensive abilities. Rabbids will be able to use pipes to flank enemies, with more tactical options such as new heroes and weapons becoming available as you progress through the game.
After a final trailer for Mario + Rabbids where we see a giant Rabbid, it's on to Assassin's Creed: Origins, following its official announcement at the Microsoft conference yesterday. Ashraf Ismail, game director, takes the stage to talk about it. The game has been in development since Black Flag came out, and will tell the origin tale of the Assassins in Ancient Egypt. A trailer plays showing different environments, wildlife, boats and horses, and eventually some combat, though none of it is gameplay footage. After a quick preview of a gameplay demo that will be after the show, the Assassins Creed segment comes to an end, with the game releasing on October 27th on PC, Xbox One and PlayStation 4.
Another trailer plays, a CGI one showing a bunch of cars racing through a city, presumably for a sequel to The Crew. We see motorcycles, cars and trucks racing through a desert, and planes flying overhead indicating there will now be air vehicles in the game. We also get a clip of some boats racing under the Golden Gate Bridge, so presumably they will be in the game as well. It is indeed The Crew 2. Creative Director Stephane Beley comes on to talk about it, saying they have listened to fan feedback when making the sequel.
The next video shows in-game footage though not gameplay. We see boats racing through a narrow river, street racing in New York, off-road racing in a lush forest, and planes flying between skyscrapers and beneath the Golden Gate Bridge. The game will be coming in early 2018. It is possible to register now for beta access.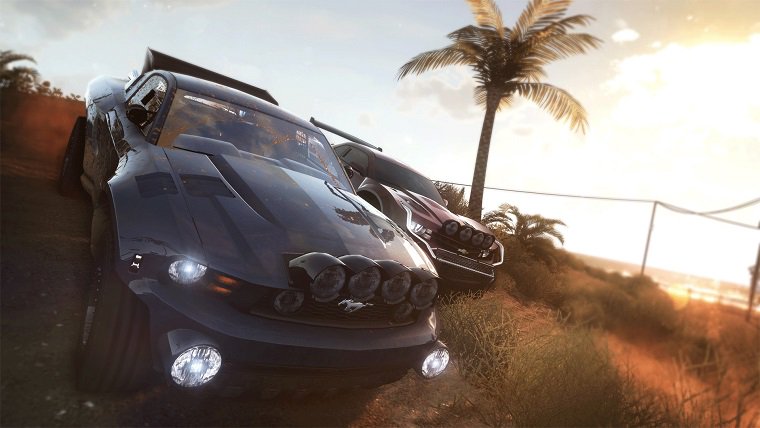 South Park: The Fractured but Whole is next with a trailer more typical South Park banter reinforcing the super hero theme. The game will be out on October 17th. Another trailer starts up right away, for something VR related as we see developers from a possibly fictional studio Spectrevision sitting at a table talking about VR. We then see a group of people sitting in chairs with VR head-sets on in a sort of experimental test environment, with the trailer taking a horror-ish vibe. Whatever it is, the game is called Transference, and will be coming in spring 2018.
Next we get something new from Ubisoft Singapore. It seems like it will be pirate-related as we see a couple of people sinking beneath the waves, then a ship laden with gold. The ship comes into contact with pirates, with a female captain giving orders for engagement. Eventually a three-way battle ensues, though everything is in CGI so far. The game will be called Skull & Bones. Creative Director Justin Farren comes on to talk about it, saying it will have tactical naval combat similar to that in Assassin's Creed. You will be able to sail solo, or with friends indicating it will have a major multiplayer component. It will also have a 5v5 PvP mode where the winners of a conflict will gain access to some prize.
Now we see some gameplay from this mode. We see a group of ships splitting up to go after targets, with different types of ships having different strengths and weaknesses. One has a huge number of cannons, another has a battering ram, another is best at long-rage encounters. In the PvP mode the two teams will try and destroy AI-controlled ships for loot while also fighting each other. It seems each player will control an individual ship ala Assassin's Creed IV. We see ships shooting cannons at each other, one ship get rammed and another fires a rocket barrage. Huge AI Man-o-Wars come in to hunt the ships with the most loot, who must escape rather than fight. We hear a sea-shanty as the trailer ends. Justin returns, saying the world will react to player actions. Another brief CGI trailer plays at the end hinting at some huge sea-monster. The game will be coming in Fall 2018.
Of course, it wouldn't be a proper Ubisoft conference without some awkward dancing, and this commences next as electronic music plays and the dancers do their thing with neon-lit suits, promoting Just Dance 2018. Things take a poppy-turn as some girls and then a panda bear join in, then a woman starts singing live as the dancing continues with even more dancers showing up. Oh thank god, it's over. The game will be out in October on all consoles, and that's it for Just Dance.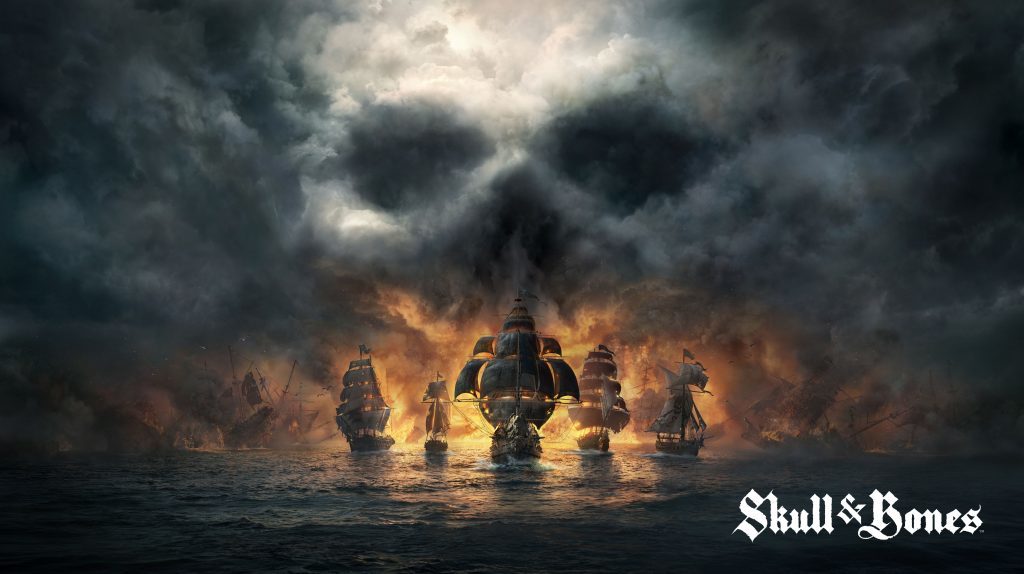 Now we see a smart phone spinning on the screen, with the announcement of some kind of South Park mobile game. It looks to be hero-based with turn based combat, and is dubbed South Park: Phone Destroyer, coming in 2017. Next, something from Ubisoft Toronto that takes place in space, running on the Snow Drop engine. We see spacecraft dogfighting, flying down to a planet surface and gunning down some wildlife. The game is dubbed Starlink: Battle for Atlas coming in Fall 2018 and appears to feature some pretty elaborate controller attachments that look like miniature space ships.
Matthew Rose, game producer comes on to talk about it. The game will let you take control of a team of star pilots, and let you build custom starships. There will be a lot of freedom, and you will be able to collect physical and digital starships. The game will be on Nintendo Switch, PS4 and Xbox One.
Steep is up next, with studio director Rebecka Coutaz taking the stage talking about athletes' training, leading to an announcement of an expansion for the game. A trailer runs, showing more traditional winter sports like Downhill Skiing, Ski Cross and Half-Pipe. The expansion is dubbed Steep: Road to the Olympics and will be available on September 5th.
Now it's time for the recently announced Far Cry 5. A trailer shows some Montana landscapes, then the inside of a church with all of the congregation and even the pastor holding firearms. Dan Hay, Executive Producer comes on to talk about the game. The game will focus on a fanatical cult who have taken over Hope County in Montana and the player is trapped in the middle of it. You will need to raise help to try and stop the cult.
We see what looks to be gameplay, though there is no UI. A dog runs ahead of the player as he walks to a cliff overlooking a church with cultists outside hitting captives with baseball bats. The player spots some enemies and makes his way in, eventually starting a firefight as a teammate, a sniper, takes out one of the guards and fighting ensues, with even the dog jumping in. There will be co-op, and we see a variety of vehicles including a fighter plane and a tractor being driven.
Another trailer starts, for what looks like the very long time coming Good and Evil 2 as we see a pig eating Japanese food talking to a monkey, who eventually tricks the pig by giving him a chocolate treasure instead of a real one for in exchange for a disc. The monkey makes his escape on a hover-bike driven by a human woman, and they get into a chase with hovering policemen. They eventually hijack a larger vehicle and take down the also-hovering police station before leaving the city and returning to their base and taking off in a space-ship. Indeed, it is Beyond Good and Evil 2, though the entire trailer is in CGI.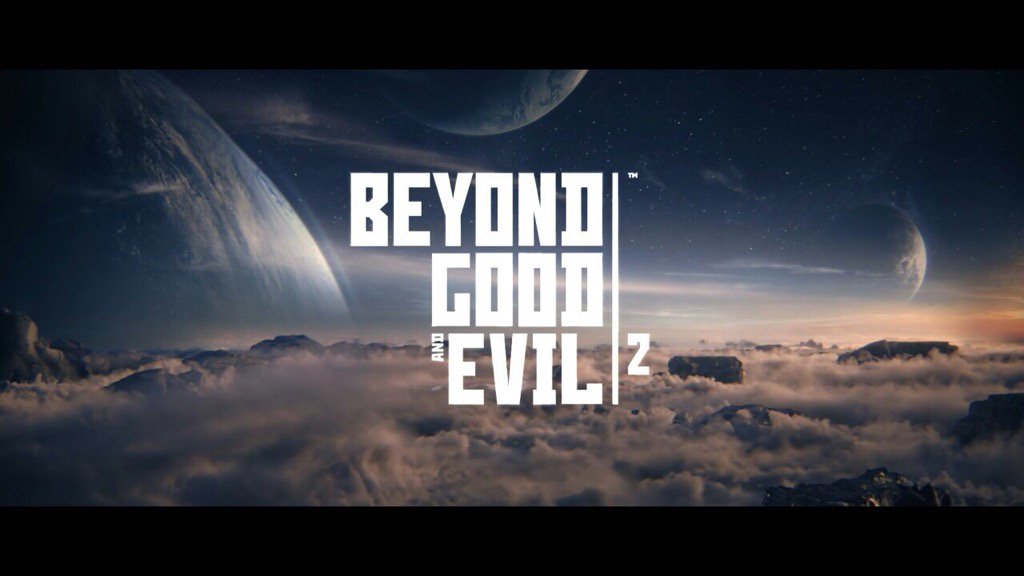 An emotional Michel Ancel, creative director and narrative director Gabrielle Shrager take the stage, thanking Yves for the opportunity to make the game and any lingering series fans for their patience. It will be a science-fiction tale with memorable characters and huge star-faring ships. The game will have a seamless world that can be played solo or with friends. They announce a space-monkey program that will help shape the game though how is not made clear. Yves joins the two on stage for congratulations along with the rest of the development team. This marks the end of the conference, so we'll have to wait a bit longer for gameplay.
Comments
blog comments powered by Disqus