Machinarium Review
Strikes a balance between challenge and frustration, has enough charm and logical solutions to offset the somewhat abstract puzzles and hard brain teasers.
In the world of Machinarium you play as a robot who will overcome some challenging puzzles to free other robots, free yourself and stop "bad" robots from blowing up a tower. All of this puzzle solving is set in a uniquely stylized mechanical world which feels fresh and interesting. Some of the puzzles that form during the game are a little abstract but many are straightforward, giving you just enough hints to complete them. There are quite a few brain teasers here too, the type that would be more at home on an IQ test rather than in a game. If you do play Machinarium persist with the puzzles for as long as you can as they are quite rewarding on completion. The game includes a walkthrough book and a hint bubble for those who are a little lost so you won't even need to search elsewhere for a walkthrough. It all begins with wonderful art and good music tracks that complement the smart puzzle design.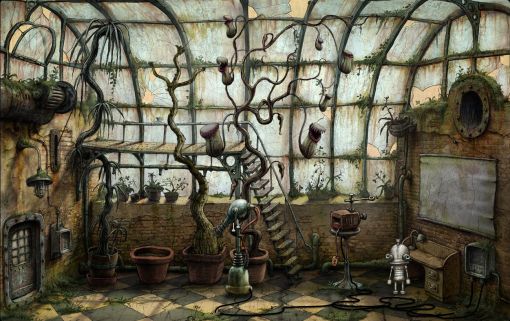 Machinarium is a charming puzzle game that will probably last you a good six hours at a steady pace depending on your aptitude. You control a robot that has a few movement restrictions in a delightfully metallic world. You aren't free to move anywhere on the screen, rather discrete spaces next to objects or buttons. You can use your extendable height to make yourself taller or shorter to gain access to things above or below you in these discrete places. This height feature wasn't used very much and only stumped me early on. As the robot you can only interact, and see objects to interact with, when you are in range of them. This includes those above and below you so you may need to stretch yourself if you get stuck. The game sets its own style by not having any dialogue or text to tell a tale. All the story elements are done cleverly with animation bubbles that show a sketch about the current situation or the events leading to it. Once you acquaint yourself to the robot world you'll need to start solving puzzles to progress.
Basically you'll be required to find items, combine them and use various tools to accomplish some typical tasks. The animation bubbles will tell you what you need; the world will tell you were to find those items. As you progress throughout the game some of the puzzles are quite challenging brain teasers. These brain teasers are pure puzzles in the sense you may have to move knobs in the correct order to unlock something, control a computer to fill up squares with no blank spaces, or move beads around a circuit in the correct order.
I was surprised at the raw genius required to brute force these compulsory puzzles at times. While some are tough, many are actually deceivingly difficult; taking a break will probably jolt your brain into action. Even looking closely at the puzzle before just clicking things will help immensely. One puzzle near the end however involved a musical tune that needed to be repeated on a keyboard at another location. Clearly I was tone deaf because I was quite a way off the actual tune, and I had been trying for quite some time. Luckily the walkthrough book located at the top of the screen was there to lend a helping hand telling me the exact key sequence. Thankfully you can request a little bit of help in game to solve the harder puzzles.
Comments
blog comments powered by Disqus