MAG Preview
So is MAG'a new kind of war - as its official website describes or is it just another seemingly good idea poorly executed?
Announced all the way back in Sony's press conference at E3 2008, MAG, originally an acronym of Massive Action Game, is finally about to land on PS3s later this month. In a bid to build up excitement for this new IP, Zipper Interactive threw up a 7-day public beta on PSN which was essentially a timed demo for the game which is launching in just under two weeks from now. So is MAG "a new kind of war" as its official website describes or is it just another seemingly good idea poorly executed?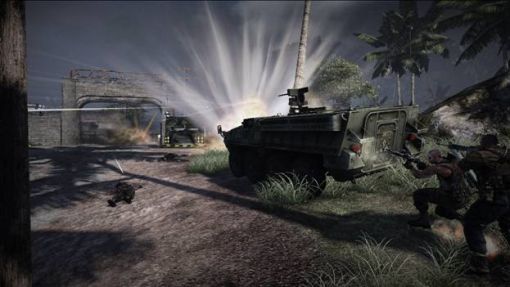 As you can see, the graphics and visual effects look quite dated beside a majority of the PS3's library.
Starting right at the surface, MAG's opening menu system and UI come off as being pretty considerably under-designed, especially in the current generation of games. Appearing to be a cockeyed PDA lying across similarly cockeyed military documents, the main menu and character selection screen looks like something out of a lackluster original Xbox title rather than one of Sony's big exclusives titles for the PS3 in 2010. This basic feeling bleeds across a majority of the game's interface, save only the screen in which you buy upgrades for your character which actually looked good and worked very well overall.
As unfortunate as it is, the uninspiring user interface was simply the beginning of a trend that reared its ugly head a second time in the game's graphics and effects. Now, it should be understood that MAG's game modes vary from as few as 64 players (still a huge number compared to popular titles like Modern Warfare 2) and as many as 256. As such, it can be pretty easily assumed that a certain level of graphical prowess may have to be sacrificed in order to get a desired level of overall game performance, but at times, MAG can look downright dreadful. Grenades have little visible explosion, player animations both from the first and third person look dreadfully robotic, environmental effects look dated, and the lack of really any lasting effect on your surroundings makes the battlefield experience begin to pale in comparison to game's like Battlefield 1943 and the upcoming Battlefield: Bad Company 2. Don't get me wrong here: MAG isn't a horrendous looking game from beginning to end and it certainly looks better than some recent titles from fairly unknown developers such as Darkest of Days. It's just hard to go from the beautiful high resolution graphics that became the PS3 standard over the holidays to the bland and less than beautiful graphics offered up in MAG.
Excusing visuals for a moment, MAG's gameplay is easily its strongest suit. After creating a new character with very limited customization of his physical appearance, a tutorial and the 64-player Sabotage game type are open right from the get go. In my experience throughout the beta, the actual gameplay tutorial never worked as it should, instead only showing a few brief menus before I was forced to retreat back to the game type selection screen. That being as it was, I can't really comment on the tutorial, other than to say it was broken which I am hoping will be resolved in the retail release.
The Sabotage game mode was the greatest portion of the game. Each team's 32 players are broken down into 4 squads of 8 within 2 platoons, each one responsible to attack or defend a different objective on the map. Splitting up the two platoons in this way gives the game the grander scale of 64 players without the chaos seen in some of the more advanced game types. For the most part, players are experiencing a 32 player experience across the map from another 32 player experience, but if one side needs more help than another, you are always free to make the run over to the other objective. It is worth noting too that this game type does not include any vehicles.
The key to Sabotage is for one team to defend two objectives while the other team attempts to capture them. Once both of the initial objectives have been captured by the attacking team, a final objective opens that must then be defended/attacked before the game time runs out. It's a straightforward gametype that keeps the objectives simple while allowing for enough strategy and tactics to make the open voice communication and large squad size seem like a great addition to the genre.
Comments
blog comments powered by Disqus